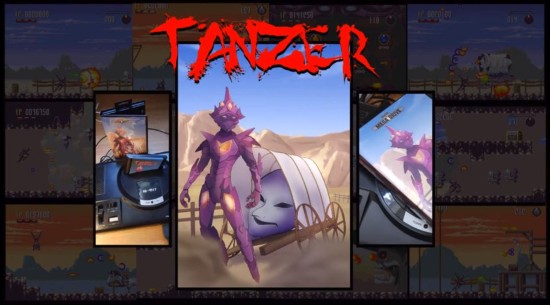 It seems we can't go a month or two without a new Mega Drive/Genesis game being announced via a Kickstarter campaign. Which is crazy. Because it's 2018. I'm not one to look a gift-horse in the mouth though – I adore my SEGA Mega Drive, perhaps more now than I ever did back in the day, and I'll take whatever I can get.
Provided it looks promising enough.
I woke up the other morning, and did my usual thing.
Morning coffee. My email. My forums. Indie Retro News.
Right there at the top of the page was news of a new Mega Drive Kickstarter for a game called Tänzer. Check out this trailer:
The Guyver-esque character got me straight away, as did the unique, low-colour art. Then that soundtrack hit me, with its Synthwave vibes and just a touch of the 8-bit for garnish. And finally, the run & slash gameplay got me. This throwback to games like Strider & Hagane (and even the under-appreciated XBLA/PSN classic Moon Diver) was something I needed.
I had to have it.
I bought into the Kickstarter.
You should really go and check out the Kickstarter page here – with 28 days to go, the game is funded almost two-and-a-half-times over.
Here's the low-down on the campaign, from the campaign page, just in case you're too lazy to make that one, damned click.
---
Tänzer is a new game being developed for the good old SEGA Mega Drive and Genesis game consoles.

The game can be best described as being a horizontally scrolling, full on action hack and slash platformer. The design influences is taken from games like Strider, Osman and Hagane to artists like Keita Amemiya and Roger Dean and to anime series such as Guyver.

The intent is to release the game as a physical release with Box, multi region Cartridge and Manual.

The final version of the game will contain the following:

8 Levels (5 sub stages per level) with its own environments like Old West, Ancient Rome and Flying Pirate Ships to name a few
Sub Bosses for all of the sub stages
End of Level Bosses
In-Between Stages Shop where you gain your Transmutational Power and replenishes health and more
Secrets (like stages and hidden treasures)

The demo-on-a-cartridge pledges exists so that we can do some testing with different PCB and shell manufacturers to find the required quality in this area.

The Box, Cartridge and Packaging

The final product will have inserts for the boxes in four different variants, one for each region (Japan, US, Europe and Brazil). The one showed here is a work in progress of the PAL one.

And the cartridge itself will of course have a label to reflect that region difference as well.

Current State and Game Play

We have explosive action! Apart from the normal 6-way Slash, you can Triple Jump and achieve hit combos for enemies destroyed in air, you can use Transmutational Powers to finish off bigger enemies quicker, or as a defensive move.

We have Fun With Bonus at the end of each stage! Watch the count down as you reap your rewards. Also, all levels will have at least one branching route, to maximize the replay value of the game.

All enemies drop Gold for you to transform into Transmutational Powers or extra health and more, in your mother ship.

Then you're ready to take on the Sub Bosses of each Stage…

…and finally to meat the Boss of the Level.

Then What?

Of course we've already started on the other Levels, here's a sneak peak of the future.

Who's doing this?

Mikael Tillander, pixel art, coding, sound effects and general design and Johan Agurén doing all of the music.

At the heart of the code lies SGDK, a development library in C for mega drive development, made by Stephane Dallongeville.

And we're also contracting Fergi Susetiyo for the awesome cover art and licencing the logo font from Chris Hansen.

Final Words

The community surrounding endeavors such as this are super helpful and friendly. We'd like to take the opportunity to thank all of you that make this hobby possible!

And the game itself will be made and released in some form or another, no matter the outcome of this Kickstarter. But a successful Kickstarter would mean that the quality of the physical release will be as good as we can possibly make it.

Risks and challenges

Having released several downloadable games for multiple platforms, this is our first attempt at producing a physical release of a game. We will take advice and do proper research for what PCBs, shells, print material etc, to use, to make sure that the quality is of the highest standard.
---
Needless to say, I'm really looking forward to this one. The graphics don't look like they're pushing the system too much, but I really do appreciate the simplicity, from the attractive art to the gorgeous colours, all the action in the game looks vibrant and easy to read.
The upgrade system looks like it will add a nice bit of additional depth to proceedings, and in a way reminds me of the system from Lords of Thunder on the Mega CD/PC Engine CD…
Love that game. I'm so, so terrible at it, though I love it all the same.
But I digress.
Tänzer is looking brilliant, and it's going to be a looooooong wait until September to play the promised demo of the game.
But Tänzer isn't the only Mega Drive game on the horizon. Oh no.
Lets check out some other promising Mega Drive titles and the state that they're currently in when it comes to development.
---
PAPRIUM (WM GAMES)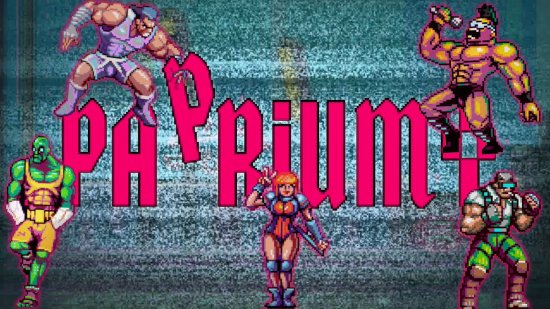 Paprium is the big one. And unfortunately, it's the one with the least amount of information out there about it.
I pre-ordered Paprium the very second that I finished up watching the trailer. I really thought the game was close to being finished. Having languished in what was seemingly development hell for years, this super-slick, kick-ass trailer seemed to signal that the end was indeed in sight…
… but unfortunately, that's just simply not the case.
Radio silence on the part of the Project Director Fonzie in the last year has seen the community that bought into the game up in arms, and with actual developers, musicians and others from the Paprium team as unsure about the state of the game as the general populace, the whole debacle continues to confuse and confound nearly everybody with at least some investment in the project.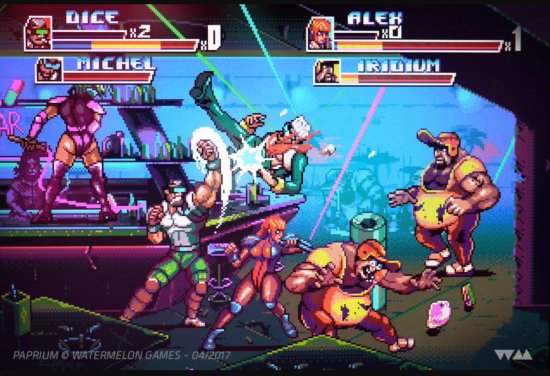 If you really, really want to kill a couple of years of your life, check out the forum thread for the game over at SEGA-16. It reads like one of the greatest stories of our time, with ex (?) Paprium devs just as baffled by the secrecy around the game (and their work within it) as we are.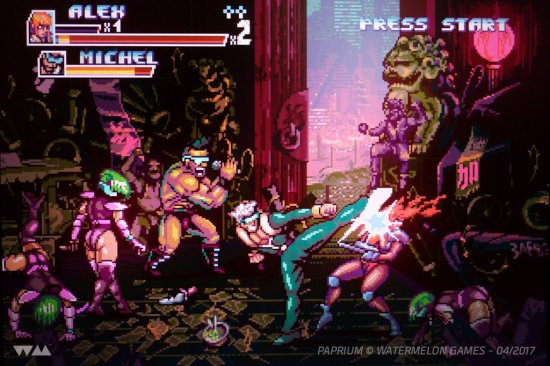 All that aside though, I still think the game, if it ever comes out, is looking amazing. I love a good Streets of Rage-style belt-scrolling beat-em-up, especially when paired with such a strong aesthetic and aural identity. The visual style is bonkers – those colours are my everything, and the sprite work is as detailed as the characters are huge. The soundtrack, by Groovemaster303 and Jredd, however, is perhaps the most exciting thing about the whole game. Utilising some custom technology packed into the cart, in the form of a SuperFX/SVP chip equivalent for audio, (which is still hopefully on the cards), the Mega Drive will be pumping out more channels of audio at much higher bit-rates than it ever has in its life.
Despite opening up pre-orders over a year ago, WM Games have been pretty cagey when asked for specifics in regards to release dates. Or screenshots. Or anything even remotely related to Paprium. The last we heard, it was on track for an October 2018 release.
We'll see about that.
XENO CRISIS (BITMAP BUREAU)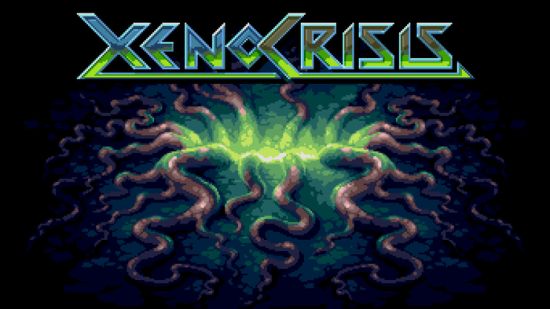 Xeno Crisis is an overhead run-n-gun in the vein of Smash TV and Shock Troopers, and with development in full-swing, this one is looking like an absolute winner, and better with each update.
Xeno Crisis smashed its Kickstarter goals, and the game expanded beyond just the Mega Drive, with Dreamcast, PC and Nintendo Switch ports given the green light. It broke through these stretch with ease, too, because developers Bitmap Bureau were up-front and realistic about what they wanted to/can reasonably deliver from the beginning.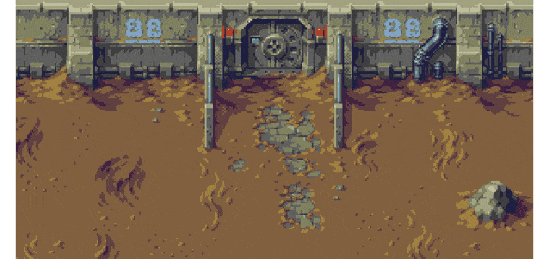 The game features some firsts for the Mega Drive. All the gameplay and action in Xeno Crisis at any-one-time takes place on a single screen, very much like Robotron 2084 and Smash TV. So in order to keeps things fresh through multiple play-through's (on your own, or with a friend in two-player co-op), the team have opted to implement a certain amount of procedural generation that takes place within the confines of these single-screen arenas. I don't think it'll have a massive effect on the gameplay, but it is sure to keep interest high through your various runs, and I've no doubt it'll put replay value through the roof.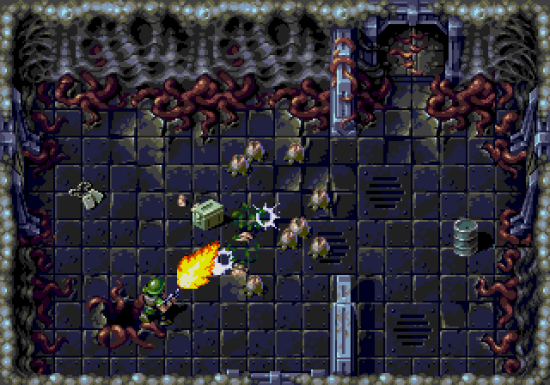 With a winning team of developers, art by the always awesome Henk Nieborg and a unique Djent-flavoured (another first) FM Synth soundtrack by scene legend Savaged Regime (GeckoYamori to those of us old enough to remember that alias), Xeno Crisis has all the pieces in place to deliver us a Mega Drive game that should not only deliver the gaming goods, but really, it could only exist in the here & now, with the 30-odd years of gaming history the Mega Drive has behind it.
I've written about Xeno Crisis before here.
I also conducted and interview with Bitmap Bureau, just in case you want a little more insight into the game itself, and suggested four games in the same vein that you can play right now while you wait for it.
Xeno Crisis is due out in October of this year. Get pumped!
TANGLEWOOD (MATT PHILLIPS)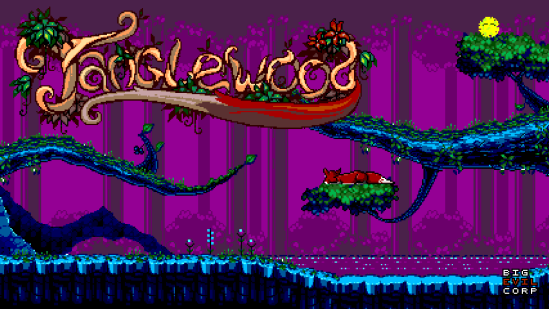 Here's yet another Mega Drive Kickstarter success. Tanglewood is a sumptuous looking puzzle platformer with great mechanics, gorgeous story-book style aesthetics and a unique vibe.
Now, I'll confess that I'm not the biggest fan of puzzle platformers, but I tried the Tanglewood Demo during the early days of the campaign and found myself absolutely enthralled. The tight controls, understated audio and low-colour, high-detail environments won me over in a heartbeat.
You can try the demo out for yourself HERE.
Developed predominantly by one man, and one man alone, Matt Phillips, Tanglewood is an extremely impressive endeavour. Here's Matt's introduction to the game, should you not be familiar with it at all:
Set in a fictional world, the game follows a young creature, Nymn, who is separated from the family pack after the sun sets. Unable to get back to the safety of the underground home, Nymn must find a way to survive the night terrors and get to morning. TANGLEWOOD's world is a dangerous one after dark, and Nymn must use skills of evasion, special abilities, traps and trickery to defeat predators.

Tanglewood is a loveletter to a wide variety of 2D platforming and adventure games of the '90s, mixing fast-paced action with puzzles, tricks and traps inspired by titles like The Lion King, Another World, Flashback and Sonic the Hedgehog, mixed with more modern gameplay elements from newer titles such as LIMBO and Ori and the Blind Forest. It also takes inspiration from PlayStation platforming classics like Abe's Oddysee and Heart of Darkness.

The gameplay experience will vary from level to level; a toolkit of mechanics keeps the game interesting from beginning to end. Levels incorporate exploration, thought provoking puzzles, monster encounters, chase scenes, battles of the elements, as well as secret areas.

For collector enthusiasts and hardcore completionists, the game features a range of collectible items, with rewards (and bragging rights!) for finding them all.

TANGLEWOOD is programmed in pure 68000 assembly language, using original SEGA development tools and processes from the 1990s.
I initially bought into the Kickstarter of Tanglewood only because it was a new Mega Drive game. But then I played that demo, and having watched the game develop and grow, and kept tabs on the various (and numerous) backer updates, Tanglewood looks more and more like it will be one that absolutely no Mega Drive gamer will be able to do without.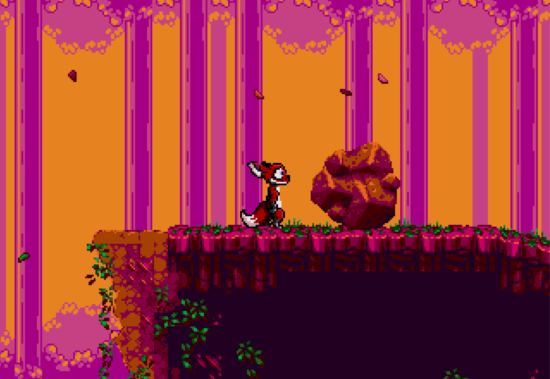 The release date for Tanglewood is Q2 2018, with Matt having mentioned a Release Build ready for May 18th, 2018, the date the game hopefully goes gold. I haven't seen it turn up yet, but I don't think we'll have to wait too much longer for the game now.
Fingers crossed that in a month or so, we'll all be lost in Tanglewood.
---
And they're just the higher profile games. There's plenty more in store for the Mega Drive, but that's another post for another day.
I never thought I'd live to say these words, but the Mega Drive scene in 2018 is a gorgeous, beautiful thing. Let me know in the comments below which games you're looking forward to!
---
Posted In:
16-bit Newness
,
2D Belt Scroller
,
2D Brawler
,
Arcade Shooters
,
Fighting Games
,
Interview
,
Kickstarter
,
Metroidvania
,
Music
,
New Retro
,
NEWS
,
Nindies
,
Nintendo Switch
,
Platform Games
,
run 'n' gun
,
SEGA
,
SEGA Genesis
,
SEGA Mega Drive
,
Steam
,
Synthwave Aesthetic
,
Video Game Music
Tags:
16-Bit
,
90s
,
Bitmap Bureau
,
chiptunes
,
Classic Games
,
Classic Gaming
,
FM Synth Music
,
Fonzie
,
GeckoYamori
,
Genesis
,
Groovemaster303
,
hagane
,
Henk Nieborg
,
Indie Games
,
Jredd
,
Kickstarter Games
,
Matt Phillips
,
Mega Drive
,
Mike Tucker
,
moon diver
,
New Genesis Games
,
New Mega Drive Games
,
new retro games
,
nostalgia
,
nostalgic games
,
PAL
,
Paprium Fiasco
,
Retro Games
,
retro gaming
,
Retro Kickstarter Games
,
Run and Gun
,
Savaged Regime
,
SEGA
,
SEGA 16-bit
,
SEGA-16
,
strider
,
Tanglewood
,
Tänzer
,
Watermelon Games
,
WM Games
,
Xeno Crisis
,
Yamaha YM2612