The past week has been pretty great for us arcade racing fans!
Not only have we gotten Horizon Chase Turbo and FAST BEAT LOOP RACER GT, but Kickstarter success Slipstream has also seen release!
I've been pumping some time into Slipstream recently, and I can confirm that it is indeed awesome. But, how about that price tag, eh? It's going for USD $9.99, but with a launch week discount of a dollar, you can pick up what is essentially a synthwave-flavoured 2D version of Out Run 2 for $8.99 USD! Sure, it looks a lot like Out Run, the Lotus series and Top Gear, but at it's heart? Out Run 2 in 2D. I promise ?
GET SLIPSTREAM ON STEAM HERE!
BUY THE SOUNDTRACK ON BANDCAMP HERE!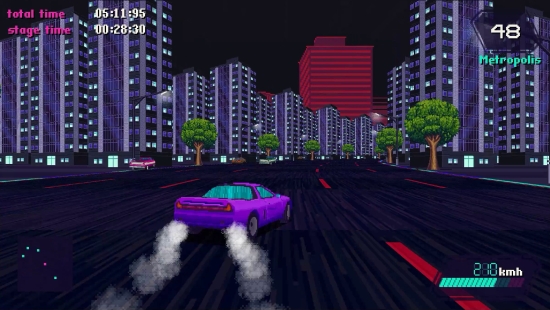 Slipstream is easily worth double that, but for this price? Crazy.
If you'd like a taste of what the game is like before you take the plunge, then head over and check out my first impressions of Slipstream here, but if you can't be bothered, then just know you're making a sound investment.
The state the game is at launch is fantastic, but a multi-player mode and a track editior are coming in a month or so – brilliant additions that will make Slipstream one of the best retro-inspired racers on the Steam Store.
Here's the Steam Store write-up, just in case you need a little goading…
---
Slipstream is a racing game inspired by the visuals, music, games and cars from the late 80s and early 90s. It's built on a custom game engine, with an authentic retro feel and unique graphics. The soundtrack, drawing from synthpop and jazz fusion influences, sets the tone for a race across a variety of exotic locations from all around the world, including cities, deserts, forests, mountains and beaches. Drifting and slipstreaming mechanics add depth to the driving gameplay, and the result is a challenging and exciting experience.

Features

Authentic pseudo-3D game engine with 2D graphics, just like the glory days of the arcade racers.
20 Different tracks, set on a variety of exotic locations all around the world… and beyond.
3 Game modes:

Arcade Mode, a road trip through exotic landscapes, with branching paths and rivals to race against.
Quick Race, a single race in any of the game's tracks.
Grand Prix, a championship mode with five races back to back and money prizes used to upgrade your car!

5 Car models, each with its own specs and playstyle.
Original soundtrack with 9 exclusive songs.
A variety of graphical options to customize the game's visuals, including 30fps mode, CRT and NTSC filters.

Planned Features

(These are not available yet, but are already under development and will be implemented soon)

Local multiplayer up to 4 players
A track editor
---
So if you fancy a spot of retro-racing action, get on to Slipstream ASAP. Gorgeous visuals, smooth scrolling, a killer original synthwave soundtrack and controls to die for, it's an easy recommendation, especially for the price.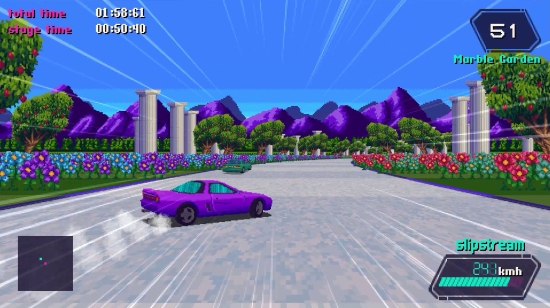 GET IT.
---
Posted In:
2D Racing
,
Arcade Racing
,
Cheap Games
,
Hidden Gems
,
Indie Games
,
Kickstarter
,
New Retro
,
PC Gaming
,
racing games
,
Raster-Style Racing
,
sega blue skies
,
Synthwave Aesthetic
,
Video Game Music
Tags:
16-Bit
,
2D Games
,
2D Racing
,
Andsor
,
Arcade Racer
,
Arcade Racing
,
bandcamp
,
Blue Blue Skies
,
Cheap PC Games
,
Cheap PC Racing Games
,
Cheap Racing Games
,
Game OST's
,
Indie
,
Indie Games
,
indie gaming
,
Lotus
,
Lotus Games
,
Lotus II: RECS
,
Lotus III: The Ultimate Challenge
,
lotus turbo challenge
,
New Steam Release
,
Noctet Studio
,
Out Run
,
Out Run 2
,
racing
,
racing games
,
Raster Racer
,
Raster Racing
,
Raster Scrolling
,
sega blue skies
,
Slipstream
,
Soundtracks
,
Steam
,
Steam Gaming
,
SteamPowered
,
synthwave
,
top gear
,
Vaporwave