PERFECT 10s is a series I'm starting that shines a spotlight on Arcade Racing games that are, in my opinion, among the best the genre has to offer. I will not be judging these games in comparison to others in the genre – they come in far too many varieties.

Some of the greats have only a handful of cars and tracks, whilst others are heavier on the content. A flaw or two aside, the games featured in PERFECT 10s are games of astounding quality that you can safely tuck into, knowing you're in for an absolute treat. Expect some anecdotes, plenty of screenshots and my preferred method of playing these games in 2018.
I'm not the usual retro-gamer. I love, love LOVE my original hardware, and in most cases that's where I go to play the games in my collection. Some systems though? I've gotta be honest – I prefer to emulate them.
The PSP is one such system.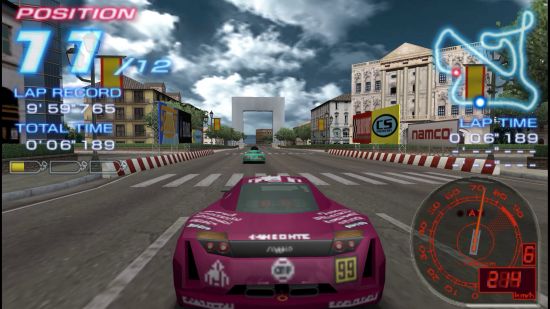 So to kick it off, I'm going to go against type and starting the series with Ridge Racers for the PSP. My SEGA bias was strong for a while there, and for the first PERFECT 10s article I was seriously considering something like SEGA Rally Championship. Because SEGA. But I've been tucking into Ridge Racers on my PC over the last few days and as such, I feel utterly compelled to throw some love its way.
And here we are.
But before we get into it, I'd like to get into my strange relationship with the PSP.
---
THE PSP – A Killer System That Hurts My Giant Man-Hands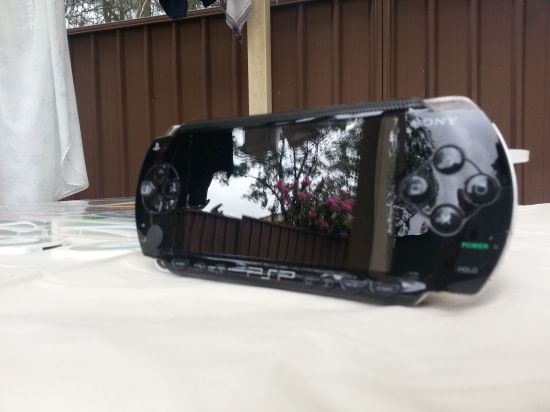 I picked up a PSP at launch. Well, a little before launch, actually. I imported an asian model from Play-Asia well before it hit my native homeland of Australia. And the reasons were two-fold.
WipEout Pure and Ridge Racer.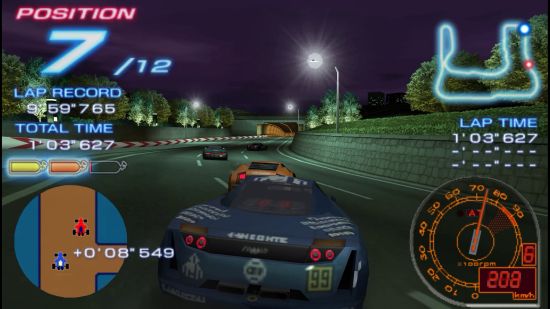 Both were killer-apps, and completely sold me on the unit, despite my indifference (at the time) to Sony. WipEout was great, and I really enjoyed it. But Ridge Racer? I found myself absolutely smitten with the game.
And whilst it was a great experience, over time, I grew to despise the PSP. Not because of the software (which was fantastic), but because the unit was so hard on my hands. I've not had problems with small units before. The Game Boy Advance? Totally fine. Comfy, even. The DS, DS Lite and DSi? Yep, totally still fine. The 3DS and the PSP? CRAMP CENTRAL!
I don't know what it is about the design of those systems that kill my hands, but they do. Even with a grip, I just don't find them comfortable enough to play for any length of time.
Which is where the PPSSPP emulator comes in.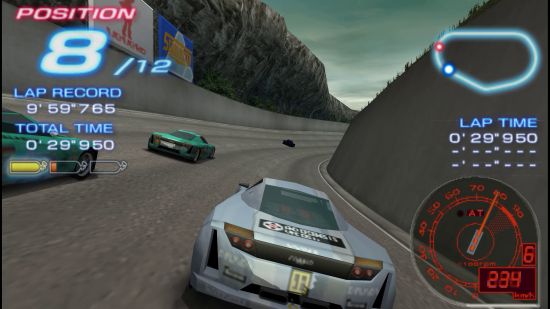 From almost day one, PPSSPP has been one of the best emulators out there. Performance is fast, it's relatively glitch-free – even more so if you know what you're doing with the settings – and jumping in and out of games is a breeze. Pairing PPSSPP up with a choice controller was an experience that, in my eyes, far out-stripped playing my UMDs on my legit system. Higher resolutions, better analogue control (that nub was pretty dreadful) and not having to worry about battery life? Sold.
So I got rid of my PSP and the modest collection of games I had for it: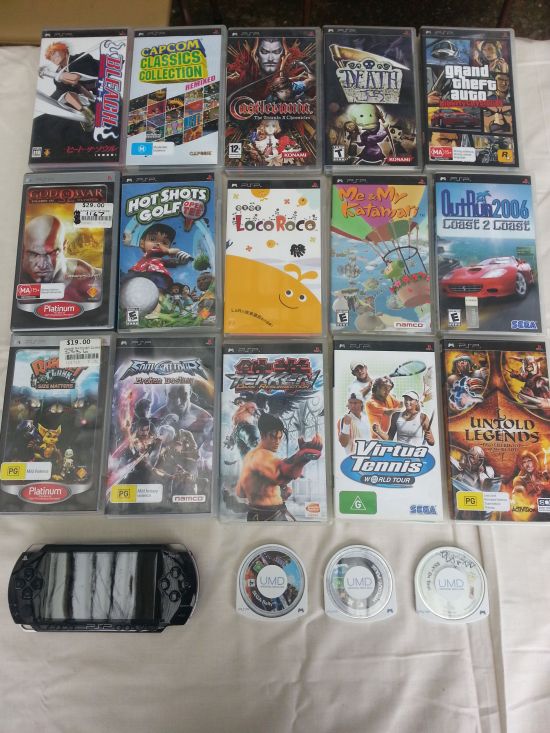 Ridge Racer isn't pictured, because I lost it somewhere down the line.
PPSSPP is my preferred way to revisit the game, so this article will reflect that. You may prefer to play on original hardware. In this particular case, I don't. Either way, the game is a must for any fan of arcade racing games.
But let's get down to the nitty-gritty – what makes the Ridge Racer games on the PSP so special?
---
YOUR VIBE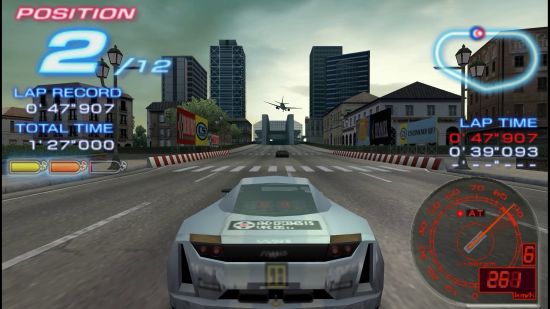 Ridge Racer and Ridge Racers (or Ridge Racer 2, depending on the region) for the PSP have a vibe that is all their own, and unique to these particular entries.
OK, so that may not be entirely true. These games definitely take the R4: Ridge Racer Type 4 aesthetic and apply a large coat of polish to it. Ridge Racer 6 & 7 for the Xbox 360 and the PS3 built on the foundations that were created here, and they were valiant attempts to bring the formula home, but personally, I never found that those games had the sheen and sheer magnetism that PSP Ridge Racer had. There was something missing.
They don't have the 'it' factor; there's a magic missing in Ridge Racer 6 & 7 that is in absolute abundance in PSP Ridge Racers.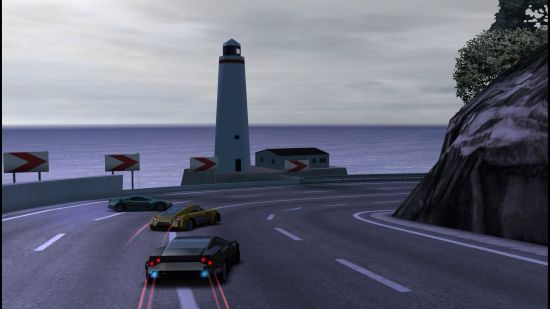 The PSP series feels like a best-of Ridge Racer, a true delight and celebration of the series up to that point with a mix of courses, cars and music taken from the Ridge Racer history. With a bit of new sprinkled on top. And at the time, it was a fresh approach to take.
Sadly, Namco decided that this approach was enough with future entries in the series and rested on its laurels a little too hard. And barring a flawed 3DS game, a dreadful spin-off and a decent mobile game, Ridge Racer is pretty much dead. For now.
But whatever, we'll always have Ridge Racers, with the glorious controls and too-cool-for-school A/V presentation.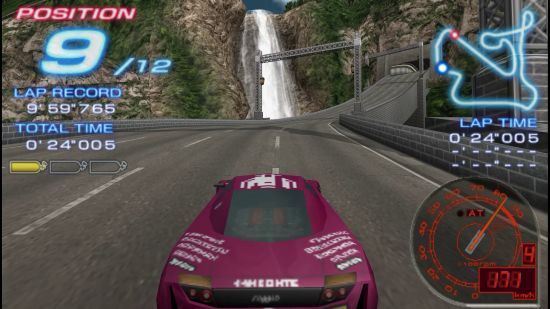 The two PSP Ridge Racer games are two different releases, but you'd be forgiven for thinking that both were different games – the naming conventions might imply that, but Ridge Racers/Ridge Racer 2 is more like a Ridge Racer 2.0, with more tracks, cars and music. So if you're only wanting one, plump for the second release.
And you'll be wanting it indeed, because there's nothing really out there like it at all.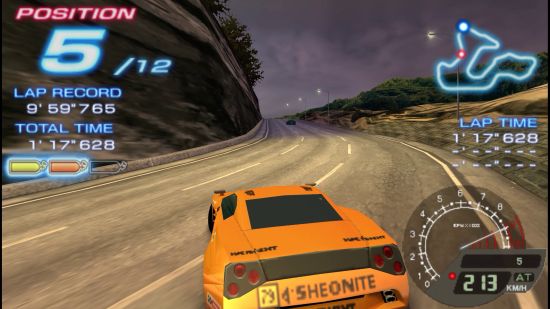 Lets start with the aesthetics. Ridge Racers is a technical marvel on the PSP. We're talking a solid 60fps at all times, great track geometry and all the shiny cars your eyeballs could ever possibly take in. The colour palettes are cool, understated and muted, but that's not a negative. Each course has its own identity, and where there is bold colour, it's implemented masterfully. Round a corner and that coloured sky just hits you. The neon accents in the city courses come in at just the right time as to take your breath away. Add in the different times of day for all the courses, and you've got an assault on the eyeballs. Ridge Racers looks like it's definitely punching above the PSP's graphical weight. The lighting, baked in as it may be, looks amazing. Some clever effects kick in at various bits of the track to simulate sunlight, cloud cover and more.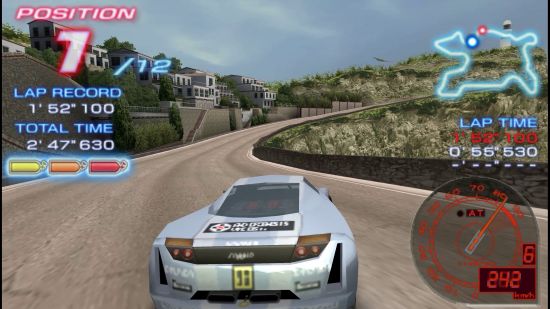 Measured, then, and still gorgeous in 2018.
The low-res textures and boxy car models don't hold up quite as well, but in all fairness, they were never meant for the resolutions of today. What I can say is that the low-poly models and textures have been designed in such a way that their lower fidelity is masked by the overall design. Boxy and ill-defined the elements might be, but they're 100% consistent and fit the game-world to a T.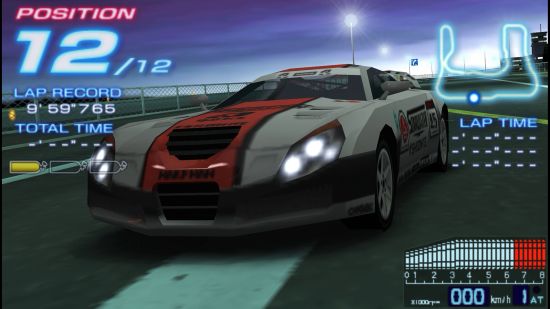 To have the game looking as stunning as it does is a remarkable achievement on original hardware. In PPSSPP, it looks about as good as it possibly can when scaling up to higher resolutions. You'll notice some pop-up, and the vehicle models for the AI opponents have a strict level-of-detail pop-in distance. This might bother some, but for somebody who grew up on a diet of 32-bit racing games, it's a non-issue.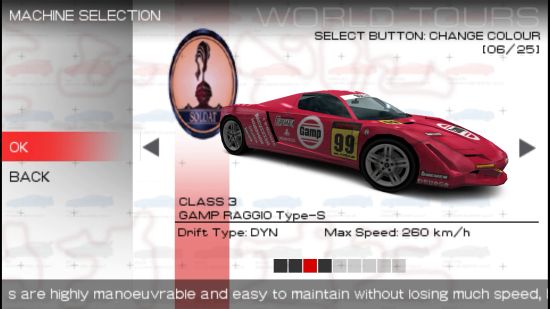 Menu presentation is classy too. Admittedly, the HUD elements and Menu stuff don't scale up half as nice, but the effect is still there, and it still looks like it's from the future.
DRIVE U 2 DANCING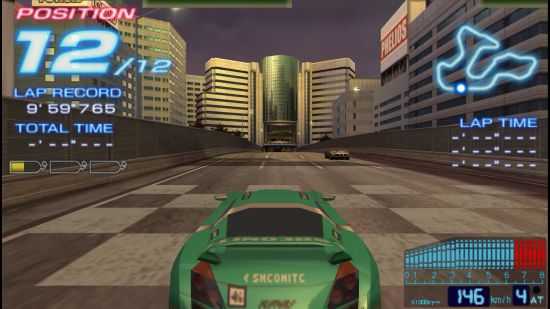 Controls.
Ridge Racers is all about the gameplay. One of the few games that felt OK with an analogue nub on original hardware, playing these games in PPSSPP with your gamepad of choice takes that golden gameplay nugget and polishes it up to such a degree you'll need sunglasses just to look in its direction.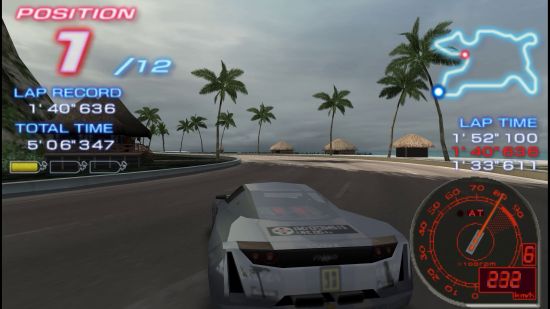 With that being said though, these days, you either get Ridge Racer and its particular brand of context-sensitive drifting or you don't.
I do.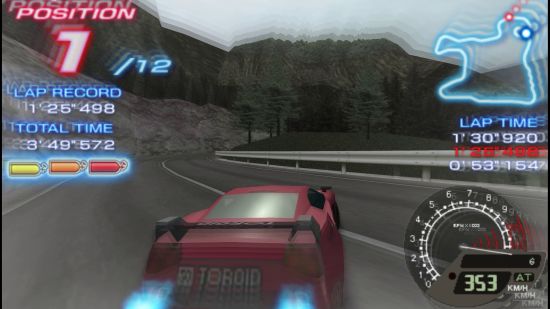 You've gotta drift to take these corners. You've gotta boost to take over your opponents. To fill up your nitro boost gauge, you'll need to drift through bends, hairpins and chicane's at a high enough speed and with enough grace to please the system lords. If you don't, no boost for you.
Certain corners require certain approaches, and if you don't tackle them in precisely the way the game wants you to, you'll be slipping and sliding all over the place. I love this. It forces you to learn the quirks of each of the courses. You're punished with a loss of speed and no boost, so the impetus to do well is always there, and with the course's being so memorable – a stunning feat, given their sheer number and make-overs – it's easy to do. You'll know them in-and-out before you know it, and your performance in-game will get better and better.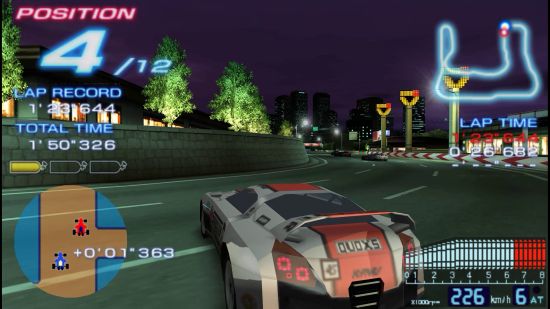 It works great with any controller, too. In PPSSPP, you'll be best served with any of the Dual Shock controllers, but an Xbox 360/One Controller is just as good of a play. Gamecube controllers, though, work really well in PPSSPP out of the box. Map your controls, and you'll get a truly sublime gaming experience.
Me, though? I'm quite fond of this bad boy here.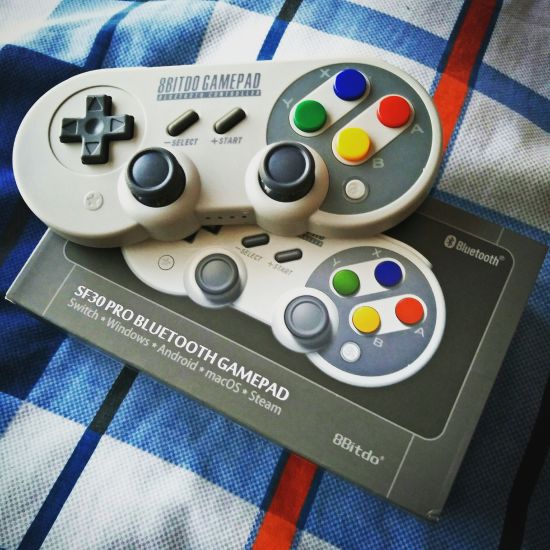 I had to make a couple of tweaks to the analogue stick sensitivity and dead-zone, but that two-second job was worth it, because I've got the controller response down pat. I'm loving Ridge Racers with the 8Bitdo SF30 Pro. It's fast, virtually lag-free – seriously, the bluetooth connection to PC is flawless – and totally reliable.
Both PSP Ridge Racer games have pitch-perfect controls, no matter what solution you settle on to play the game.
DISCO BALL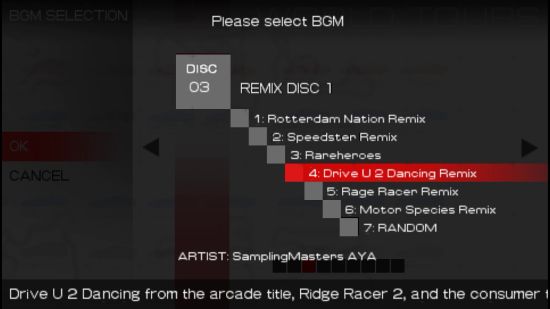 Another aspect of the Ridge Racer games that consistently impresses and inspires is the music. From Acid-House to Jazz Fusion, Gabber to 90s Eurodance – Ridge Racer features music in virtually all the sub-genres the broader electronica music spectrum has under its umbrella. Ridge Racers has more music than its predecessor, and it's crazy how good the sound encodes are in this game. You can expect amazing tunes with sparkling high-end, deep bass and a dynamism that doesn't exhibit any obvious sacrifices in sound quality made in the name of storage space.
Personally, I can't go past the disco-house magnum opus 'Disco Ball' or the remixed version of 'Drive U 2 Dancing'. But in particular, 'Disco Ball'. Disco House is the soundtrack to my early adult life, and this song had me from the very first listen.
Pulling tracks from all the games in the series preceding it, PSP Ridge Racer has perhaps the best audio mix and track selection of any Ridge Racer game.
Here. Have a playlist:
Classy AF. Love it.
The sound-effects are as good as they need to be, with distinct effects and audio cues that bolster the gameplay. You'll know where you're at in a race just by sound alone.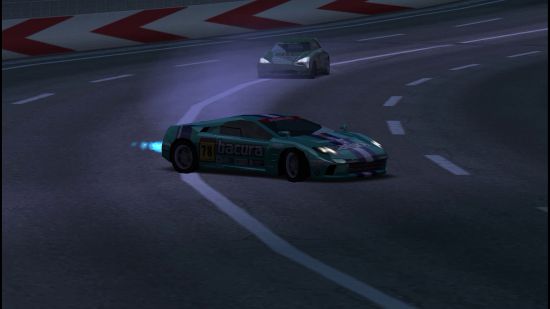 The announcer, a series staple, is as hyper-active and over-excited as in previous games – typical Ridge Racer, then. But as typical as it is, here in Ridge Racers they seem very, very vocal. Too vocal. It's neat for a few races, but I tend to mute them pretty damned fast.
CHROME DRIVE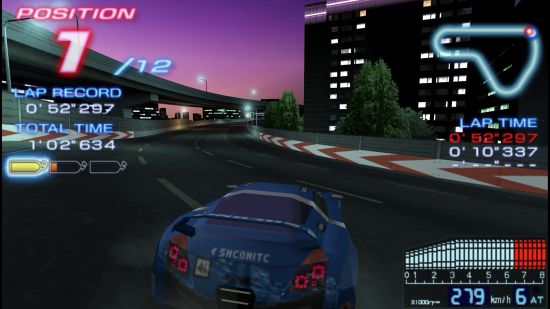 There's a lot of content in Ridge Racers. You've got tracks pulled from Ridge Racer, Ridge Racer Revolution, Rage Racer, Rave Racer, Ridge Racer V and R4: Ridge Racer Type 4. And to be quite frank, even having played the game for the many, many hours I have over the years – not to mention the 6 or 7 hours I've pumped into it in the last week – I honestly couldn't tell you how many tracks there are in the game off the top of my head.
This Ridge Racer Wiki page tells me that there's 42 courses in Ridge Racers/2 total, with 21 being all-new and 18 being legacy tracks from earlier games.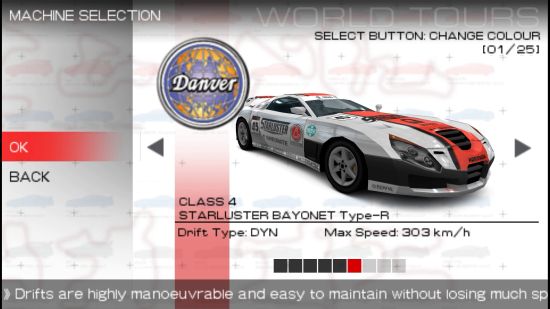 Insane.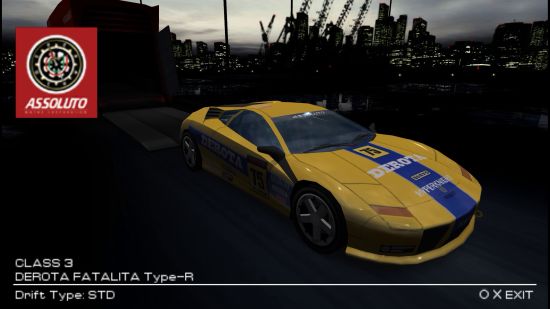 And not only that, the vehicle count sits pretty with 62 vehicles in total. You'll unlock a vehicle each time you clear a cup, so before long, you'll have a massive roster of cars at your disposal. And true to Ridge Racer form, each car falls into one of three drift types. You have your Standard (STD), Mild (MLD) and Dynamic (DYN) attributes. STD is your regular, garden-variety drifting – a nice mix of the other two attribute types. MLD reigns the drifting in a bit, making them a good choice for beginners. Vehicles with the DYN attribute are fairly wild, and make break into a drift on their own if the corner is tight enough or they lose a significant amount of traction.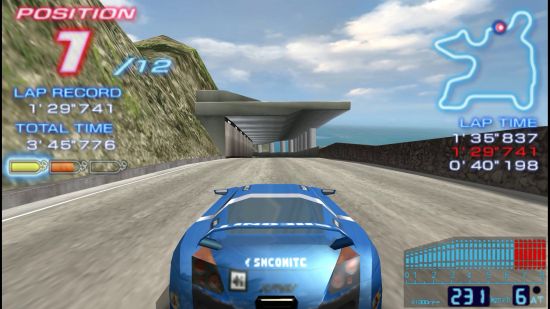 DYN is my favourite. I love the wild drifts, and they last for as long as you can sustain them.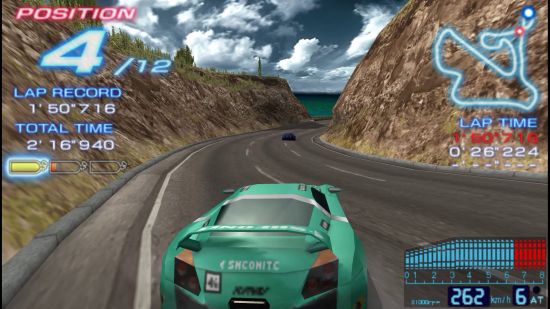 And all this content is available to play in a World Tour career mode, Arcade, Duel, Survival, Time Trial and either wireless ad-hoc or online Multiplayer. I've never played the online stuff, but I really do love the World Tour mode. Making my way through each cup, unlocking things as I go is something I find incredibly cathartic. It's a gameplay loop I'll never tire of. Ever.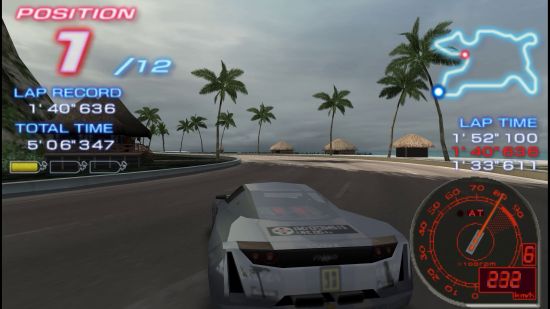 All up, that's a whole lot of content.
MOVE ME
You just can't go past Ridge Racers for PSP. I prefer to play in PPSSPP, but if you're more of a purist than I am when it comes to the PSP, then it plays just as well and looks just as nice on original hardware.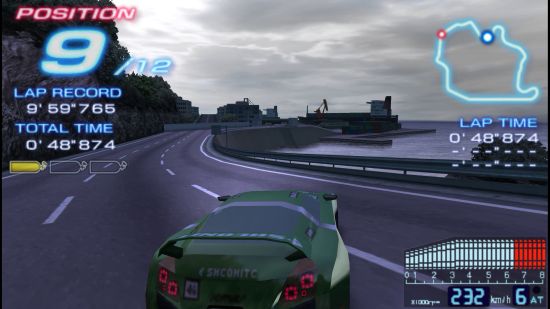 It's the best Ridge Racer experience you could possibly ask for, and my only, ONLY gripe is that it would be extra-super-duper amazing if I could play it with my steering wheel. I haven't sussed it out quite yet, but once I do, expect a full report!
Which ever way you choose to play, you'll not be disappointed. Ridge Racers is everything that Ridge Racer is in general and a whole lot more. It's arguably the most refined entry in the series, so if you're a fan of arcade racers and haven't given it a crack yet, DO IT.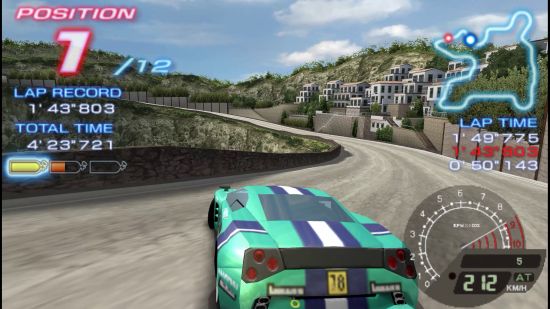 Ridge Racers runs like a dream, looks gorgeous, has some of the best, most refined arcade racing physics you'll ever come across and features enough content to last you a life time
It's a PERFECT 10.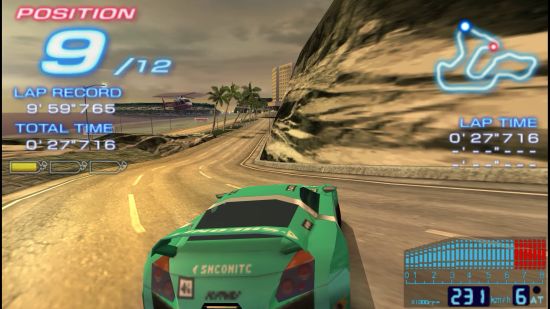 ---
What are your memories of the PSP Ridge Racer games? Are you a fan? Prefer R4?
Sound off below!
Posted In:
3D Racing
,
Arcade Racing
,
emulation
,
Handheld Gaming
,
Japanese Games
,
NAMCO
,
PC Gaming
,
Perfect 10s
,
Playstation Portable
,
PSP
,
racing games
,
Video Game Music
Tags:
1440p
,
Android
,
Arcade Racing
,
Disco Ball
,
Drive U 2 Dancing
,
driving
,
driving games
,
emulation
,
Move Me
,
NAMCO
,
PC Gaming
,
Pearl Blue Soul
,
Playstation Portable
,
PPSSPP
,
PSP
,
PSP Arcade Racing Games
,
PSP Driving Games
,
R4: Ridge Racer Type 4
,
racing
,
Rage Racer
,
Rave Racer
,
Ridge Racer
,
Ridge Racer 2
,
Ridge Racer in HD
,
Ridge Racer Music
,
Ridge Racer Revolution
,
Ridge Racer Type 4
,
Ridge Racer V
,
Ridge Racers
,
Sony
,
Sony Playstation
,
Sony PSP