As you lot know, I am very much looking forward to Bitmap Bureau's new Mega Drive/Dreamcast game Xeno Crisis.
And judging by the success of the Kickstarter campaign, it's abundantly clear that I'm not the only one.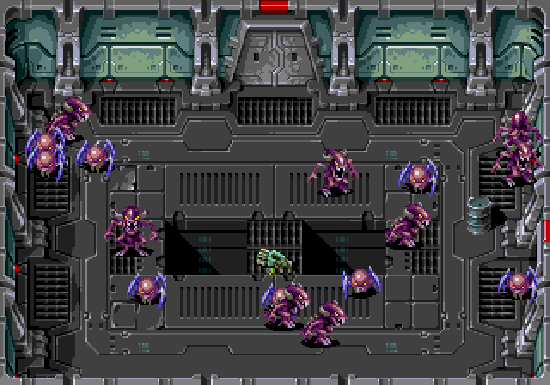 Having hit Kickstarter just shy of a month ago, Bitmap Bureau set out to raise £20,000 to fund the development costs of Xeno Crisis – a full-fat, throw-back, 100% hardware-driven Mega Drive title. The campaign hit the ground running. It was fully funded in the first two days, and as it stands right now, is sitting on well over £55,000. Fantastic news for all involved, and it's still ongoing. Each stretch goal has been reliably smashed, meaning that Bitmap Bureau have been able to expand the scope of the game, and there is now a lot more look forward to.
Awesome additions that came about thanks to the extra funding are as follows:
The Dreamcast port – obvs.
2 Player co-op, and a new female marine character.
New areas, enemies and bosses.
Bonus stages.
A Boss Rush mode and concessions made for speed-running.
Limited Edition physical soundtrack releases – available in CD and Vinyl formats.
As a whole then, it ticks all the boxes. The shooty-shooty action looks intense. The gameplay looks super-addictive. The art is the stuff euro-pixel dreams are made of. And the music.
THE MUSIC.
Xeno Crisis, at the time of writing, just hit its last goal, so I figured that while we prepare for the final onslaught – the game is almost in its final 48-hour stretch – I'd reach out to Bitmap Bureau themselves, to hopefully get them shed some light on the project in their own words. Well before long, Mike Tucker – whose role in Xeno Crisis is game design and gameplay coding – got back to me, and was kind enough to answer a handful of questions I had about the project:
---
A Certain Kind of Gamer: So, Xeno Crisis! What is it, and how did it come about? Mike Tucker: Xeno Crisis is a new, original title for both the SEGA Mega Drive and Dreamcast to be released October 2018 to coincide with the Mega Drive's 30th birthday. We're releasing it both as a physical product (box, cartridge / disc and manual) and as a ROM / disc image. It came about as we had all spent a number of years making "retro" games for modern systems (including Super House Of Dead Ninjas and 88 Heroes), but wanted to push ourselves by making a game for an actual retro system with all of the constraints that they bring! ACKoG: What is it about the Mega Drive/Genesis that made you go – yeah, that's the platform!!! ??? MT: Well we've all been fans of the Mega Drive for a long time, and even today it still has an air of coolness about it and a personality that you just don't associate with modern consoles. I think in terms of actually getting a game finished and released on cartridge it was an easier proposition than the Super Famicom too. ACKoG: Good to hear! You've got some killer names on your team. How did you manage to score scene legends like Henk Noiberg and Gecko Yamori Savaged Regime? MT: Blackmail! ? I guess you'd have to try asking them yourself, but I would like to think it's because Xeno Crisis is an appealing project to work on, and because it's a genuine Mega Drive game rather than something that's just trying to look and sound like a Mega Drive game. ACKoG: Awesome. And look, I know it's a little premature, but can we expect more from Bitmap Bureau? You've got an all-star team, so it'd be brilliant to see you guys tackle more MD/Gen games in different genres. MT: Most definitely – I've been involved in the games industry for over 22 years now, and have no plans of stopping anytime soon. ? Given the success and feedback we've had from the Xeno Crisis Kickstarter, I think it's safe to say that we'll be looking at starting development on another Mega Drive game in 2018, although we need to get Xeno Crisis finished first of course! ACKoG: In that case, I'll make sure to save you guys some room on my shelves! Well, thanks for stopping by Mike, it was really neat of you to take the time out to chat about Xeno Crisis for a bit – the best of luck to you all! Need your fix a little sooner? Here's 4 GAMES TO PLAY RIGHT NOW while you wait for XENO CRISIS.
Xeno Crisis takes its cues from a stack of bona fide retro classics. That's partially why the game looks so promising – it's building on what has come before, but with its own unique takes on the formula.
But if you're anything like me, and you really can't wait to get your grubby little mitts on the game, you'll be needing games in a similar vein, to scratch that itch and tide you over until Xeno Crisis late 2018 release.
And boy, am I happy to oblige!
THE CHAOS ENGINE (SOLDIERS OF FORTUNE):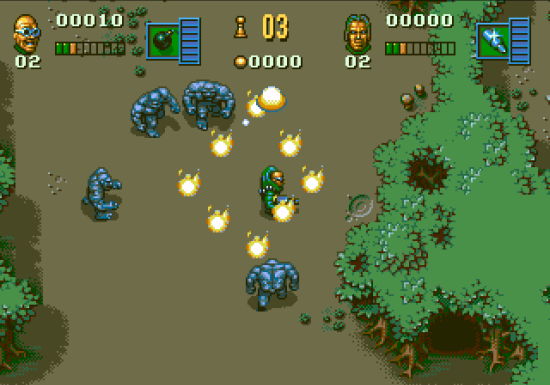 The Chaos Engine is an Amiga game, released by the seminal Bitmap Brothers in 1993. It's a top down run-and-gun, with large levels, multi-player co-op and a brutal difficulty curve.
It was a bit of alright, so it didn't take long for it to be ported out to almost everything, including the Mega Drive, SNES, Atari ST and MS-DOS. All versions of the game are the same at their core – so you can't really step a foot wrong by going for whatever version is the most convenient for you. Do note, however, that in North America, the game was re-branded Soldiers of Fortune.
If real hardware or emulation aren't your thing though, it was released on Steam in a lightly remastered form in 2013. Again, it's the same game, but includes some mod-cons, like:
on line multi-player on top of local co-operative play
the original AMIGA score by Richard Joseph
visuals re-mastered for wide-screen displays
The Chaos Engine is brilliant, and comes highly recommended.
ROBOTRON: 2084 & SMASH TV: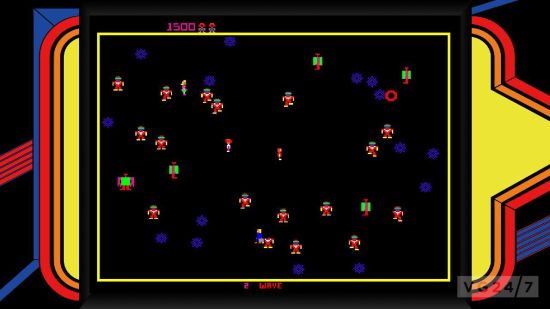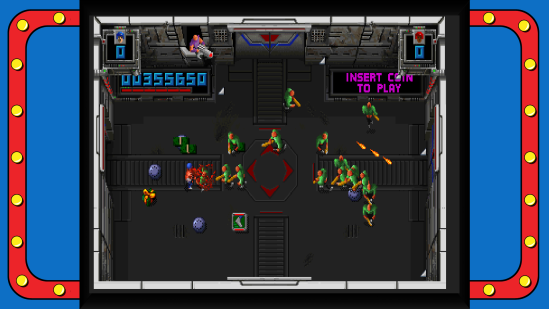 OK, so I'm cheating a bit with this entry, and it's a two-for-one!
I've lumped these two together because they are so closely related, and being developed by gaming legend Eugene Jarvis, their DNA is inextricably linked.
Robotron: 2084 placed the top-down, twin-stick control method for shooters into the lexicon of everyone, everywhere, whilst Smash TV meaningfully expanded on the ground-breaking formula. These two are of the arena-shooter variety, so it's single screen action all the way.
As far as I've been able to see, these games are no longer available for sale anywhere on any modern platforms. Which is a shame. Emulation is an option though, with MAME offering the closest experience to the original coin-ops.
But if you happen to be rocking console older hardware, then you're covered too – there are lots of ports out there of both titles. And out of them all, arguably the best way to play is likely via the Midway Arcade Treasures compilation, either on the Playstation 2, Gamecube, Microsoft Xbox or Windows. They run flawlessly, and come on a single disc with a bunch of other great arcade titlesThe Xbox version even supports higher resolutions such as 720p and 1080i – something I can personally guarantee looks brilliant on a modern TV/Monitor!
In case I haven't made it clear enough, you absolutely cannot go past these games.
They've not aged a day when it comes down gameplay, and Robotron 2084 in particular still feels like it's from the future. A retro future, to be sure, but still timeless.
These are classics for a reason.
SHOCK TROOPERS: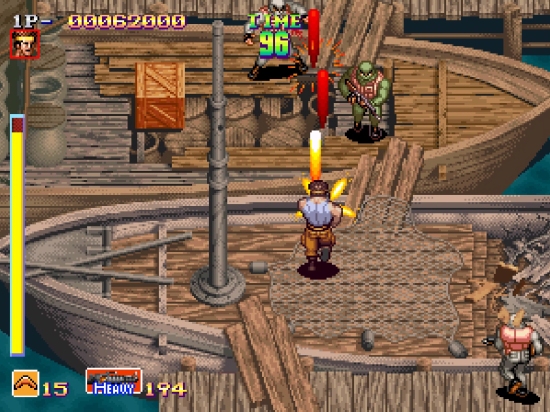 Shock Troopers is another classic coin-op. It's quite similar to games like CAPCOM's MERCS, but in my humble opinion, it's even better.
Originally developed by Saurus and SNK for the NEO GEO AES and MVS platforms, Shock Troopers features a roster of 8 characters, environments that blow up quite nicely and multiple routes you can take through the game.
The graphics in this one are insane, and the levels are varied and full of colour. Each character has their own unique play-style, and there's plenty to see and do here, so you really can't afford to pass on this one.
It's control scheme is of particular note here – Bitmap Bureau have said themselves that the main control system – on the Mega Drive – will be taking after this one. And I say that it's the best decision they could have made. It works flawlessly, and is particularly suited to consoles such as the Mega Drive, who's controller configuration doesn't necessarily lend itself well to twin-stick set-ups. You simply move in a direction and shoot – hold the shoot button to keep your fire locked, release to recalibrate.
If you think this one looks interesting, then I'm happy to report that it is indeed currently available for purchase on modern marketplaces.
Pick your poison – Nintendo Switch, Playstation Network, Mobile and Steam.
NEX MACHINA: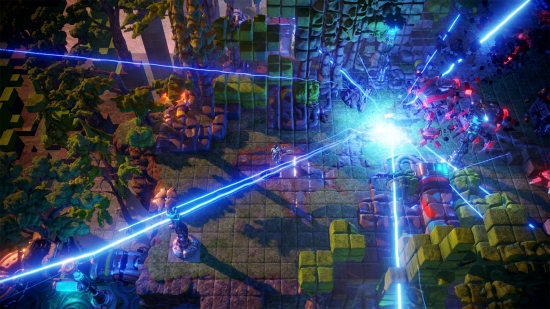 Nex Machina is the most recent game to release on this list. A collaboration between Eugene Jarvis (there's that name again) and renowned development studio Housemarque, this one hits all the right notes.
It's a mix of pretty much all the games listed so far, and is truly excellent, but with the pedigree behind it, it really had no chance of being anything but.
Nex Machina is available on Steam, GOG and the Playstation Network.
---
So there you have it. All of these games are worth playing, and all are down-right classics. And you should play them. ALL OF THEM. Yo, hey – at the very least, this list right here will keep you occupied for a while, and make the wait for Xeno Crisis that much more bearable.
Of course, it goes without saying that there's a whole glut of games in this style that I didn't even mention. If I did, we'd be here all week – so, to save me some writing, I'm asking YOU!
What are some of your favourites?
Hit me up in the comments below, and let's chat classic run 'n' guns and twin-stick stuffs!!!
Posted In:
Arcade Shooters
,
New Retro
,
run 'n' gun
,
SEGA Genesis
,
SEGA Mega Drive
Tags:
2084
,
AES
,
Amiga
,
arcade
,
Atari ST
,
Bitmap Brothers
,
Bitmap Bureau
,
Blog
,
co-op
,
collectors
,
Eugene Jarvis
,
Gamecube
,
Games
,
gaming
,
Genesis
,
GOG
,
Housemarque
,
Indie Games
,
Kickstarter
,
lists
,
MAME
,
Mega Drive
,
Microsoft
,
Midway
,
Midway Arcade Treasures
,
MS-DOS
,
MVS
,
Neo Geo
,
NEOGEO
,
Nex Machina
,
Nintendo
,
PC
,
Playstation
,
Playstation 2
,
Playstation 3
,
Playstation 4
,
Playstation 4 Pro
,
Playstation Network
,
PS4
,
PS4 Pro
,
Retro
,
Robotron
,
Robotron: 2084
,
Run and Gun
,
Saurus
,
SEGA
,
Shock Troopers
,
Smash TV
,
SNES
,
SNK
,
Soldiers of Fortune
,
Sony
,
Steam
,
The Chaos Engine
,
top down shooter
,
twin stick
,
Williams
,
XBLA
,
Xbox
,
Xbox 360
,
Xeno Crisis