I've written about Noctet Studio's Slipstream before.
A Kickstarter success, Slipstream sold potential backers with an early, but promising demo that showed an Arcade Racer cribbing from the 2D greats of the genre.
And whilst the development of the game has seen its ups and downs, I was really happy with the progress the game had made from that initial demo to the last build. There were still a few glaring issues that I found really stopped me from enjoying the game to the extent that I wanted to, but I was liking it a lot.
But now?
Well, well, well.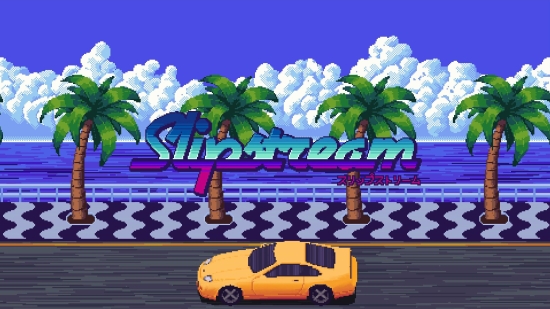 Noctet Studio has done some major work on the game, with Slipstream getting the spit and polish it truly deserved. For me, it's has from pretty good to rather excellent.
Slipstream will see release on Steam REALLY SOON. It's looking like a May 20th release, or thereabouts. Andsor from Noctet sent out an update for backers of the Kickstarter a couple of days ago, stating that the game was nearing release, and that backers were to get in on the game a week or so early with a pre-release beta period. The bulk of the game is done, and this beta-week will be a time to squash some bugs, work on the difficulty settings and other small tweaks.
Multi-player and a Track Editor will be coming a month or two after release.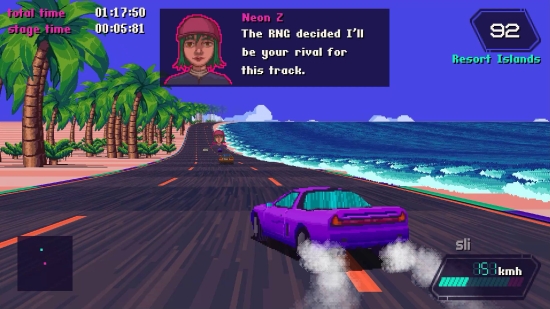 Here's a truncated version of the update we received:
The moment you've been waiting for has finally arrived.

This is not a public release yet, but we're almost there. I wanted to give you guys an exclusive preview/beta week for two reasons: One, because you guys are awesome and you deserve a treat for keeping up with all my delays, and two, because I need larger scale testing before I unleash the game into the wild. I know there will be bugs and I'm gonna fix everything I can during this period. There is also some missing stuff, like a proper credits screen, some cosmetic things, and the difficulty still needs to be properly balanced, but the game is complete for all practical purposes. If nothing goes catastrophically wrong, public release will happen around next weekend.

These are the sixteen characters you'll find in Slipstream…

… 7 of them were created by backers, the other 9 are original creations. You will find them as rivals in arcade mode, and they'll be playable in the future multiplayer mode (more on that later).

After the major bugs are fixed and the game is available for sale, I'm gonna work on the multiplayer. There will be multiplayer quick race and grand prix modes (but no arcade, sorry), and you'll be able to play as one of the characters mentioned above. Since the hard work is already done, I think it's safe to say the multiplayer will be available in a month, two at most. I'm also gonna try to ship the track editor in the same update. With multiplayer + track editor, Slipstream will be definitely, completely, absolutely 100% finished forever.

What happens next will depend on the sales. If the game sells well enough, I'm gonna try to port it to consoles. If not, I'm gonna move on to the next project.

Again, I cannot thank you all enough for being so supportive and keeping up with this project for so long. This project took years of my life, all my dedication, and it's hard to describe how it feels to finally release it. I hope you're not disappointed with the results. I did the best I could. Thanks!
Full disclosure: I was a backer for Slipstream. I ended up settling on the tier that allowed me to create a character for the game. The dude in the green? That's me. In my last preview of Slipstream, I did say that I'd do my utmost to remain objective with the game, and not let the fact I'm a backer cloud my judgement.
I'm sticking to that.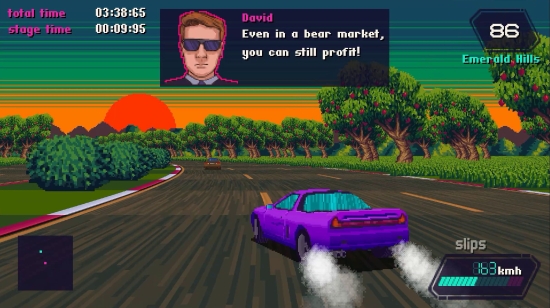 So I've had the pre-release build of Slipstream for a couple of days now. I was super-anxious booting into the game. I was really, really hoping that my issues with the game had been ironed out.
So how does it fare? Let's get started!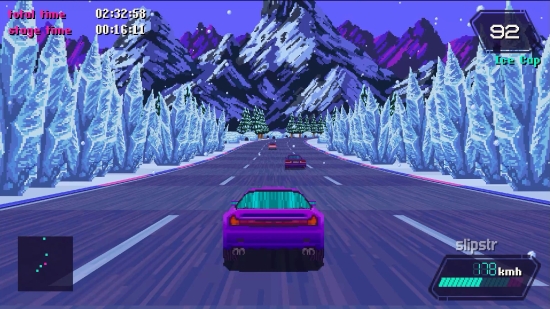 First off, I'll address the difficulty. Here's what I thought of the wildly-inconsistant difficulty settings earlier:
Like I said earlier, it's the Grand Prix mode that has me most excited, and it's where I think the game will have most of its legs, at least initially. Unfortunately, it's also the part of the game that I feel needs the most work. The difficulty level is pretty severe right now. You can choose between Easy, Normal and Hard, but it doesn't seem to do anything. Races I can win easily in a Quick Race are ridiculously difficult on the same Easy and Normal settings in Grand Prix mode. Challenge is great and all, and I'm actually hoping that the Easy setting in general gets a little bump up in difficulty, but in Grand Prix, I can't seem to win any money to upgrade my vehicle. In turn, it just leaves me stranded – I'm unable to upgrade my car, which I need to do to compete, yet I need to win to keep up with the competition. You are given a wad of cash at the start, and it's enough for a couple of upgrades to get you going, but throughout the remainder of the Grand Prix, I only managed to nab one more. I'm still getting to grips with the basics of the new Slipstream, but I figured setting the Grand Prix to Easy would help ease me into the game just a bit.

Nope.

Maybe it's a case of being shit at the game? I don't know.

It's completely possible. But Quick Race and Arcade are by far the easier modes as of right now. Some consistency would be fabulous here, Noctet!
All of this has been addressed. ALL OF IT.
Easy Mode is now easy. Medium is harder, and Hard is more difficult still. The way I play these games is I clear it on Easy, then I go back and do it on Medium. After that, I move on to Hard, if I can stomach the brutality.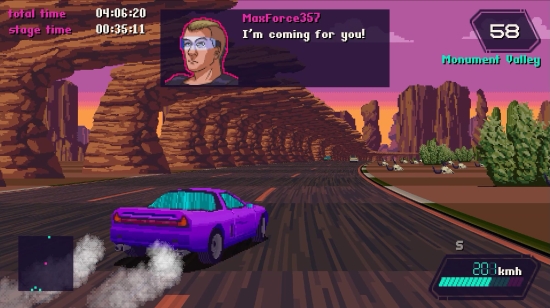 I find this approach works for me. I like to be eased into things. I like to learn the basics and find my footing before I go after the challenge. Getting to grips with track designs and racing mechanics is a lot more palatable when you're not being punished every twenty seconds for daring to test the limits of what you can and can't do.
And I've cleared the first two cups on Easy mode so far!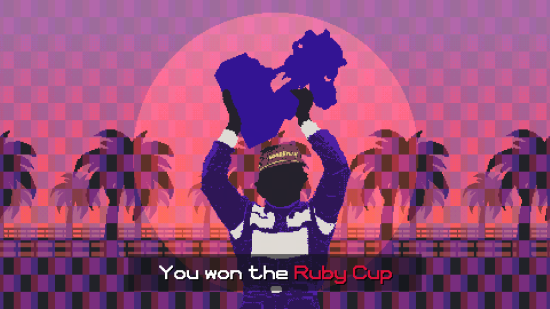 YAY!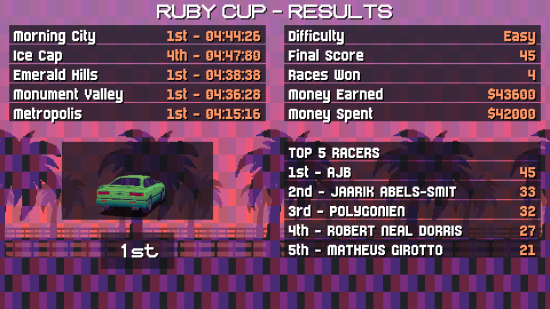 I mean, it's a bit of a hollow victory, because it's ON EASY MODE, but still, I couldn't manage this before.
As I mentioned earlier, I couldn't catch a break in the Grand Prix mode. I couldn't win, so I'd have no money to upgrade my car. All of which in turn meant I couldn't compete, so no money for the upgrades I needed to remain competitive. A vicious cycle indeed.
So, for me at least, this is no longer an issue. I'm on my way to clearing the game on Easy, and straight after that, I'll be jumping on Medium.
Noctet, you did good, kid.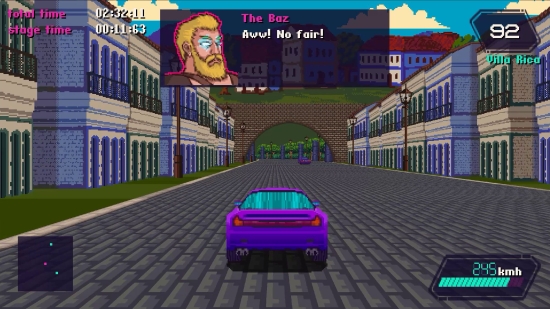 The only other issues I really levelled at the game were a lack of personality, a so-so soundtrack and a Slipstream boost mechanic that felt a little off.
Whilst the game still isn't brimming with personality – even with the backer characters in there – and the music still isn't all that memorable, what Noctect have done is doubled-down on the 80s-shopping-mall aesthetic and vibe. The visuals, music, drifty gameplay and graphic-filters all fit together to form a Vaporwave fever-dream that is entirely intoxicating. You might not be able to hum along to all of the music here straight away, but you can be damned sure that the soundtrack fits the game like a glove.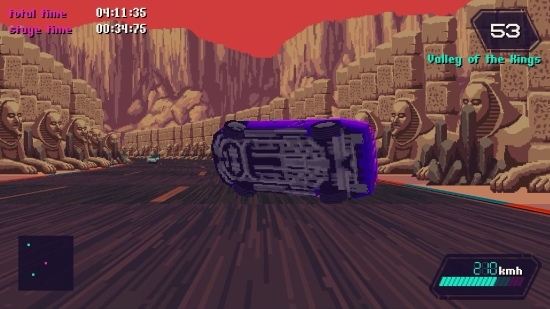 In regards to the controls, it really feels like they've been tightened up somewhat, and I'm finding that I'm initiating drifts a lot more reliably than I had in the past. I'm still not sure there's oodles of depth here, but with these kind of racers, that's almost a given – it's all about the minute-to-minute action, and from the (infuriating) traffic you'll be dodging, to the time-limits imposed on your run, Slipstream nails what it sets out to do.
I took issue with the titular 'SLIPSTREAM' mechanic in the previous build:
I do think the titular Slipstream mechanic could use a little work, though. If you tail an AI car for a couple of seconds, the game rewards you with a speed boost. The effect is fantastic, and I do love the concept, it's just that sometimes the speed boost can be wildly unpredictable. I can recall at least a dozen times where I've been sent flying into the track-side scenery because I wasn't sure if the mechanic was in play or not. I'd love for this boost to be telegraphed a little more – ideally before it actually hits. A small sound queue would work wonders in regards to communication and player feedback. It's no deal-breaker, mind, it could just stand to be improved a little.
Well, it's been tightened up, absolutely. I still think it could stand to be telegraphed a little more, because unless you're constantly checking the 'SLIPSTREAM' meter above your Speedometer, it's hard to tell when it's going to kick in, but on the whole, I no longer find it an issue. I'm not flying into scenery any more, so that's a plus.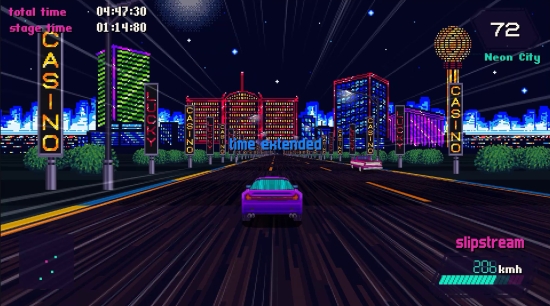 So Slipstream, then. It's a bit of alright. I'll leave it there for now, because I'd really like to review this once it's out in the wilds, but I can safely say that when the game does hit, it'll be worth a purchase, for sure.
I'll leave you with a few things I really dig about the Slipstream, and a couple of things I think could be better.
The visuals are awesome. The colours are amazing, and things run as smooth as your rig can manage. 165fps? No problem!
I'm totally sold on the majority of the tracks being loosely based on zones from the Sonic the Hedgehog games. I say loosely, but really, how loose an interpretation is 'Marble Garden'? ?
The music isn't memorable, but it is fantastic. Moody AF, and it puts you in the zone.
Course design is excellent. This is Out Run 2 in 2D. Lots of hills, sweeping corners and some forks in the road thrown in there for good measure.
Arcade, Quick Race and Grand Prix modes are fantastic…
…but we really need a Time Trial mode.
Controls are touchy at first, but you'll be ripping around the courses in no time.
The 'SLIPSTREAM' Mechanic still feels a little under-done. But it's not bad!
The AI traffic drones are fast, obnoxious and infuriating.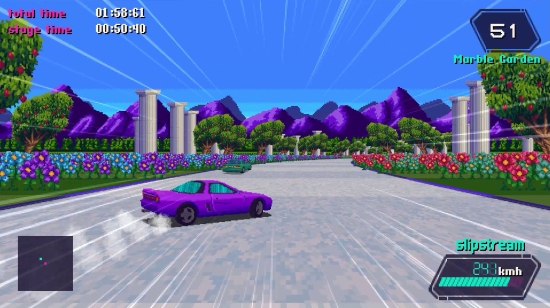 Slipstream should be out on Steam in the next couple of weeks. For more on the game, check out the write-up on the Steam Page HERE:
Slipstream is a racing game inspired by the visuals, music, games and cars from the late 80s and early 90s. It's built on a custom game engine, with an authentic retro feel and unique graphics. The soundtrack, drawing from synthpop and jazz fusion influences, sets the tone for a race across a variety of exotic locations from all around the world, including cities, deserts, forests, mountains and beaches. Drifting and slipstreaming mechanics add depth to the driving gameplay, and the result is a challenging and exciting experience

Features

Authentic pseudo-3D game engine with 2D graphics, just like the glory days of the arcade racers.
20 Different tracks, set on a variety of exotic locations all around the world… and beyond.
3 Game modes: arcade, quick race, and grand prix.
5 Car models, each with its own specs and playstyle.
Original soundtrack with 9 exclusive songs.
Upgrades, drifting, turbos, rivals, forks and much more!
Wishlist Slipstream on Steam HERE.
You'll be wanting this one.
---
Posted In:
2D Racing
,
Arcade Racing
,
New Retro
,
PC Gaming
,
preview
,
racing games
,
Raster-Style Racing
,
sega blue skies
,
Steam
,
Synthwave Aesthetic
Tags:
16-Bit
,
16bit
,
2D Racing
,
2D racing games
,
32-bit
,
32bit
,
Andsor
,
Arcade Racing
,
cars
,
driving
,
Indie Games
,
indie gaming
,
indie racing games
,
like SEGA System 16
,
like System 16
,
Noctet Studio
,
Opinion
,
Out Run
,
Out Run 2
,
Out Run 2019
,
OutRun
,
PC Gaming
,
PC Master Race
,
PC Racing Games
,
racing
,
racing games
,
Raster Racing
,
Raster Scrolling
,
SEGA Racing
,
Slipstream
,
Steam
,
SteamPowered
,
top gear
,
Windows