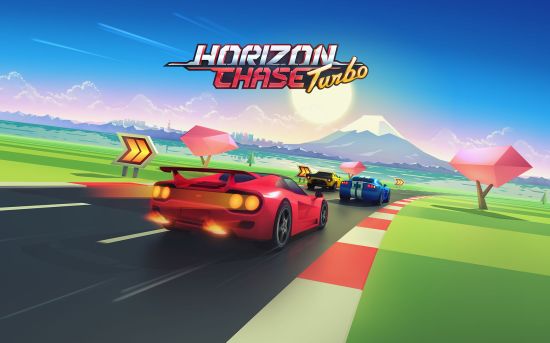 We're less than a week out from the release of the much-anticipated Horizon Chase Turbo, a throw-back retro racer that absolutely slayed on mobile devices three years ago. Horizon Chase garnered about as much positive press and critical acclaim from both reviewers and gamers as a mobile game can get, so with the console and PC release creeping ever closer, I thought I'd touch base with Aquiris Game Studio's Lead Game Designer Felipe Dal Molin to see what's new in Turbo.
---
A Certain Kind Of Gamer: First up, thanks for taking the time out to chat with me! Horizon Chase was released in 2015 to much acclaim – I really enjoyed the Android version of the game. What changes have you made to adapt Horizon Chase for home systems?
Felipe Dal Molin: Horizon Chase Turbo is a new level of quality for the game, from the new UI and huge improvements in user experience, to 2 new cups and several new cars, revisions, and features we couldn't do in other platforms, such as the split-screen multiplayer. We had to adapt most of the tech to support all that. The new game modes offer new ways of playing Horizon Chase, alone or with friends. So apart from the World Tour campaign, we now have Tournaments with 4 races, in 3 difficulty categories, and Endurance challenges, which pits the player against random sets of races. The entire game is now playable in split-screen for up to 4 players. One major addition is the Ghost car, which ignites the competition with Friends and Global leaderboards.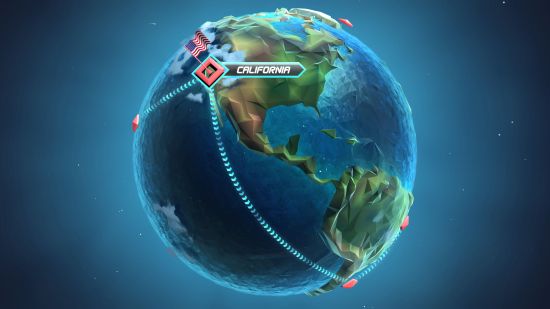 That 4 player split-screen looks ace – will it be in all versions of the game?
Yes, all versions of Horizon Chase Turbo will have support for 4 player split-screen: PC, PS4, Xbox One and Switch.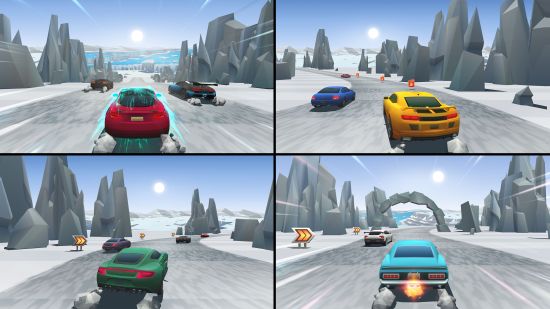 You seem to have gone to great lengths to re-create the magic and play-style of classic raster-style racing games. Tell me a little bit more about the technology and inspirations behind Horizon Chase Turbo.
We definitely went far to make it feel like an old-school arcade racer. The track itself is the biggest magic trick: it's a kind of treadmill that runs towards the player's car, spawning and destroying the scenery as it moves, while the player's car stays put. Now try to figure out how this applies to 4 simultaneous players — it still surprises me to this day. Those guys making proto-3D racers with 2D technology in the 80s and 90s were heroes, and I think trying to go the long way too contributes to Horizon Chase Turbo's uniqueness.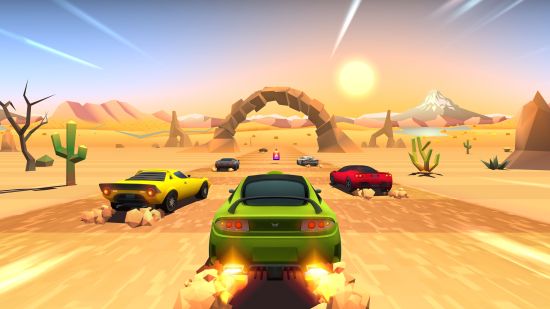 All the great arcade racers have iconic soundtracks that cement their identity, and Horizon Chase nails the sounds and music. What was it like working with a legend like Barry Leitch?
It was awesome! Barry has a natural feel for what sounds good when you're at 180mph in a vibrant, colorful video game. The music fits the gameplay like a charm. For the Turbo version, Barry composed a few more tracks that managed to be even more exciting than the previous ones, and we reserved those for special races.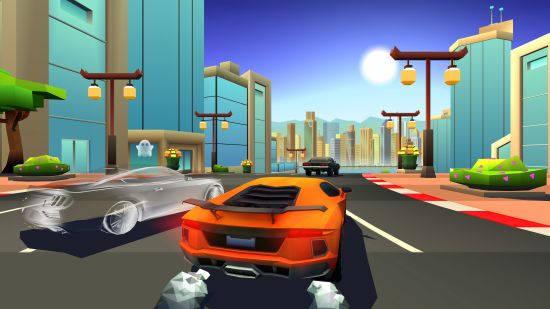 It's awesome to see developers such as yourself bringing this kind of racer back. For too long, it seems as though it's been racing sims on the market and nothing else. What do you think of the current resurgence we are seeing in retro-styled arcade racing games?
The market has cycles, right? One day everyone is rushing to make 3D games because the PlayStation supports 3D, the other day people are exploring every corner of pixel art because suddenly art direction is harder to get right than graphical fidelity. I think what brings us back to the old way of making racing games is a gap in the market: we have the true-to-life simulators, we have the chaotic, explosive kart racers, we have the open-world leisure driver… All of a sudden, we realise we lost something in the way — we lost the obstacle-course feel, the tension of getting off-road for a split-second, the simple tug of war of a tight turn. I think these genre resurgences (Shovel Knight, Castle Crashers, the rogue-like genre) happen whenever the tech leads us to a certain path, and later on we realise there's good play in what was abandoned. The challenge is how to update that for modern audiences, leaving out the bad bits and improving on the good ones.
When can we expect to see Horizon Chase Turbo, and for what platforms?
Horizon Chase Turbo will be available on May 15th, for PS4 and PC. Later on, we're planning to launch the game for Switch and Xbox One, still in 2018.
And just for a bit of fun, can I ask you what your Top 5 2D and 3D Racers are?
2D Racers

Top Gear
OutRun
Super Mario Kart
F-Zero
Pole Position

3D Racers

Cruis'n World
Need for Speed: Underground
Burnout 3: Takedown
Carmageddon TDR 2000
Mario Kart Double Dash
Thanks for taking the time out to chat, I know you must be busy in the lead up to the launch!
---
HORIZON CHASE TURBO screams onto PC and Playstation on May 15th, with releases on the Xbox One and Nintendo Switch to follow later in 2018!
UPDATE 8/5/2018: This just in…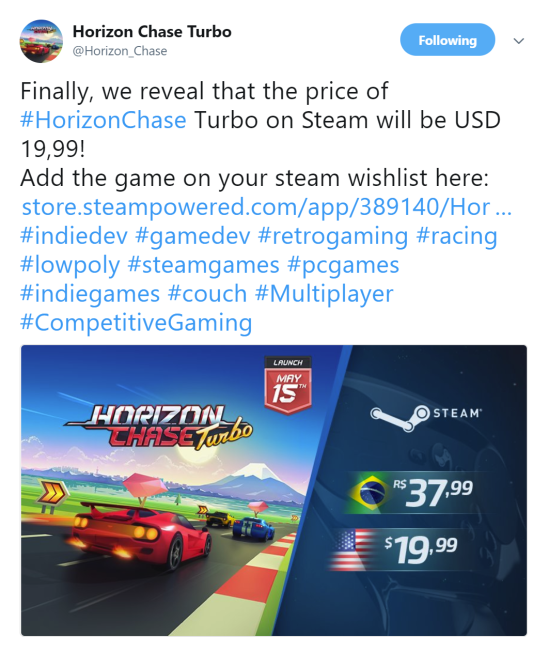 WISHLIST HORIZON CHASE TURBO ON STEAM HERE!
---
Posted In:
2D Racing
,
3D Racing
,
Arcade Racing
,
Interview
,
Microsoft
,
New Retro
,
Nindies
,
Nintendo
,
Nintendo Switch
,
PC Gaming
,
Playstation 4
,
racing games
,
Raster-Style Racing
,
Steam
,
Street Racing
Tags:
16-Bit
,
3D Racing
,
Android
,
Apple
,
Aquiris Game Studio
,
arcade games
,
Arcade Racing
,
cars
,
Developer Interview
,
Development
,
driving
,
Felipe Dal Molin
,
Google
,
Horizon Chase
,
Horizon Chase Turbo
,
Indie Games
,
IOS
,
iPhone
,
Microsoft
,
Nintendo Switch
,
Nintendo Switch Racing Games
,
PC
,
PC Gaming
,
Playstation
,
PS4
,
racing
,
Raster Racer
,
Raster Racing
,
Release Date
,
Samsung
,
Sony
,
Sony Playstation
,
Steam
,
Switch
,
Throwback Racing
,
XB1
,
Xbone
,
Xbox
,
Xbox One