I'll get to the Tutorial in a second, but I've really got to go into what inspired this post in the first place.
So, I finally sat down and went through DeviantArt ICON (ha!) POOTERMAN's gallery. I've been meaning to download all of the icons he's made to replace my own for a while now, and being laid up with a bad back today was the perfect excuse to get cracking and just do it.
If you don't know who POOTERMAN is, then go CHECK OUT HIS ICON GALLERY HERE!
POOTERMAN came to my attention through various Steam Discussion forums. He (?) posts icons in a lot of threads, usually for new Steam listings, and I couldn't help but be taken aback by the sheer quality of the icons he was creating.
And truly, POOTERMAN's icons are something else. They're bright, colourful and uniform. Check this out!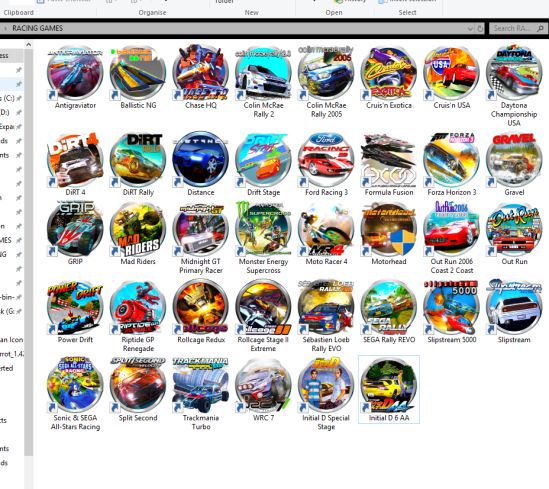 Don't they look amazing? And they're just the racing game icons I've nabbed so far. POOTERMAN does icons for all kinds of games spanning all manner of genres. And not only that, he creates icons for obscure-ish Hacks, Unofficial Releases and ROMS too! Amazing stuff.
If that's not enough, then there's these Genre folder icons you'll be wanting…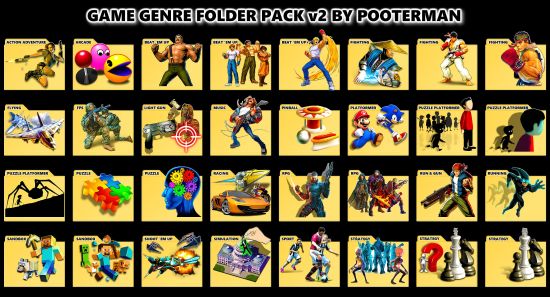 Pure class.
POOTERMAN offers up high-quality .png files for all to download for free. And converting all those .png files you'll be needing to download into icon files (.ico) is easy-peasy. Simply go HERE and follow the instructions on the page.
But what good are the icons for, say, Power Drift (MAME) or Initial D (PCSX2) if you have to launch them through an emulator?
Wouldn't it be sweet to just boot directly into those games from your desktop, with ALL THE BEAUTIFUL POOTERMAN icons attached?
Let me show you how…
… it's really, really easy.
---
TUTORIAL: BOOT DIRECTLY INTO YOUR ROMS FROM A GAME-SPECIFIC SHORTCUT (MAME)
For this example, I'll be using MAME 64… but you can use this with other emulators. I'll give an example of one created for Initial D Special Stage in PCSX2 later, but first up, MAME!
So you want to create a shortcut to boot directly into, say, Power Drift?
Navigate to your main MAME directory and create a new text document – the file extension should be .txt :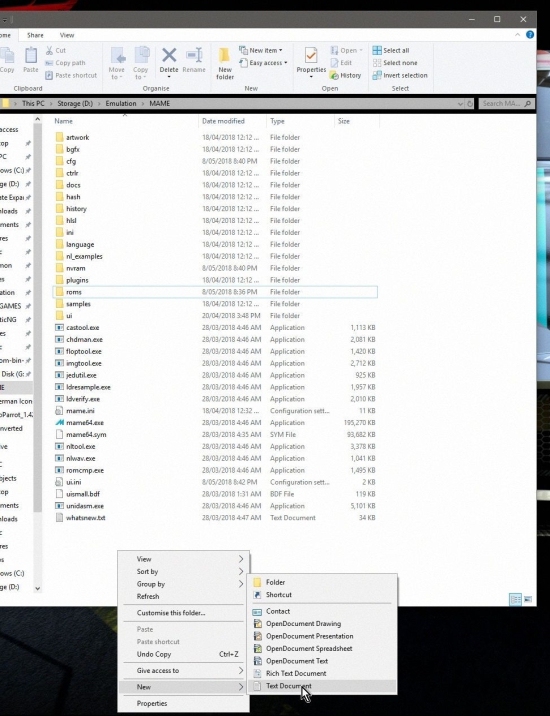 Name your .txt file, but make sure to put an exclamation (!) point at the beginning. Because I'm choosing to create a shortcut for Power Drift, I've named the file "!Power Drift.txt" – for your game, you'll be typing "!INSERTGAMENAMEHERE.txt" … mine looks like this:

Open your ROM folder, or whichever folder in the directory contains the ROM file you're after. Mine is here: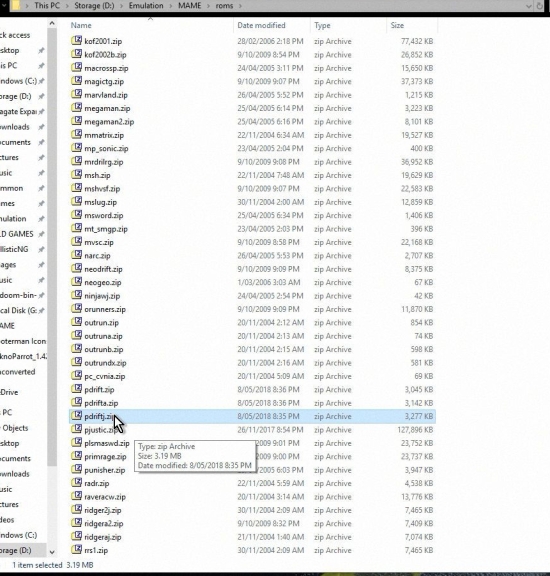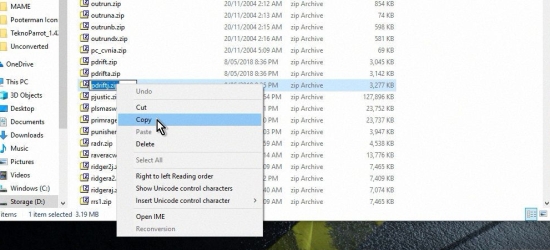 Go back to your main MAME folder. Open the .txt document you created earlier. Here, you'll be entering a really simple string of text. It consists of:
the name of the Emulator Executable – in this case, Mame64.exe
the name of the ROM, and again, in my case it's pdriftj.zip – you can paste the ROM name you copied earlier directly into the text. It saves having to remember the truncated ROM names
an optional bit of text that removes the bilinear filtering… -nofilter

Make sure to save your changes and close the .txt document: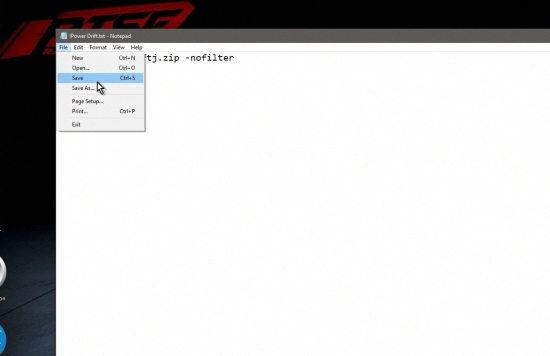 Now, in the main MAME directory, you'll want to click on that .txt file we made and change the extension to .bat instead. Change this…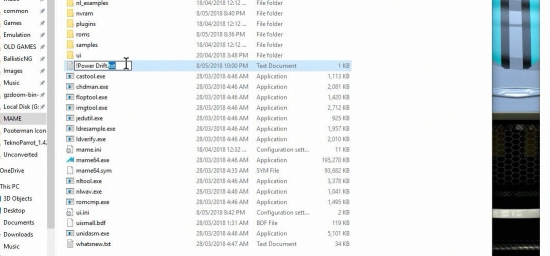 … to this…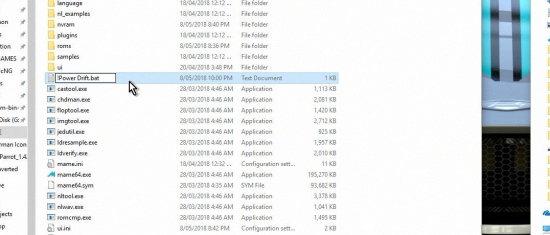 … and when you're told by Windows that "If you change a filename extension, the file might become unusable. Are you sure you want to change it?", click YES to apply the file extension name change, like this:
Now that's done, right click on our freshly re-named .bat file and create a shortcut of it, as below: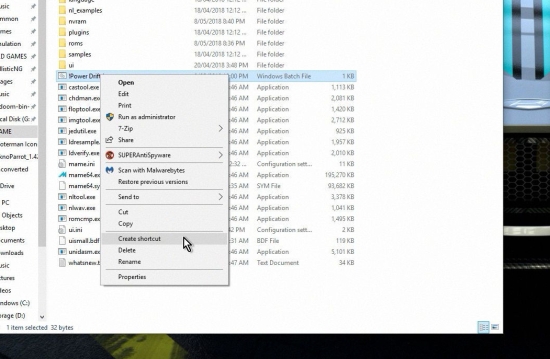 You now have your direct-access batch file Shortcut to your MAME game of choice! Move it to wherever you want. For the sake of simplicity, I've moved it to my desktop here: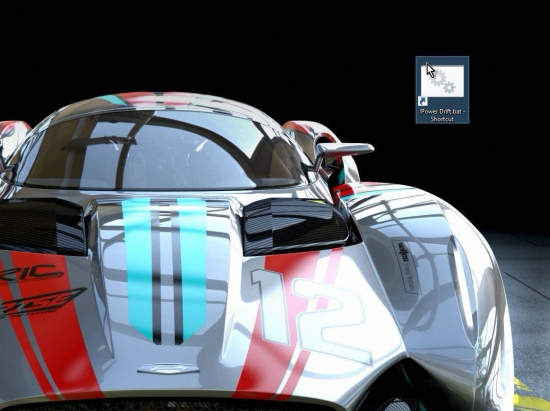 Now lets give that beauty a POOTERMAN icon and a name befitting it's majesty – right-click the icon to bring up the mouse menu and click on Properties: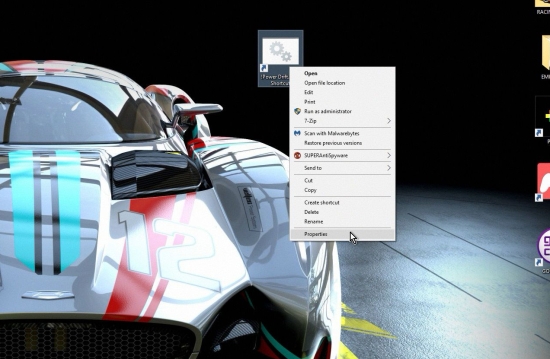 Go to the Shortcut tab and under the "Comment" text window, you'll see Change Icon. Click it…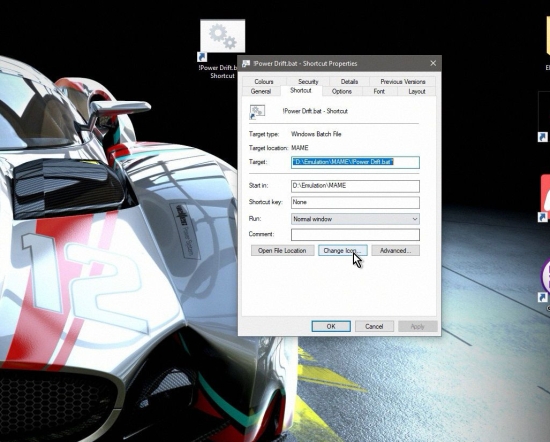 … and you'll get a prompt. In this case, it reads "The file D:\Emulation\MAME\!Power Drift.bat contains no icons. Choose an icon from the list or specify a different file." – Click on OK…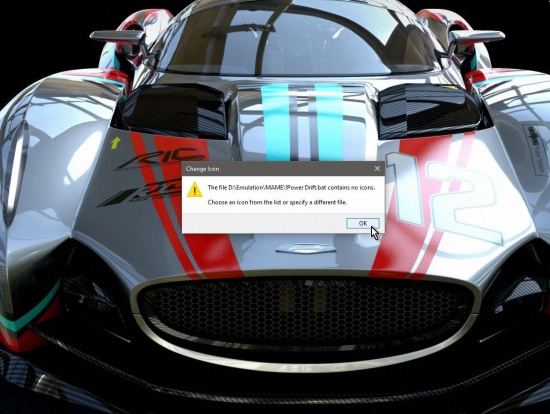 … and you'll see this Change Icon window… click on Browse to choose the directory where your icons are on your PC…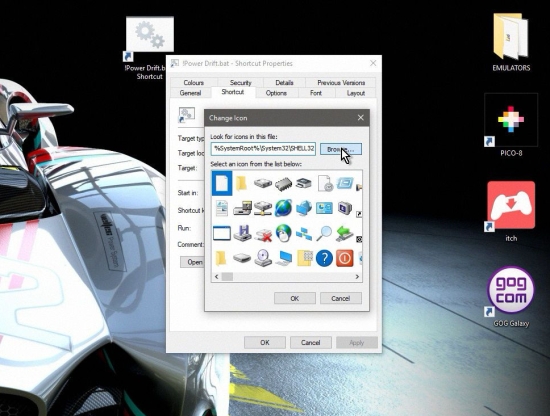 … and for me, they're here. Choose an icon and click Open: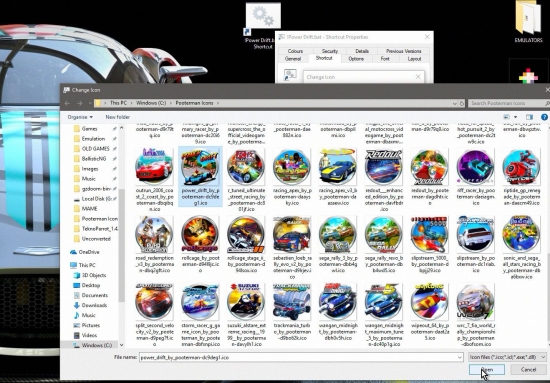 Select the icon in the window below and click OK to proceed: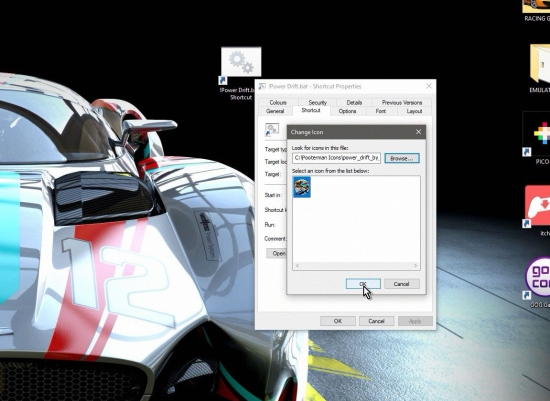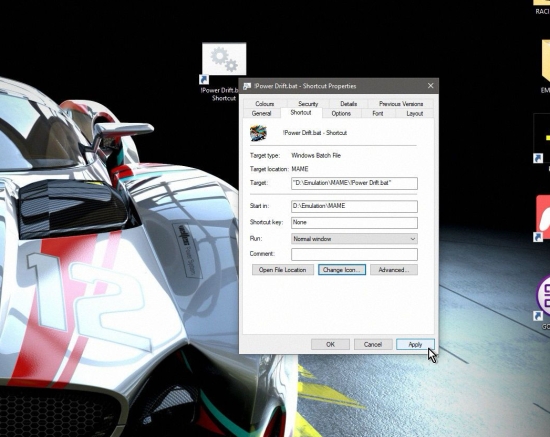 … and there it is: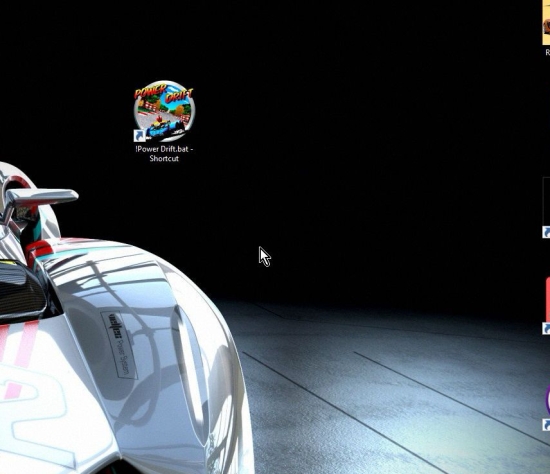 Ain't she beautiful? Change the name of the icon, AND WE'RE DONE: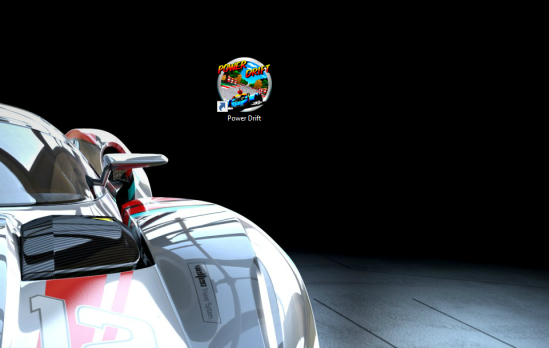 Double-click the icon to start and boot directly into the game… allow me to demonstrate:
IT'S THAT EASY!
The exact same process worked for me with the Playstation 2 Emulator PCSX2. I wanted to boot straight into Initial D Special Stage, but the text in my .txt file looked like this:

Where "pcsx2.exe" is the Emulator executable and "Initial_D_2nd_Stage.mdf" is the ISO (ROM) file I want to launch directly. There's no "-nofilter" text string this time around, because it's not MAME and it doesn't automatically apply bilinear filtering to the game.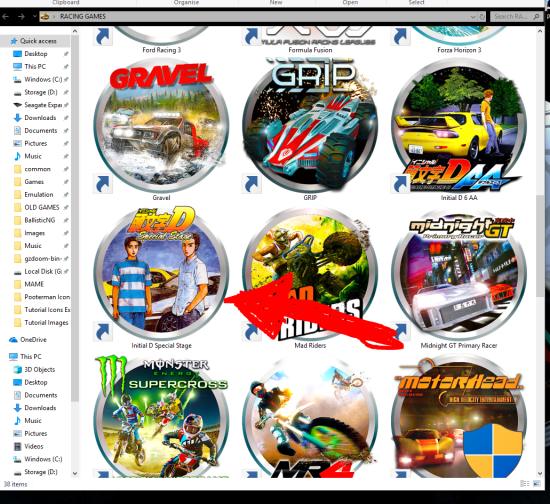 NOTE: I also had to move my image of Initial D Special Stage into the PCSX2 directory to get this to work, so if it's not working for you, make sure that your ROM/ISO file is somewhere within the main directory of your chosen emulator!
Follow these exact steps in your emulator of choice, and it should work with most. These are the only two emulators I've tried this on so far, but it's nice to know that it works for emulators that do their thing with CD-based systems.
---
I hope you enjoyed this Tutorial. I consider myself well-versed with PCs, as a gamer at least, but I had NO IDEA that you could do this until today.
If you found this helpful, please share this around – knowing how to do this might just makes someone's day, like it made mine!
ENJOY!
Posted In:
2D Racing
,
3D Racing
,
arcade
,
Arcade Racing
,
emulation
,
Japanese Games
,
PC Gaming
,
Playstation 2
,
POOTERMAN Icons
,
racing games
,
Raster-Style Racing
,
retro gaming
,
SEGA
,
sega blue skies
,
SEGA Racing Games
,
Tutorial PC
Tags:
action
,
Arcade Racing
,
Blogging
,
Blue Blue Skies
,
Boot Directly Into ROM
,
cars
,
Classic Gamer
,
Classic Games
,
Classic Gaming
,
Create A Shortcut For ROMS
,
create batch file for game rom
,
dorifto
,
Drifting Games
,
driving
,
Eurobeat
,
Games
,
gaming
,
guides
,
Initial D
,
Initial D 2nd Stage
,
Initial D Special Stage
,
japanese imports
,
MAME
,
MAME 64
,
MAME Shortcut Icons
,
MAME Tutorial
,
PC Gaming
,
PC Icon Tutuorial
,
PCSX2
,
Playstation
,
Playstation 2
,
Power Drift
,
PS2
,
racing
,
retro gamer
,
Retro Games
,
retro gaming
,
ROMS
,
SEGA
,
sega blue skies
,
Sony
,
Sony Playstation
,
tech
,
tutorials
,
Windows
,
Yu Suzuki