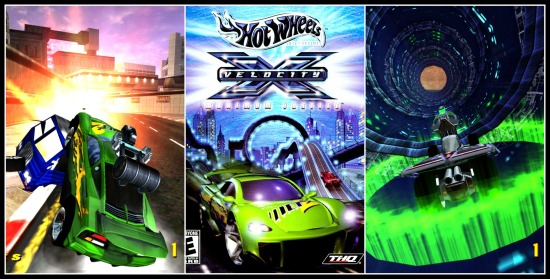 I really didn't think I'd be sitting at my desk – in 2018, no less – writing about how fantastic a game Hot Wheels Velocity X: Maximum Justice is, yet here we are.
Licensed games of the 90s/00s could be hit or miss. OK, they were mostly misses, as with startling regularity, hot properties of the day were shoehorned into genres they had no place being in. Home Improvement SNES, anybody?
Kids licensed games were even worse, generally speaking. Quality? Fuck that! GIMME THOSE SALES!
Disappointing then, but every so often, you'd get a game like Hot Wheels: Velocity X.
Now, before we get started, I have to tell you that I have no nostalgia attached to this game. I owned an Xbox back in those particularly glorious sixth-generation days, and owing to the fact that this game found release on the PS2, Gamecube and PC, Hot Wheels Velocity X completely passed me by. Truthfully, even if it was an Xbox title, I'd have likely skipped it anyway, because, well, it's a Hot Wheels game. As much as I love me some vehicular action, I seriously doubt I'd have picked a kids game like this over the more mature offerings I was drowning in on the Xbox.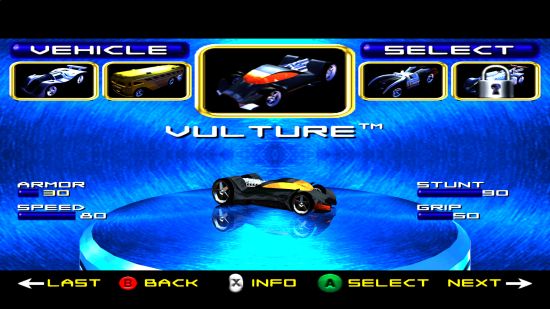 So there! No nostalgia to cloud my judgement. Hot Wheels Velocity X is as fresh a gaming experience I can possibly have these days, at least when talking borderline-retro titles. And I really only found it by chance, and happened upon its existence while searching through Steering Wheel compatibility lists for the PS2 and Gamecube.
I wasn't expecting much at all, but I decided to give it a whirl and before I knew it, three hours had passed and I was absolutely engrossed.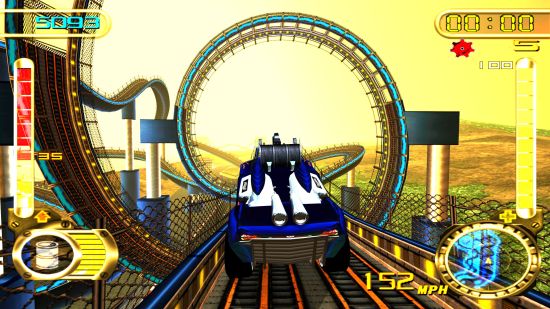 Still, a polished, perfect experience this is not, and there are things about Hot Wheels Velocity X that are not so great. The visuals are sparse, even though they display fair amounts of creativity. The the music is repetitive, boring and poorly produced. In fact, the budget constraints are apparent at almost every moment, with game design that falters in the latter half of the game, and environments just don't have the creative flair of the ones preceding it. I could pick at the other smaller flaws for a while, but that's not why this post exists. I'm really digging Hot Wheels Velocity X despite the issues I can level at it. I'll be sure to make mention of them as we go, but as a whole, my experience with the game has been really positive. There's a solid game underneath the cheap facade, and it took me completely by surprise.
---
WHAT IS HOT WHEELS VELOCITY X?
This slideshow requires JavaScript.
Hot Wheels Velocity X is, shockingly, a kids game based on the Hot Wheels franchise. It downplays the racing and focuses instead on exploration, combat, stunts and story. As for games that it's most similar to, the closest game I can liken it to is San Francisco Rush 2049. I love that game, and for all the reasons why, I point you toward this article here. And I love Hot Wheels Velocity in almost the same way. It occupies the same space as RUSH 2049, most definitely. The levels are large, with secrets galore, and they're packed full of objects that explode real nice.
What really makes the comparison apt, though, is Velocity X's kitchen-sink approach. From races to collect-a-thon elements, combat and parkour – the sheer variety of game modes is commendable and welcome.
WAYS TO PLAY HOT WHEELS VELOCITY X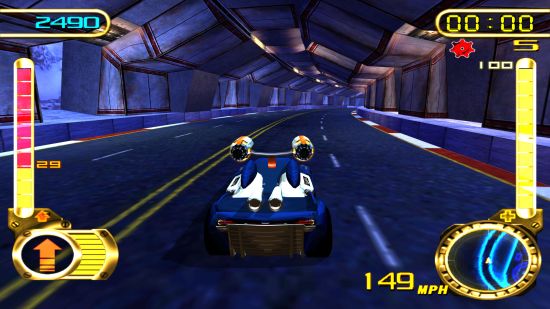 If you're after a physical copy of Hot Wheels Velocity X, then know you can pick up for next-to-nothing. And for that next-to-nothing price, you get a whole slew of game modes, solid (arcade-y) physics that lend themselves well to exploration and more – there's a lot of bang here for your buck.
Emulation is an option too, with the PS2 and GameCube versions running great in emulators like PCSX2 and Dolphin. Both are good ways to play, but if you've got the choice, definitely go for the Gamecube port – the frame-rate is a hell of a lot more solid and vastly superior. Velocity X on the PS2 targets 60fps, but is riddled with slow-down. On the Gamecube, it's 60fps all the way – with the very occasional dip here and there. Whether it was like this on the real hardware, I can't really say, but in Dolphin, the game runs like a champ.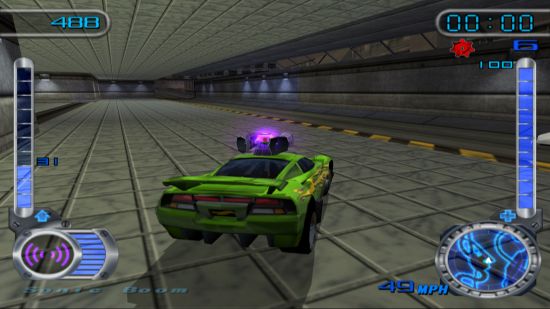 Playstation 2
Hot Wheels Velocity X on PC is much the same as the console releases, but is missing all of the multi-player bits. A detriment to some, for sure, but if you're a predominantly single-player gamer like myself, multi-player isn't a draw, and you won't miss it. After playing a while with the Gamecube version in Dolphin, I made my way over to eBay and picked up the PC game for $5 – I needed it for my collection.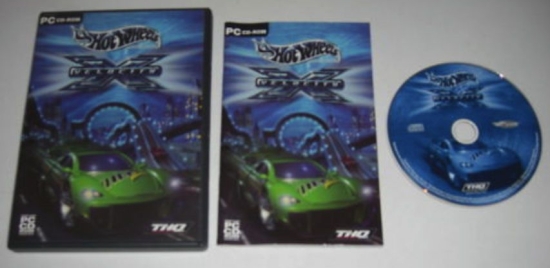 The eBay purchase I JUST HAD TO MAKE.
It's worth noting that Hot Wheels Velocity X works with Steering Wheels of all kinds. I got my Logitech G920 successfully running with the PS2, Gamecube and PC versions of the game – it even supports Force Feedback! It all works an absolute treat, and is my chosen method of control in the game. There is a caveat here though, in that controls are rather limited on PC. The Steering Axis works like it's supposed to, but I haven't been able to map the pedals properly. I'm sure there's a work-around for this, but I haven't found anything that works yet. I'll be sure to do a tutorial once I've sussed it all out. Until then, I'll likely just continue to plow through the Gamecube version in Dolphin.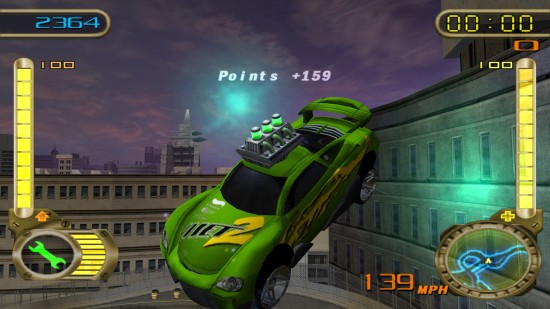 PC
TL:DR – here's what you need to know about each version of Hot Wheels Velocity X…
PLAYSTATION 2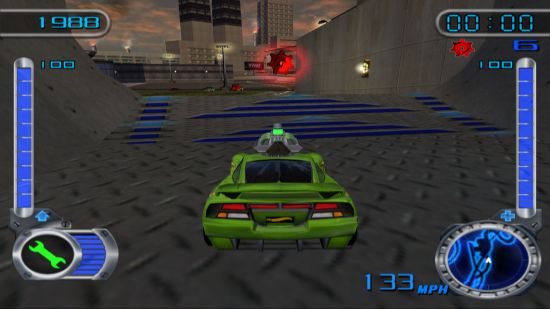 Playstation 2
THE GOOD
Feature-complete – features multi-player.
Has the best controller mapping of all versions of the game, due in no small part to the extra buttons on the Dual Shock 2.
Full controller and Steering Wheel + Force-Feedback support.
THE BAD
Visuals are interlaced, so you won't get the pristine image quality you're after in PCSX2, even when pushing those resolutions up into the stratosphere. May be perfectly fine on a real PS2 and CRT TV.
Poor frame-rate, at least as tested in PCSX2. Feels considerably less polished than either the Gamecube or PC ports.
Colours and textures are a little dull and less detailed when stood side-by-side with the Gamecube and PC games.
GAMECUBE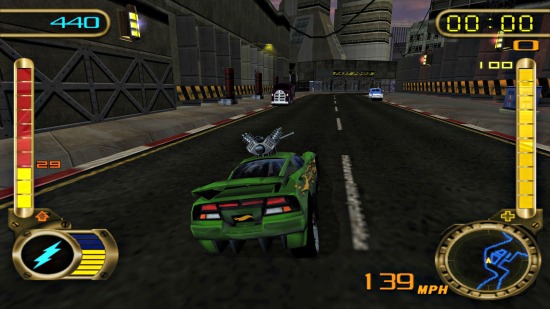 Gamecube
THE GOOD
Feature-complete – features multi-player.
Rock-solid frame-rates in Dolphin.
Higher resolution textures than the PS2 port.
Full controller and Steering Wheel + Force-Feedback support.
THE BAD
Less buttons on the Gamecube controller means the mappings are a little more unwieldy than PS2 Velocity X.
The sound is compressed to hell and sounds extremely muffled.
PC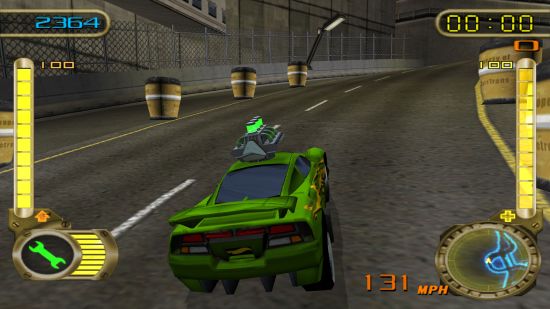 PC
THE GOOD
Features the best A/V presentation across all formats. Slightly higher resolution textures than either of the other ports, with a smidge more environmental detail around the place.
Frame-rates never falter, it's a rock-solid 60fps all of the time – and more if your set-up is willing and able.
High-Res and Wide-Screen options are available through Hex edits…
THE BAD
… but it's far from the easiest way to play this game at high-resolutions.
Limited controller and Steering Wheel support. There may be a fully operational work-around, but I've yet to find it. Workable, but definitely not ideal.
Not feature-complete. All the multi-player options from the console releases have been given the axe. This is a strictly single-player experience on the PC, and despite my apathy toward multi-player, it's still a damned shame.
NOTE: Most of the screenshots you'll see here are taken from the Hot Wheels Velocity X for the Gamecube running in the Dolphin 5.0 emulator. I've chosen to play the game with a graphical filter enabled – the 'Brighten' option saturates the colours, and I love it. It's not for everybody, but when I think of Hot Wheels, I think bold primary colours.

I like it like this. You may not.
Whichever you go for, enter in with the right mind-set and you're in for a treat. I'd strongly suggest you go the Gamecube/Dolphin route, but that's just me.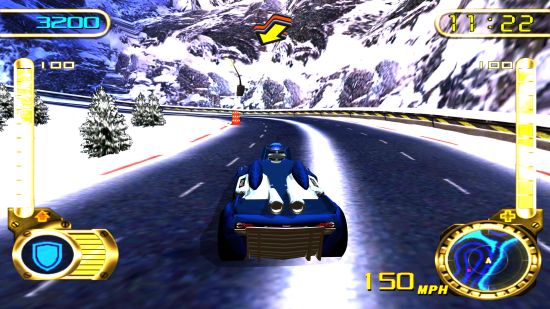 GIMME ALL THE GAME MODES
Let's move on to the fun stuff, shall we? There's a tonne of different game modes to cover here, so let's get cracking!
ADVENTURE MODE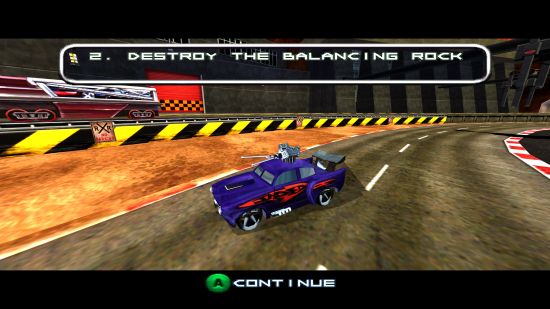 The Adventure Mode is a fun, but fleeting campaign, complete with a story. The fourteen stages are spread across the five environments, and feature a nice variety of timed challenges – drive here, pick up this, take it there, collect those, destroy these dudes along the way and race the big bad – it's basic stuff, but definitely fun, and you'll be unlocking vehicles left, right and centre. I just wish there was more of it. The fourteen stages fly by, and you'll be done with it before you know it.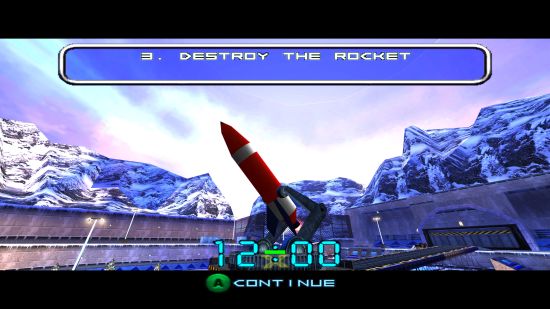 As I've said, there's a story here, but in all honestly, I can't say I paid much attention to it myself. I'm not familiar with the world of Hot Wheels beyond the cars I grew up playing with, nor am I all that interested in learning the lore or regurgitating the specifics, so here's Wikipedia to the rescue!
The story begins when The Hot Wheels car business, owned by Dr. Peter Justice, is robbed and bombed. Peter's son, Max Justice, insists to his dad's Robot "Gearhead" that he should try to track down whoever stole the cars and attempt to retrieve them all (in the GBA version, however the robot, 'Gearhead' is the playable character). He is confronted with various "Villains" on his quest, such as Nitro Byrne, Backroads Belcher, Fast Lane Friscatti, Simon "Slick" Deluca and Rupert Jacoby, all of whom work for Otto Von Diesel (Dr. Peter Justice's former assistant).
Riveting stuff, eh? All I know is the cut-scenes and dialogue sequences get in the way of the action, but am eternally grateful that you can skip each and every one of them.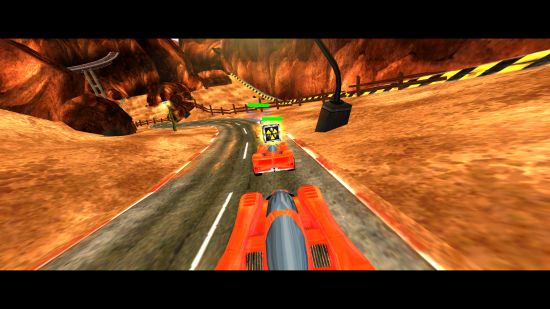 All up, the Adventure Mode is great fun, but beyond the unlocks, you won't be coming back to it once you're done. Still, I'm glad it's in here. Brief as it may be, Adventure Mode is only one part of a much larger whole. It offers up a context to the action, if you're into that kind of thing, and you'll cut your teeth on the (surprisingly competent) car combat and various other challenges. Decent stuff, especially when taking into consideration the pittance the game will cost you to buy. Or download.
CHALLENGE MODE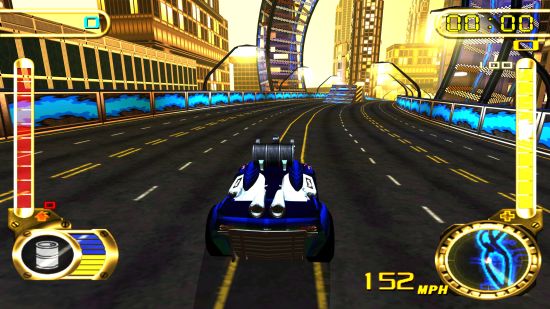 The Challenge Mode is also pretty fun. You'll find that the Challenges are similar to those featured in the Adventure Mode, but the rewards for these this time around are weapons. These weapons are available as pick-ups in all the other modes, but completing challenges allows you the luxury of choosing your favourite pick-ups as starting weapons. There's not much else to say about this mode. It'll test your driving skills with strict time-limits, and it gives you cool shit for your troubles!
A neat little addition!
DRAG RACE & BATTLE MODE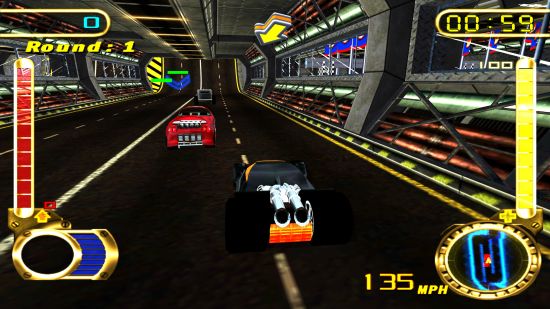 Drag Races are your traditional races. Choose a map, pick your opponents (real or AI) and RACE. It's as bare-boned as bare-boned can possibly get, and there's next-to-no replay value here if you're playing on your own. And whether you choose easy, medium or hard AI, it's all much of a muchness – what's here is skeletal, and with no championship structure, won't last you long at all.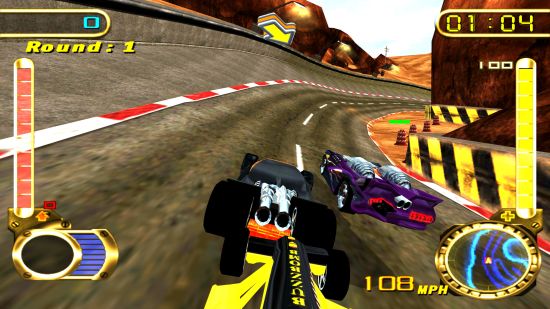 Battle Races are much better. Decent on your own, I've no doubt the fun would be amplified by a factor of 10 with three other humans in the mix. It's basic stuff when stacked up against the the likes of Vigilante 8 or Twisted Metal, but for a cheap kids game? Not bad at all!
This didn't have to be here, but I'm glad it is.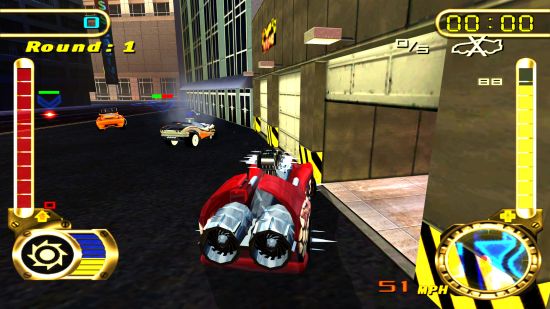 Both modes may not stand up too well on their own, but as part of the package, especially if you're considering the multi-player side of things, they're welcome additions and just add value to the overall experience.
JOYRIDE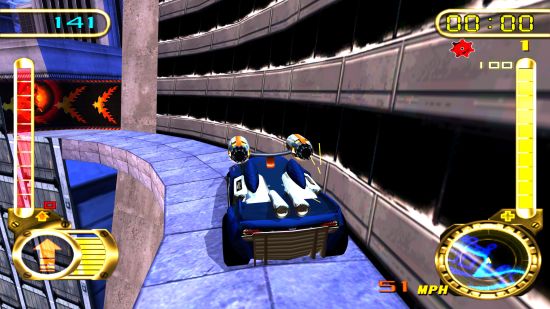 The moment I ventured into Joyride, Velocity X had my heart. It was an instant love.
You see, Joyride harkens back to the Practice Mode of San Francisco RUSH 2049. Essentially a free-roam mode for Hot Wheels Velocity X's 5 large environments, you'll be exploring the levels looking for Red Gears and a hidden Golden Keys. The fun in this comes from the locations and placements of these items, and they're usually just in sight, and out of reach – it'll require some deft car-gymnastics to get some of them, and you'll be required to take jumps at certain angles and speeds to nab 'em. You can also find them on the sides of walls, in hidden passage-ways or in the destructible scenery.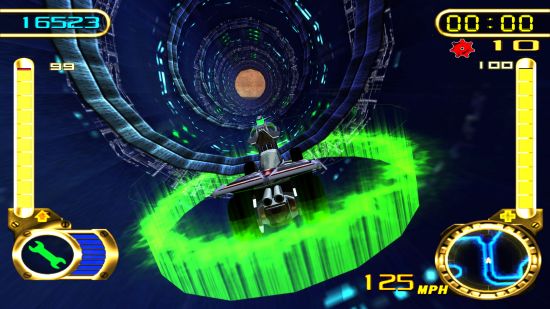 Each stage contains ten Red Gears and one Hidden Gold Key, so if you're up for a bit of exploring, you can easily spend an hour or more in each stage searching for all of them. I absolutely LOVE stuff like this, and I adore the way that this almost turns Velocity X into a platform game. Exploring these stages and hunting for keys and gears is the perfect way to tune out.
It goes a little like this:
Take this jump to get to there, straighten out, hit the gas but watch your speed, approach that jump at juuuuust the right angle and hope you score that elusive floating gear.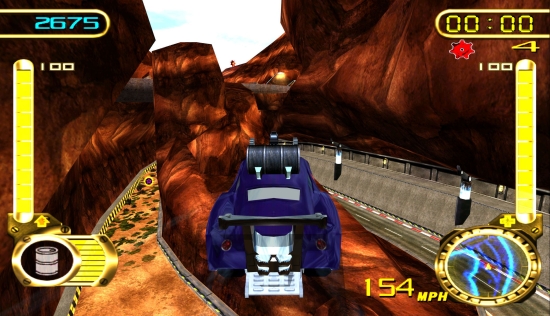 Your curiosity is rewarded every step of the way with more vehicle unlocks. Awesome stuff!
Even better, the environments are tasteful and designed rather well. My only gripe is that the first three environments are more interesting than the fourth, and substantially better than the fifth, with gears and keys that are hidden quite well. They're still fun, but it's hard not to notice a decline in the map designs and gear locations the further you get into the game.
STAGES AND ENVIRONMENTS
Monument City
Your standard futuristic city environment. Chock full of loop-de-loops, wall ramps, jumps and hidden short cuts through buildings and structures, Monument City is a joy to explore.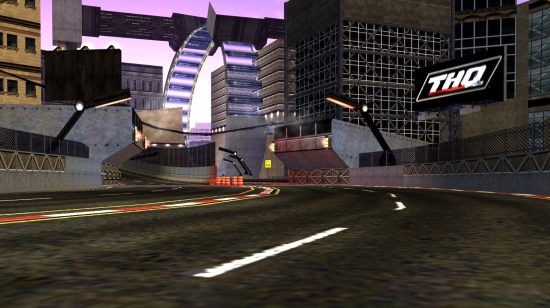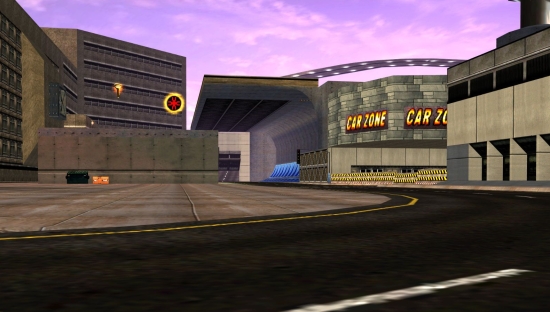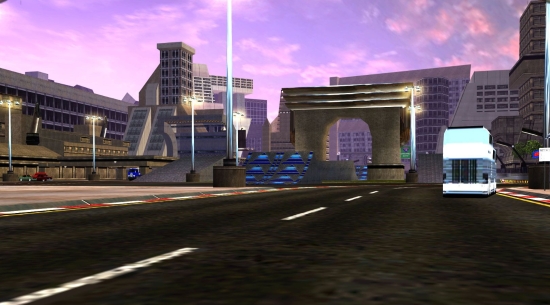 Turbine Sands
Your typical desert-themed stage. Features include even more loop-de-loops, a stadium, scalable rock-walls, a refinery and a ghost-town – complete with a Saloon!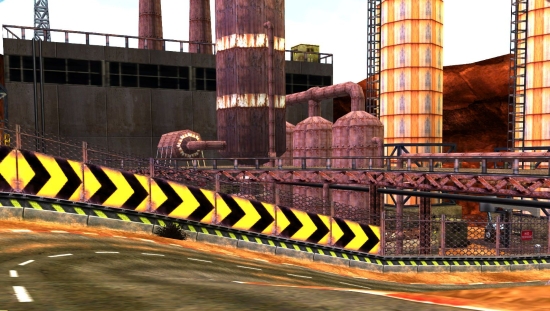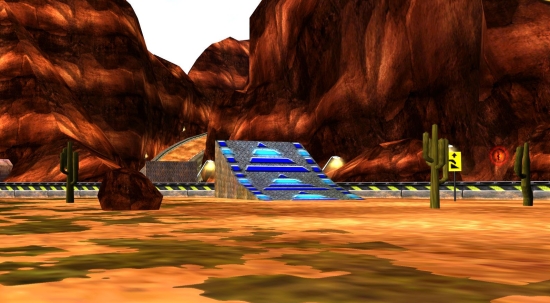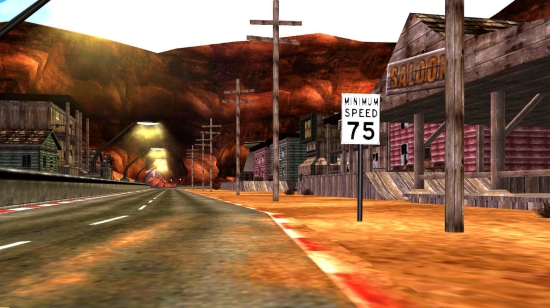 Crankshaft Bay
This one is really awesome. A bay-side city with scenery to savour. It comes packing a roller-coaster to drive around on, a warehouse district, fancy underground tunnels and a bridge loaded with jumps!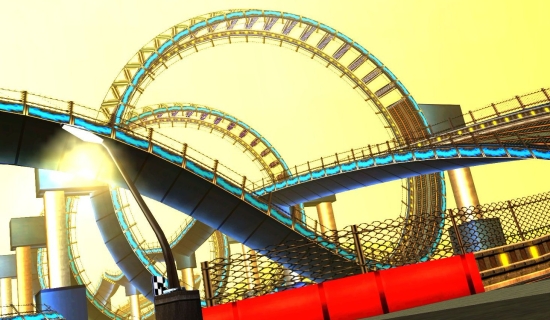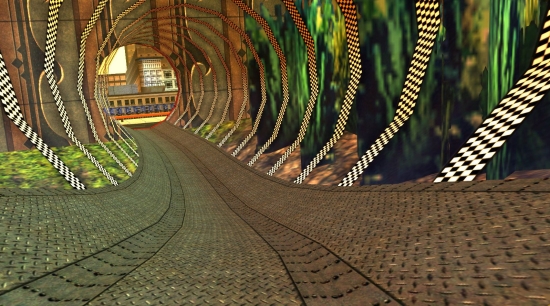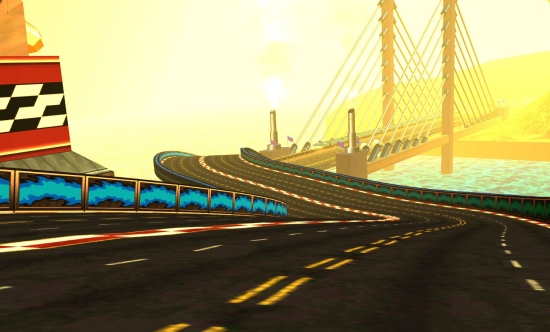 Burnout Glacier
Another great environment! Burnout Glacier is your obligatory 'snow level', but this one has a reactor-core, a town-square with some neat air, tricky jumps and miles of icy highways and tunnels.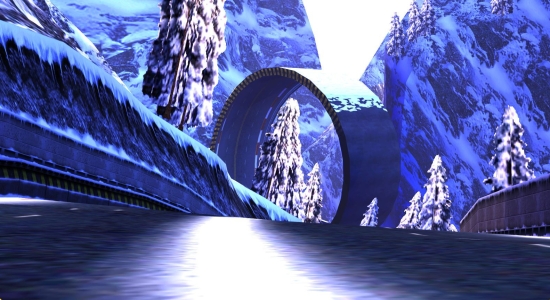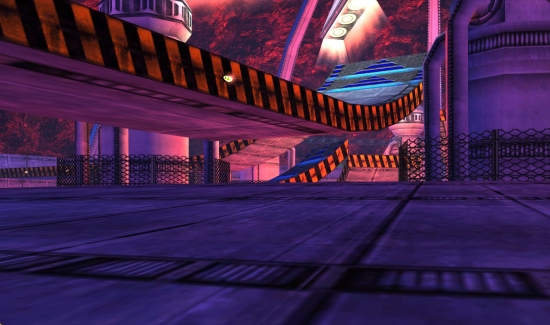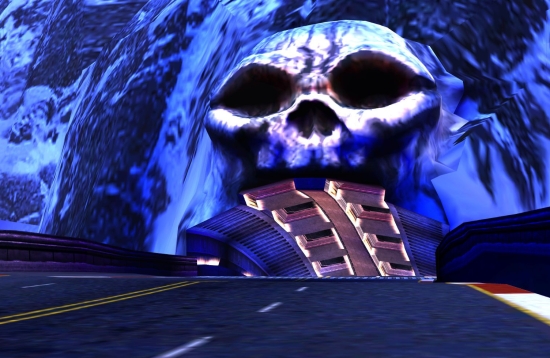 Underworld
This one is alright, but lacks the punch of the other levels. Still, you'll find a wealth of ramps, air-tunnels, sewers and open arenas. There's a time machine hidden in there somewhere too.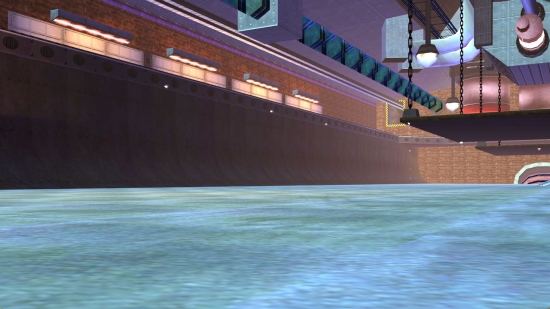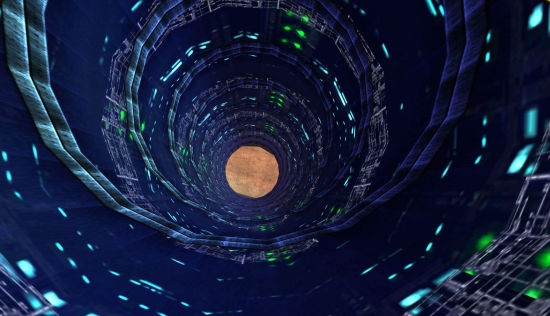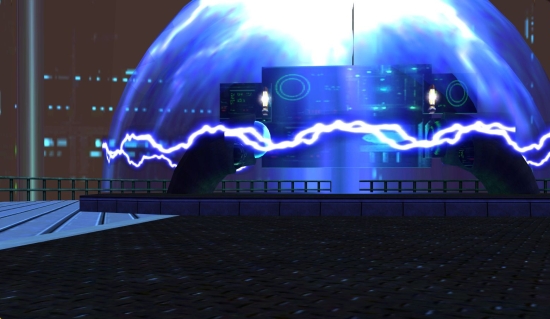 Each stage is a lot larger than what you'd find in something like San Francisco Rush 2049, but where the courses in that game have a fairly defined racing loop, things play out a little more loosely in Hot Wheels Velocity X.
CONTROLS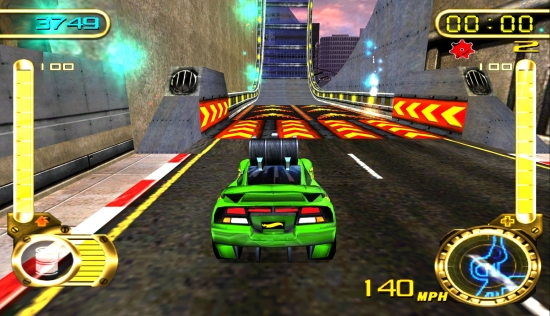 This in an area where the game absolutely shines.
Each car handles rather differently, thanks to the wildly varying stats. Some cars are better in the air, others are perfect for racing. Then there are those that are absolute tanks, and perfect for combat.
I'm assuming that all these cars are based on real-life Hot Wheels cars, but either way, they all look fantastic, and even in their low-poly game-form, they're easy on the eye. The Maelstrom here is a particular favourite of mine.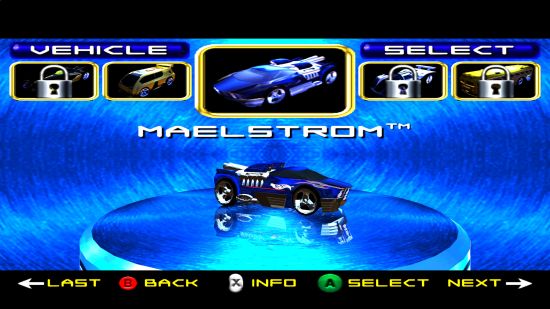 What really got me, though, was how fantastic the controls are across the board.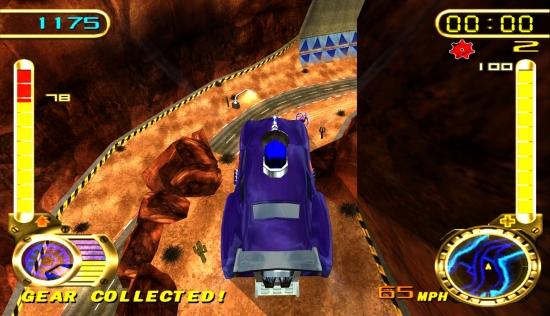 Again, think San Francisco RUSH 2049 with tighter controls and less weight and you're most of the way there. The cars don't turn perfectly, and they've still got a bit of weight to them, so you'll be needing to use the brake in certain instances. Through particularly nasty corners, the hand brake is your best friend.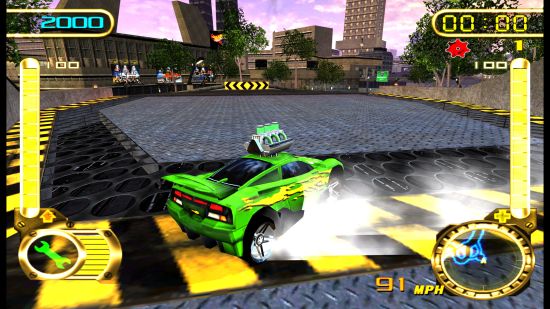 I've read a few older reviews that have been quite critical of the hand brake, but I can't say that I agree with their sentiments. If you angle yourself correctly, you can indeed make corners quite easily. Moreover, I think those reviews may have missed the point of its function. Because of the focus the game places on exploration and combat, the handbrake acts more like your go-to quick-turn – I've lost count of how many times I've relied upon the hand brake to stop, and turn on a dime. In my opinion, it's just fine.
Controls for the stunts are, again, very similar to Rush 2049. With the amount of jumps and ramps around each stage, I'm pleased to report that the level of control you have on your vehicle whilst in the air is nigh-on perfect. You can spin your vehicle forward, backward, sideways and combine them for diagonal movements. Land on your wheels and you get a stack of points for your efforts.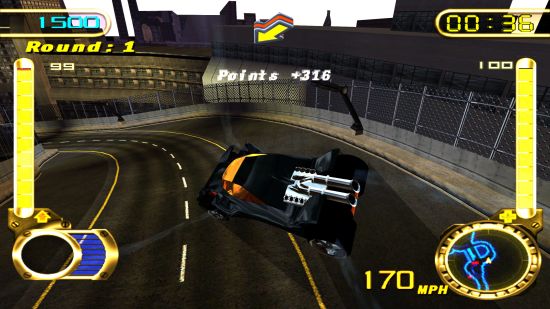 Control is fantastic with a gamepad, but can be slightly twitchy or a little slow, depending on your speed or controller choice. Good stuff, but I personally found the game incredibly playable with a steering wheel. My Logitech G920 Driving Force GT got a workout in Hot Wheels Velocity X, and the Force Feedback is stupendous. Stunts are a little harder to pull off, naturally, but with the right bindings, it's still a walk in the park, and super satisfying once you've settled into a groove.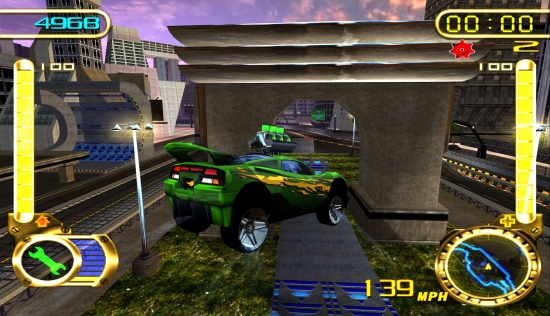 If you can play it with a wheel, then do it.
If you prefer a game-pad though, then know that everything is just as it should be on that front too. Either way, you can't really step a foot wrong.
PRESENTATION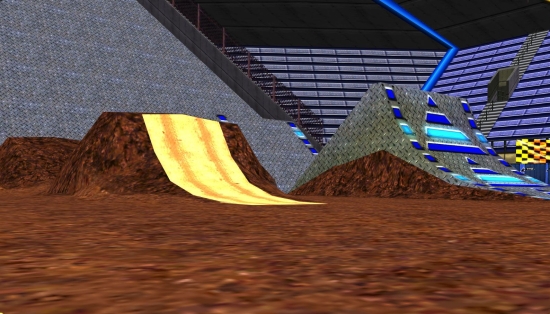 When it comes to the audio/visual bits of Hot Wheels Velocity X, I can only tell you that it's merely functional all over. Out of the box, it looks a bit muted, but with a few tweaks, things look nice and colourful.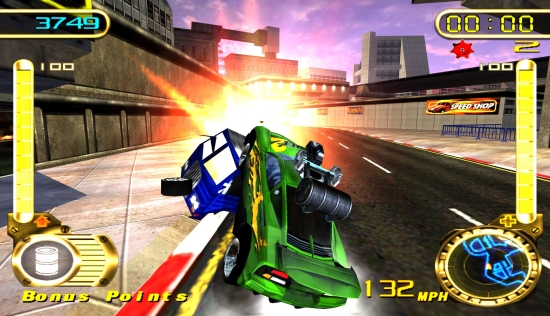 Still, readability and performance is the most important take-away here, and on the Gamecube and PC, Hot Wheels Velocity X nails it. You can see everything coming, see those gears and collectibles just out of reach, and nothing really sneaks up on you. As I said earlier on in the piece, Velocity X on the PS2 suffers from some blurry visuals, thanks to its 480i output, and there's some pretty significant slowdown to contend with any time the scene is full of alpha effects, but it's by no means a deal-breaker – it's still the same game, just a little less polished, visually.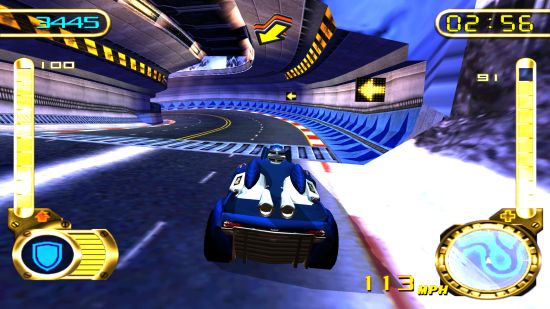 What I do really dislike is the music. It's of horrible quality, and sounds dreadful no matter the system you choose to play it on. The Gamecube is definitely the worst, but even in higher-fidelity, the music is not very appealing at all. It's repetitive, lacks atmosphere and with no hooks to hum along to, it's best to just mute the music and put on your own play-list in the background. The effects are better, though still bland, but they're not grating like the music is, so that's something.
SURPRISINGLY GREAT – DIG THE RUSH GAMES? GET THIS.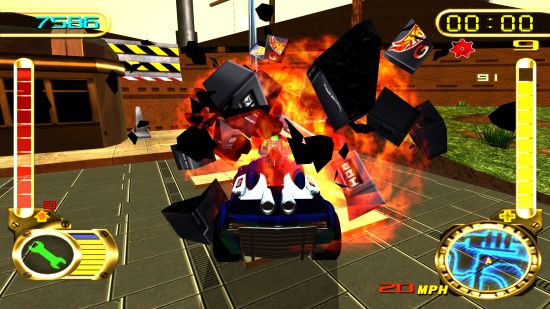 I really hope that I've made a case for Hot Wheels Velocity X.
You won't be wowed by its visuals or production values, but give it half a chance with your expectations in check, and you're likely to find the same rough-hewn hidden gem that I have. It's better than it has any right to be.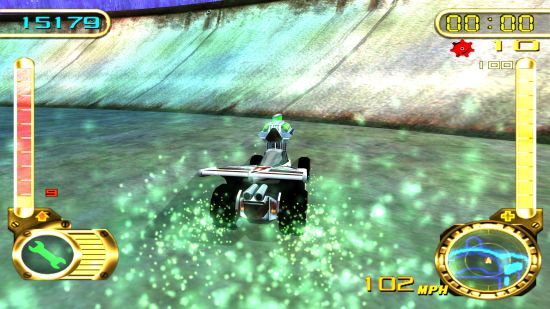 Breeze through the Adventure Mode. Hunt for those Gears and Keys in Joyride. Grab a few mates and blow the shit out each other in Battle Mode.
Whether you see Hot Wheels Velocity X going for cheap on eBay (and you will), or you decide to give it a spin in your emulator of choice, you've got nothing to lose in giving this a red-hot go – you may just grow to love it as much as I do. I've put about 15 hours into Velocity X, and I'm not done yet. I've still got cars and starter-weapons to unlock, challenges to master and more.
I really didn't think I'd be sitting at my desk – in 2018, no less – writing about how fantastic a game Hot Wheels Velocity X: Maximum Justice is, yet here we are.
GOTY 2018.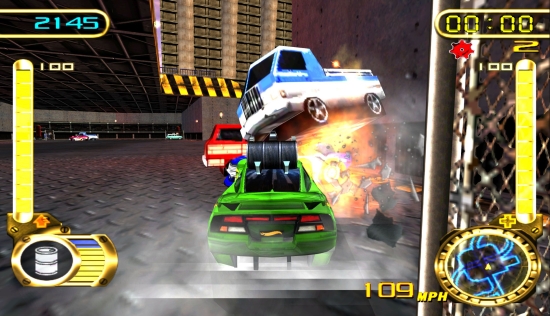 I'm kidding.
Maybe.
---
Posted In:
3D Racing
,
Arcade Racing
,
Cheap Games
,
collecting
,
emulation
,
Gaming Peripherals
,
Hidden Gems
,
Licensed Games
,
Logitech G920 Driving Force GT
,
Nintendo
,
Nintendo Gamecube
,
Obscure Games
,
Open World Racing
,
PC Gaming
,
Playstation 2
,
Racing Adventure
,
racing games
,
review
,
Surprisingly Great Games
,
Vehicular Combat
Tags:
80s Toys
,
90s Toys
,
Arcade Racer
,
Arcade Racing
,
Beyond Games
,
cars
,
Collect-a-thon
,
Collectathon
,
game review
,
Gamecube
,
Gamecube Generation
,
GC
,
Hidden Gems
,
Hot Wheels
,
Hot Wheels Review
,
Hot Wheels Velocity X Maximum Damage
,
Hot Wheels Velocity X Maximum Justice
,
Jumps
,
Kids Games
,
Licensed Properties
,
Like Rush 2049
,
Max Justice
,
Midway
,
Movie Licensed Games
,
Nintendo
,
Not Shovelware
,
PC Gaming
,
Peter Justice
,
Playstation 2
,
PS2
,
PS2 Generation
,
racing
,
Racing Adventure Games
,
Ramps
,
retro game hidden gems
,
Retro Games
,
San Francisco Rush 2049
,
Sony
,
Sony Playstation
,
Stunt Mode
,
Stunts
,
THQ
,
Tricks
,
Underrated Games
,
unknown games
,
Vehicular Combat
,
Velocity X
,
Windows
,
Xbox Generation