Just a quick post today – I've been pretty busy with work the last few days, and I've been doing some volunteer work too, so I haven't had much time to capture game-play, screenshots or anything else really cool like that.
But I have received a few bits and bobs in the mail. Fyeah… PICK UPS!
I've been really into the Saturn lately. I mean, I usually am, but am prone to phases where it's all I play for weeks on end.
Hence the purchases.
I also got a killer new Mega Drive game to add to my (admittedly humble) collection of games for that system. Let's get on with it, shall we?
---
L'ABBAYE DES MORTS (MD/GEN)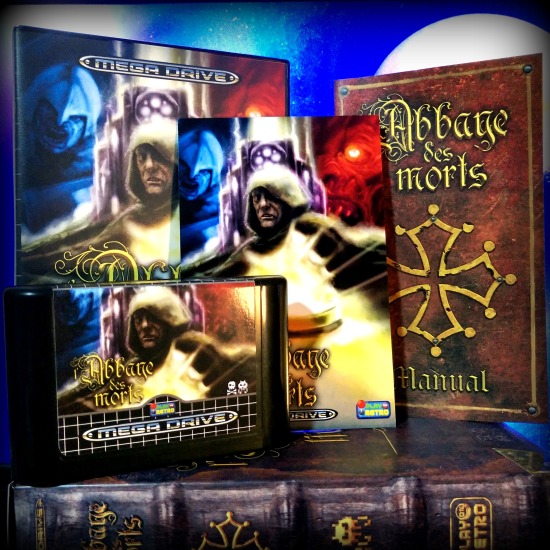 So taken was I with the l'Abbaye des Morts port that was released recently, I got in contact with PlayOnRetro to see if I could buy a physical copy of the game. I knew the crowd-funding campaign ended a while back, and I missed the boat on that one. So I sent them an email – there's no harm in asking, right?
I was pretty stoked when they got back to me (fairly promptly, I might add) and told me what they had left. I was after the Regular Edition, and they only had one left of those, but the hang-tab had fallen off. I was happy to still take it – I figure I can pick up a cheap, common game to swap the cases out with in the future.
Well, to compensate for the broken hang-tab, PlayOnRetro were nice enough to send me a Limited Edition Cardboard Box and Artbook in addition to the stuff that came with the Regular Edition! Very, very nice of them to do that – thanks guys!
It arrived yesterday, and I couldn't be happier with what I've got. And although I haven't had a chance to hook up the Mega Drive to give it a spin yet, I know the game is fantastic. I'm looking forward to a bit of time off work so I can plow into it and hopefully finish it this time around. Great game, great Physical Edition!
---
3D MISSION SHOOTING FINALIST // TUNNEL B1 (SAT)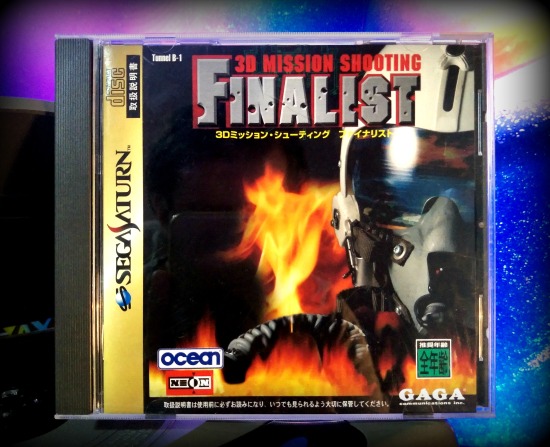 Tunnel B1 is a game that I've read a lot about, but when it comes to actual time spent playing, I think I've put only about five minutes into it via emulation years ago, and that's about it.
Still, my curiosity for Tunnel B1 has remained strong. Or 3D Mission Shooting Finalist, as the Japanese version is called. Yikes.
And it's fairly decent! I don't think I've found a controller configuration that I'm comfortable with yet – the default set aren't much cop, although there is the option to remap everything.
Once I've settled on one, I'll play more, but from what I *have* played so far, I'm really digging it. It's a first person shooter where you control a vehicle rather than a person, so there's some weighty movement to contend with, and I'm 100% OK with that.
Learning curve aside, the game is still pretty difficult. I've made it through the first few levels, and the enemies pack a punch! It's all shoot this, trigger this door there, take on a bunch of enemies, blow shit up and collect some power-ups.
Graphically, the game runs smooth as butter on the Saturn. The lighting effects are pared-back in comparison to the PSX original, but it still looks plenty nice.
Also, Chris Huelsbeck on soundtrack duties? SOLD.
Great stuff so far – the jury is still out whether there's enough in the game to keep it fresh for the entire play-through, but I'm enjoying finding out. So far!
---
DAYTONA USA (SAT)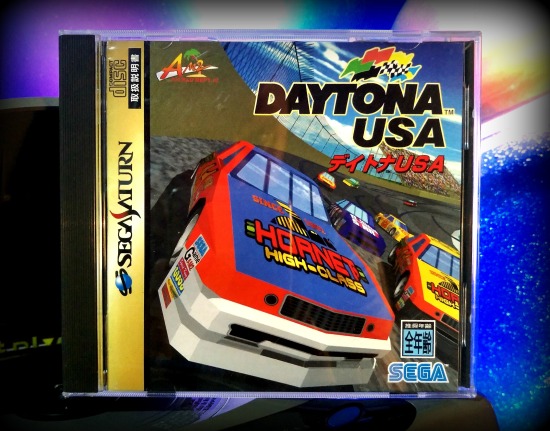 This is one of a few games that I've been re-acquiring in Japanese form. The major PAL Saturn releases don't get along too well with a Japanese system, so yeah, this is a double (triple/quadruple) dip.
Flawed port, but it still plays great.
---
NISSAN PRESENTS OVER DRIVIN' GT-R (SAT)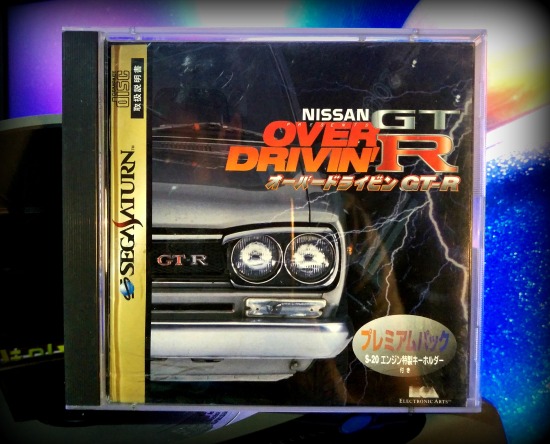 I've wanted this one for a long, long time. This is the Japanese version of Road & Track Presents The Need For Speed – and dare I say it, it's a little better than the PAL/US versions?
And it all comes down to the handling. My PAL copy of NFS doesn't support the 3D controller. This one does, and shockingly, it does so really, really well!
Too many Saturn racing games feature 3D Controller Support that just feels tacked on. No sensitivity tuning or anything, just 'hey, let's just set and forget it'. Over Drivin' features analogue steering with actual range-of-movement. I wasn't expecting the best use of a 3D Controller in a Saturn game from Over Drivin' – colour me surprised!
The game also makes some tweaks under the hood. Ha.
The physics are a little more arcade-y than before, and the game is slightly slower too, though it's only really a thing you'll notice if you've played massive amounts of OG NFS. I've also read reports of new music in the game, but I can't confirm this because despite being kick-ass, I've never found the tunes all that memorable to begin with. They get the blood pumping, sure, but I couldn't hum anything but the Menu themes for you.
Great game, and yet another solid addition to my Saturn racing library.
---
OFF-WORLD INTERCEPTOR EXTREME (SAT)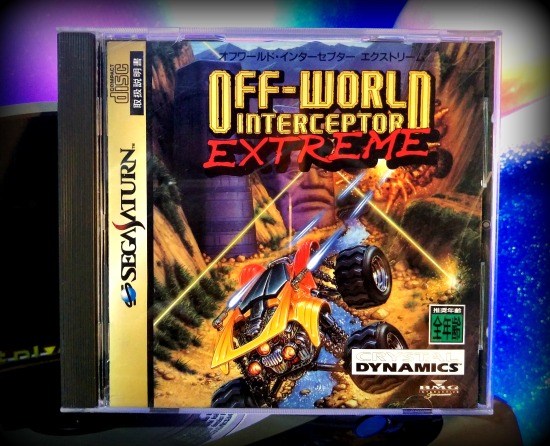 Though Off-World Interceptor Extreme has always looked interesting to me, I've had this sneaking suspicion all along that it's a bit pants.
It is.
I'm about two levels in, and I'm ready to call it a day. There's just not a lot here to keep the player engaged. There's a cool 3DO vibe to the game that I really like, and if I'm being honest, that's what has drawn me to the game over the years. There is an air of mystery around the 3DO for me, because the only way I've experienced the library is either through ports like this, or briefly through emulation.
Still, this racing/shooter hybrid could have been a lot better. The shooting action is lame, with very little satisfaction in actually blasting away the competition. It just feels hollow, and the guns may as well be pea-shooters because that's about as much impact as they feel like they've got in them. The racing portion is the same – it just feels so pedestrian.
The FMV sequences are great, but this Japanese version is dubbed, so I can't enjoy them the way I want to. Off to YouTube it is!
Glad to have this one, finally, but I don't think I'll come back to it until that one day when I'm really, really bored and feel like giving it another shot.
---
SEGA TOURING CAR CHAMPIONSHIP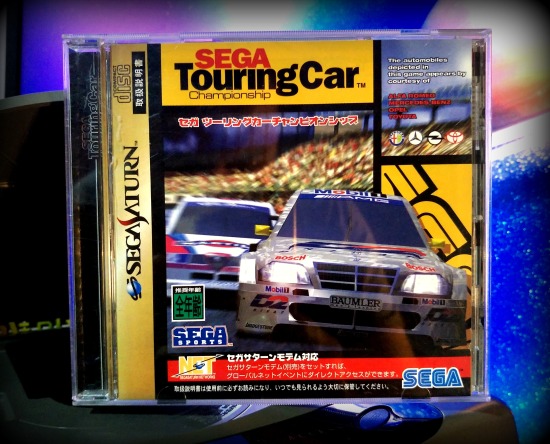 Yet another double-dip. I own the PAL version, but it is a buggy mess on my Japanese Model 1, and I needed this Japanese version to sate those occasional pangs I get for the game.
When I get my Saturn Arcade Racer Wheel, this will be one of the first games I try out – the controls are pretty great underneath it all, but the d-pad and 3D Controller just don't cut it for this game, at least for me. Your mileage may vary.
Looking forward to seeing if the wheel gives the game an opportunity to shine, but until then, wowsers, that Redbook Audio, huh?
---
TOH SHIN DEN S (SAT)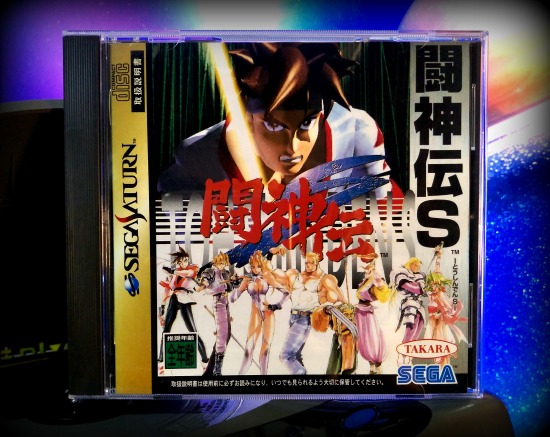 aaaaaaaaaaaaaaaaaaaaaaaaaand….
TOH SHIN DEN: ULTIMATE REVENGE ATTACK (SAT)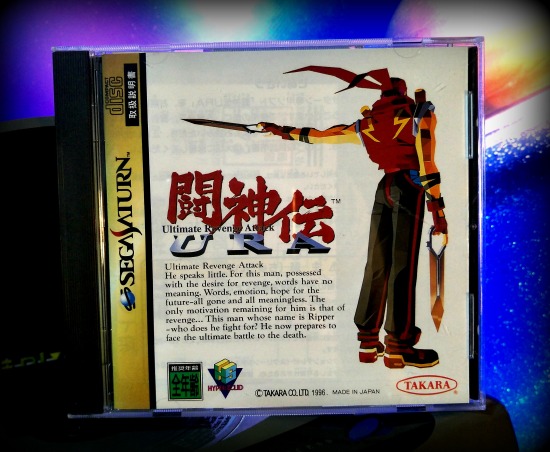 I absolutely LOVE the Toshinden series… well, what I've played on the Saturn anyways. Again, these are double-dips… my PAL copies are PAL optimised, which means they're a nightmare to play on a Japanese Saturn.
I may love the series, but don't get me wrong – the games aren't flawless by any stretch of the imagination. They come across fairly dated in 2018, but I still love booting them up and playing through the Arcade/Story Modes from time to time.
Though I very much doubt I would love the games as much as I do if they didn't have the amazing TAMSOFT soundtracks that they do. The Toshinden games contain must-have Redbook Audio music. Brilliant tunes that are cheesy, melodic and catchy.
Totally stoked that I can play these again without having to dig out my PAL Model 2!
---
WANGAN DEAD HEAT (SAT)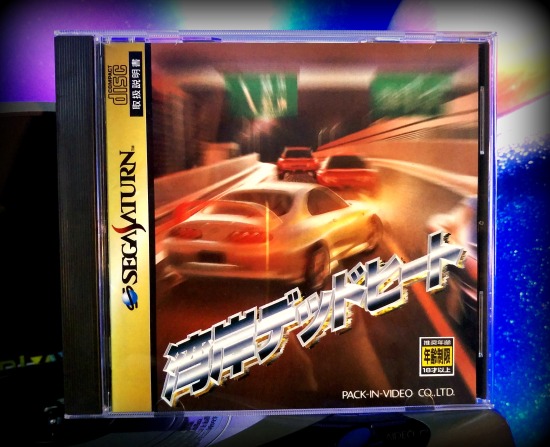 I adore Wangan Dead Heat + Real Arrange on the Saturn, but I've always wanted to see how it's predecessor stacks up to that game. And yeah, it's almost exactly the same, with the same hilarious semi-naked girls, albeit a little more wholesome than Real Arrange is. Slightly. Still, the great gameplay starts here, and it's a lot of fun!
A redundant addition to my collection then, but one I really needed, if only for completion sake.
---
Posted In:
3D Fighter
,
Arcade Racing
,
Arcade Shooters
,
collecting
,
Fighting Games
,
First Person Shooter
,
Hidden Gems
,
Japanese Games
,
Obscure Games
,
Pick Ups
,
Retro Gamer Life
,
Saturn Imports
,
SEGA
,
sega blue skies
,
SEGA Genesis
,
SEGA Mega Drive
,
SEGA Racing Games
,
SEGA Saturn
,
Uncategorized
Tags:
3D MISSION SHOOTING FINALIST
,
3DO
,
action
,
Arcade Racer
,
cars
,
Daytona
,
Daytona USA
,
driving
,
driving games
,
Genki
,
gryzor87
,
Japanese
,
Japanese Games
,
japanese imports
,
L'ABBAYE DES MORTS
,
Locomalito
,
Need For Speed
,
New Retro
,
NISSAN PRESENTS OVER DRIVIN' GT-R
,
OFF-WORLD INTERCEPTOR EXTREME
,
physical games
,
Pick Ups
,
playonretro
,
racing
,
racing games
,
retro collecting
,
Road & Track Presents
,
saturn
,
SEGA
,
SEGA Genesis
,
SEGA Mega Drive
,
SEGA Saturn
,
SEGA TOURING CAR CHAMPIONSHIP
,
Street Racing
,
Takara
,
Tamsoft
,
The Need For Speed
,
TOH SHIN DEN S
,
TOH SHIN DEN: ULTIMATE REVENGE ATTACK
,
TOSHINDEN REMIX
,
TOSHINDEN URA
,
TUNNEL B1
,
Wangan Dead Heat