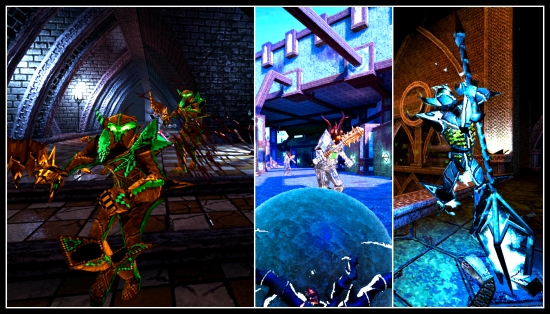 Developed by Indefatigable — Published by New Blood Interactive
FIND AMID EVIL ON STEAM HERE! Releases 12th/13th March!
Hoooooo boy! This Retro FPS renaissance is something I just don't want to ever stop!
Until recently, I honestly just thought the FPS genre just wasn't for me anymore.
Gone were the days of level designs that kept you coming back for more. No more searching every nook and cranny in hopes of finding secret health and ammo caches. Single-player is dead… it's multi-player or die now. And damned if I don't miss having access to a bunch of cool weapons at once.
That's how I used to feel, anyhow. Then 2017 happened. And with the likes of DUSK, Ion Maiden and now AMID EVIL, suddenly there are FPS games for gamers like me – like us – again.
Some people will tell you that you can't look back to move forward.
Introduce them to AMID EVIL – it begs to differ.
** If you consider screenshots spoilers, then you've been warned, because I'm about to lay them on thick.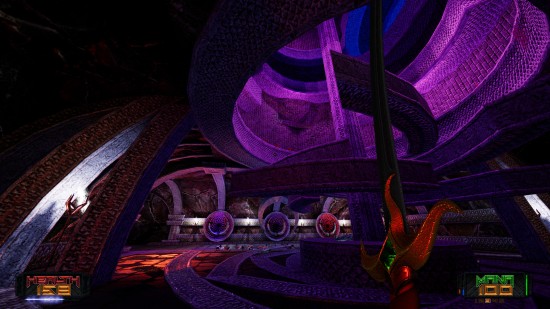 So what's the deal? AMID EVIL is a first-person shooter that looks to both the past and the future for inspiration, in equal measure. Clearly taking cues from the fantasy gothic FPS games of yesterday, AMID EVIL brings the Heretic/Hexen formula bang-up-to-date with stunning visuals, killer level design, and great gameplay.
As soon as you boot into the game, what will immediately smack you in the face is the visual design and styling ethos.
In the 90s, developers and artists had to work within strict polygon budgets and engine limitations. They also had to present a world to the player that was instantly recognizable, yet simple enough to actually run on the machines of the day. Low-poly geometry and indistinct textures were the order of the day, and though these worlds kinda-sorta looked like what they imitating, your imagination was left to fill in a lot of the blanks. Indefatigable, the team behind AMID EVIL have – rather ingeniously – applied that same philosophy to the worlds that they have built, because if you look long enough at your surroundings, they kind of break down into their base components. Full of seemingly impossible geometry, angular edges and pixellated textures, Indefatigable have stripped each environment down to its very essence.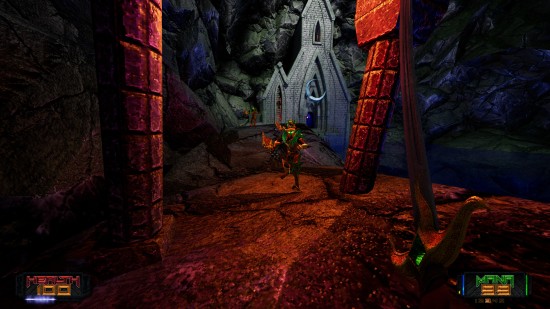 What is the bare minimum a level needs to contain in terms of geometry and design to convey to the player exactly where they are, and who they're fighting?
That seems to be the question that Indefatigable is posing. And yet, with all the polygons in the world available to them, to see this new development team so closely adhere to this train of thought is refreshing. And admirable.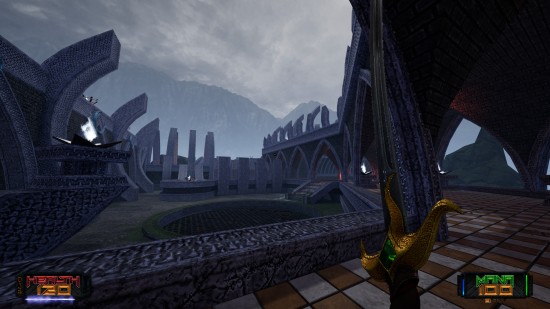 This philosphy extends to the enemies too, who at a glance look a mess of boxy edges and pixels, but watch them move, and you just get it immediately.
Less is more, it seems, and I can't argue with the results.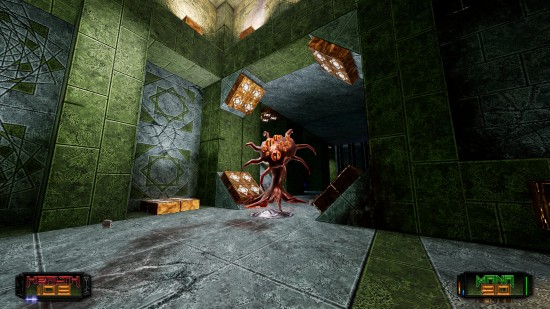 What Indefatigable have gone to town on though, is the lighting effects. And I can say that AMID EVIL features some of the prettiest lighting I've seen in a game, thus far. It harkens back to the old-style coloured lighting, but throttled up waaaay past eleven. Every single level looks unique, with its own colour palette and tone, and when you combine that with all the enemy projectiles (and your own) that bathe each surface in a myriad of colours, AMID EVIL is an assault on your eyeballs. It's blinding, at times, but I wouldn't have it any other way.
This slideshow requires JavaScript.
And boy, you should see this thing in motion. I've got the game running at my monitor's native resolution of 2560×1440, and paired with an Intel Core i7 7700k, GTX 1080 Ti and 32gb of RAM, I've yet to see the frame-rate drop below 240fps – it runs like butter.
Needless to say, this is one of the most well-optimized games I've come across built in Unreal Engine 4, and the only stutter I've come across is at the very moment I press the quick-save button. I dare say that AMID EVIL is going to scale down quite nicely. Fantastic stuff.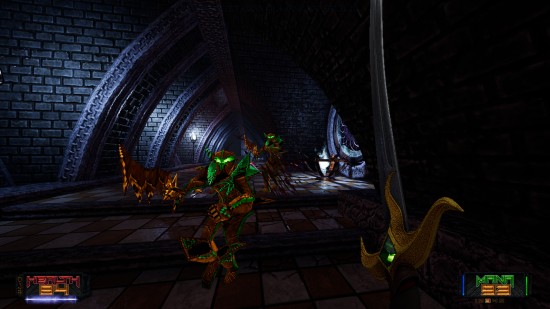 So how does the game actually play? I'm glad you asked! If you've played Heretic or Hexen, you'll be right at home here, although I will say that AMID EVIL does definitely take more after Heretic than it does Hexen. The levels are large, intricate maps where you'll be hunting for keys and pushing buttons in order to progress, and this is where AMID EVIL is at its most retro. Each stage has a starting point and an exit, and even though you'll be back-tracking a fair bit (by choice, most of the time), the game does a fantastic job of funneling the player in the direction that they need to go. Grab a key, and it's almost guaranteed that you're only a stone's throw from the door that it opens. Push a button, and nine times out of ten, the game will give you a view of whatever effect you've just had on the environment.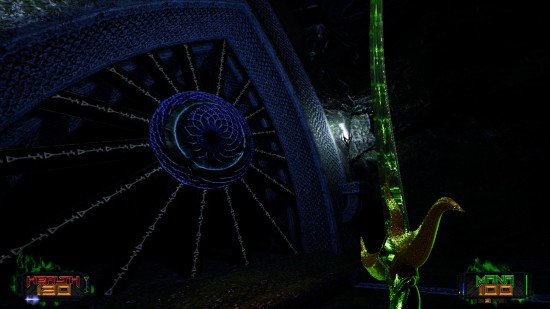 In many old-school FPS games, key hunting would involve finding a key at one end of the map, then traversing most of the way back to use it. Effective, at times, but more often than not it was just a means to pad out play-time, or cover for a lack of thoughtful design. AMID EVIL does away with this almost entirely. It does make what's on offer feel a little more fleeting than games of the past, but on the flip side, there's not an ounce of fat on this game's bones – it's lean, fast and satisfying with pacing so on-point that even some of the genre greats can't hold a candle to it. I like a game that respects a players time without feeling like its streamlining things to the point of over-simplification.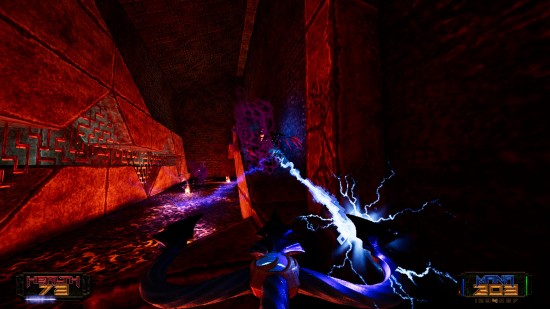 And that applies to the controls, too. Character movement here is very similar to the likes of DUSK (and by extension Quake, Unreal etc…), and the only limits you'll face will be your own ability – you can jump, strafe, run and shoot with all the grace you're capable of, and just simply charging through these levels at a break-neck pace is a joy. It's simple by design, but gives you everything you need to succeed right from the start.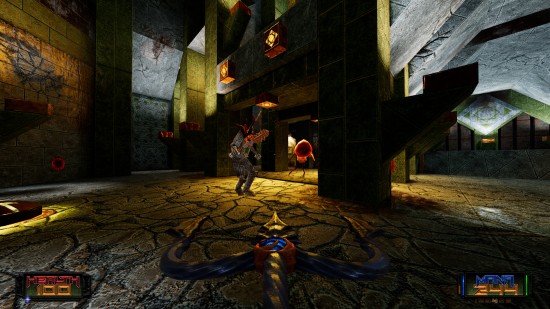 Combat in the game is varied and interesting, with a large variety of enemies to fight. Their are badniks that do their thing on the ground, whilst others shoot hellfire from the skies, but almost all of them are capable of both long and short-range attacks. Some will charge at you with incredible speed, requiring some deft player control to out-pace them or dodge their attacks. Others will keep their distance and whittle away your health from afar. Which is great and all, but could pose a serious problem if your own arsenal wasn't up to task…
… but wouldn't you just know it, it is. Here's a list of the weapons that feature in the game so far, taken from the in-game codex.
I love shit like this…







Each weapon is great fun to use, and moreover, serve a purpose, with their own strengths on the battlefield. The Whispers Edge, for example, sends out a projectile that can cut through many enemies at once, and though it doesn't have the sheer power of some of the late-game monstrosities you acquire, you'll still want to use it fairly regularly because it's one of the only weapons in the game that can counter enemy projectiles. So yeah, you may find weapons stronger than you've had access to previously, but never does a weapon become redundant, and it's details like this that puts AMID EVIL a cut above. What could have been an adequate arsenal is instead an indispensable tool-set that offers depth and strategy. And that's without even getting to the charge meter. Most enemies drop their souls when they die. Collect enough of these, and you'll enter into a kind of 'rage' mode, in which each weapon takes on a truly devastating alt-fire mode for a short while. They're all awesome to use, but I personally can't help but fall back on the Axe of the Black Labyrinth – it becomes a portable meat-grinder, and charging enemies with this thing spinning away like a mad-man is uber-gratifying.
This slideshow requires JavaScript.
I think you're getting the point I've been trying to make with this whole thing. Everything AMID EVIL does, it does extremely well. All facets of the game are deliberate, and nothing exists in the game 'just coz' – behind every visual effect, every bit of geometry, weapon and enemy lies a purpose. It's thoughtful, measured, and each individual element works in harmony with the rest to create something that not only places the game on an even footing with the games that inspired it, but in many ways, I even think it tops them.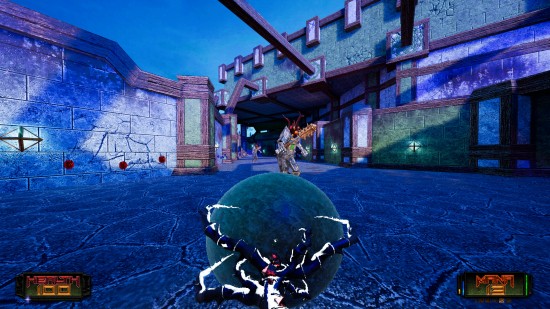 I'd be remiss if I didn't mention the phenomenal audio. The sound effects are about what you'd expect – your weapons sound great, and as for the enemies, each has their own sound cue. Just like the good-old-days, you'll know who's lurking around the corner before you even see them, giving you a second or two to swap your weapons out if the occasion calls for it.
The soundtrack, though – wowsers. Composed by Andrew Hulshult (he of DUSK and Rise of the Triad 2013), each track fits each environment, but never forgets that it's game music, first and foremost. You might not notice it much at first – I sure didn't – but before long I caught myself humming along. Along with the orchestral elements, you'll pick up on bubbling synths, understated arpeggios, guitars and punchy percussion – sometimes all at once. All up, it's amazing stuff, and I'll be first in line for a full OST release.
Being an Early Access title, it almost goes without saying that the whole game isn't available just yet. Of the planned seven episodes, we currently have access to the first three. With three to four levels and a boss fight per episode, making my way through the current build has taken around five hours. I've spent a further two hours replaying the game on harder difficulties and searching for secrets, and I've only dabbled with the wave-based Hordes of Evil mode, so there is still plenty of play left in the game for me yet.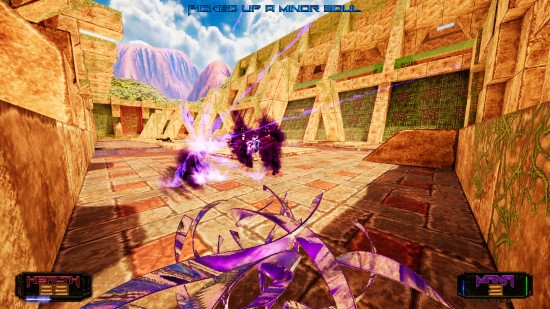 So what is there to pick on? Not a lot, really. I did encounter a couple of bugs, like falling through elevator platforms, and a secret area that I couldn't get out of. But in the grand scheme of things, they're minor incidents that at worst had me resorting to my last quick save. And I can count these bugs on two-fingers, which is more than I can say for many 'complete' AAA releases. I also think the text in the game is a little hard to read, especially when it's cast over the action. I do hope that this is rectified and seen to, as I've missed a few lines of text here and there because I had trouble focusing on it.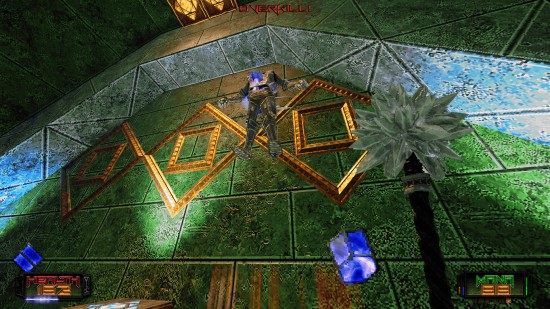 So AMID EVIL. It's a bit of alright, then.
It seems that New Blood Interactive started a movement with the release of DUSK in Early Access, and now with AMID EVIL, they've cemented their position at the forefront of the Retro FPS resurgence. I love that they've given Indefatigable the leg-up they so clearly deserve for AMID EVIL, setting it up for the success it seems destined for. It feels like the start of an empire, highly reminiscent of the developer/publisher role that 3D Realms themselves played in the mid-90s. One can only hope to see New Blood Interactive bring more promising developers and games into the fold, because as of right now, their standards and quality control are through the roof.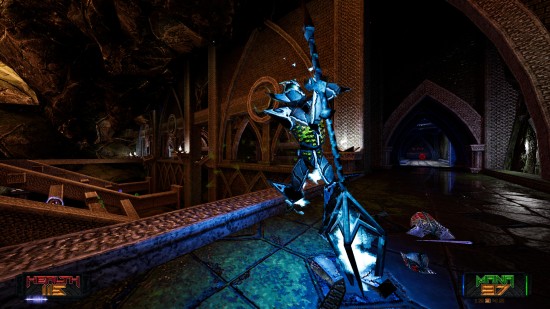 If AMID EVIL finds full release alongside DUSK and Ion Maiden this year, then Retro FPS fans will have no choice but to bear the burden on their wallets. Each game does its own thing, is polished to perfection and all are worth owning, even in their Early Access get-up. And how many games can you say that about these days, eh?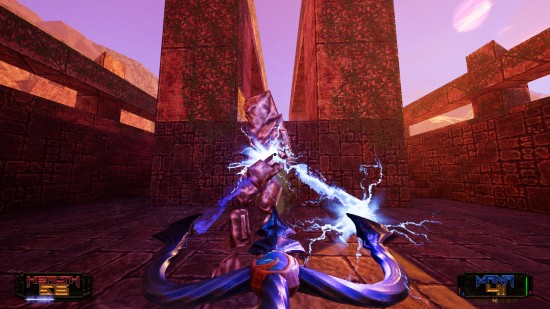 In the here and now though, you really need to get onto AMID EVIL. Early Access period be damned, what's here is quality through and through.
Besides. You need something to play now that you've finished with DUSK and Ion Maiden for now, right?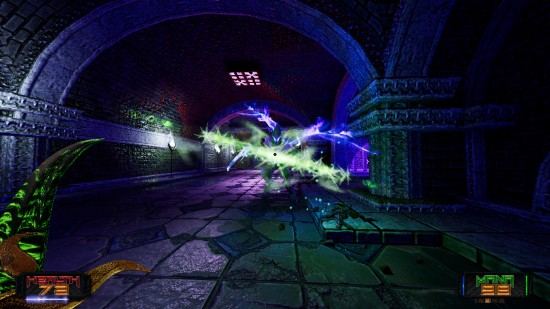 — This is a preview of the AMID EVIL Early Access that is out on the 12th/13th March, depending on your time-zone. I asked New Blood Interactive if there was any way I could buy into the Early Access early so I could get this preview out in time for the launch – legends that they are, they were kind enough to give this lowly blogger a key for the game! I would have bought it day-one anyhow, because this is exactly the kind of stuff I love, but cheers guys and gals, much appreciated! —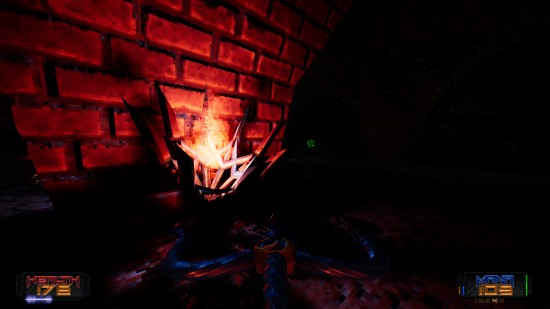 ---
Are you enjoying this Retro FPS resurgence that seems to be taking off? Digging DUSK? Loving Ion Maiden? AMID EVIL floats your boat?
Sound off in the comments below!
Posted In:
First Person Shooter
,
New Blood Interactive
,
PC Gaming
,
preview
,
Retro FPS
,
Steam
Tags:
action
,
Classic Gaming
,
DOS
,
Early Access
,
Fantasy
,
First Person Shooter
,
gore
,
Gothic
,
heretic
,
hexen
,
Indefatigable
,
Indie Games
,
MS-DOS
,
New Blood
,
New Blood Interactive
,
old-school gaming
,
pixel art
,
preview
,
Retro FPS
,
Throwback FPS
,
Unreal Engine 4
,
violence
,
Witchaven