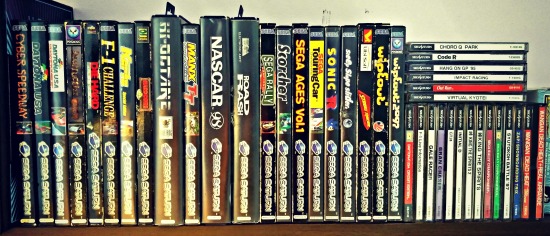 Not Pictured – Loose PAL Need For Speed and Virtua Racing.
And now for something a bit different. Something a little more personal, and a tad more 'bloggy' – if that is even a thing.
It's no secret that I really, really love arcade racing games. Even games that were generally regarded as 'sim' games in the 32-bit era are far removed enough from reality that I can usually find something to enjoy in all of them. The more reality creeps in, the more bored I become.
But why racing games? Would you believe me if I told you I couldn't care less about cars in the real world? It's true – I'm the furthest from a petrol-head as anybody you're likely to encounter. Ever. Racing games, and Arcade Racers in particular fascinate me. I relish the challenge of taming a well-designed track. I love working out the way glorious arcade physics and control systems work. I can't go past seeing developers get creative with environments to race in, working on unique colour schemes to bring on certain moods. And last, but most definitely not least, I love the music. A banging soundtrack will always make an average arcade racer more palatable, and a good arcade racer great!
Beyond that, I'm a solitary gamer most of the time. Outside of the occasional couch co-op, I like my gaming time to be 'me' time. I like making my way through a Grand Prix or an Arcade Mode. I love spending time in Time Trials, just my car, the track and a timer for company. The genre fits my nature, I guess.
So why the SEGA Saturn? The Sony Playstation may have many, many more racing games than the SEGA Saturn, but I'll always have a soft for SEGA's 32-bit console. Also, the Playstation doesn't have SEGA Rally Championship – the ultimate 32-bit Arcade Racing experience, as far as I'm concerned. And whilst it doesn't have the same number of games, it does have a bunch of really cool ports, exclusives and oddities. And there is my drive, right there – I love the system, I like racers – simple as pie.
Aiming for a complete SEGA Saturn Racing collection is fairly doable – with one big exception. The super-rare Delisoba Deluxe is a game that wasn't released in the traditional manner, but rather given away as part of a giveaway for something or other in Japan. With a bounty on its head of $1000 and over, I can't realistically say I'll ever own it. Maybe if I win the lottery, yeah, but you've gotta be in it to win it – apparently – and I am most definitely not in it. I'll be happy to plump for a Repro if we ever get to that point with the Saturn in the future, but for now, I console myself with the fact that Delisoba Deluxe was never officially released, therefore I don't need it.
Maybe one day. I won't lie, it stings a little.
The rest of the library, though? 100% doable, so I'm aiming for at least one copy of each game, regardless of region. Here is an entire list of the SEGA Saturn racing games (and games that feature a prominent racing section or focus on cars/other vehicles) that I have found.
I've marked the ones I own so far bold, and I have a few coming in the mail, so I've marked those off too.
If you know of any more, or see that I've missed something, then let me know as this is the master-list I'm working from! Besides, it would be nice to be able to present the internet with a definitive, 100% list of SEGA Saturn racing games!
Andretti Racing
Choro Q Park
Code R
Courier Crisis
Crimewave
Cyber Speedway/Gran Chaser
Daytona USA
Daytona USA Circuit Edition
Daytona USA: Championship Circuit Edition
Death Throttle
Delisoba Deluxe
Destruction Derby
Die Hard Trilogy
F1 Challenge/F1 Live Information
Formula Karts Special Edition
Fully Cowled Mini Yonku Super Factory
Gale Racer
GT 24
Hang-On GP
Hardcore 4×4/Deka Yonku ~Tough The Truck~
Hi-Octane
Impact Racing
Initial D: Koudou Saisoku Densetsu
Manx TT Super Bike
Nascar 98
Nissan Presents Over Drivin' GT-R
Off-World Interceptor Extreme
Race Drivin'
Road & Track Presents The Need for Speed
Road Rash
Scorcher
Sega Ages Compilation
Sega Ages Out Run
Sega Ages Power Drift
Sega Rally Championship
Sega Rally Championship Plus
Sega Touring Car Championship
Shutokou Battle '97: Tsuchiya Keiichi & Bandou Masaaki
Sonic R
Steep Slope Sliders
Street Racer
Tactics Formula
Taito Chase H.Q. Plus S.C.I.
Touge King the Spirits/High Velocity: Mountain Racing Challenge
Touge King the Spirits 2
Virtua Racing
Virtual Kyoutei
Virtual Kyoutei 2
Wangan Dead Heat
Wangan Dead Heat + Real Arrange
Wangan Trial Love
Wipeout
Wipeout 2097/XL
Zap! Snowboarding Trix
Zap! Snowboarding Trix '98
Zero4 Champ DooZy-J Type-R
You'll notice that some games I have counted twice. Say, for instance, the SEGA AGES compilation that features Out Run and the individual Japanese SEGA AGES Out Run release. Also Daytona USA Championship Circuit Edition and Daytona USA: Circuit Edition. I've counted these as separate games because they have key differences, depending on the region. Out Run got an extra arranged soundtrack that was pulled from the PAL release, and the PAL release was not converted all that well either, with the game's countdown timer being off and such. The same goes for Daytona USA: Circuit Edition – the original music is an option in the Japanese release, as well as being internet capable, unlike the PAL version. Games that are virtually identical, bar a name change or two, I've counted as one game – I hope you can see where I'm coming from with all of this.
As you can see, I don't have too many to go! All that is left is:
Andretti Racing
Courier Crisis
Crimewave
Death Throttle
Delisoba Deluxe
Fully Cowled Mini Yonku Super Factory
Race Drivin'
Sega Ages Power Drift
Tactics Formula
Taito Chase H.Q. Plus S.C.I.
Virtual Kyoutei 2
Wangan Trial Love
Zap! Snowboarding Trix '98
Zero4 Champ DooZy-J Type-R
In my next order, I'm hoping to grab Courier Crisis, Race Drivin', Sega Ages Power Drift, Taito Chase H.Q. Plus S.C.I., Virtual Kyoutei 2 and Zap! Snowboarding Trix '98. I'm also slowly replacing the PAL games that don't play nice with my Japanese Model 1 Saturn with the Japanese versions.
Slowly, but surely, I'm getting there. And unlike some collectors out there, I'm collecting these games to play, not to show-off. I play Saturn Racers almost every day of the week, so I don't feel like I'm spending money on shelf trophies – these are games I legitimately enjoy. Some more than others, definitely, but still, I play them all the same.
Here's a few pick-ups from the last couple of weeks:
---
CHORO Q PARK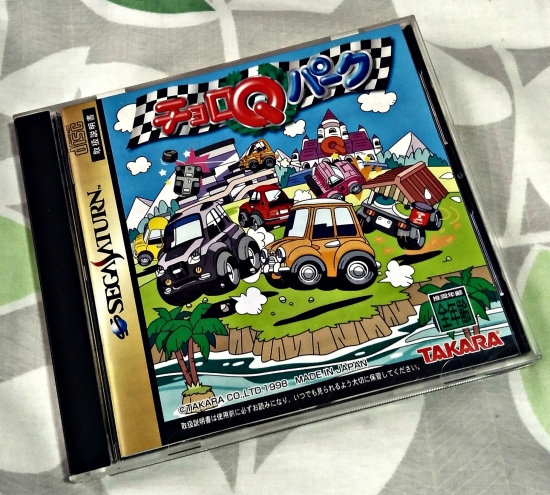 I've written about this one before! The language barrier is fairly high, as English text in this game is minimal at best, but I'm having fun working it all out. The racing is a lot of fun, the music is cool, and the graphics are super-cute. Great game!
---
CODE R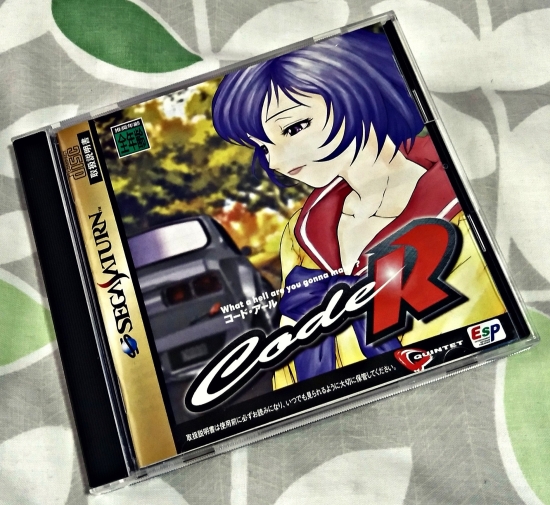 A mix between a racing game and dating sim, Code R is a tough Japanese nut to crack. All I can say is thank goodness there is a Time-Trial option on the main menu – and a generous one at that! The game handles like a dream, with weighty cars, great course design and solid visuals. Had it all been buried within the entirely Japanese Story Mode, I'd have been really, really sad. Having said that, I have started the Story Mode, and found myself racing (alone) within 20 minutes. I'll have to look up an import guide for this one, if it exists, because I really want to experience this game as it was intended.
---
HANG ON GP '95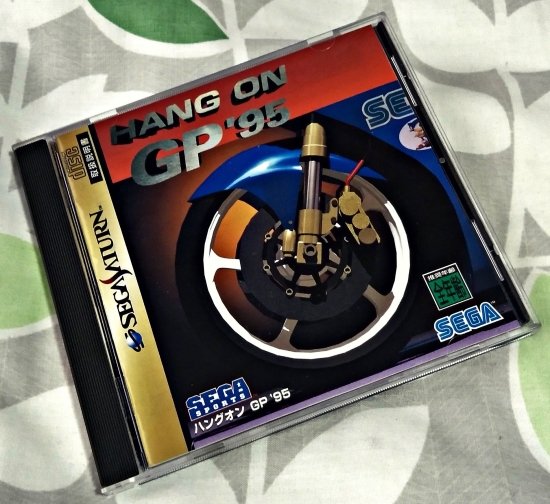 I've put almost no time into Hang On GP '95 so far, and that's because I don't have the right controller to play it. The game features pretty terrible controls with the d-pad, and the 3D controller support is some of the worst I've ever experienced – 0 to 100 with almost no movement at all, Hang On GP '95 shoots straight past twitchy right into quite literally unplayable territory. The game apparently shines with a Saturn Racing Wheel or the Mission Stick, but until I get me at least one of those, Hang On GP '95 is on ice.
---
IMPACT RACING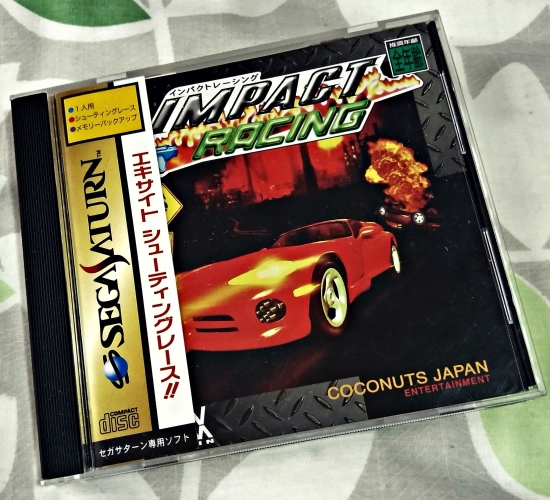 Now HERE'S an instant classic! I've really paid no mind to Impact Racing over the years because it looked like it focused too much on the shooty-shooty, and not enough on the racing action. And whilst that is true to a certain extent, hoooooo boy, is Impact Racing addictive as hell! The controls are great, and the cars control way better than I had initially (D – sorry) assumed. It's Ridge Racer with guns. Even better, it's Road Blasters with DRIFTING! I'll be reviewing this one in the future, so keep your eyes peeled for that, but until then, just know that Impact Racing is one of the best surprises in regards to the Saturn that I've had in a while. It's technically impressive, easy to pick-up-and-play and I don't know, it just makes all the right moves. It's a brilliant game that I think stands out even more in 2018 than it ever did on release.
Get it.
---
SEGA AGES: OUT RUN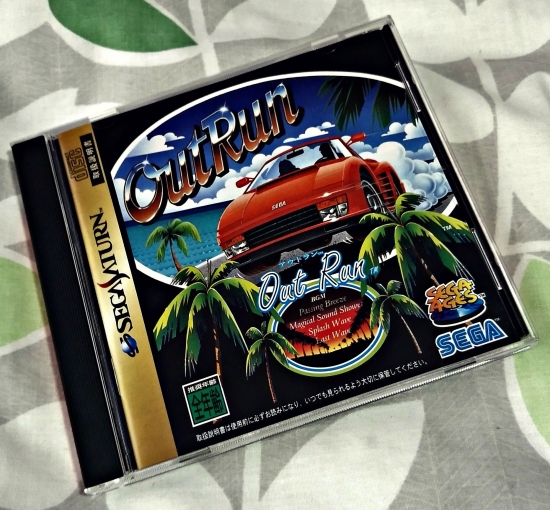 I have wanted this game for so, so long! I picked it up for just shy of $50 AUD, which is fantastic. A couple of years ago, I couldn't find it for less than $65-70. Do some games actually go down in value? Apparently so. I really wanted this for the Arranged music, but having played my PAL copy of the SEGA AGES compilation on my Japanese Saturn, it was quite apparent to me that not only did the game always feel a little off in 50Hz, but running at 60Hz makes a mess of the game systems. The timer is even more wrong that it originally was, and the controls felt twitchier than usual.
I've wanted SEGA AGES: Out Run for 20 years, and now it's miiiiiiine!
---
VIRTUAL KYOUTEI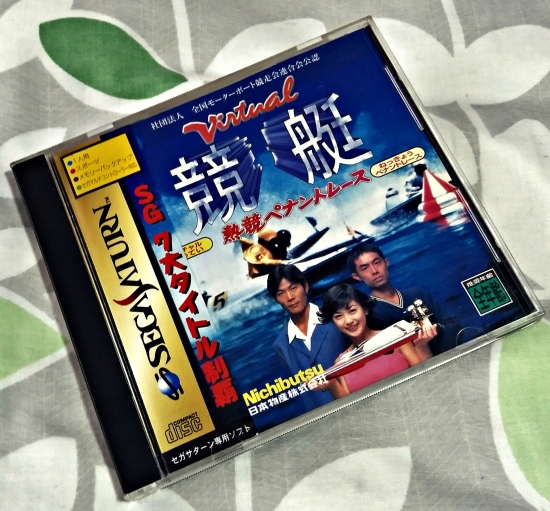 I had no idea the Virtual Kyoutei games even existed until a couple of weeks ago. It is some sort of boat-racing simulation thing, but beyond that, I haven't the foggiest idea what is going on. Almost every aspect of the game is layered in a thick coating of Japanese, though I was eventually able to make it into a race and control the boat things a bit. I've got no idea what I'm supposed to do, but I could indeed accelerate, brake and move around – a win right there, I think! Virtual Kyoutei will be a tough beast to tame, in regards to language barrier at least, but I'm up for the challenge!
I'm hoping the sequel is a little less dense, still, I'll pick it up regardless. There's not a whole lot of information out there on this one, yet I'd like to crack it open one day, and when I do, I'll share it with the world because who knows? There may be gold buried in here somewhere! From what I've played so far, I highly doubt it, but the mystery, for the moment at least, remains.
---
I'll definitely be keeping you guys updated on my progress with this particular project. Once the Saturn is done, I'd be keen to make a start on a full Racing set for the PSX and Nintendo 64. But for now, it's the Saturn.
Do you dig arcade racers? Attempted a full racing collection before? Let me know in the comments down below. Link me to your site, show me your pictures, I want to know if there are other weirdo's out there like me ?
Posted In:
Arcade Racing
,
Futuristic Racers
,
Personal
,
Retro Gamer Life
,
retro gaming
,
Saturn Imports
,
SEGA Saturn
Tags:
Blog
,
Boats
,
Buying Games
,
Choro Q Park
,
Code R
,
collecting
,
Collection
,
collectors
,
driving
,
Gamer Life
,
gaming
,
Hang On GP '95
,
Hidden Gems
,
Impact Racing
,
Import Gaming
,
Japanese Games
,
Obscure Games
,
Pick Ups
,
racing
,
Retro Collection
,
Retro Games
,
SEGA
,
SEGA AGES: Out Run
,
Speedboats
,
Virtual Kyoutei