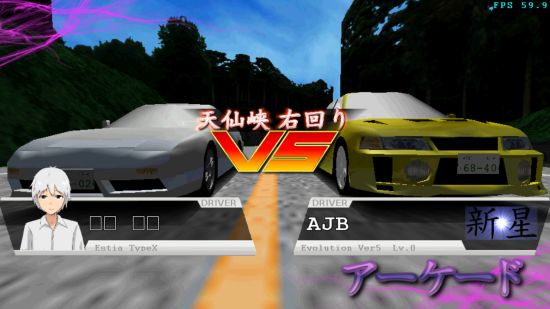 There's nothing like that feeling of stumbling across a game that you had no idea existed, in a genre that's close to your heart! I found this one on the forums over at Rolling Start, THE place to check out if you're into arcade racers at all.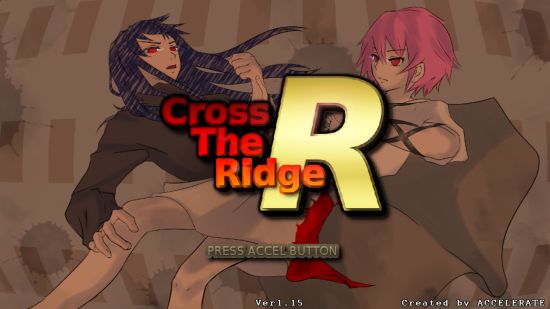 GET THE GAME (FULL + DEMO) HERE!
PC
Doujin Racing
Controller Support – tested with an Xbox 360 controller
Roughly $5 for full game, with a FREE demo available.
CrossTheRidge R is a sequel to another Doujin arcade racer that I haven't played, was released in 2013, and is indeed such a game. Not perfect, mind – the graphics are somewhere between a z-grade PSX game and PS2 Shovelware, and the overall presentation is pretty slapdash, but graphics do not a game make, and at the core of CrossTheRidge R lies a heart of gold.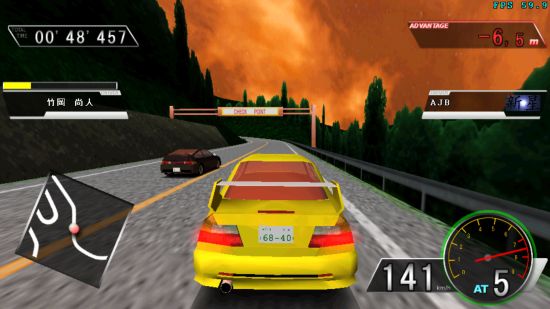 An Initial D clone at first glance, CrossTheRidge R definitely shares at least a superficial similarity with SEGA's Arcade racing series. Races take place in the much the same manner – you're pitted against rival drivers in one-on-one races. Beat a few in a row, and you'll face off against a Boss. It's not the most in-depth format, but it provides structure and context, and I like it.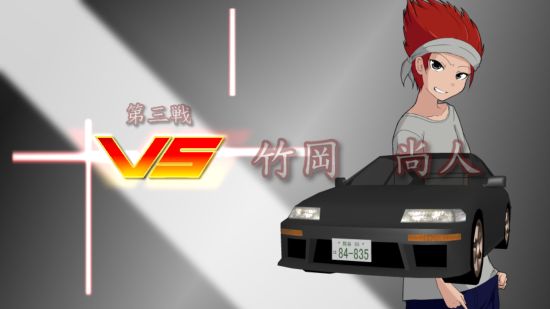 Controls are an area that CrossTheRidge R absolutely shines. This is pure 90s, Japanese arcade-racing bliss, where reality is a mere suggestion and it's all about the fun – fans of 32-Bit arcade racers will adore CrossTheRidge R. You don't have much to contend with other than accelerating, braking and steering. Or manual gears, if that's your thing. Initiating a drift is easy, all you need to do is let go of the accelerator, hit the brake, steer into the turn until you're angled just right, then plant the accelerator again. It's simple, but there is a lot of depth and nuance in the mechanics. Like the best arcade racers, it's easy to grasp, instant fun, but mastering the controls will take some time. There's a weight to the cars here that makes it stand out, and the actual drifting actually feels more like Konami's GTI Club games, with perhaps a touch of certain Choro Q/Penny/Gadget Racers games in the mix. All up, it's definitely more rigid than the Initial D games it clearly aspires to, but CrossTheRidge R is its own beast.
Course design is great too! Despite the simplistic visual style, I had no trouble remembering the 10 tracks on offer after only a few laps – for me, a fantastic sign that a game is doing it right. Each corner is memorable, tracks flow well, and I love them.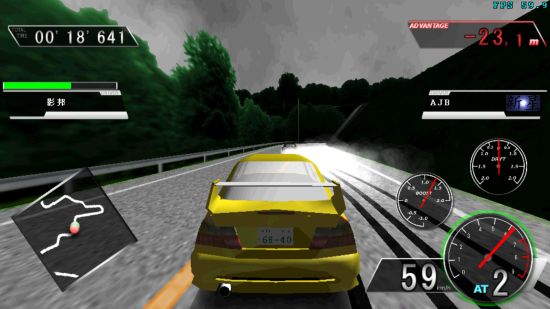 Buried within the game is a decent car customization feature. CrossTheRidge R features roughly 50 vehicles to choose from, each with unique handling, and on top of that the player can upgrade the various facets of each, including performance, tires and body kits. These upgrades are bought with credits, and you win credits in every mode of the game. Feel like Time-Trialing a certain track for a bit? You'll nab some credits for your efforts. Play the main modes and you'll gain even more. I like that the game gives me the opportunity to make my car my own, but I also appreciate that it doesn't get too bogged down in the minutiae – it is a racing game, after all, and 90% of my time so far has been spent actually racing.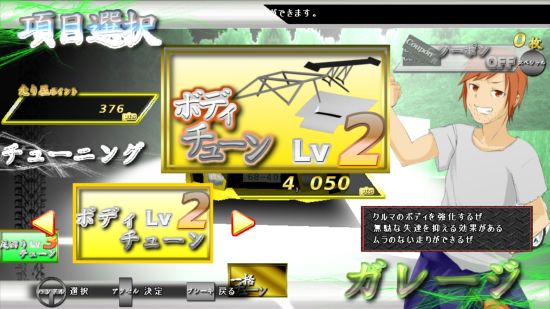 I'm sure CrossTheRidge R offers up more, but I can only go off what I've been able to navigate to – the entire game is in Japanese. The main sections of the game are displayed in Japanese and English, but every other bit of text, from the upgrades to the options menu is in Japanese. I am thankful that the developer chose to include little graphics for the upgrades and various other menu options, as without that, I'd have no idea where I was heading, or what I was spending my credits on. Despite the Japanese being so prevalent, it doesn't take too long to get acclimated, and the menu's themselves are laid out quite well and are intuitive to navigate, so I'd say stick with it – you'll be whipping through them with purpose in no time.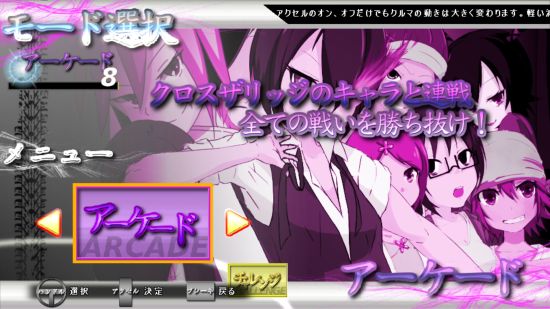 Also, from what I've played so far, the game hasn't been too tough or challenging. This suits me fine, as it's nice to earn all the credits in the beginning to spend on your car. It may get harder eventually, and I'll be looking forward to that challenge, but really, it's fine for now.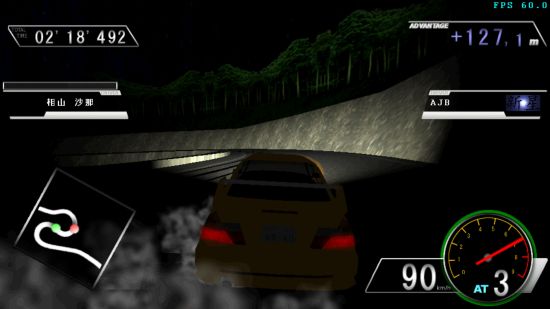 The only other real negatives I can throw at the game are on the Audio/Visual side of things. First off, let's address the elephant in the room, shall we? CrossTheRidge R is not a pretty game. The resolution is low and fixed, and the textures are not very appealing. The car models look like they could use a bit of work too. With that being said though, the game is easy to read, and it's most definitely functional, first and foremost. The frame-rate sticks doggedly to 60fps though, and that's all that matters really, but I'd be lying if I didn't say that I'd love to see a sequel that makes things just a tad more pleasing to the eye. Menu presentation is fairly all over the place too, but it's nothing too off-putting, and again, is functional.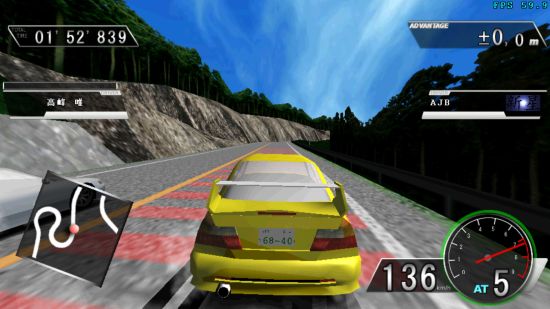 The sound is also a bit of a head-scratcher. What's here is quality, and the music is fantastic. But all that goodness is buried beneath sample rates so low that it can become distracting. If any sound in the game was encoded at above 22khz, I'd be surprised indeed. Still, the engine notes, whilst artificial, are satisfying. I'm particularly fond of the drifting screeches. The music is great too, and every piece of music seems to be an homage to a various racing games – the only one I've been able to pick out is a bit of music based on a SEGA Rally track.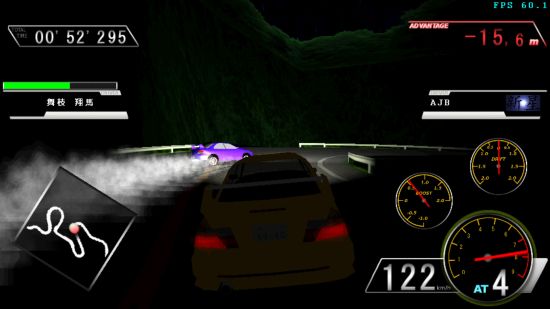 CrossTheRidge R has a generous amount of content for an arcade racer, and the various modes will keep you busy for a good long while. It digs its claws in straight away, and is so moreish that I've struggled writing this post! With every word I type, the urge to jump straight back in gets stronger and stronger…
…so I'll leave it here. Because I need to keep playing.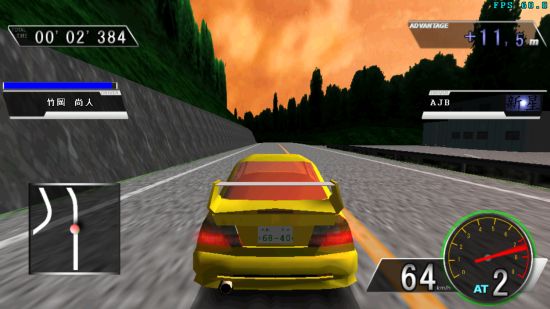 It's worth mentioning that if you're really taken by the demo, as I was, the whole game costs only ¥540 JPY, which makes it roughly $5 USD, €4 EUR and $6.40 AUD – so it's worth whipping out Google Translate to navigate the website and purchase the game.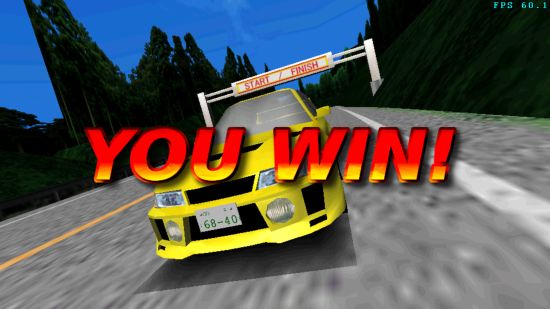 CrossTheRidge R is a fantastic game. It may not be the prettiest racer on the block, but it more than makes up for it with killer gameplay. There's a lot of game here for the amount of money you'll be plonking down, and I'd personally love to see more arcade racing games from this developer, so if you like it, support it!
Posted In:
Arcade Racing
,
Cheap Games
,
Indie
,
Indie Games
,
PC Gaming
Tags:
Arcade Racer
,
Arcade Racing
,
cars
,
Cheap Games
,
Cross The Ridge R
,
CrossTheRidge R
,
dorifto
,
Doujin
,
Doujin Games
,
Drift
,
drifting
,
driving
,
Free Demo
,
Indie Games
,
Initial D
,
PC
,
racing
,
Street Racing
,
Tōge
,
Touge