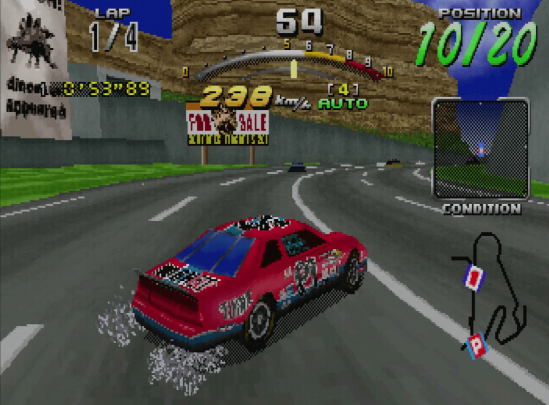 Learning To Love is a series that I'm going to start throwing at you every now and then – a series about games that I am giving a second, third or in Daytona USA (C)CE's case, hundredth chance. These could be games that I wanted to like, but couldn't latch on to, or games that I hyped up to ridiculous levels as a youngster, that inevitably failed to meet expectation. It could also be games that I've never liked that all of a sudden, just work for me. A retro gamer's life can be strange sometimes.
So let's go away, shall we?
---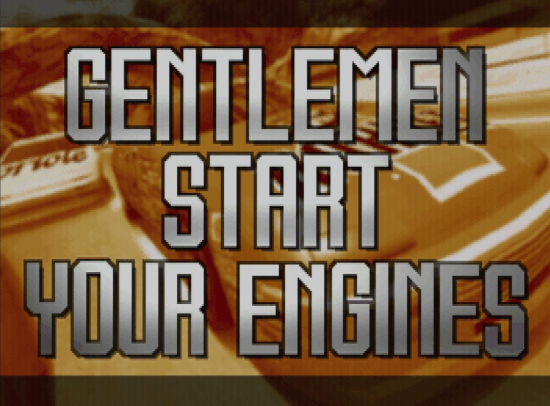 Daytona USA was one of the first games that I bought for my Saturn, and as messy as that original Saturn port was, it was among my favourite games. I felt, at the time, that SEGA did a fantastic job porting the core Daytona USA experience to the home console. The sub 20fps we received in PAL land didn't matter to THIS 13-year-old. I had a game that played great, featured the killer soundtrack on CD and yeah, it looked close enough to the arcade for me, at least when viewed through my fuzzy RF connection in 1996, that's for sure.
We all know the story – the Saturn had Daytona USA, the PSX had Ridge Racer, and when comparing the two, Ridge Racer came out on top. It was the better port, definitely.
So SEGA set out to right a couple of wrongs. Their underwhelming port of Virtua Fighter received a Remix version, and around the time of that games release, there were rumours that Daytona USA was going to get the same treatment.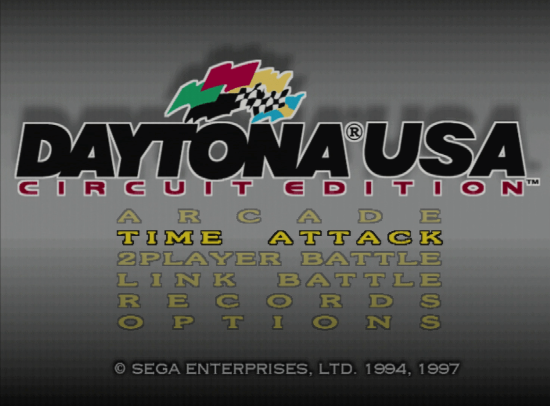 And so Daytona USA Championship Circuit Edition (CCE) came to pass. Built using the impeccable SEGA Rally Championship engine that SEGA used for the Saturn version of that game, CCE was almost entirely a guaranteed winner. Better, smoother graphics coupled with more tracks and vehicles – what could go wrong?
As it turns out? Quite a lot.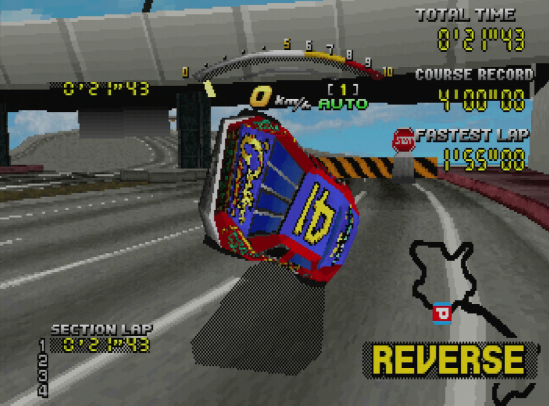 The new graphics were indeed an improvement – technically, the game targeted 30fps and held it, most of the time. But something just felt a little off. Though it featured big, bold colours, much nicer textures and an improved draw distance, CCE bore only a passing resemblance to the Daytona USA we were all familiar with.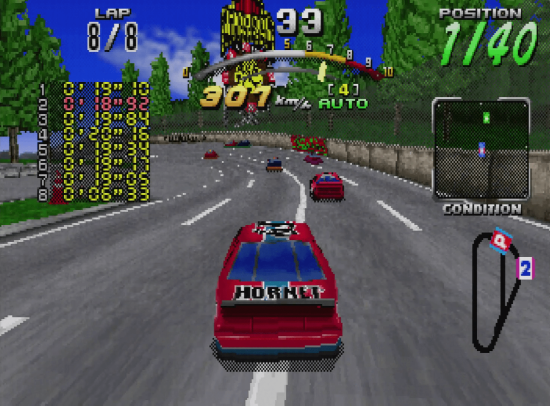 SEGA also took the (ridiculous – quote me on it) criticisms of the original soundtrack to heart, and saw fit to replace the tunes, at least in the West, entirely with remixed instrumental versions by Richard Jacques. And I do love my Richard Jacques. He of Sonic 3D Blast, Sonic R, Metropolis Street Racer fame/infamy is one of the all-time greats as far as I'm concerned, but I wasn't too enamoured with the lack of vocals in the remixes, let alone the loss of that signature Daytona USA sound. SEGA went for a soundtrack that would please the West, and though they had every reason to do so, it lost its soul.
If these were the only criticisms I had at the time, I would still have been one happy camper, but CCE had much bigger problems than questionable art direction – the controls were the woooorst.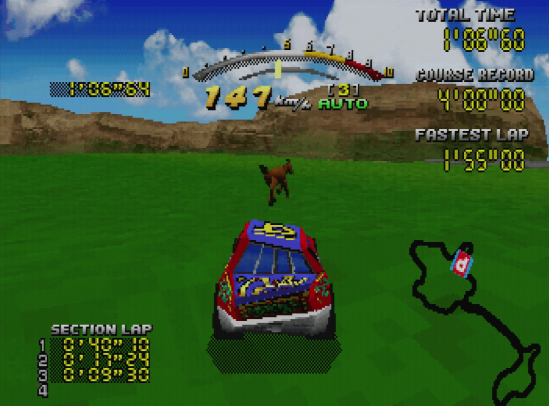 At least in comparison to the original port, because if there was one redeeming feature of the original Daytona USA port (OK two, that Redbook Audio… mmm), it's that the controls made the transition almost flawlessly. A d-pad is less than optimal for 32-bit arcade racers in most circumstances, but SEGA made it work the first time around – the analogue steering with a wheel was great (apparently, I'm yet to try it with a wheel myself, though I'm keen to remedy that – watch this space), but with a 3D Controller, it was super sensitive. Completely understandable, as the 3D Controller wasn't a thing yet, and the analogue sensitivity was tuned for the Arcade Racer Steering Wheel, not the lowly analogue stick. Still, a joy to play.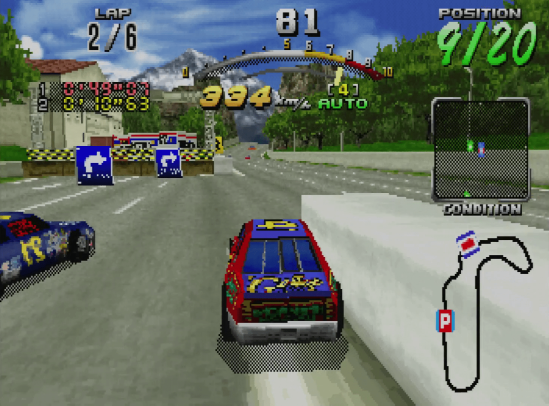 Daytona USA CCE? Not so much. With the change of engine came a version of Daytona USA that simply didn't control like one would have expected it to. It was similar, sure, but I couldn't help but feel that it was slightly off the mark. Controlling the cars with a d-pad was slow and cumbersome, whilst the native 3D Controller support went the opposite way and became entirely too sensitive. Again, I'm not sure how the controls felt with a Wheel, but in that particular moment of time, it was a crushing disappointment, at least for me.
It's beyond me why SEGA couldn't tune the gameplay to the inputs that 99% of the customer base would likely be using. SEGA??? Goddammit.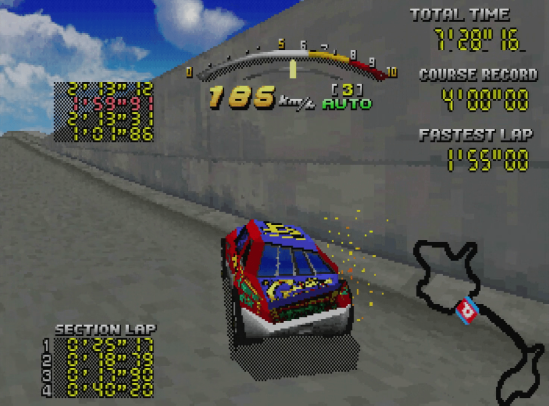 That is just the start of my relationship with CCE. Over the years, I've poured countless hours into trying to tame the beast. I tried so fucking hard, I really did. Despite the quirky visuals and sound, I really think that the Audio/Visual presentation is some of the best on the Saturn – I really adore the CCE aesthetic. I understand the criticisms levelled against the changes to the colour palettes and overall darker tone, but they're so damned solid, I can't help but be taken aback, even today – this is smooth, chunky 3D like only the Saturn knows how to do. But looks are only skin deep, after all, and I definitely didn't regard the controls with the same reverence. It hurt, wanting to love the game, and having CCE throw such underwhelming gameplay back in my face whenever I tried.
So every year, multiple times a year, no fail, I'd pull CCE out, and give it a spin in the vain hope that something would click. And every year, no fail, I'd turn my Saturn off in disgust.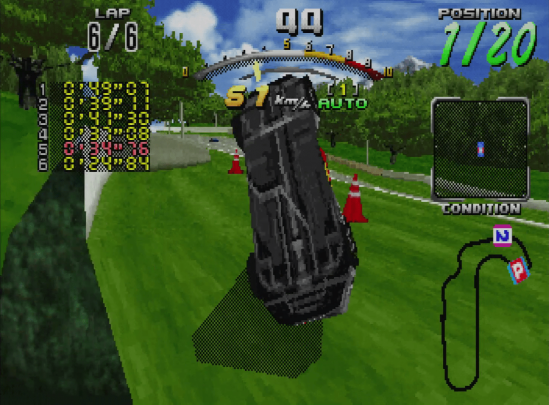 Yet there was a glimmer of hope on the horizon. In the circles I frequented (and still do), there was a miracle cure – the Japanese version of the game, dubbed simply Circuit Edition. The version of the game to have, apparently. Not only did it feature an improved draw distance and the original arcade (not Saturn arranged) tunes as an option, it also re-instated the controls of the original Daytona USA port. This sounded way too good to be true. So after I picked up my Japanese Model 1 Saturn, one of the very first games I ordered was Daytona USA Circuit Edition. When it arrived in the mail, I couldn't rip the packaging open fast enough. It was the first game I'd play on my new Japanese Model 1 – only fitting, I thought.
Had I but known that the internet at large had pulled a swift one on me, I'd have made that very first game on the Model 1 SEGA Rally instead.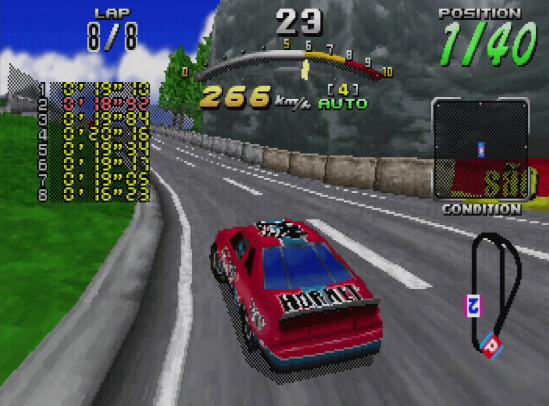 The improvement on the A/V side was indeed all it was said to be… that Sonic wall on 777 Speedway now appeared much further off in the distance, and having the original arcade tunes made the world of difference to the overall vibe of the game. Because, if we're being honest, what is Daytona without Takenobu Mitsuyoshi? Nothing, that's what.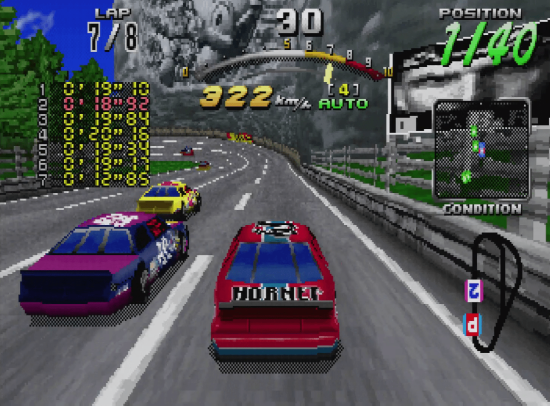 But where were these fabled improved controls, huh? Was I even playing the same game? The controls were/are identical to the regular CCE version of the game. Identical. OK, so maybe the 3D controller support is a mite less sensitive than before, but the difference was miniscule – small enough to be margin-of-error kind of stuff. For all I know, I could have been imagining a difference, just because somebody out there said so. That can happen.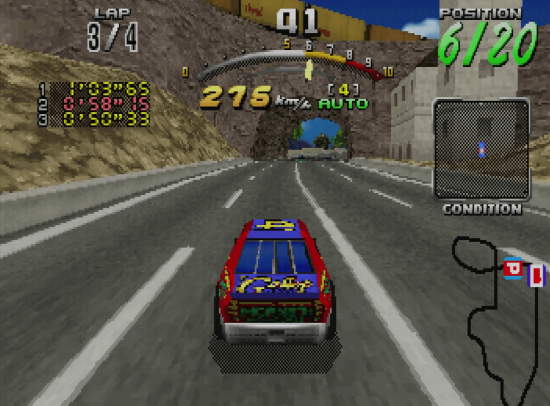 What I'm saying is don't believe the internet. Daytona USA CCE and CE control nigh-on identically. I've tried both back-to-back, over and over… they're one and the same. On a d-pad or 3D Controller at least, because again, I've not got a Saturn Racing Wheel.
So the disappointment remained. I'd be back to my routine. Turn the game on now and then, give it my best shot, give up – the same old, same old.
I was in the middle of this very routine just yesterday. Having been utterly absorbed in Arcade Racers as of late, I felt the urge – it was high-time I did the usual thing. And it was all playing out exactly as it did the last time. But wait. Maybe it wasn't? I felt like I was actually starting to enjoy myself, the controls began making sense and there was this unmistakable shift taking place. I felt the spirit of Daytona USA taking over.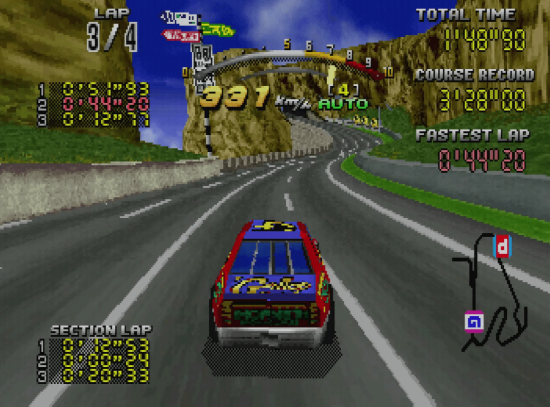 Before I knew it, I was taking that last corner of 777 Speedway as I had a thousand times before. Dinosaur Canyon? No problem. Seaside Street Galaxy, yeah, that last turn near the ship was still giving me grief, but otherwise, I was having a blast.
It's still not perfect by any stretch of the imagination. Here's a bit of gameplay I recorded. I was going to upload my entirely clean run, but I wanted to be honest in the gameplay video – I wanted it to show the best and the worst of Daytona USA CCE/CE, at least as it relates to me:
I still think the controls are still kind of funky, but, by and large, that comes down to the 3D Controller optimizations. Or rather, the lack thereof. It's still too sensitive, even taking into account the multiple sets of options in the menu to adjust the stick and tone it down. I still feel like exiting a drift is a gamble. I don't usually have a problem with it, so that feeling here just reinforces the fact that the Daytona physics here are an approximation, rather than the real thing. What has changed though, is that now I kind of feel like I know how the game wants me to play. Yes, it's still fairly different from the original Daytona USA port, but for reasons unknown, it now feels like Daytona USA. Insert something about pigs and flying here.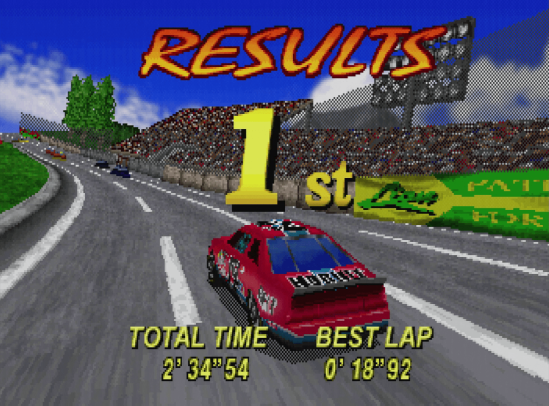 It's inexplicable, and bizarre, but I get the game now. Which is great, because I've never really bothered with the two new courses, National Park Speedway and Desert City. I figured that if I can't play the original tracks the way I wanted to, there was no way I'd have the patience to try to learn the newer ones. That has now changed, and quite literally overnight, I've suddenly got two brand new – to me – courses to master.
And another thing. How the option to unlock the original Daytona USA car passed me by all these years, I'll never know. Yes, I used the code. Eat me.
So fantastic stuff, all round. I think I can safely cross Daytona USA CCE/CE off my 'most disappointing games ever' list. I'm not going to stop there either – I plan on picking up a Saturn Racing Wheel in the next few weeks, and I dare say it'll be more than just CCE in the Saturn's library that will have new life breathed into it.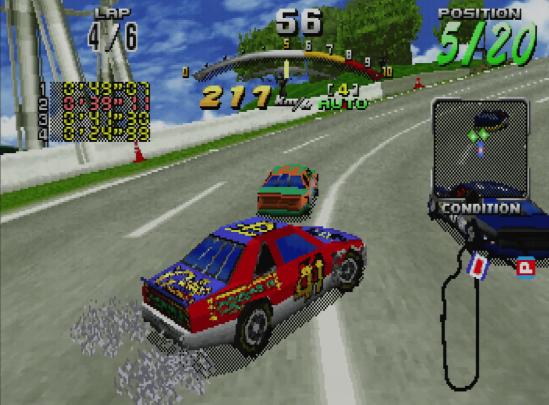 Still, would I recommend Daytona USA CCE/CE to the regular Joe at all? Nah, probably not. I don't want to be like all those other snake-oil salesman on the internet, all "OMG you guys, it's, like, so much better, you just need to give it time and play it right" – no siree. For me, it just happened to work out in the end, and that's great. But I'll never chastise anybody for not getting along with the game. The controls still are a major point of contention, and no doubt will continue to be so.
For that is the legacy of CCE. It's already written in stone:
"Here lies Daytona USA Championship Circuit Edition – the Daytona game that everybody asked for. It was a disappointment and the controls were terrible. RIP."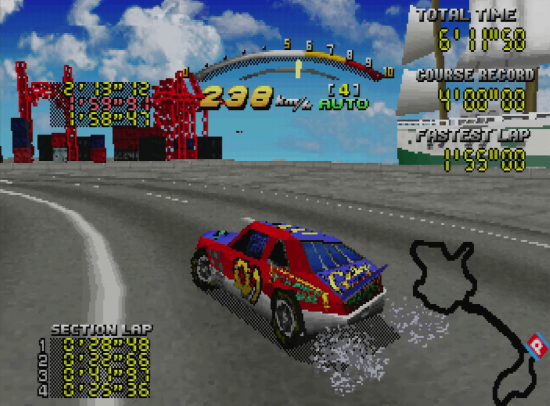 I'm just lucky that the wind changed direction, and whatever funny face it was pulling at the time managed to stick.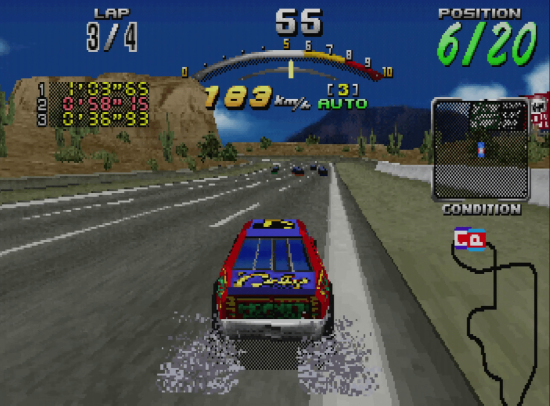 ---
Posted In:
arcade
,
Arcade Racing
,
Japanese Games
,
Learning To Love
,
Opinion Piece
,
Personal
,
Saturn Imports
,
SEGA
,
sega blue skies
,
SEGA Racing Games
,
SEGA Saturn
Tags:
Blue Blue Skies
,
Classic Games
,
Classic Gaming
,
Daytona
,
Daytona USA
,
Daytona USA Championship Circuit Edition
,
Daytona USA Circuit Edition
,
dorifto
,
drifting
,
driving
,
Early 3D Games
,
I Wanna Fly
,
Import Gaming
,
Japanese
,
japanese imports
,
King of Speed
,
Let's Go Away
,
Opinion
,
racing
,
Retro Game Blog
,
retro gamer
,
Retro Games
,
retro gaming
,
saturn
,
Second Chance
,
SEGA
,
SEGA Saturn
,
SEGA Sports
,
Sky High
,
Takenobu Mitsuyoshi