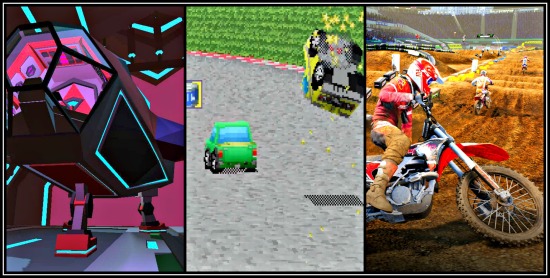 I've been playing a LOT of games lately. I've been on a pretty hard SEGA Saturn kick the last few weeks, with some pick-ups I'll show you in future posts, but my Switch and PC have been getting a fair amount of gaming love too!
Here are 3 games I'm really loving at the moment.
---
MORPHITE (Nintendo Switch)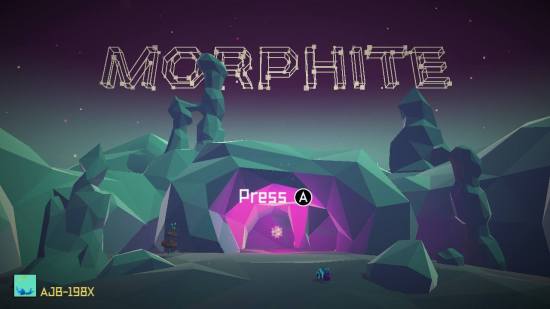 I didn't know much about Morphite going into it. Supposedly a cut-price version of No Man's Sky (something I haven't played as of yet), it was recently on sale, so I jumped on it.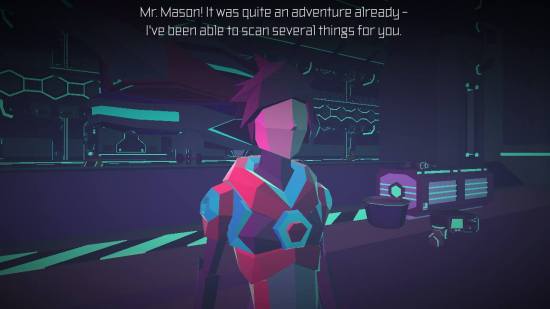 And what a neat little game it is! There's a story here, but honestly, I haven't really been all too invested in it. All you really need to know is that you hop from planet to planet, scanning flora and fauna and laying waste to the occasional hostile alien. Sometimes both, at the same time. It's a bit Metroid Prime, and a bit No Man's Sky (again, apparently), but it's an incredibly sedate experience, in the best way possible.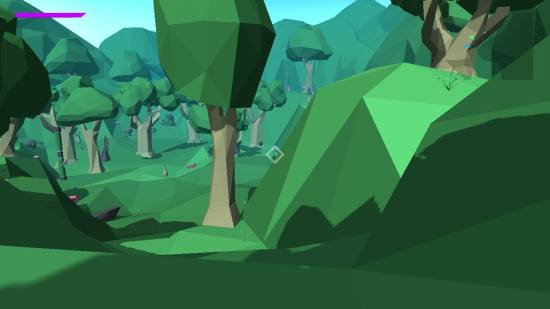 The flat-shaded low-poly look is what drew me to Morphite initially. The worlds look awesome, with really neat colour palettes that really pop. And with the advanced graphics options (the extra lighting and ambient occlusion) turned off, you'll get a full 60fps throughout most of your game. And I'll tell you what, I'm really appreciative of that option being in there, especially on a system like the Switch – I'm quite happy to trade the visual niceties for the improved performance.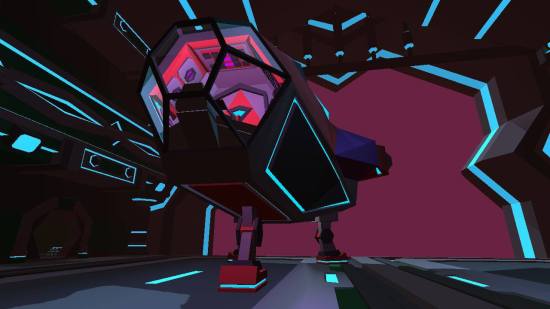 Between selling my scans and finding upgrades, I'm having a lot of fun with Morphite. It has become my go-to game to play in bed. It's nice to boot it up, clear a planet or two, then turn it off and head off into the land of nod myself.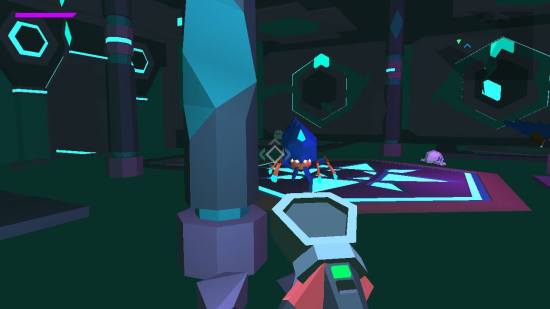 I wasn't expecting too much from Morphite, but what I've found is a killer game that helps me unwind at the end of the day. Every gamer needs a game like that. Mint.
---
CHORO Q PARK (SEGA Saturn)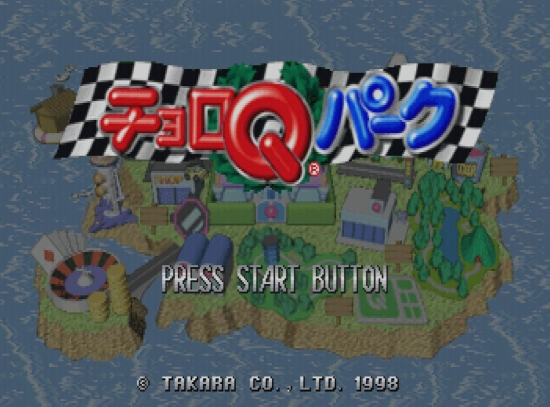 Choro-Q Park arrived earlier this week in the mail. I knew that the language barrier for the game was high, but I didn't expect it to take me so long to figure out how to actually get into a race! Once I was in, things were still unclear. What the hell is this 'Change' marker on the ground. Why is my Choro-Q moving so slowly? Why can't I win?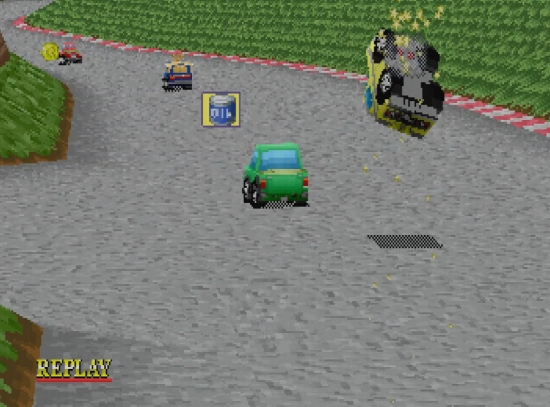 It turns out there's a depth to Choro-Q that I really wasn't expecting, and it made for a nice surprise!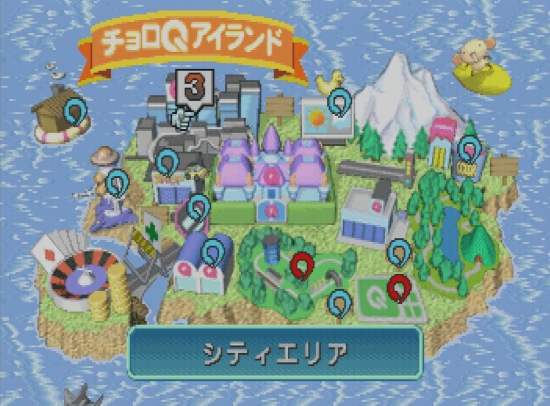 Choro Q Park was developed by NexTech, the same mob who created one of my favourite Saturn games, Gran Chaser/Cyber Speedway, and published by Takara. Takara is the Paul W.S Anderson of gaming for me – they release killer b-games that I can't help but love, and they all have brilliant music. Upon booting up the game, it's fairly apparent that NexTech had learned a few lessons, and their grip on the Saturn hardware was much improved by the time Choro Q Park was released in 1998 – the 3D here is a hell of a lot more refined than what we saw in Gran Chaser. It still has the same chunky look, but glitching and warping is kept to an absolute minimum, and the performance, whilst still not perfect, hits that 30fps target far more often than Gran Chaser does. I love the colourful look of this game, and it's a joy to watch in motion.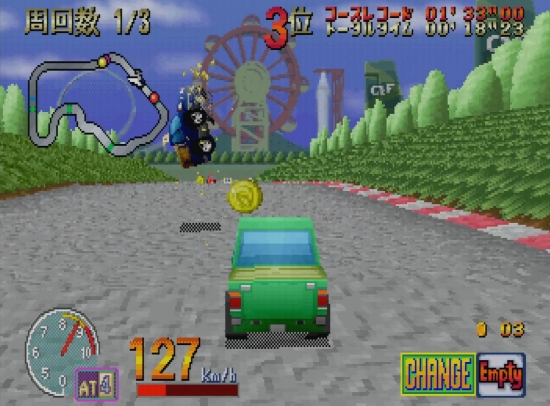 Controls are pretty spot-on too. The game features magnificent 3D controller support, and my only qualm is that there is no option (that I can find, at least) to map the accelerator and brake to the triggers. Still, each vehicle handles exceptionally well, with – for a lack of a better term- drifting mechanics that are solid and reliable.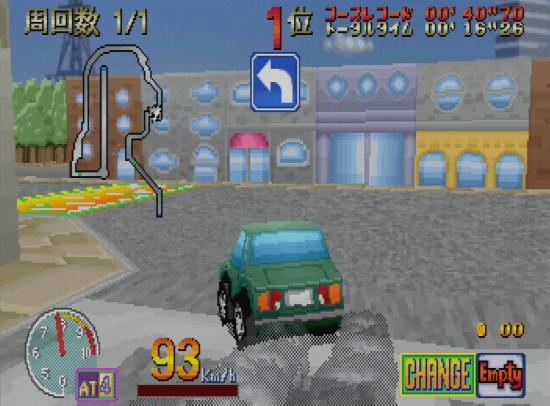 I mentioned earlier that my poor performance in my first few races had me stumped.
I really didn't know what I was doing wrong, but it didn't take me too long to figure it out. There is a map you see before you start a race, and on that map are a few different points.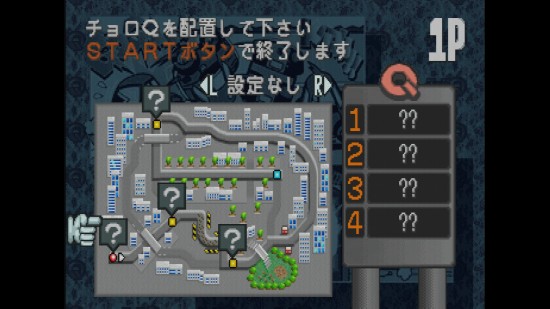 Place a Choro Q at each point on the map, denoted by the '?'.
You can place the Choro Q you want at that point, but I could only ever choose one as that was all I had. I soon realised I had it all wrong, and what Choro Q Park asks of the player is a little more strategic. You're meant to buy cars by collecting and winning gold, to place at each point on the map.
This slideshow requires JavaScript.
These points can be close together, or further apart. Since all the cars have unique stats, some can travel further before running low on energy than others. Others can't quite go so far, but the up-shot of this is that it may excel in other areas, such as cornering or general control. They key to coming first lies in placing the right kind of car at the right section of track.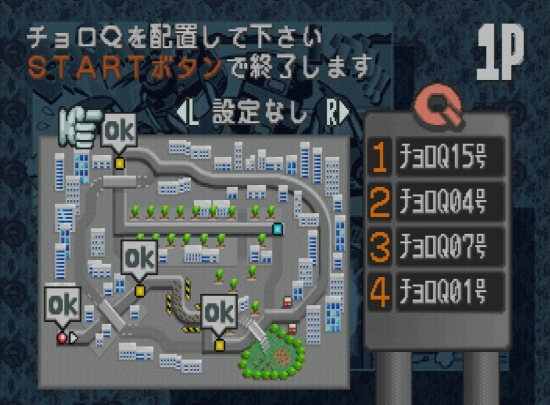 To get from point A to point B without running out of energy, place a Choro-Q with a high energy rating at the point to get you through the long stretch, and a different Choro Q with just enough energy to get you through the smaller section with the tighter turns.
This slideshow requires JavaScript.
There is some trial and error, especially if the Japanese language barrier is as much a thing for you as it is for me. But since you're not penalized (as far as I can tell) for retrying races over again, I found that this strategy element added a whole lot to my experience with the game. New Choro Q can be purchased with gold, and you get gold from races, so there's always a new Choro Q waiting for you to buy and test out.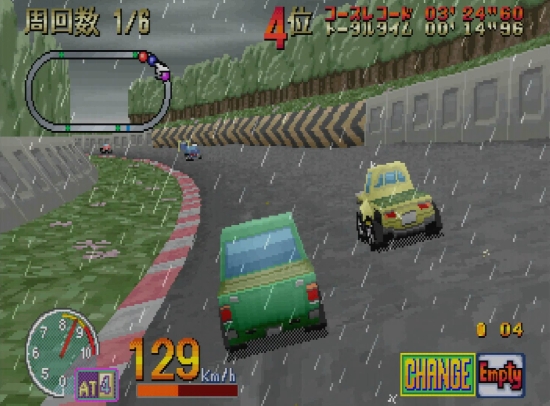 To be quite honest with you, I wasn't expecting this kind of depth from the game. But having this strategic element in the mix, on top of the already solid physics, controls, great course design and brilliant a/v presentation, I can safely say I'll be coming back to Choro Q Park.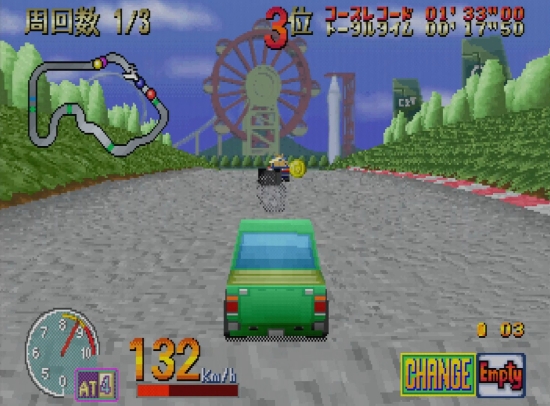 It surprised the hell out of me. Choro Q Park is most definitely a keeper.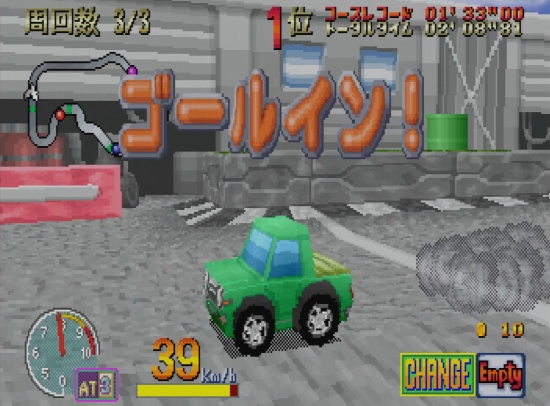 ---
MONSTER ENERGY SUPERCROSS – THE OFFICIAL VIDEO GAME (PC)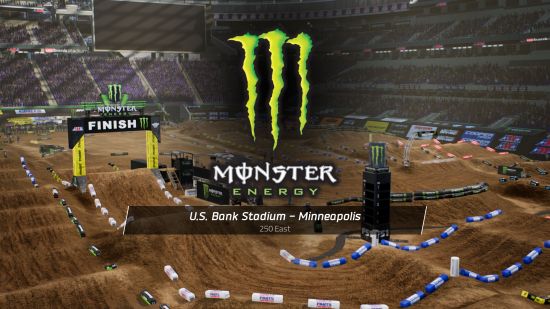 Here's one I purchased just a few hours ago. I've always been shit at MX games, and Monster Energy Supercross is no exception. I love the controls that this particular sub-genre tends to exhibit, and as long as I can dumb it down to at least resemble an arcade racer (because fuck racing Sims and reality), I'm happy. Though, I can never can seem to get to a proficient enough level to play them the way I want to, which is on me, I know that. What I do like to do though is head into the Time Trials and just fang around on my own, and occasionally dip into the Career Mode stuff when I feel like it. Yep, I purchased a $65 AUD game today mostly for Time Trials. Although, it's just as well that I'm really enjoying the Career Mode too. Yay, value for money!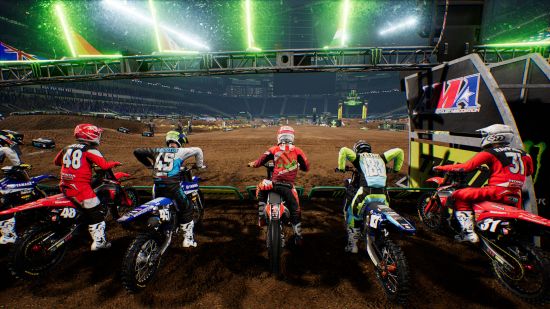 So yeah, I've started the Career Mode, but I've got no idea what I'm doing. I'm not a sporty guy, so I've got no idea what happens in a Motocross race – all I know is that I see bikes riding around on mud, and it looks like fun. After playing for a couple of hours, I can win stuff, so that's a good thing! Even if it is set to Easy…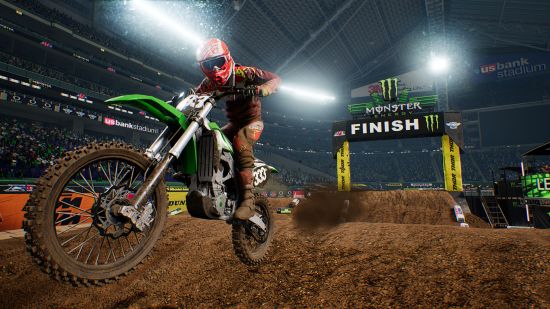 I'll admit, I mainly bought this because it's a racer, the graphics are really pretty, and I like the Green accents on everything. See, I can be shallow too! Still, I'm pretty stoked that the game is turning out to be a great investment on top of that. I really love the way the riding feels, and it runs super, super smooth completely maxxed out on my rig. All the screenshots you see here are ones that I took. I'm in love with the photo mode… make your own bullshots? I'm in! Except they're not really bullshots, and the game actually does look this good.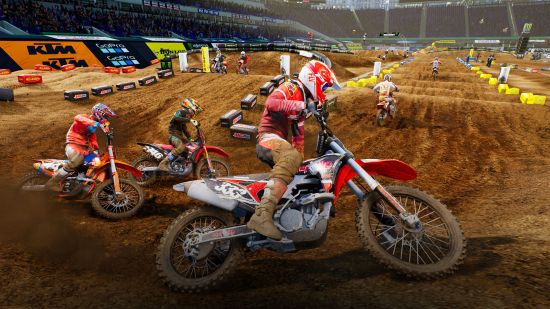 I'll have more of an opinion on it some time in the future when I've sunk the requisite hours into it, but in the here and now, I'm developing a slight crush. If you're after a sim, then Monster Energy Supercross is happy to oblige – turn all the assists off and the game is as unplayable… ahem, as realistic as you want it. I'm just happy that I can get around the odd corner without wiping out.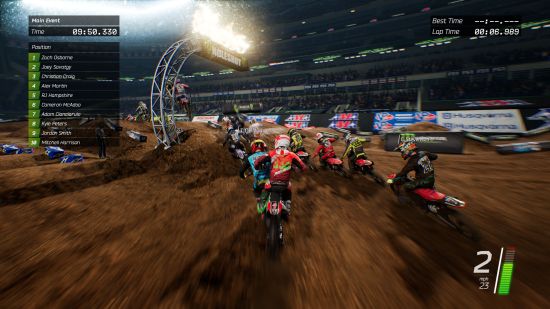 So yep, Monster Energy Supercross – great game so far. I can't help but wonder how much better it would be with with Eurobeat music though, instead of the generic rock, punk and post-hardcore that I muted as soon as I could. Tis a lie – I put on my go-to Eurobeat/Italo Disco racing game playlist straight away, and yeah, it's much better.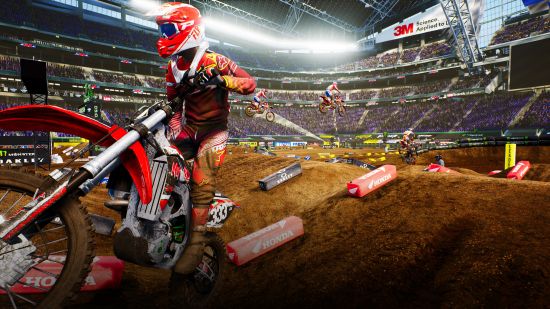 I jest, of course. Maybe.
Monster Energy Supercross – $60 AUD well spent, so far!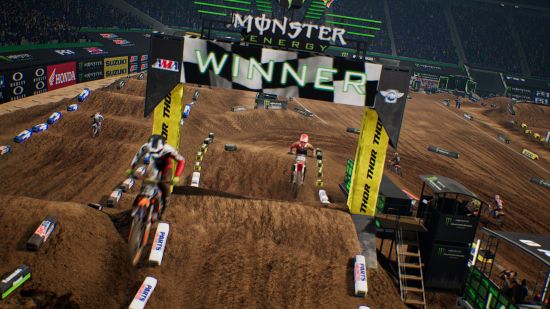 ---
So that's today's post in the bag! I really like sharing the games I'm playing with you guys, and I hope you're enjoying them too!
Be sure to jump down into the comments and let me know what you guys are playing. It doesn't matter what it is, I wanna hear about it!
Catch you in the next post!
Posted In:
Arcade Racing
,
First Person Shooter
,
Indie
,
Nintendo
,
Nintendo Switch
,
Now Playing
,
PC Gaming
,
Portable Gaming
,
retro gaming
,
SEGA
,
SEGA Saturn
,
Steam
Tags:
Choro Q Park
,
Crescent Moon Studios
,
driving
,
Gadget Racers
,
Games
,
Indie Games
,
Japanese Games
,
japanese imports
,
Milestone
,
Monster Energy Supercross
,
Motocross
,
MX
,
nextech
,
Nintendo
,
Now Playing
,
PC
,
Penny Racers
,
racing
,
SEGA
,
SEGA Saturn
,
Supercross
,
Switch
,
Takara