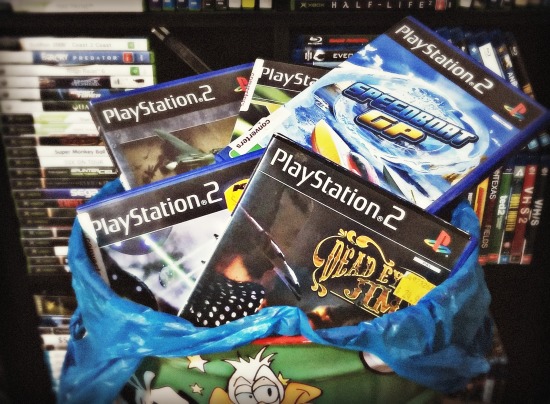 Shovelware!
If your platform is selling gang-busters, then expect the shovelware to start flooding the system in no time at all! The Playstation 2 definitely did well – and there is a veritable RUBBISH TIP worth of the stuff on the system.
So, I found a box of PS2 games in my wardrobe the other day, and I was immediately drawn to the cheap cover art that some of the games exhibited. When did I buy all this trash? I cannot for the life of me remember.
So I dug out the old PS2 Slim, set-up my XRGB-Mini, and proceeded to make my way through them, game by game, taking video and snapping screenshots along the way.
And lucky you, yes you right there! You get to suffer through them with me!
Bring a sick bag!
---
COMBAT ACE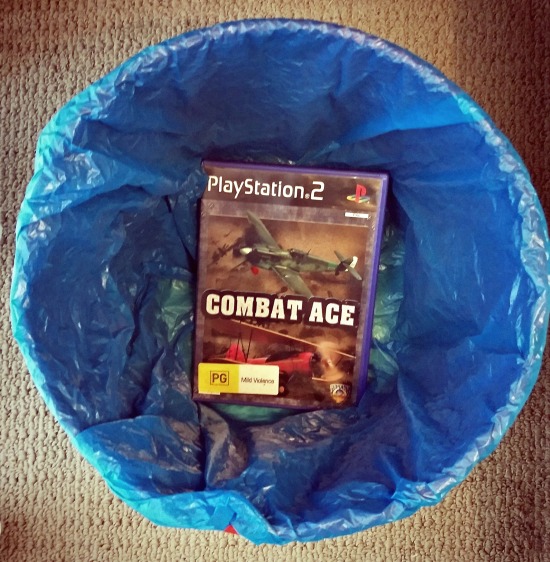 Oh boy. This one is a doozy.
Also, get familiar with Phoenix Games. You may just grow to love/hate them.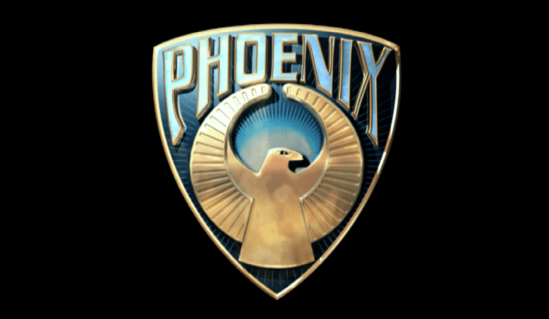 So Combat Ace. What is it? In the most basic of terms, it's After Burner, but shit. Dispatch enemies with either your machine gun, or lock-on to them with your missiles, all whilst avoiding their projectiles.
Sound simple? It is.
It really is.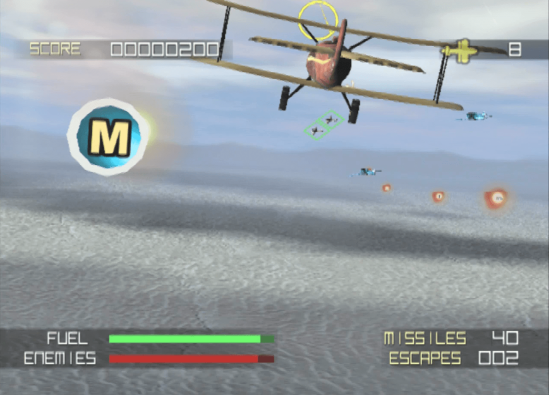 As far as Shovelware goes, it's not too too bad. I mean, from playing for about half an hour, I can confirm that at least the controls work – mostly – and the graphics… well… at least somebody showed up to model something. Each stage looks a little different, with some changes in the skybox and ground textures, but man… is it blaaaaaaaand.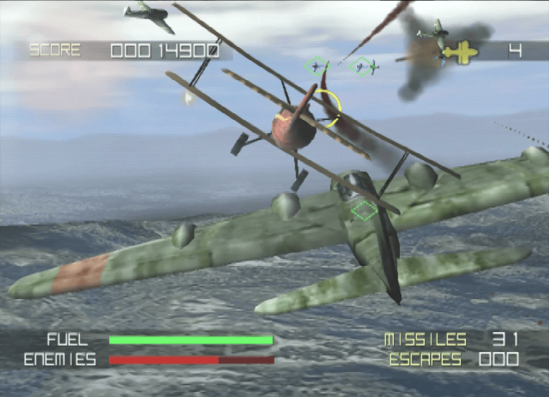 So how's the audio? Well, I hope you like dodgy sound effects, because there's no music here. Nothing to get your blood pumping, zero, nada – nothing but a bunch of stock sound effects that you've likely heard a million times over before. Ugh.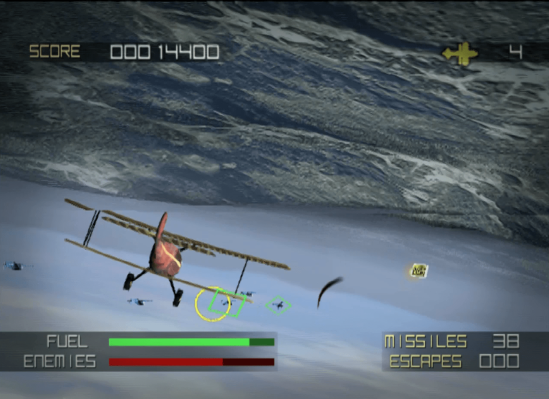 As competent as Combat Ace was, especially for a shovelware title, I couldn't bring myself to play it for very long. It plays alright, I guess? There's just too many issues with it to put up with the mediocre gameplay. For example, it's easy enough to avoid the enemy projectiles, but you'll be hit with plenty that come from off-screen, every now and then you'll randomly explode, and be left wondering what the hell has just happened. Where did that bullet come from? I just couldn't find it in me to find the answer to that particular question.
Maybe if there was at least some kind of music going on in the background, then I may have been motivated to continue on a little further, but nup – each stage is almost exactly like the last, with the same-old enemies to blast.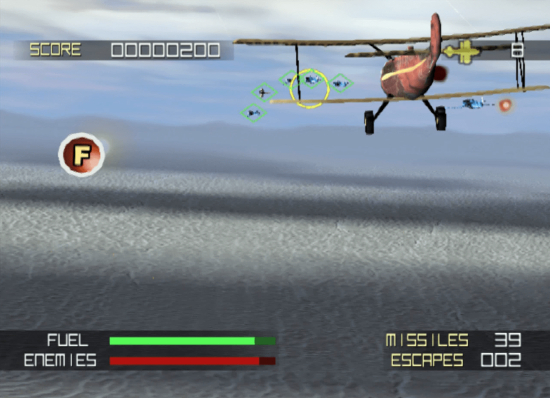 Not that I expected any less, mind you, but half the fun with these shovelware games is finding out just how bad they're going to be. This one isn't bad enough to be interesting, and definitely not average enough to be entertaining, even a little bit.
Also, get used to this title screen, you'll see variations of it pop-up throughout the rest of this post.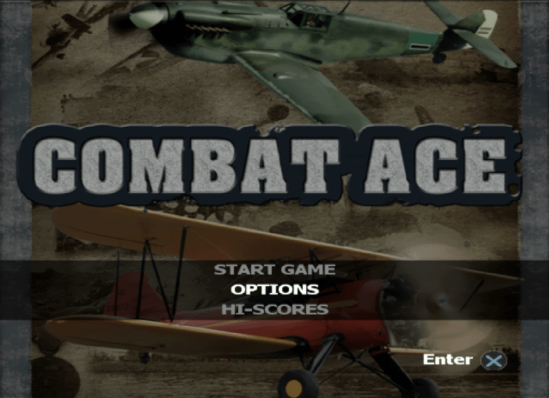 Verdict – Make it STOP.
– There's no reason to pick this up, even for cheap. Combat Ace doesn't fail spectacularly enough to even warrant a look, and commits the biggest sin of all – it's mind-numbingly boring.
---
THEY CAME FROM THE SKIES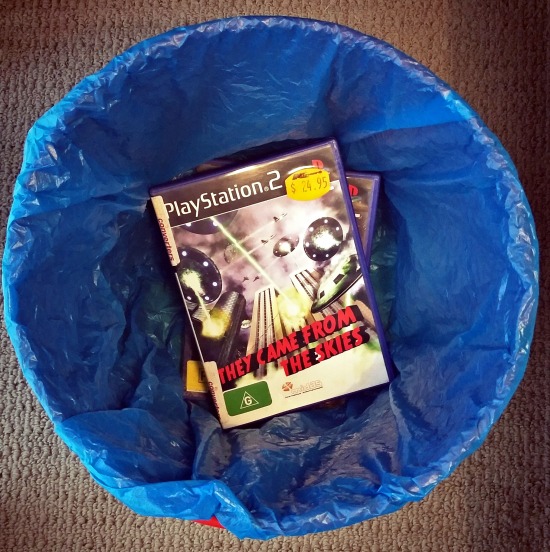 They Came From The Skies broke my heart. I was hoping for some B-movie action, and it kinda delivered for a while there! Until I got to the fifth mission, failed and re-tried many times, then finally threw my controller down in disgust.
I dunno, I just stopped caring after that.
They Came From The Skies is lovingly brought to us by: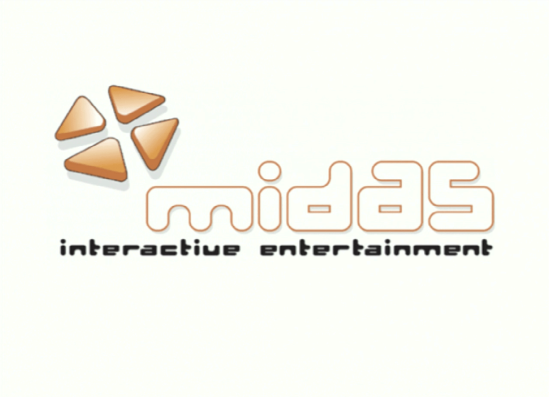 But I'm getting ahead of myself.
So, how's about that Title Screen, huh?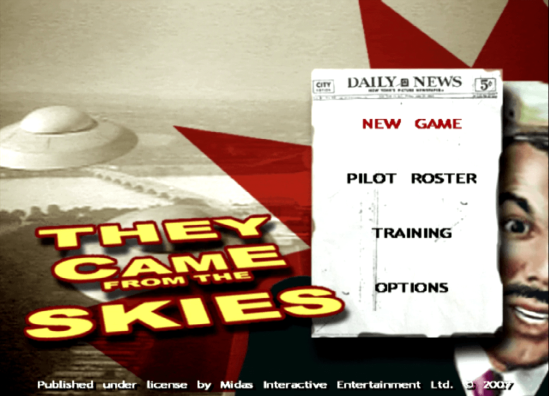 Cop that, cu…. ahem… I mean, at least it sets the mood.
They Came From The Skies is about as budget as an Ace Combat shovelware knock-off can get. The back of the box proudly proclaims:
Twenty huge and varied missions with hordes of enemies to destroy
Fly fighter hets, attack bombers and captured alien flying saucers
Manage aircraft upgrades and repairs to gain the upper hand
Destroy the alien mother ships, flying saucers, drop ships and infected human military hardware!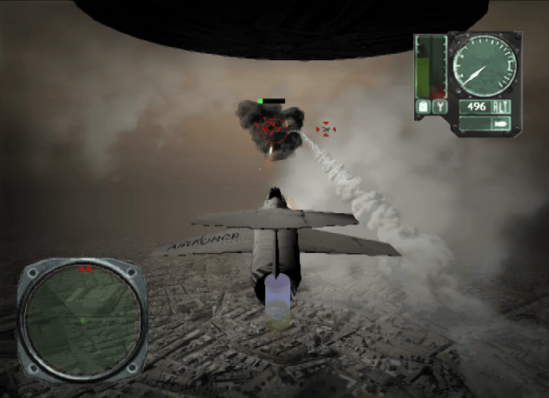 I managed to get to the fifth mission in 12 minutes, with a couple of deaths in there for good measure – the missions are definitely NOT huge by any stretch of the imagination. The only thing that drags these missions on is the bullet-sponge enemies. They take more and more hits to destroy the further into the game you get. And since your shots don't register on them until you're up pretty close, the entire gameplay basically devolves into taking a few shots at your enemy until you pass them, then you'll have to keep flying until you're a fair distance away, then turn around and head straight for them again to let off some more shots.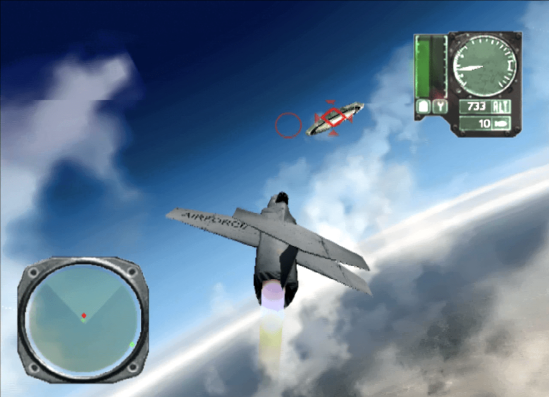 Also, from what I've played, the upgrades and repairs are nowhere to be seen. They are mapped to a button, as the controller configuration screen shows, but I can't for the life of me get it to work. They could turn up after mission five, but I'll never know, since I don't plan on playing this one again any time soon.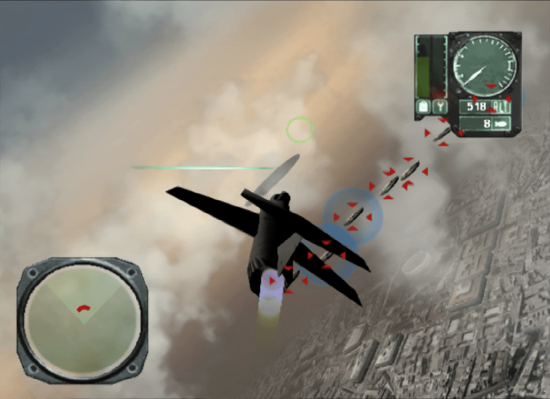 Graphically, it's below average. It moves nice and smooth, I'll give it that, and there are some surprisingly nice graphical flourishes, like the sun-glare and the transparent clouds. It won't knock your socks off however, and despite the fact that things move about on-screen, there's almost no animation in any of them.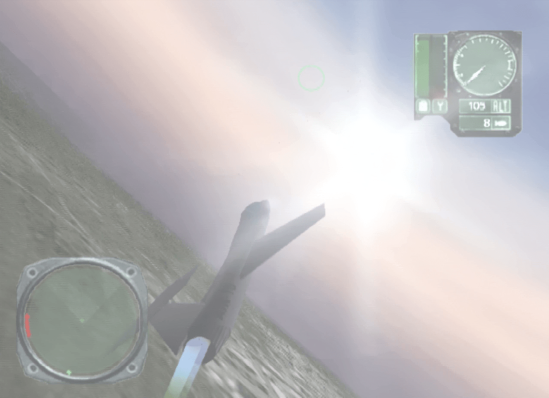 So far, so bad, but the absolute worst part of They Came From The Skies is definitely the controls. They're not too bad initially, and manoeuvring around the environment isn't horrible at all. When it comes to actually taking aim though? Gross. It's entirely too sensitive, and I had to make the absolute smallest movements I possibly could with the analogue stick to even stay somewhere relatively close to the centre of my target. Enemies blend into the background, which is bad enough, and your shots don't register until you're almost on top of them, so the window of time you've actually got to do some damage is criminally short. Add to this the wonky aiming, and it's an absolute chore.
So, about that mission five…
You have to stop a convoy of three trucks, before they hit the city limits. Sounds alright, eh? Well, it takes maybe a minute and a half for the first truck to hit the city, and because of the awkward controls, I found it to be a bit too much of an ask. I only ever did manage to destroy the one truck, and could get to the other two in time. I'm sure it's doable, but I'm not going to be finding out.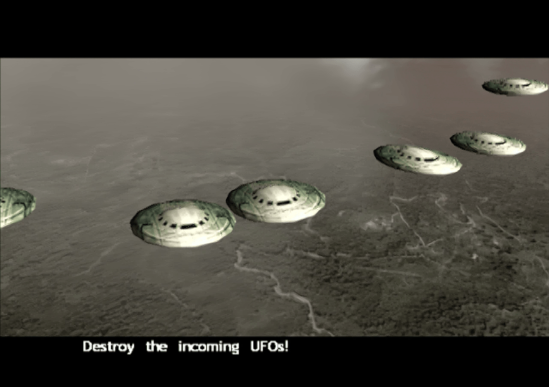 VERDICT – No fun.
There are glimpses of competency here and there in They Came From The Skies, but they're tiny, tiny flashes, and it's not worth the pain. Unless you possess the steadiest aim in all of gaming, you're not going to have a good time. Hell, this guys aim is pretty damned good – watch him struggle on mission five:
---
MAXXED OUT RACING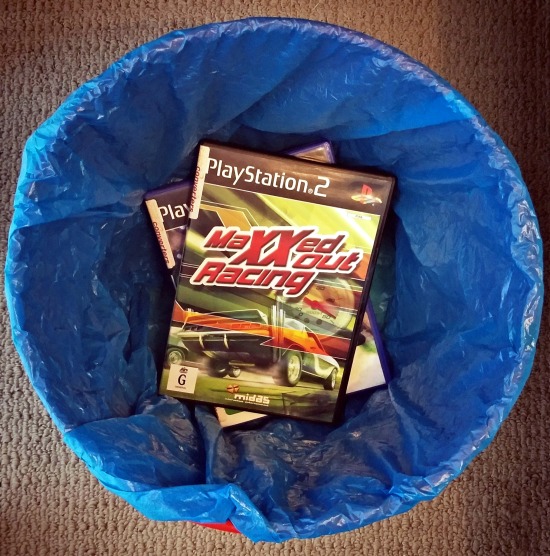 Out of all the games in this list, this one had the most promise on paper.
Developed by Tamsoft and published in Japan by D3Publisher, the original title of this game was JP: Simple 2000 Series Ultimate Vol. 3: Saisoku! Zokusha King. The Simple 2000 series was a slew of basic, budget games released in Japan for 2000 yen.
The name D3 might ring a bell for most of you – they're pretty infamous for publishing/developing such B-Grade gems like the Onceechanbara series, and also Earth FUCKING Defense Force – games I absolutely adore, despite their low-level of quality. For all their faults, within each of those series lies a heart of gold, and they're just good old-fashioned fun. MaXXed Out Racing was brought over to Europe by: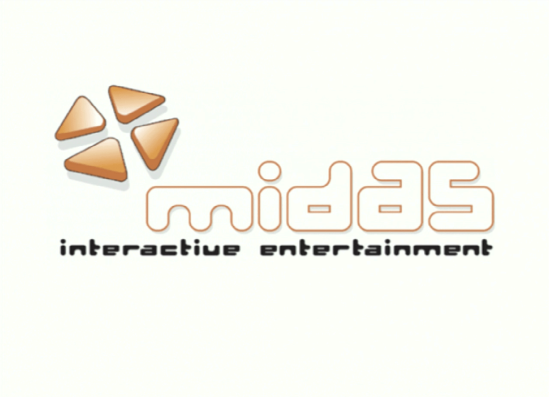 *GULP*
It couldn't be all bad, right?
Was I wrong to expect at least a ball-park kinda brand of so-bad-it's-good?
Like the other D3 Simple Series games?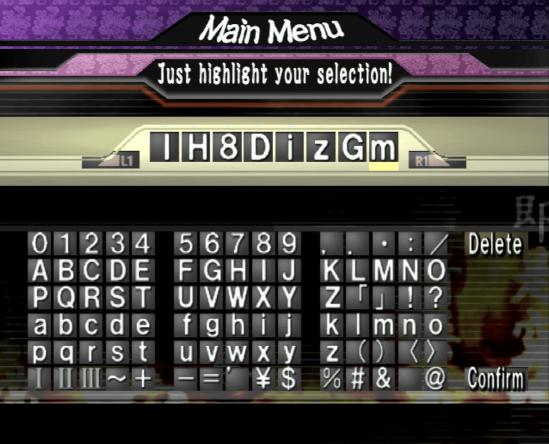 They say a picture says a thousand words. I cheated by including words.
MaXXed Out Racing could have been fun. There's a certain z-grade charm to the game right from the moment you boot it up, and from the very first race, the controls don't seem too bad. But you'll notice the crazy behaviour of the traffic vehicles almost instantly.
The second thing you'll notice is that the AI for your rival racers is pretty horrific. They stick doggedly to a fixed racing line, yet are prone to being wiped out by traffic. It's hilarious to watch, until you realize the game is a dirty lying cheater, and they reappear at your side within seconds.
And then you start banging into traffic, or more accurately, they bang into you. The traffic drones have a nasty habit of appearing suddenly, right in the middle of a corner, and all too often, there really is no way to avoid them. So hit them you will, and come to a complete stop. This is extra painful, because it takes ages to get back up to full speed again. Traffic can ram you from behind, make sudden turns into the roadside scenery, appear out of nowhere and make any given lap a right pain in the ass.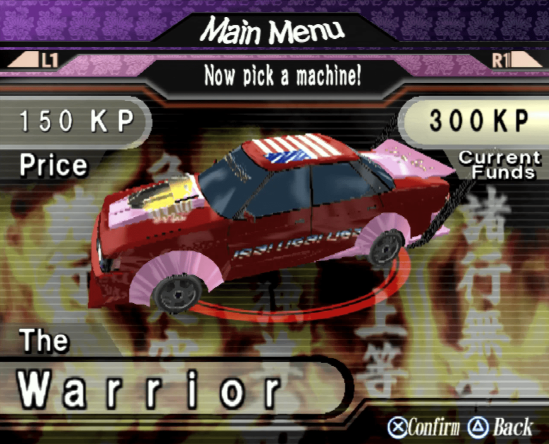 It only gets worse from here. Vehicle control is nice and responsive generally, until you try to take a harder corner. Just try drifting around a turn, and you'll be treated to some of the most random brakes mechanics you'll ever come across. Sometimes they work, sometimes they don't. Some corners you'll make it around just fine, whilst others you'll be spinning out like crazy. There's no predictability here – no method to the madness. It's almost as if there is some kind of context-sensitive steering and braking at play here, but whatever it is, it doesn't work and I can't figure it out.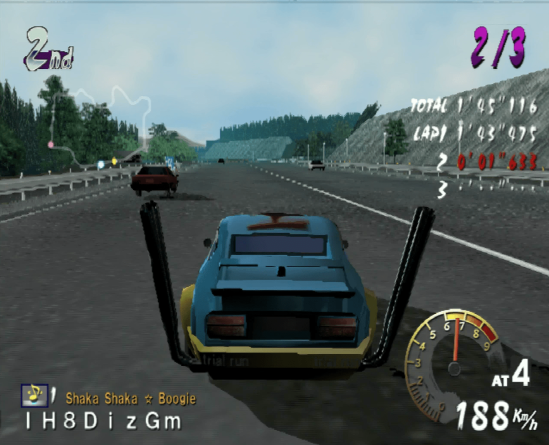 I managed to take out first position on one of the four race tracks, and I was ahead by miles. I didn't fare so well on the other tracks, because I'd either be wiped out by traffic I could see, or an AI car would ram me from behind, leaving me at a stand still whilst he took of into the distance.
Absolutely infuriating.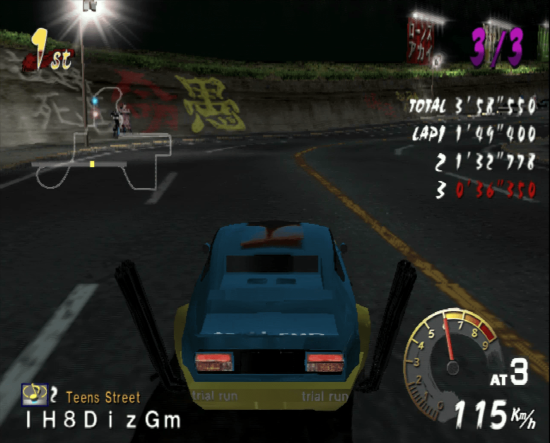 The game does have a couple of things going for it. The graphics are terrible, no question, but do manage to run at a smooth 60fps, so there's that. Also, being a Tamsoft game, the music is killer. It's just a shame it didn't end up in a better game.
This game made me swear like a sailor. It's an utter disgrace. I kinda love it?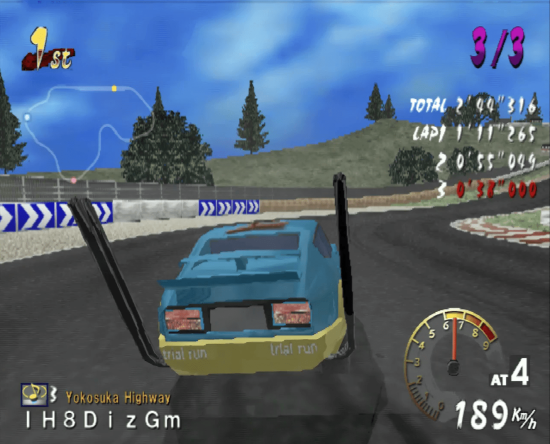 VERDICT: Complete drivel. Try it, maybe.
MaXXed Out Racing fails spectacularly on almost every level. The graphics are abysmal, the controls work until they don't and there's some amazingly horrid AI drones to giggle at.
I recommend it for a laugh, sure. Just don't expect to be laughing too long, as this most certainly isn't a case of good game hiding body-snatchers-style in the skin of a shit one, like Earth Defense Force or Oneechanbara.
Make no bones about it – MaXXed Out Racing is as bad as they come.
---
DEAD EYE JIM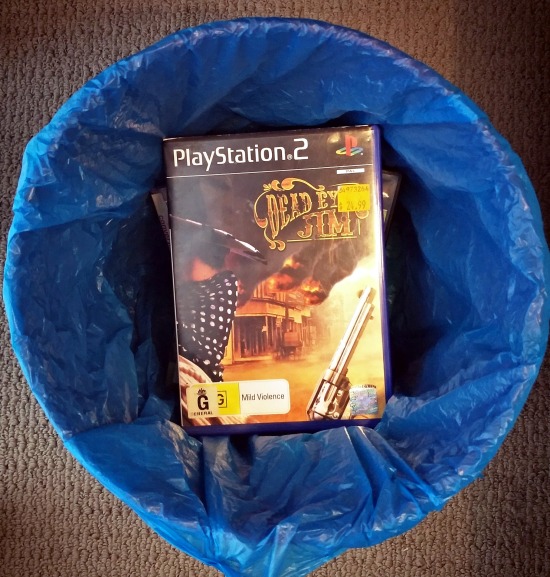 Here's another one from the fine folk over at: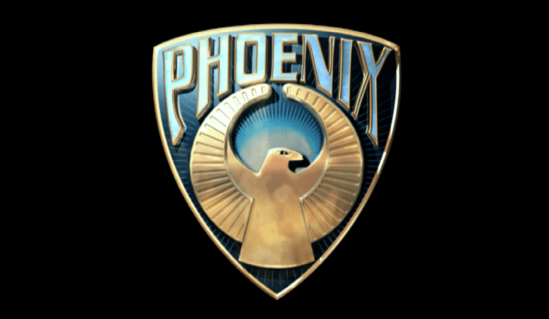 Dead Eye Jim was a surprise.
I was fully prepared to hate on it, but *gasp* I actually managed to extract some enjoyment from this one!!!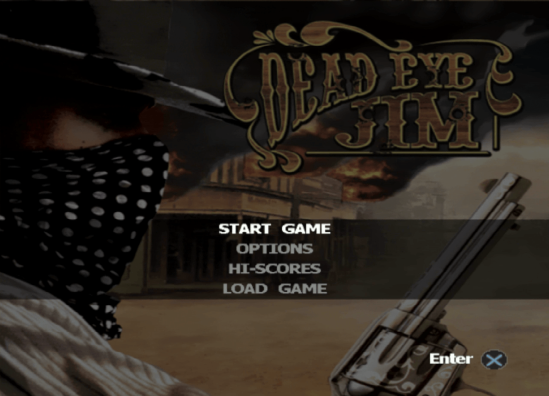 I'll preface this by saying that Dead Eye Jim is NOT a good game. It's terrible. But owing to the simple shooting gallery genre it finds itself in, Dead Eye Jim is enjoyable, almost by default. Think Wild Guns, but not nearly as good. Wild Guns, but crap, more like. Even so, it's basic, and as I was so worn down from the previous three games that it came as a bit of a shock to find that Jim was almost playable!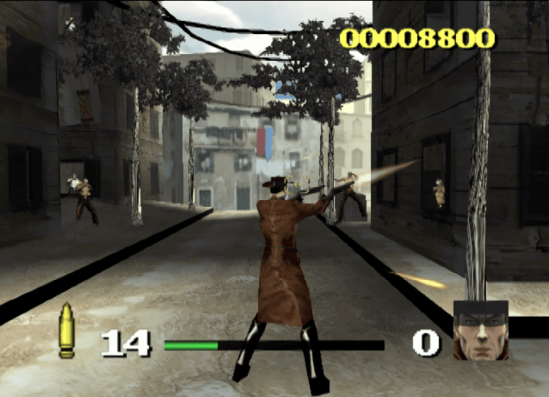 Let's talk about what doesn't work.
The aiming system is twitchy, and fundamentally broken. You control Jim and the cursor at the same time… Jim moves around in the foreground, and the cursor aims at the stuff iin the background. Some screens are wider than you can actually see, and definitely wider than Jim can travel in the foreground, so Jim sometimes hits the foreground scenery, and the cursor will still travel independently to the edge of the background. I don't know how else to explain this bizarre set-up, but all you need to know is that it makes aiming somewhat tricky, and not at all accurate…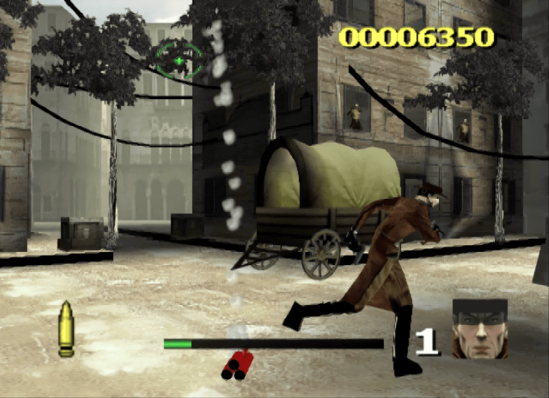 …but none of this matters – you only need aim in the general direction of an enemy and your bullets will hit regardless. The hit boxes are large and generous, make up for the shortfall in controller accuracy.
The graphics, again, are pretty shoddy. We're talking Nightmare Creatures on the PSX levels of detail in the modelling, and the environments come off even worse. As is a given with these kinds of shovelware titles, the enemies you fight are repeated stage in, stage out, and all the stages tend to look the same. I swear each level takes place in the same arena, just from a different viewpoint. Corners were indeed cut, yes.
Yet because of the simple focus, it's inherently enjoyable. To a certain extent anyway. Who doesn't love a gallery shooter? Even when they're bad, they're still OK. Dead Eye Jim tries its hardest to fuck it up, but I played through three times to a game over, and I enjoyed myself.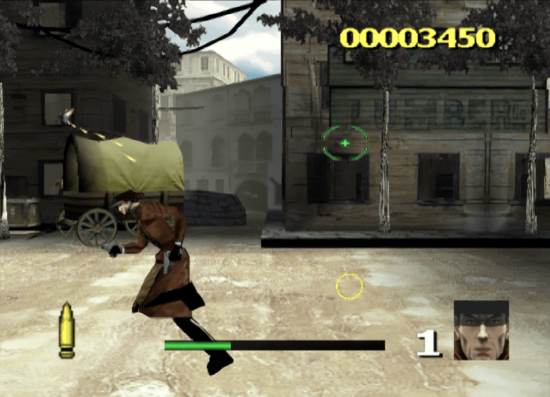 VERDICT: A really, really bad game. If you're a little unhinged, I highly recommended it.
As lazy as they come. Horrific presentation and wonky controls make you want to kill it with fire, but then you keep playing. I don't know how, I don't know why, but Dead Eye Jim is enjoyable, inspite of itself.
---
SPEEDBOAT GP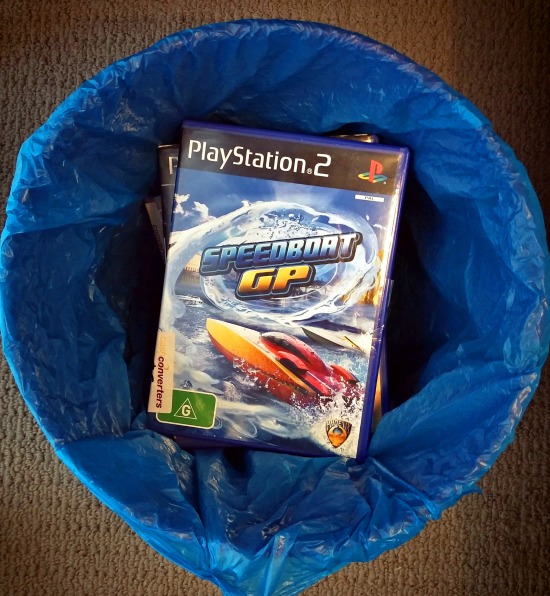 Oh boy, this one is a disaster!
It has it all.
Speedboat GP is, quite obviously, and arcade racer with boats. Think Hydro Thunder but without any excitement whatsoever…
…which makes it just about the best shovelware game I've ever laid my hands upon. Can you guess who brought us this masterpiece?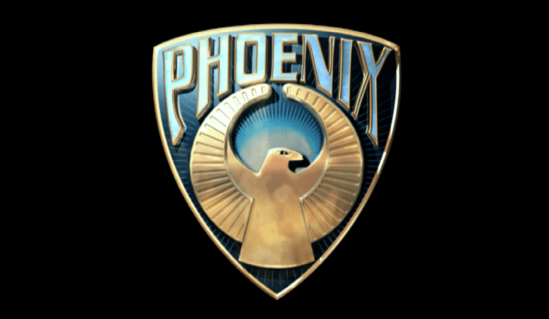 Yeah boi.
Where to start, where to start?
Speedboat GP doesn't make the best first impression. The controls are really twitchy, and to turn, you need only to make the smallest movements with the analogue stick. You will adjust though, and after a while, it's not too bad. I like that movement is predictable and you can rely on the controls.
But just wait until you start colliding with all the stuffs! You'll bounce back and forth like your boat is coated with bouncy rubber balls – it's hilarious. Just jostling with the rest of the racers at the starting grid is worth the price of admission.
Also, if you're expecting waves, then I pity you. It may look like water, but I can totally set the records straight, you're driving around on ice. Really flat, decently animated ice. At least it feels that way.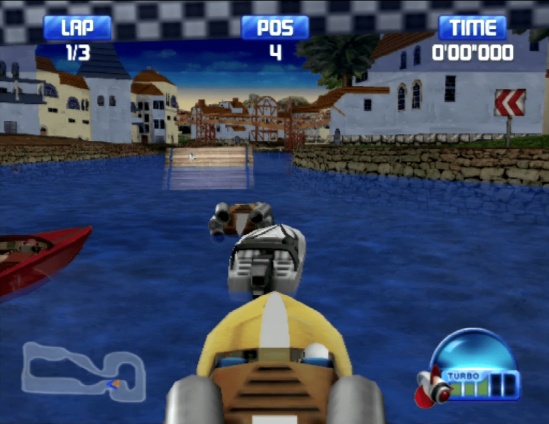 Onto the tracks! Each track is visually different, and though it doesn't look too amazing, they are most definitely bright, cheery and colourful – I like the use of colour here a lot.
However, I felt something was off. Like this nagging sense of Deja Vu. I was playing through one of the tournament sets, and I couldn't shake this feeling of familiarity every track exhibited. I started paying attention to the course map in the lower left-hand side of the screen. Do you want to know what I discovered? DO YOU???
Check the course map for each of these five different levels:

It took me twenty minutes of play to realise that here are a grand total of TWO courses in the entire game…
… each track, of which there are many, is a permutation of one of these two courses. They all look a little different, with new skyboxes, track-side scenery, jump locations and bridges, but they're all either the same course going the same way, or mirrored/flipped versions with a re-skin.
I laughed. And laughed. Because the game keeps throwing this in your face: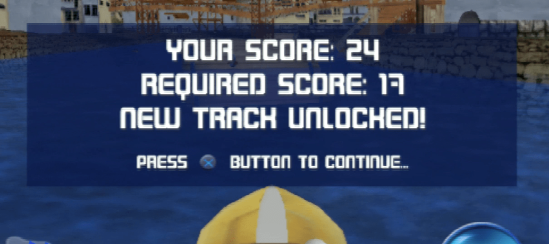 New track, my ass. You unlock essentially the same track over and over!
As soon as I had come to this realisation, I immediately felt like I was in on the joke. This is brilliant. The game had fooled me hard – to Phoenix Games credit, it felt like I was driving on a different course. Sly buggers!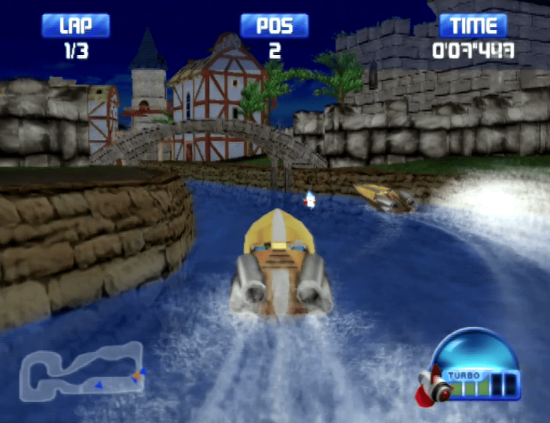 As for the rest of the game? It's a cakewalk. Each AI driver is braindead. They will follow the same lines, crash into everything and occasionally get caught on the scenery and stop moving altogether. At one point, I travelled backwards to watch an AI drive ram a jump over and over again. They were stuck, and I laughed. I managed to turn around and still win the race. If you don't win buy almost a full lap – in every difficulty mode – then you must be very bad at video games.
The only thing missing is multi-player. I'd absolutely love to share the hilarity with a friend. Check out this gameplay video I took, and bask in its glory.
VERDICT: KILL IT WITH ANYTHING YOU'VE GOT CLOSE AT HAND. It's a must have.
I love Speedboat GP.
It fails miserably at everything it sets out to do, but it has personality and a cheeky attitude. Fancy only having two tracks, and turning them into twenty. The gall!
I laughed out loud a lot, and enjoyed every second of this shite game. I even 100%'d it – NO SHAME.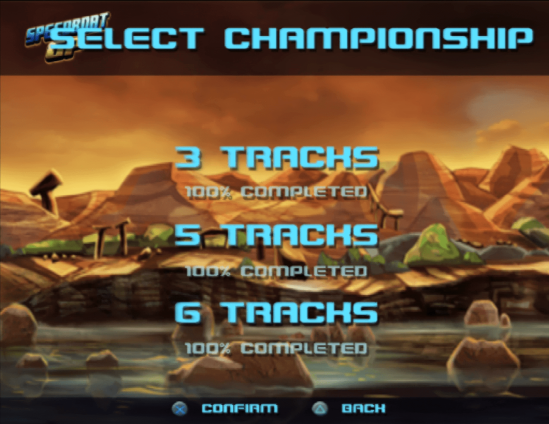 Get it. Get it now.
---
So, that's a bunch of PS2 Shovelware!
I had a brilliant time putting this article together – who knew that after setting up my PS2 and XRGB-Mini that the very first place I'd go to would be the bottom of the barrel! Not me, nor I.
If you've got any recommendations of some choice shovelware that I NEED TO PLAY, leave it in the comments below. I'm perfectly happy to spend money on this garbage if it means you get some enjoyment out of it!
Posted In:
Arcade Racing
,
Arcade Shooters
,
Gallery Shooter
,
Sony Playstation
,
Uncategorized
Tags:
After Burner
,
Air Combat
,
bad games
,
Boats
,
crap games
,
D3Publishing
,
driving
,
Europe
,
Glitches
,
list
,
Listicle
,
Midas Interactive Entertainment
,
PAL
,
Phoenix Games
,
Playstation 2
,
PS2
,
Racers
,
racing
,
Real Hardware
,
retro consoles
,
retro gamer
,
retro gaming
,
shit games
,
Shovelware
,
Sony
,
Speedboats
,
Tamsoft
,
torture
,
Water Racing