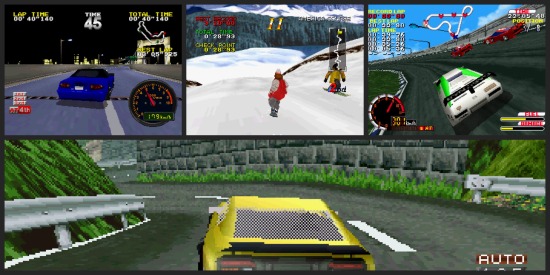 If you're a hardcore SEGA Saturn racing fan, like me, then chances are you've at least heard of the games I'm about to show you. No, they're not all gems, and some of them are legitimately terrible. But I am prone to indulging that nagging morbid curiosity from time to time, so here's a bunch of some good, some not Saturn Racers that not a whole lot of people talk about these days. For various reasons.
---
DRIFT KING – SYUTOKOH BATTLE 97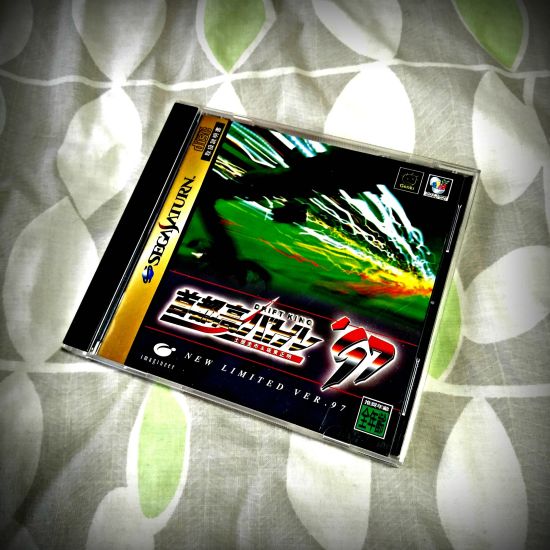 Developed by GENKI.
Import Friendliness – HIGH. Barring the car parts, the majority of the game is in easily navigable English.
3D Controller Support – YES.
Multi-platform – YES. Available on the Sony Playstation.
Never left Japan.
Now here's a good egg! This is the third game in Genki's street racing series on the Saturn. I love Wangan Dead Heat and Wangan Dead Heat Real Arrange, and Drift King 97 builds on those two meaningfully.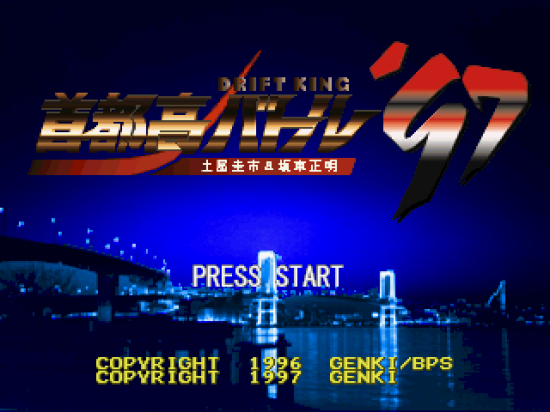 To be honest, there isn't really a lot to differentiate Drift King 97 from the Wangan Dead Heat games, at least when talking the setting. All games feature a similar structure and similar visuals, and races take place on similar stretches of road with the same kind of autonomous traffic. Where Drift King 97 differs is in its approach to street racing, and the refined, less outlandish driving mechanics.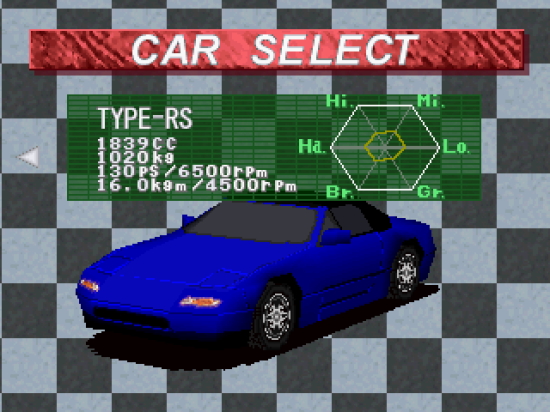 Losing the scantily clad women and pervy adult slant of the previous two games, Drift King 97 grows up a tad and instead takes itself a little more seriously, and embraces tuner-culture more deeply.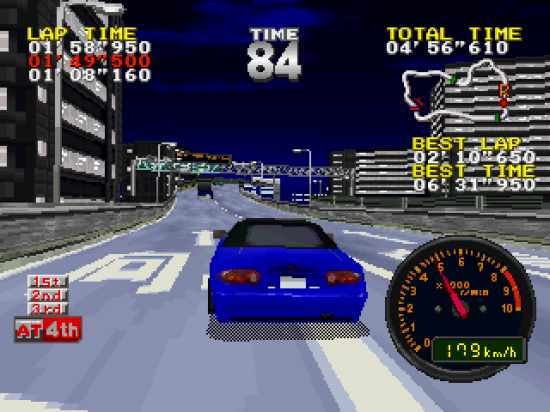 Pervy? You betcha! If you're not familiar with them, The Wangan Dead Heat games offered you T&A via FMV as a reward for driving well. Pick a girl, race a good race, and she gets a little closer to naked every time you win/please her. It's not my thing, but it had a cheesy charm – I got a laugh out of it. I have to say though, I'm not sorry to see Drift King 97 lose the cheeky stuff – I much prefer the focus on rival drivers. I'm still not sure what the story is in the game, since my knowledge of Japanese is basically non-existent, but even so, it doesn't really matter because the racing is damned fine, regardless.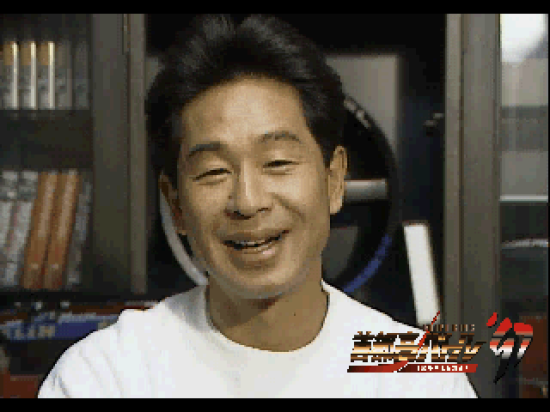 It also refines the driving physics to a fairly significant degree. Drifting is now a little more difficult, and the focus this time around seems to have been more on realism, but don't fret – it's still arcade-y and deeply rewarding. The earlier games were more Ridge Racer than anything, as once you committed to a drift, you were essentially on rails until you exit the thing. In Drift King 97, you'll need to make sure that you're correctly lined up before initiating a drift. Get your racing line right, and keep your car in control through the drift and you'll exit out the other end, no problems. Get it wrong, and you'll be greeting the nearest wall. It can feel slow, and it can feel sluggish, but the game gives you all the tools you need to succeed, and coupled with the sublime 3D Controller support, Drift King 97 remains immensely playable. Even moreish.
The Shutokou Battle mechanics you know and love start here.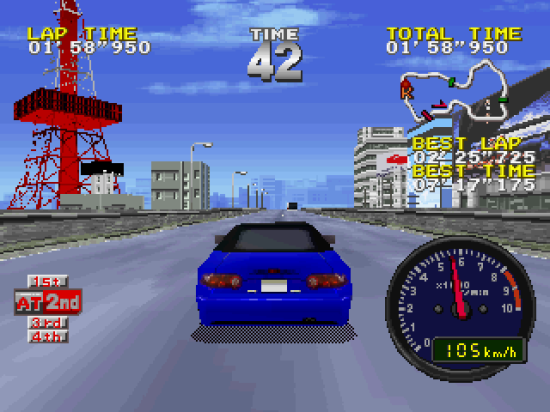 Racing is a more traditional affair here than in the later games, as races are a closed-circuit, one-on-one affair. Don't go expecting to freely cruise the highways, looking for a fight – once a race is done here, you move on to the next. But with every race, whether you win or lose, you get credits which go toward buying upgrades for your vehicle. And you'll lose a bit in the beginning, for sure. The game can get challenging, but I wouldn't call it ridiculously difficult. Losing is a part of the experience. Upgrade your car the right way, and you'll stand a fighting chance.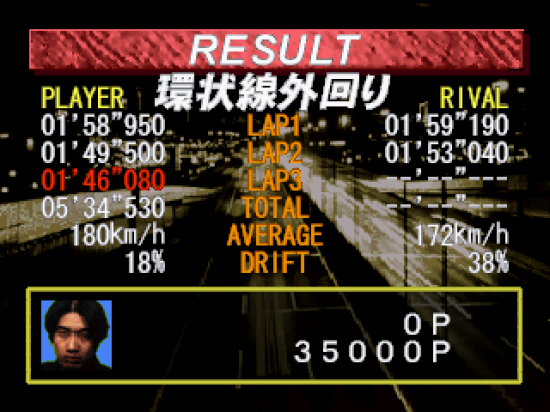 Visually, the game is basically the Wangan Dead Heat games with a little more refinement. Drift King 97 maintains its 30fps target at all times, and as a result, the controls feel super-solid, 100% of the time. The courses could have used a little more variety, but the Shutokou games get a free pass from me when it comes to setting – the vast majority of them are set on the same stretches of real Japanese highway, after all. Drift King 97 does try to spice things up a bit though, with some pretty day/evening/night palette swaps occurring while you race, which is appreciated.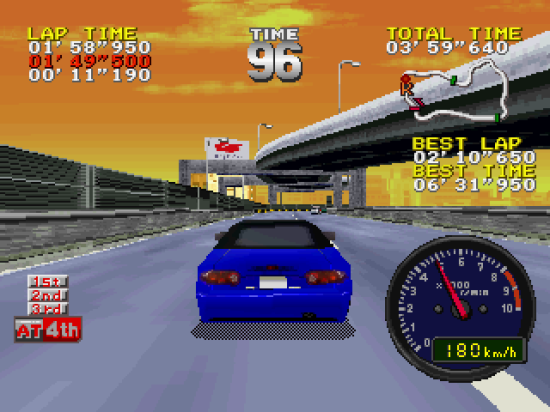 You'll know if this one is for you just by looking at it. If you've enjoyed any of Genki's Shutokou Battle/Tokyo games, and are keen to see where it all started to come together, then Drift King 97 is absolutely worth the buy. I can't recommend it enough.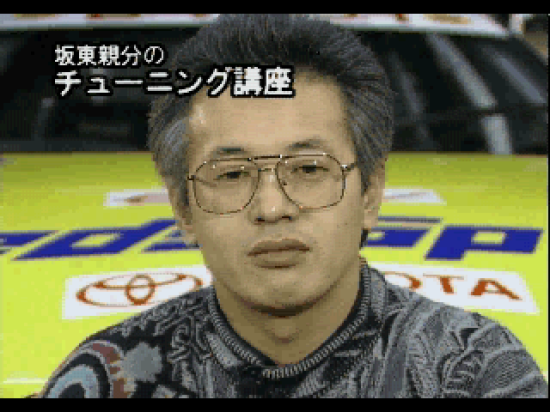 ---
TOUGE KING THE SPIRITS 2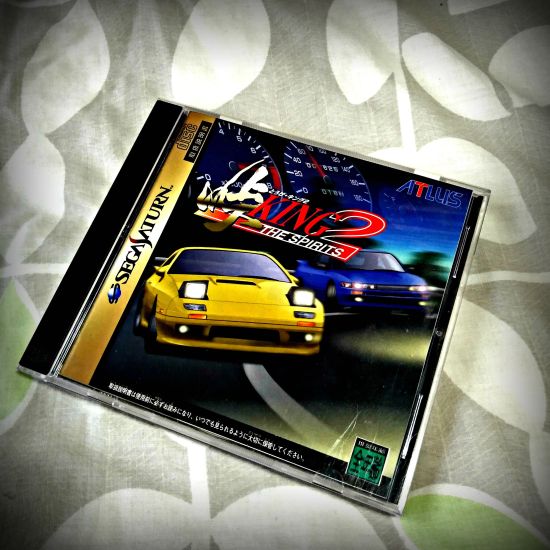 Developed by ATLUS.
Import Friendliness – HIGH. Barring the options menu and some advice text in the replays, the majority of the game is in easily navigable English.
3D Controller Support – YES.
Multi-platform – No. SEGA Saturn Exclusive.
Never left Japan.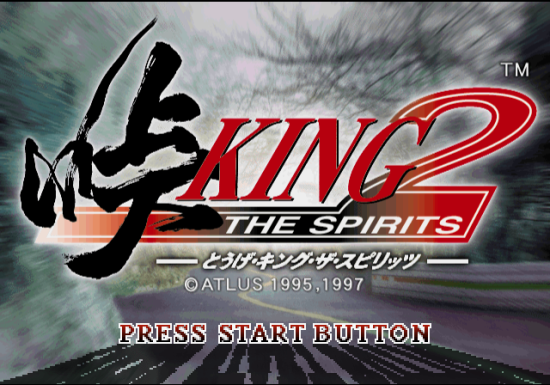 I had some fun with Touge King The Spirits. It's not the perfect arcade racer I wanted it to be, but after you've overcome the initial learning curve, there is a lot of game to sink your teeth into. The controls are a bit funky at times, but nail it down, and the mechanics are dependable…
This slideshow requires JavaScript.
… which is why I was excited to find out that the game received a sequel in Japan. With so much promise, and solid tech powering the thing, surely the next game in the series would wipe the floor with the original?
Nope.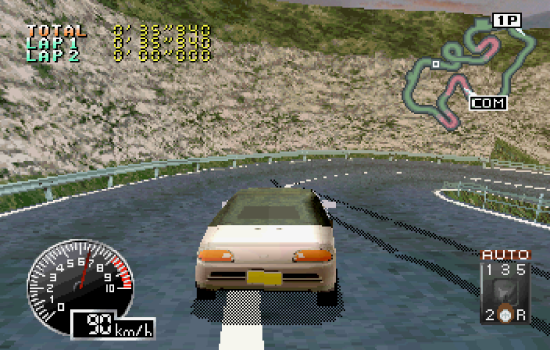 Let's start with the good stuff. Touge King The Spirits 2 looks gorgeous. It's bright, colourful and chunky Saturn 3D has never looked better. All the cars feature light-sourcing, and whilst fairly cartoony, they're super-stylish. The track geometry is bang-on too, with track-side objects that stand out and make it easy to learn the courses. The frame-rate is massively improved too, with a mostly steady 30fps most of the race, a nice upgrade from the 20fps of the original.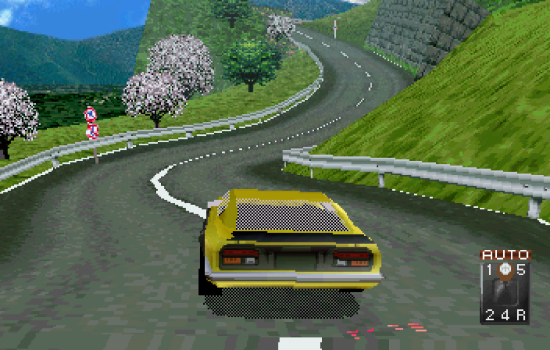 Track design is killer – seriously impressive stuff. There's a whole bunch of them, and being able to choose your time of day, season and weather keeps them fresh throughout the entire experience. They beg to be driven, these courses are magnificent.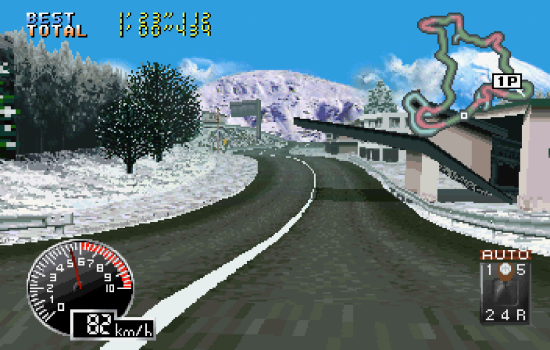 But try as you might, you'll almost never be able to drive them like you want to, because Touge King The Spirits 2 is so deeply, fundamentally flawed.
I don't know what Atlus did to the controls, but instead of building on the foundations of the original, they went in the entirely opposite direction. Moving your vehicle around on a straight is fine. Where it falls apart is in the braking mechanics. There is no way to take a corner in Touge King The Spirits 2 and not look like you're drunk behind the wheel. Initiating a drift will send the back-end of your car flying in the opposite direction. You throw the rear out, and as you try to settle into the drift, your vehicle will just shuffle sideways, usually into the nearest wall.
It feels wrong. It feels broken.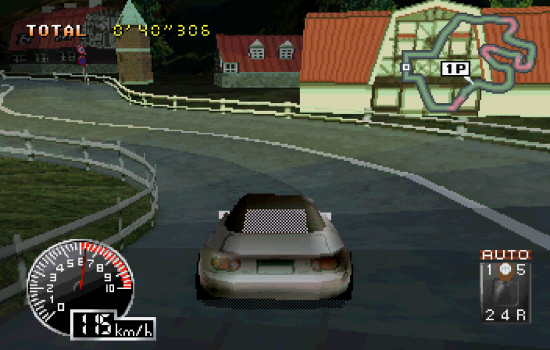 Now, I've taken a couple of corners OK, but because the controls are so unreliable, I can't replicate the method I used to achieve them. Even games like Drift King 97 and Wangan Dead Heat feature controls that you can rely on – they're unconventional, for sure, but once you've got it down, you can begin the process of mastering the mechanics. Touge King The Spirits 2 tries its hardest to prevent you from ever feeling comfortable. It goes from twitchy to unresponsive in a second, and then back again. There's no flow. The normal brake is next to useless, and the slightest tap of your hand brake is all that is ever needed.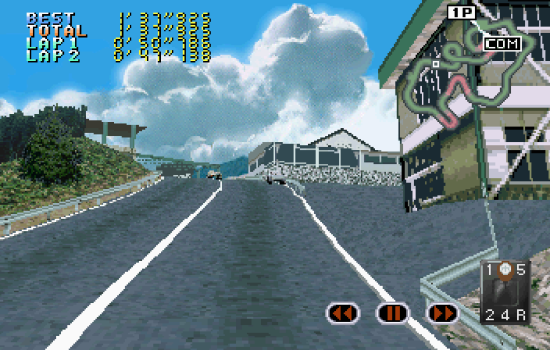 I can find the good in almost anything. And there is good in Touge King The Spirits 2. Every other aspect of the game is fantastic, it has it all. It's just a shame that something so expertly crafted in almost every other area fucks up the one thing that grants the player access to it – the controls.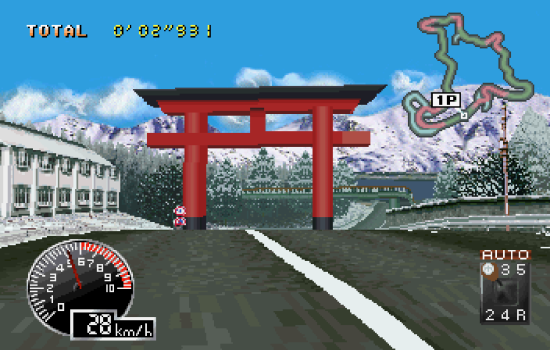 HOWEVER.
There is a way to wring a little enjoyment out of the game. Whilst playing a bit to do this post, I was having the most frustrating experience imaginable. I wanted to love it. Surely, there's got to be some way to get it at least part-way playable, I thought. So I took to YouTube and found this:
This guy seemed to be doing OK with a wheel. I don't have a wheel, but maybe I could try the bumper cam? This is usually a no-go for me. I like seeing my vehicle, and generally play all racing games from a behind-the-car view – the FOV is usually more to my liking, and I prefer to see my corners coming. But I guess it couldn't hurt to try? Well, to my surprise, it does indeed seem that Touge King The Spirits 2 is semi-playable in bumper-cam. It's still far, far from perfect, but I began winning races once I made the switch. I played for two hours, and though I still find the controls wildly unpredictable, I was beginning to enjoy myself.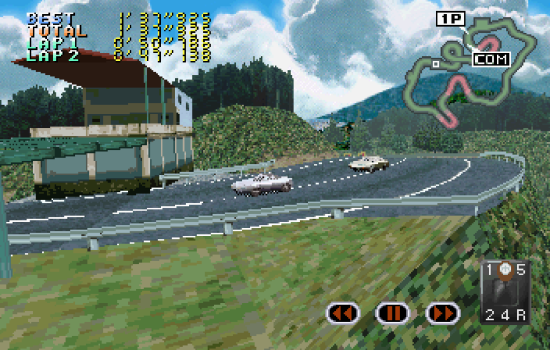 There's no two-ways about it, Touge King The Spirits 2 has its flaws. I'm not sure what the threshold is to push past it, but I'm definitely not there yet. I've put roughly 12 hours or so into the game since I purchased it. 12 hours into a game that I didn't really like, but wanted to so bad. 12 hours in the vain hope that I'll have that 'AHA!' moment whereby I work out its controls and then – at last – I'd have unearthed the game I wanted all along.
If I'm being honest, I don't think it's likely that it will ever happen. That moment will, almost guaranteed, never come. Touge King The Spirits 2 is not a good game, no matter how badly I want it to be. But no doubt, I'll continue to jump in and out of it, as I have over the years, hoping that one day it'll open up and show me its secrets. It's cheap enough for me to recommend to those with similar tastes as mine, but even then, you'll be wanting it mostly just to marvel at the graphics.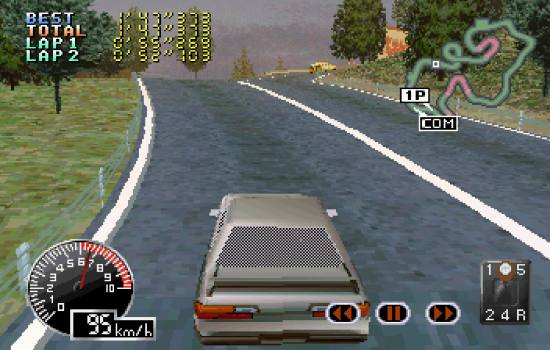 ---
GT 24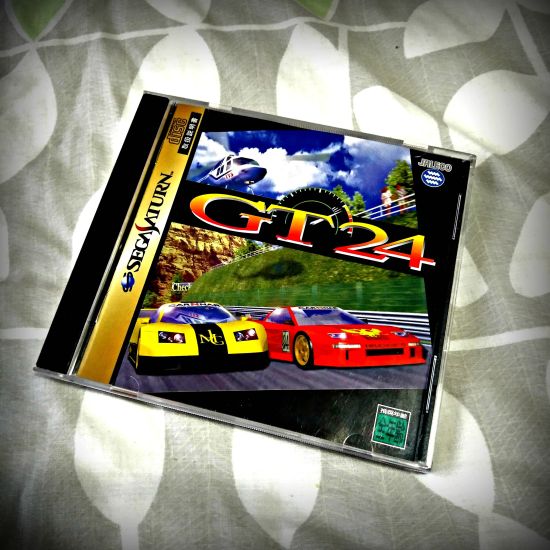 Developed by JALECO
Import Friendliness – Very High. The vast majority of the game is in easily navigable English.
3D Controller Support – YES.
Multi-platform – Yes. Based on the Model 2 Arcade game Super GT 24h.
Never left Japan.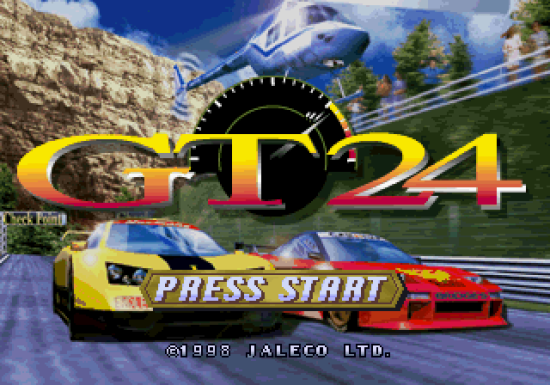 Here's a Model 2 arcade conversion that never made it out of Japan. GT 24 for the Saturn was a game I didn't even know existed until a few years ago. I don't recall reading about it in the video game magazines I used to read, but as soon as I saw it online, I pounced. I did a bit of research while I was waiting for it to arrive, and although most of the internet didn't have anything positive to say about, I didn't care. There are many games I adore that others hate. 'Tis the nature of things.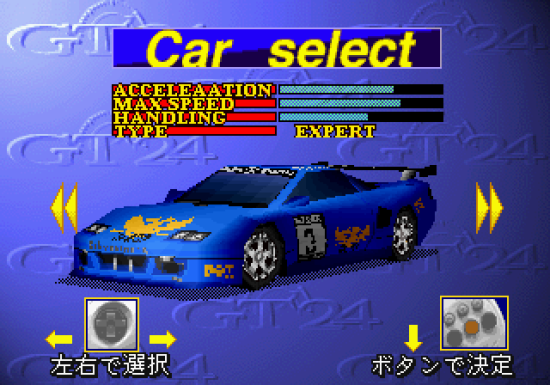 And so I received my copy of GT 24.
It took not 5 minutes of gameplay to be thoroughly underwhelmed.
It's not a bad game per se, just bland. And difficult. I jumped straight into the Grand Prix mode and was promptly lapped by the AI drivers. In fact, Grand Prix mode still gives me grief. I can't get very far at all – I'd personally describe the difficulty as brutal. For me. Your mileage may vary, of course.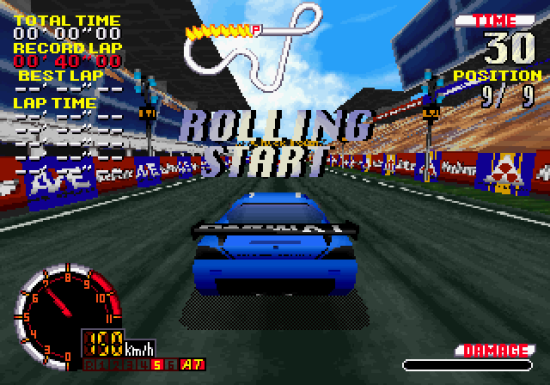 Were that the only mode in the game, I'd have called it a day, but GT 24 has a minor ace up its sleeve in the form of the – surprise, surprise – GT 24 mode, and this is where the real fun lies. These are, naturally, endurance races that last an age. Not usually my thing, but I couldn't help but become engrossed all the same. Here, you have a Fuel and Damage gauge, and both deplete fairly steadily over time, doubly so should you get into a scrap or two whilst attempting to overtake. In order to keep these gauges in check, you'll need to make regular pit-stops for repairs and refuelling. This kind of thing can get annoying for me, but in GT 24 this management side of the race is something I looked forward to.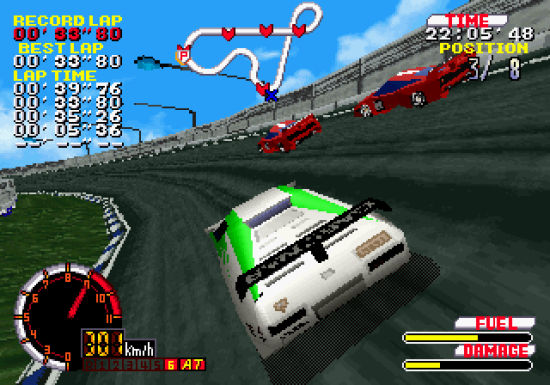 Before each race, you pick your car. They all have different stats, broken down into different catagories. After you've chosen a car, you pick your team. These teams have an effect on your car. Some teams will boost your speed and acceleration, but your handling might go down and your repair times in the pits will get longer. Some teams are fast in the pits, but the trade-off is that your car will be slower overall. I love this aspect of the game. It gives you something to think about and I found it kept me engaged the entire race. I'd enter the pits and sit on the edge of my seat the whole time. How many places would I lose? How many cars would I have to chase to catch up? And by the time I get back to a decent place, how far could I go without having to pit again?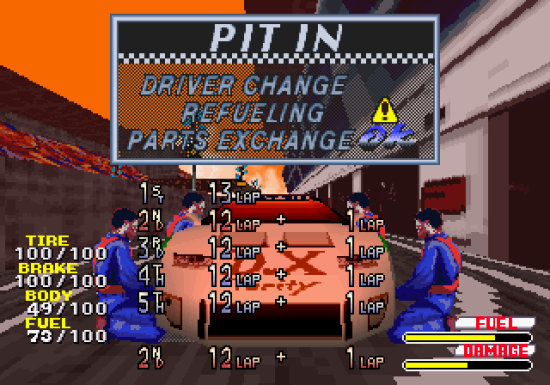 Many games have done this, I know. It's nothing new. But seeing this staple in what is otherwise a fairly straight-up arcade racer? Entertaining, I think. And while I still can't win a race, I can still make it into the top few spots and enjoy the ride to my inevitable 2nd place finish.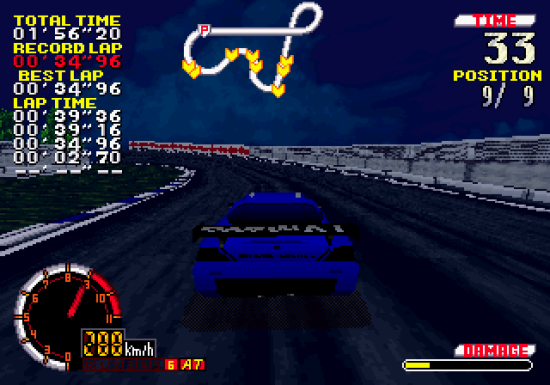 GT 24 is an arcade racer, that's for sure. But the controls are more on the realistic side of the fence, and the game plays it fairly straight and serious. There's no crazy drifting around corners here, you'll need to slow down to take particularly sharp turns. It's not realistic enough to be off-putting, but it's definitely no Daytona or even SEGA Touring Car Championship.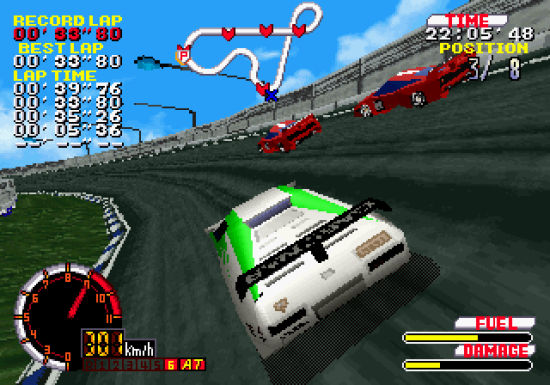 And while I appreciate the different focus here, I do wish it had some of the more zany quirks of those two games, as GT 24 could use a little personality. The graphics, whilst smooth, are functional at best. Some cool Noon/Evening/Night time changes keep things somewhat fresh, but GT 24 is not a patch on other Saturn racers, and definitely not as aesthetically pleasing as the two above it in this list.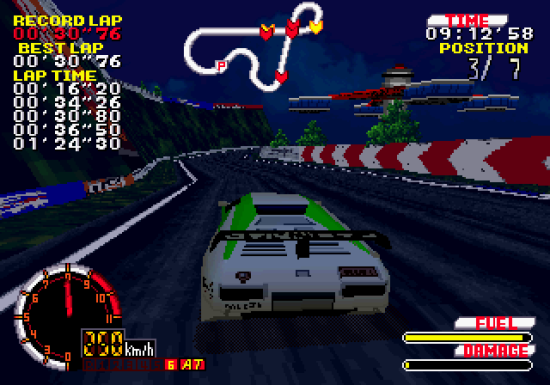 This blandness extends to the controls – they're functional, and they work, but if this were a straight racer without the GT 24 mode, you'd struggle to find anything in the mechanics to keep you coming back.
And the music. The less said about the music, the better. There's not a catchy tune in the whole soundtrack, and worse, some of it is grating – you'll be wanting to blast something else entirely while you play.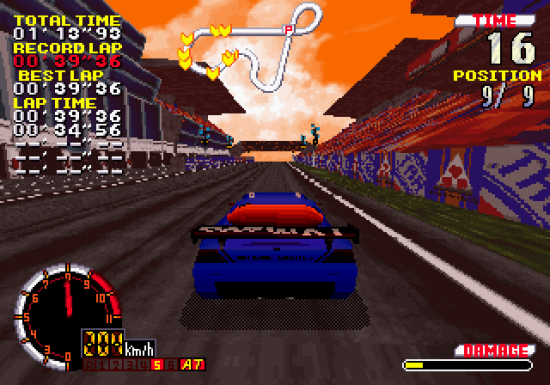 So GT 24 is OK, overall. Definitely one for Saturn racing fan, though, as for anybody else, it's a hard pass. It doesn't do anything terribly wrong, but there's no other way to cut it – nothing the game does could justify a purchase from all but the most ardent racing fan.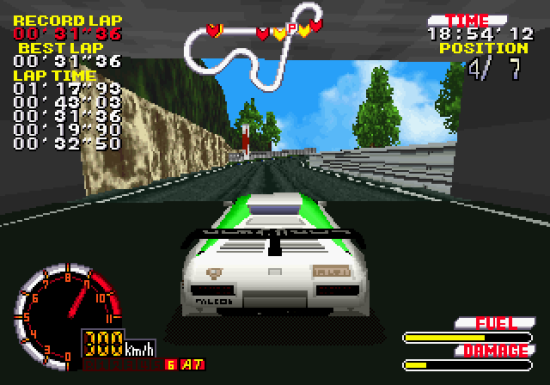 ---
ZAP! SNOWBOARDING TRIX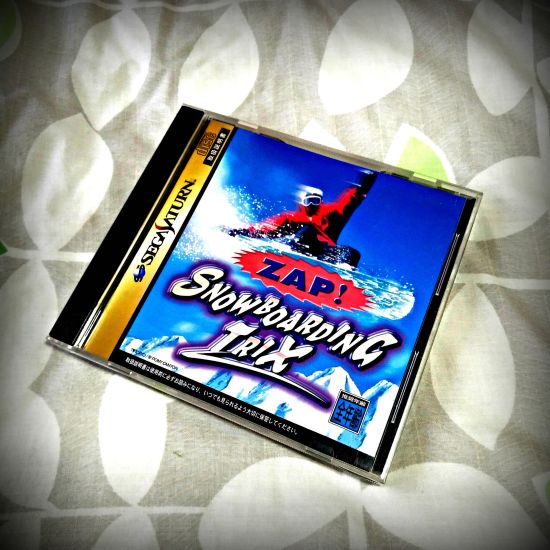 Developed by PONY CANYON.
Import Friendliness – Very High. The vast majority of the game is in easily navigable English.
3D Controller Support – NO.
Multi-platform – No. SEGA Saturn exclusive.
Never left Japan.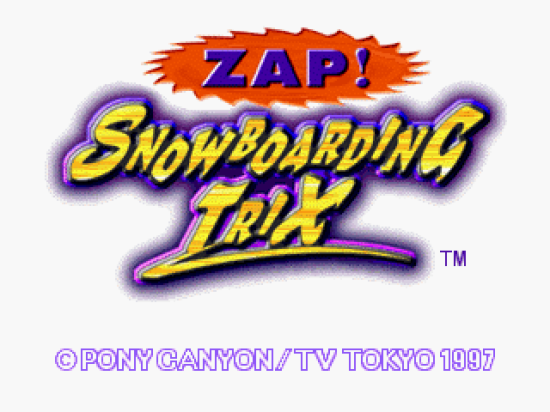 And now for something a little different, a snowboarding game! Don't be fooled by the title though, ZAP! is most definitely a racing game, and the 'Trix' part of it is barely worth a mention. Barely worth it, but I'll do it anyway – there are four tricks in the game, six if you count being able to spin around in the air in either direction.
There.
Moving on.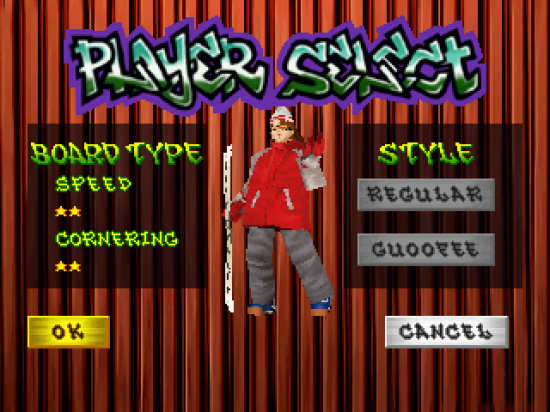 I have such fond memories of reading about this one. I distinctly remember magazines back in the day said it was alright, but not a patch on the infinitely cooler (and locally released) Steep Slope Sliders. I didn't care though, ZAP! Snowboarding Trix was a game that I always, always wanted. The screenshots looked nice on that glossy paper, and the bright colours appealed to my particular tastes.
But as the old adage goes, be careful what you wish for.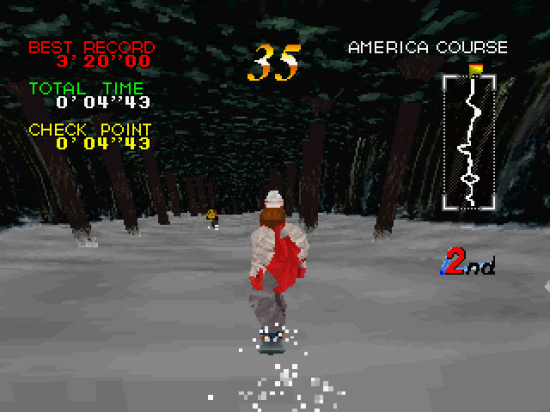 ZAP! is fairly bare-bones. It's a proof of a concept, a sketch of a game rather than a fully-fleshed out experience. The controls aren't terrible, but they lack depth and nuance. You move left and right, sometimes hit the C-button to take harder turns, jump the occasional gap/ramp and that's about your lot. I mean, you can do some of the titular 'Trix' if you really want, but there's almost no incentive to pull them off – you have to awkwardly pull back on the d-pad to even initiate them, so in the heat of a race, it's generally not worth the hassle.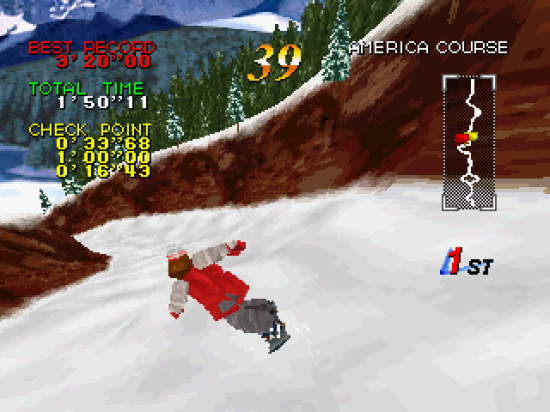 The racing isn't much to write home about either. The AI is either super slow or ridiculously quick, and in the artificial way, too. Even worse is the lack of a Grand Prix mode or anything similar. There are a handful of courses, and all you can do is, essentially, Single Race them. There's no structure to keep you coming back, though you will see a credits screen if you place first on all of them. This wouldn't bother me too much is the controls were satisfying and the courses well designed, but again, that seems like a bridge too far for ZAP! The courses are full of twists and turns, but all of it is uninteresting.
And glitchy. Holy jeeeez.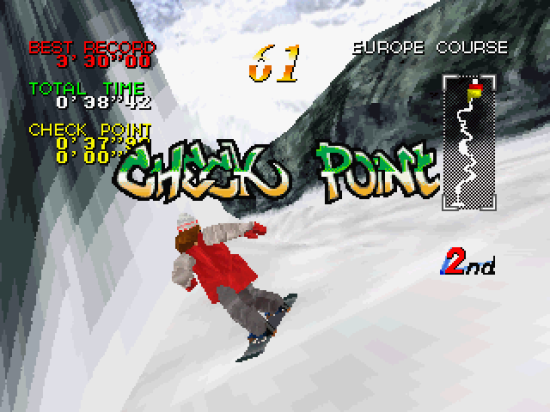 There are sections of each of these courses that the physics in the game just can't deal with. One particularly horrid section involves an embankment that leads into a pit of trees and rocks. Hitting these is enough to bring your rider to a complete stop, but the steep wall on the side led to my rider getting stuck in a literal rut. It took me 20 seconds of jumping to wriggle free – not an isolated incident, I can assure you.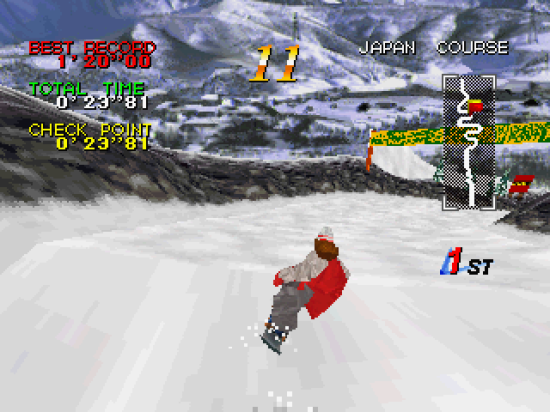 Visually, ZAP! Is a bit of a mess. I hope you like pop-up and warping, because ZAP! boasts enough of it to make it a selling point worthy of putting on the case. Tracks lack detail, with everything in the distance indistinct and hard to read. The occasional track-side object or two is all the developers saw fit to include to break up all the rock walls and white nothingness that make up the courses. The music is an abomination – and that's puttng it mildy. There's nothing in here so-cheesy-it's-good, it's just really bad synthesized punk rock that grates after only a minute or two. Completely gross, and worth muting.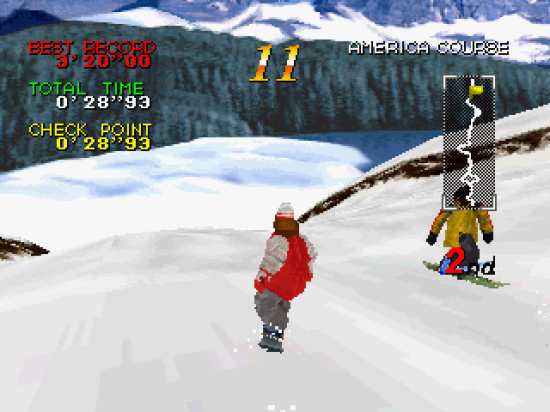 So yeah, ZAP! Snowboarding Trix is a bit shit. It's shallow, not much fun and I'd recommend you avoid it.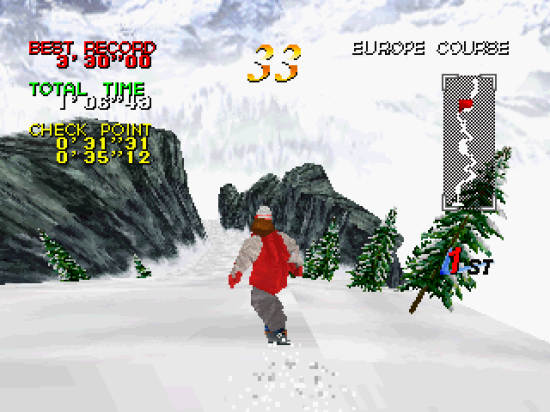 What I would like to try is its sequel, ZAP! Snowboarding Trix 98. It doesn't look like a huge leap over the first game, but from what I can gather, it seems like they at least got the content thing right the second time around, with more racers to compete with, more courses and a Championship mode with riders you can upgrade. I'll buy it and get back to you on that one, but until then, just give ZAP! Snowboarding Trix a miss. You know, unless that morbid curiosity gets the better of you, as it did me.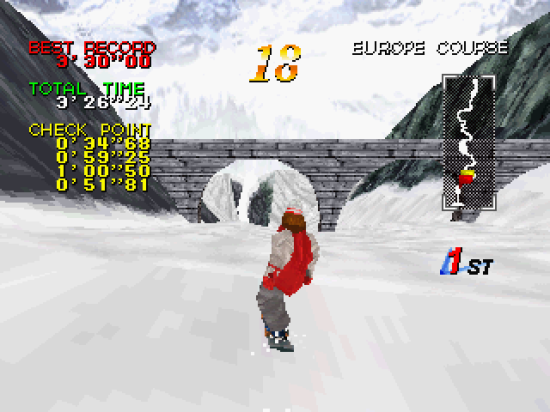 ---
And wouldn't you just know it, I have literally just ordered a few more Saturn racers. They're all Japanese, but a couple of them did see a release in Europe/Australia and the US.
What are they? Now that would be telling ?
As soon as I get them, you'll know.
See you in the next post!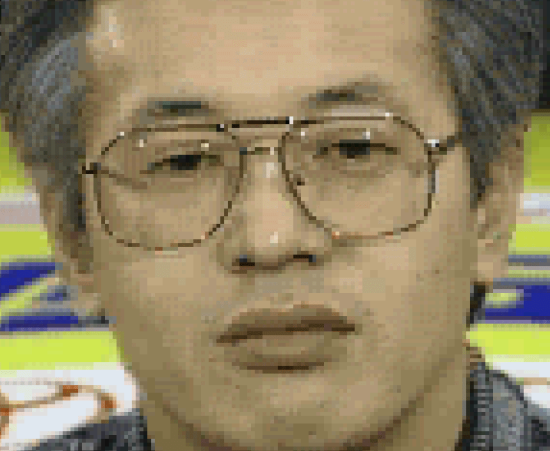 This guy gets it.
Posted In:
arcade
,
Arcade Racing
,
ATLUS
,
Genki
,
JALECO
,
SEGA Saturn
Tags:
3D games
,
3D Racing
,
98
,
Arcade Conversion
,
arcade games
,
Arcade Racer
,
Arcade Racing
,
ATLUS
,
dorifto
,
drift king 97
,
drifting
,
driving
,
driving games
,
Early 3D
,
exclusive
,
extreme sports
,
Genki
,
GT 24
,
highway
,
Imagineer
,
JALECO
,
King
,
list
,
Listicle
,
Model 2
,
Pony Canyon
,
racing
,
racing games
,
Real Arrange
,
saturn
,
SEGA
,
SEGA Saturn
,
Shutokou
,
Shutokou Battle
,
Snowboarding
,
Street Racer
,
Street Racing
,
Super GT 24h
,
tokyo
,
Tokyo Highway Challenge
,
Tokyo Xtreme Racer
,
Touge
,
Touge King The Spirits 2
,
TV Tokyo
,
Wangan
,
Wangan Dead Heat
,
ZAP! Snowboarding Trix