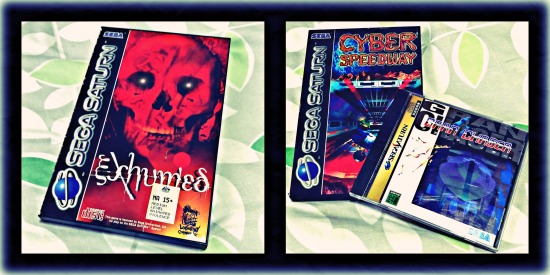 NOTE: This will be a regular type of post. Being A Certain Kind of Gamer, I dig the more nerdy sides of things sometimes, like video game music. Redbook Audio is one of my most favourite things in the world, and I hope to bring you guys and gals music that you may not have heard of otherwise. Being video game music, a lot of it will actually sound like video game music, so yeah. I hope you dig these posts!
Kids do the damnedest things, don't they? Especially the nerdy ones. When I discovered the sound-test as a youngster, I made it my mission to try to get the cleanest recordings possible of my favourite game music tracks. I started with a Microphone pointed at the speaker of my TV-Set, then moved on to line-in recordings feeding into my karaoke machine. It was when I got my Mega CD though, that things became a lot more interesting!
CD's and Games! More levels! More animation! FMV!
Bugger that!
The best thing that ever came from games and CD's finding each other was Redbook Audio. No longer was a soundtrack limited to a few channels/samples – the only limits musicians faced were their audio setup! Storing CD Quality game audio on a disc blew my mind. Of course, it's not the best thing ever, but for me, it's close!
PAL Sonic CD – phwoar! I'd never heard anything like it at the time, and the best part of it was that I could put my game disc into a CD Player and actually listen to the music! I made so many mix tapes of that thing. Part of the excitement of a new CD game for me was the does it/doesn't it work in my CD player!
The Redbook Audio movement that started with the Japanese CD console add-ons was well and truly in full-swing by the time the SEGA Saturn and Sony Playstation came out. It was a glorious time to be a game music fan!
Here's a bunch of SEGA Saturn games with killer Redbook Audio soundtracks, ready to rip to your hard-drive or blast in the car! One should appeal to music lovers in general, whilst the other is about as video-gamey as you can possibly get.
Either way, if you've got an open mind, and love a good melodic hook or ten, continue on, friend.
Continue on.
---
EXHUMED/POWERSLAVE
Composed by Scott Branston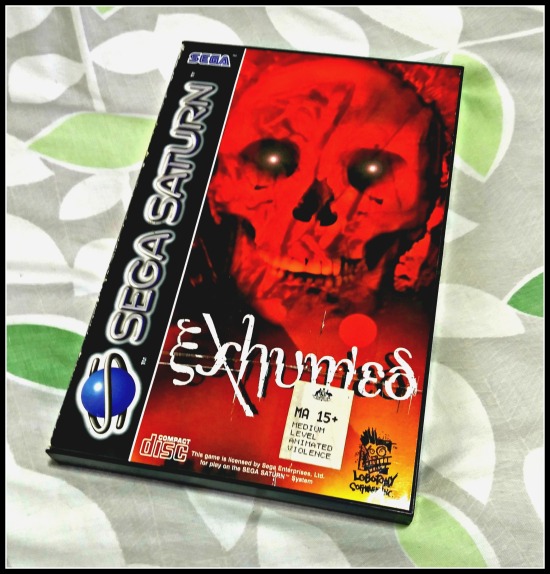 Let's start with an absolute bona fide classic, yeah?
Lobotomy Software's Exhumed (Powerslave in the US and 1999 AD in Japan) was my Zelda – my Metroid. Unfairly written off by most as an Egyptian-themed DOOM clone, the game was so much more. It was definitely closer to a first-person Metroidvania than anything, and finding certain items and power-ups in one level would allow you access to newer areas in previously completed stages. I'll deep-dive this one eventually, but the focus today is on the glorious Redbook Audio soundtrack.
This slideshow requires JavaScript.
Exhumed is a classy game, and the soundtrack follows suit. The Egyptian feel is bang-on the money, but not in the cheesy 'I can haz Egyptian?' kind of way. Yes, there is a middle-eastern flavour to all of the music, but it goes so far beyond mere appropriation – there's a lot of variety here, and what could have been straight-up schlock is instead refined and elegant.
The music is a blend of canned percussive loops/synth percussion and synthesized instrumentation – and it sounds magnificent. The synth elements are of a very high quality, especially taking the game's 1997 release into consideration. There are some backing vocals in some of the tracks too, but they're mostly there to add to the atmosphere, and work their magic in the background.
This slideshow requires JavaScript.
Take, for example, The Great Empire. There's a cinematic flair to the track that can't be beat. The percussion samples are punchy – almost melodic. The synth orchestral elements carry the main tuning, and it's what you'll be humming along to. Superb vocal accents add to an already potent track, and really send chills down the spine.
Karnak is one of the earlier tracks you'll hear in the game, and one of the more traditional sounding pieces featured in the game. Beautiful, understated, and again, deeply melodic.
Isis Dreams is the credits theme for the game, and another great track. This one has got an almost Deep Forest vibe – that early-to-mid 90s electronica vibe is unmistakable, and the rich, airy lead and distinctive electronic percussion are sure to sink their claws in.
Just for a bit of contrast, here is the boss fight theme The Nightmare of Anubis. This one is a curious mish-mash of rock and 90s electronica. I'm telling you, with headphones on, it can be more than a little unnerving.
Considering the rather narrow focus of the game, thematically at least, the musical accompaniment is incredibly diverse. Almost every genre is accounted for, and barring one or two tracks of pure ambiance, each features gorgeous melodies that are both cinematic and memorable – no mean feat.
Exhumed is a brilliant game, and the music is a big part of that. 13 tracks of pure bliss as far as I'm concerned.
Listen to the whole thing HERE:
---
CYBER SPEEDWAY (PAL)/GRAN CHASER (JPN)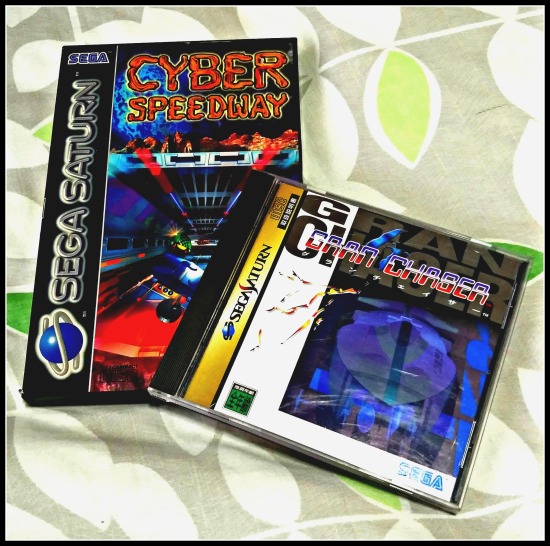 A couple of things to note first. The US version of Cyber Speedway has a completely different soundtrack to the one I will be talking about below. Its bizarre mix of Rockabilly… well, rawk has its fans, for sure. It's not bad music at all, it's just that country rock doesn't exactly scream futuristic racing to me, and I much prefer the original OST that the Japanese and PAL version of the game shipped with.
This one is about as video-gamey as you can get. Koji Hayama produced a couple of Redbook Audio soundtracks on the Saturn. The music in D-Xhird is a favourite of mine, for sure, but his work for Cyber Speedway/Gran Chaser is utterly beyond reproach.
A futuristic racing game that released before WipEout, Cyber Speedway is usually dismissed as a WipEout clone. Except it isn't, because it came out before WipEout. Regardless, if you're new to the game, and jump in right now, unless you have a high tolerance to early 32-bit 3D, then you're almost guaranteed to have a bad time with the game. I played the game on release, and I loved every second of it. It's wonky controls will be a point of contention with almost anybody in 2018, but I'm so familiar with them, that it's not an issue. So I'm not sure if I can recommend it as a game, but if you're into game music, then you might be interested in the music that is on the disc.
The music in Cyber Speedway is hard to describe, but I'll do my best. It's very, very Japanese, and the closest comparison I can make is that it is similar in tone, instrumentation and vibe to the music in SEGA's Virtual On series. We're talking fast paced, melodic synth-rock music that sounds distinctly Japanese.
Each race course/world has its own setting, and the stylized music endeavours to match what you're seeing on the screen, in its own quirky way.
The first course in the game is Terra, a bright colourful Earth environment.
This slideshow requires JavaScript.
The musical accompaniment for Terra is an upbeat track called KNIGHT GEAR. Earth is your home planet, and the music reflects that, with a strong, heroic melodic line that empowers the player.
The first off-world race you compete in is on Glacies, and the track ICE WALL fits the track to a tee.
This slideshow requires JavaScript.
There are lots of sharp, icy synths in this one. The chords are less uplifting than those in KNIGHT GEAR, and begin to take on a more menacing tone as the song progresses. But elements of hope remain, and it gets your blood pumping in-race.
The next world is Vastitas, a rocky red desert planet.
This slideshow requires JavaScript.
The music for this course is called SAND WILDS, and although it sounds a bit peppier than what has come before, it still has a sense of forboding, particularly in some of the breakdowns. There is usually a small difficulty spike in this section of the game, but the music helps you through it.
Nubes is the next planet you'll be visiting, and befitting a track set in the sky, the music CLOUD GATE really fits.
This slideshow requires JavaScript.
The sense of adventure is encapsulated perfectly by the more orchestral elements – it's very pretty, with some synth strings, harps and orch hits that put you there on that winding track in the sky.
Evoflammas is a volcanic world, with falling flaming boulders, lava ducts and more alien structures than we've seen so far.
This slideshow requires JavaScript.
The music is called VOLCANO HEAT, and it couldn't be more apt a description. There are synth alarms going off in the background of the track, and the heavy synth-style guitar melodies add an edge and urgency to the race.
There is a bonus world called Armasatelles, but I don't want to spoil that one for you, since it's an unlockable ?
There are more music tracks in the game than there are actual courses – one of them is a ballad called Gimu o Seotta Otoko Tati. I was particularly taken by this one as a youngster!
As a whole, the entire soundtrack features some really neat genre twists, including some blues-type numbers, ballads and more. Yet with all the variety, it remains a cohesive effort that you really couldn't mistake for anything else.
Check out the whole soundtrack HERE:
---
Posted In:
Arcade Racing
,
First Person Shooter
,
Futuristic Racers
,
Lobotomy Software
,
Music
,
SEGA
,
SEGA Saturn
,
Video Game Music
Tags:
3d gaming
,
cd games
,
cd music
,
Exhumed
,
FPS
,
futuristic racing
,
game music
,
koji hayama
,
Metroidvania
,
nextech
,
OST
,
playlists
,
Powerslave
,
racing games
,
Redbook Audio
,
Retro
,
retro gaming
,
saturn
,
scott branston
,
shooters
,
Video Game Music