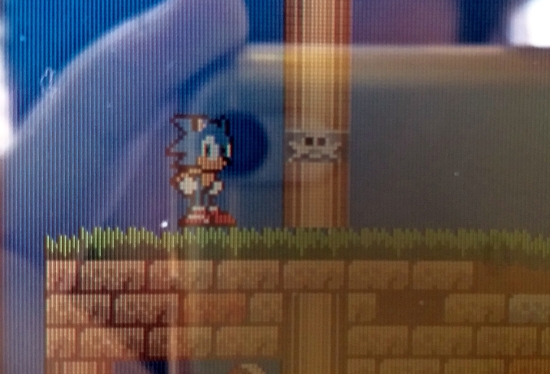 Ahh, gaming and travelling. I used to lug around my Atari Lynx as a kid, all edgy and anti-hivemind, but as much as I loved that 30 minutes of gaming time in the car, its insatiable appetite for AA batteries stung. And it's something that, sadly, makes it completely impractical to travel with here in 2018.
What does this intrepid blogger take with him? The Nintendo Switch is a given, but it's also the boring answer. And besides, the title of this post doesn't even mention the Switch, so there's that.
Here's two classic – and fairly practical – systems I always take with me, along with a bunch of games I can't bring myself to leave at home.
---
NEO GEO POCKET COLOR.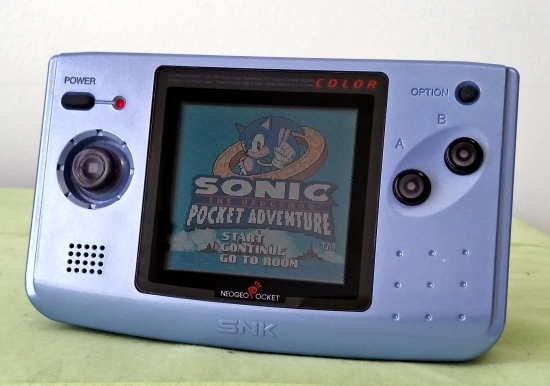 After many years of being on the fence about the 16-bit Neo Geo Pocket Color, curiosity got the better of me and I bought one – and I haven't had a single pang of buyers remorse since. Despite having no racing games, I found the rest of the library compelling enough to take the plunge anyway.
I love my NGPC. It's got a heap of cool titles, and that control stick is heaven on the thumb. Thanks to the micro-switches inside, each movement of the stick gives a satisfying click, and it's ridiculously precise – fighters, platformers and puzzle games are all an absolute joy to experience on the NGPC.
One criticism that you could level at the thing is that the screen isn't backlit. And yeah, on paper, it sucks. In person though, I haven't found it an issue at all. As long as you're not playing in the dark, and have at least SOME okay-ish lighting around you, then it's perfectly fine. The screen itself is crisp and sharp, and the colours are better than you'd think. Much better than a Game Boy Color, at any rate. Battery life is crazy-good too. Two AA-size batteries will net you at least 40 hours of gaming – utterly ridiculous.
The NGPC also features a battery back-up system, so your games save automatically. This feature alone gives the NGPC a massive advantage over the other portable retro offerings out there.
Sadly, it wasn't the most successful hand-held system you could invest in. The Game Boy made short work of any rival, and beat the snot out of all contenders to its crown. Nobody was spared. Still, SNK gave it their best shot, and the resulting library is packed to the brim with killer exclusives and arcade experiences – only shrunken-down and pocket-sized.
SONIC THE HEDGEHOG POCKET ADVENTURE.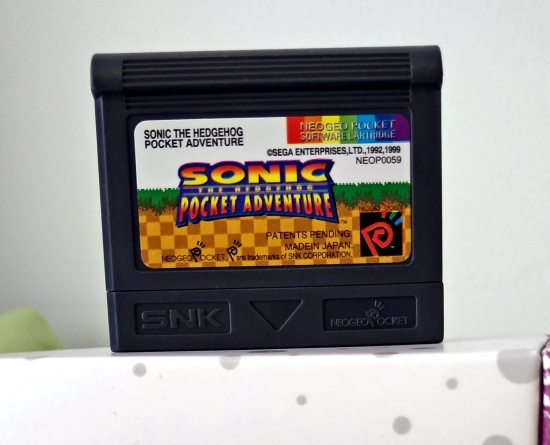 This was – until Sonic Mania, at least – THE ultimate portable Sonic game, and in hindsight, a rather telling glimpse into SEGA's future. Released in 1999, and co-existing with the Dreamcast, Sonic The Hedgehog Pocket Adventure is a strange little game. Levels consist of remixed zones and music from Sonic 2 and 3, but with all new level layouts – and they're fantastic. Well designed, and light on the dick enemy placement. Just how I like it. The physics in the game are on-point too, managing to feel closer to the Mega Drive titles than any of the Sonic games on the 8-bit Master System and Game Gear.
All up, it's just a brilliant take on the formula.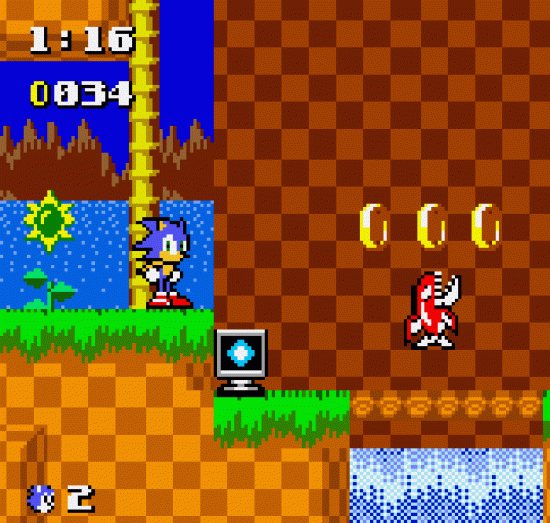 What makes this such a great game to take on the go is the save feature. Once a level is beaten, you can choose to resume the game from any stage/act you like. This level of freedom is a godsend on the move, and makes it a game that's good to dive into any time, anywhere.
Pocket Adventure is highly polished, respects your time, and is a total blast. I've got nothing but praise for it. Get it.
KING OF FIGHTERS R2.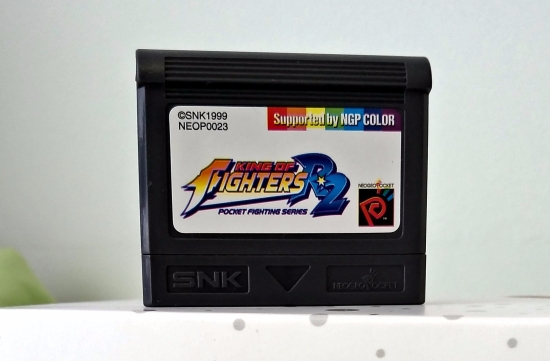 I've always been terrible at fighting games, yet I can't help but love them. Even when they're handing me my ass. Hard.
The stockholm syndrome is strong with this one
When I'm out and about, I tend to crave a little of the ultra-violence. King of Fighters R2 is the game that satisfies my need for fisticuffs on the go. Along with SNK vs Capcom: Match of the Millenium.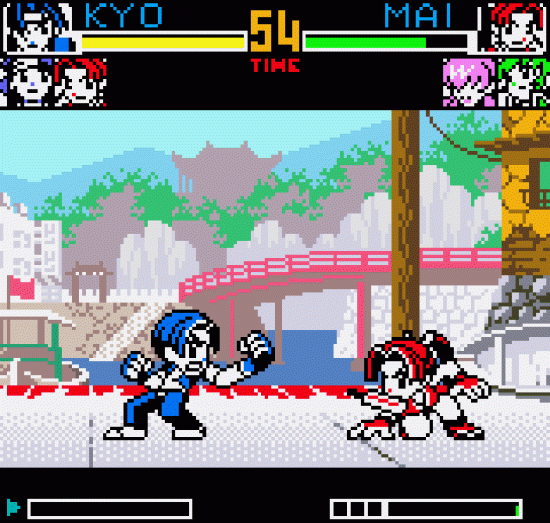 Fighters on the NGPC are – and it should go without saying – excellent. SNK really did do a tremendous job re-imagining their home and arcade oeuvre for play on the portable system. Controls have been masterfully converted for two-button play, and all the characters you know and love are here. KoFR2 looks and sounds great too. Animations are gorgeous, and even with the limited palettes, colours pop.
Full story and arcade modes are here too, along with multi-player via link cable. I'm the only one I know with a NGPC, so I can't comment on how this works, but I'd like to give it a crack some day.
You can't really put a foot wrong with any of SNK's fighters on the system, but even so, I think this one is my favourite.
PUZZLE BOBBLE MINI.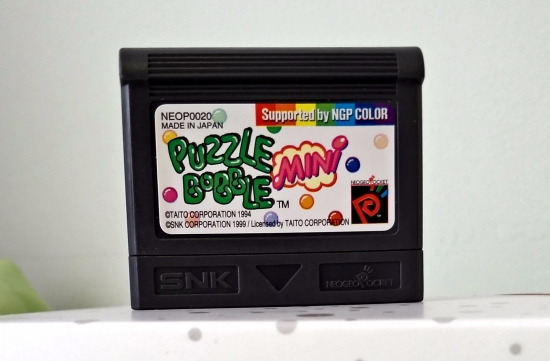 Everybody needs a puzzle game on the go, and this is my go-to when rocking my NGPC. It's Puzzle Bobble/Bust A Move, and that's all it really needs to be.
The gameplay is classic, tried and true, and it has all the modes you could want from a PB game.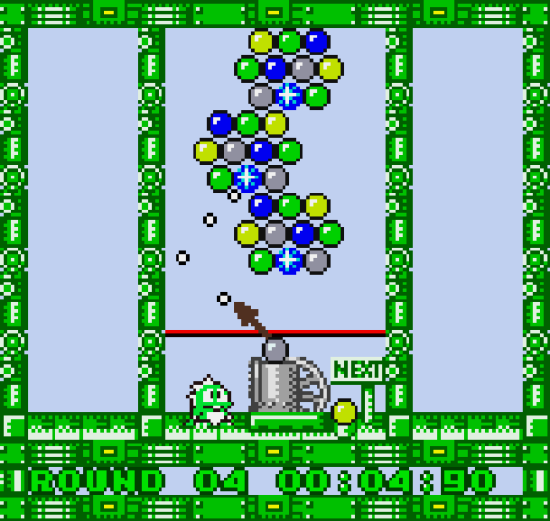 The original ear-worm is also present and accounted for. Dammit, now I've gone and done it… this will be in my head all day now.
And that about does it for this one, how much can you waffle on about Puzzle Bobble? It really is the second-best portable puzzler. I need it in my life. And my Pocket.
---
The OG GAME BOY, but with a twist.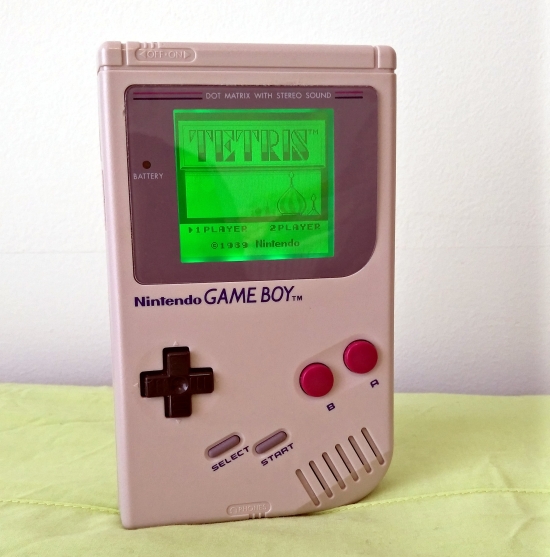 I grew up with the original Game Boy, but it wasn't mine – it was my sister's unit. I still played the thing way more than she did, and my time with it was substantial enough for me to develop some crazy nostalgia for it as an older gamer.
The only thing is, the old brick had no back-light, and when you factor in the motion blur, yeah – in 2018, it's not the most practical thing to throw in a bag and take with you.
Well, thanks to some clever tinkering by some gifted individuals, that's no longer the case. I stumbled across this listing on E-bay a few years ago, and was immediately interested.
See, there's a couple of mods you can do to an old Game Boy – one adds an LED backing to your Gameboy screen, and the other plays with the contrast a bit, making it much nicer to look at.
I think it has something to do with Biverting.
I won't even pretend to know what that is.
Anyways, it looked awesome! You got back-lighting (in your choice of colours!), better image quality and way less ghosting – my interest turned to WANT.
I had to see to see it in motion, so I took to the trusty Youtubes, and spent a good day or two marvelling at ALL THE PRETTY COLOURS. And after all that, my WANT turned to NEED IT RIGHT NOW, so I ended up ordering one from dr_gameboy_phd.
I'd have tried the mod myself, and it is the far cheaper option, but I'm terrible with things like that. So I didn't.
In the end, I settled on the unit you see at the top here. I went for an OG Game Boy, because it's a nice size and feels good in my man-sized hands. Classic grey with a really neat lime-green LED – you can't get much better than this! It's bright, it's clean and the battery life is amazing – I've only changed out the four AA's twice, and once was because a battery started to leak.
And it goes without saying that no matter WHAT kind of retro games you like, the Game Boy will have you covered, and then some.
In fact, all I want to do is play the damned thing right now.
TETRIS.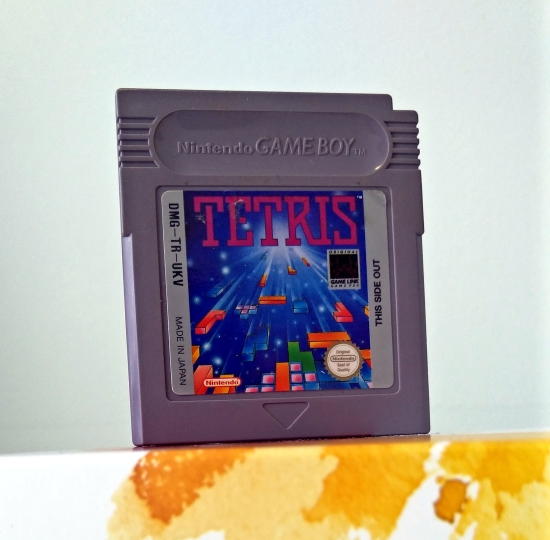 An obvious choice, yes. But it's the right one.
Many things in this world just go together. Mulder and Scully. Cheese and Pepperoni. Porn and the Internet.
Tetris and the Game Boy. The first-best portable puzzler.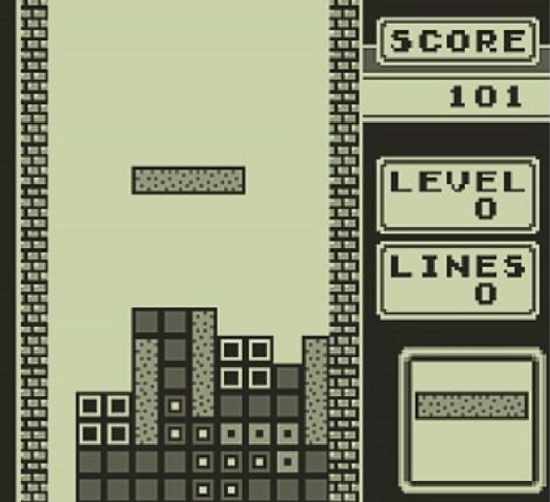 The very definition of a killer-app, Tetris was the game that introduced many different types of people to gaming. It brought in audiences out of the usual demographic of kids and teens. Mums, Dads and Grandparents seemed to jump-aboard the train.
I remember riding my bike over to my friend's house as a kid. Before we got there, she was complaining that her Mum wouldn't give her Game Boy back to her. I laughed it off, and we kept on riding. When we finally got to the house, we threw our bikes on the lawn and ran inside. And sure enough, my friends mum was sat in her recliner, perfectly content in watching blocks fall and those lines vanish.
You just can't beat it. Tetris is, in 2018, still the ultimate portable title. You can play for as long as you like, or as little, but either way it just works. Play too much, though, and it'll haunt your dreams.
I can verify – this is a real thing.
PROPHECY: VIKING CHILD.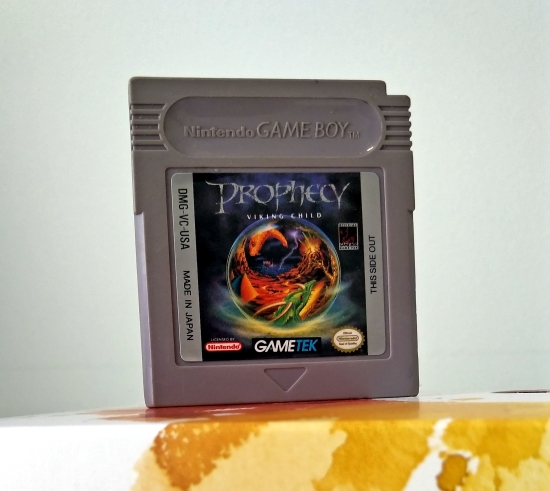 Viking Child on Game Boy is a port of a classic Amiga/Atari ST game. My first experience with Viking Child was on the Atari Lynx though, and honestly, given the choice, I'd pick that version every time.
But the Lynx isn't portable enough for my tastes. I tend to play that system when attached to a wall, so when I'm moving around, I have to make do with the Game Boy version. It's a cracker of a game, even if it's the inferior way to play.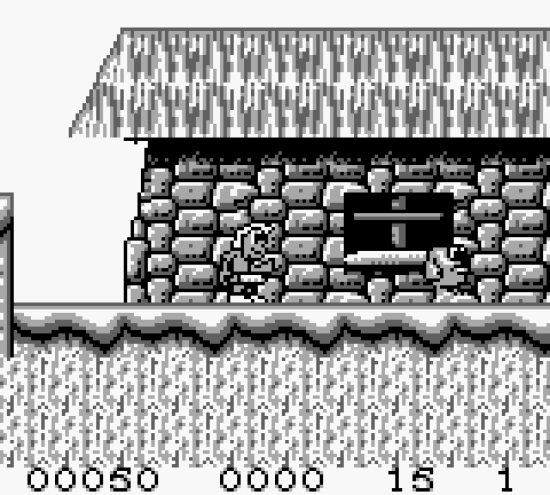 Best described as a Wonder Boy in Monster Land/World clone – only shorter and much more linear – Viking Child is a stellar game. Kill cute enemies, collect cute coins and make it to the end before the cute little timer runs out.
It's adorable.
If you haven't tried the game before, you should definitely check it out. But yeah, I've always got this one me.
LAMBORGHINI AMERICAN CHALLENGE.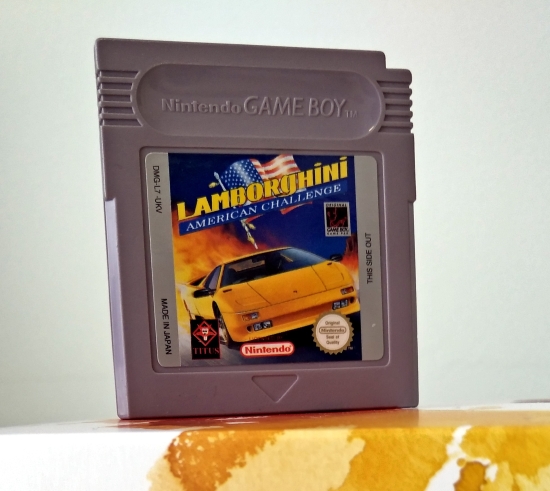 The Crazy Cars games on the Amiga, Atari ST and PC are great arcade raster-racers, and probably the best games that Titus ever touched. And Lamborghini American Challenge (aka Crazy Cars III) makes for a brilliant Game Boy racer.
It's a miniature version of the SNES game, but it contains all the content of its bigger brother, and a handy password system for saving your progress.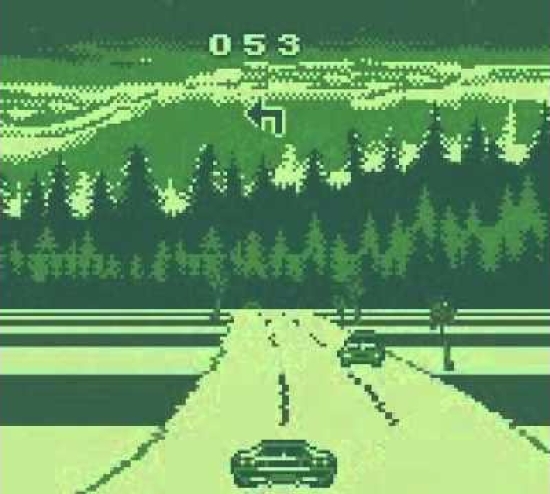 You travel across the USA, buying into races and placing bets on your finishing positions. Addictive as all hell, with awesome controls and smooth scrolling, this game is a great fit for the Game Boy. There's something about these kinds of 2D racers that I just cannot go past. I still find them gorgeous to look at, and they almost always seem to have the bang-on controls that I crave.
Lamborghini American Challenge is likely not the very best racer you could opt for on the system, but it's right up there, and definitely worth you time
CASTLEVANIA THE ADVENTURE.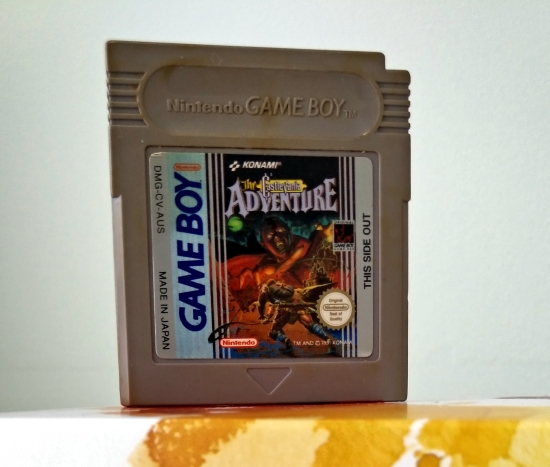 There are people who genuinely hate this game, and I just don't get it at all. The copy of CastleVania The Adventure you see here is my childhood copy. It's clearly seen better days. But it still works, and it's still a great game.
Not perfect, mind you, but far, far from the train-wreck the internet may have convinced you that it is.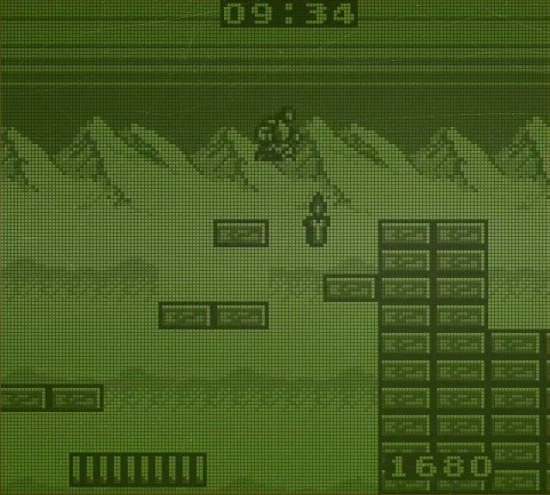 It is a bit slow, for sure. I personally don't mind that too much, and it makes the scrolling a bit clearer on the Game Boy screen. Besides that small niggle though, I really can't fault the game.
Putting it simply, it's 8-bit CastleVania that you can take out with you. The controls are great, and the music is still brilliant. And because I suck at Adventure, I'm all but guaranteed to lose my lives before even getting close to the end, so the lack of saves doesn't bother me.
I'll turn it on, play until my inevitable death, then turn it off and cry softly to myself the rest of the trip.
Have I ever told you that I'm not actually all that good at games?
---
These are far from the only systems I take on my travels, and at some point in the future, I'll be sure to cover others.
*coughNINTENDODScough*
But until then, indulge me – what are your favourite systems you travel with, and what games do you find super-practical to play on the go?
Hit me up down below!
Posted In:
Portable Gaming
Tags:
Amiga
,
arcade
,
Atari Lynx
,
Blog
,
Bust A Move
,
car trips
,
CastleVania
,
Crazy Cars III
,
enthusiast
,
Game Boy
,
Game Boy Bivert Mod
,
gamer
,
Games
,
gaming
,
King of Fighters
,
konami
,
Lamborghini American Challenge
,
list
,
Listicle
,
lists
,
Neo Geo
,
Neo Geo Pocket Color
,
Nintendo
,
Portable
,
Prophecy
,
Puzzle Bobble Mini
,
retro gaming
,
SEGA
,
SNK
,
Sonic The Hedgehog
,
Tetris
,
Titus
,
Viking Child