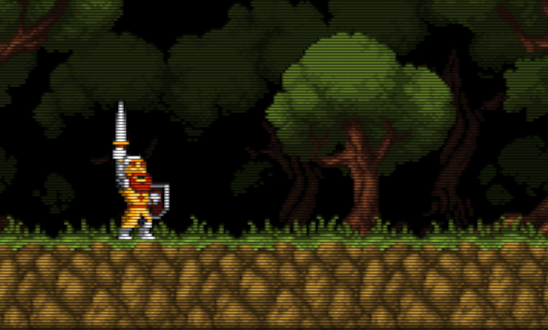 At times, it seems like there is way too much out there to play.
Just how do you decide on what games you're going to invest some time into? Well, if you are the slightest bit like me, then you'll be playing ALL THE GAMES – I chop and change between games like I do underwear in summer.
So, the purpose of this post is two-fold:
It's a handful of games that have flown under the radar, so you might find something that has eluded you up until now.
But it's also a bit of insight into the kind of games that I like, and will give you a little cross-section example of my gaming habits and the kind of varied content you can expect to get from me.
Okay, so maybe it's a three-fold thang.
These are games that I just want to talk about.
Here's a handful of games that are keeping this gamer occupied as of right now.
ZOMBI.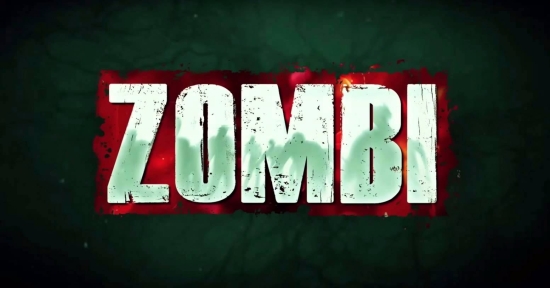 GET IT HERE.
Zombi U on the Wii U is one of the more memorable first-person experiences I've had in recent years. The game reviewed very well in regions like the UK and Europe, but it seems that US sites and publications weren't quite as partial to the game as those across the pond. Love it or loathe it, as it were.
So, which is it?
Well, I'll firmly place my chips down on the love table.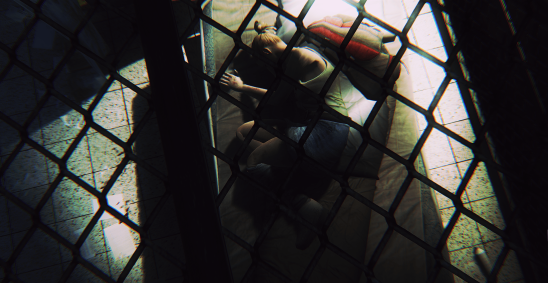 Having really dug Zombie U, I picked up the PC version of the game in the recent Steam sales, because who doesn't love a double-dip every now and then? And at $9.99 USD, I couldn't pass this one up.
Zombi is, quite obviously, a Zombie Survival game.
"Boy, what an astute observation!" I hear you say. Your sarcasm isn't lost on me, but there's more to it than that, so hear me out.
At the beginning of the game, you'll find yourself waking in a safe-house somewhere in post-Zombocalpytic London. No clues are given as to who you are or how you got there, and all you know is that it's your job to follow the directions given to you by The Prepper – a disembodied voice and unlikely usher in the world of Zombi, who has vested interests in seeing you survive the night. Just what are those interests? You'll have to play it to find out, because I ain't tellin' ya.
The gameplay is fairly simple – you'll be doing your damnedest to complete the mission objectives set for you by The Prepper. Move quickly from point A to point B, and use your scanner to find items of interest pertaining to your survival in the environment. You can choose to either avoid the infection legions that stand to impede your progress, or take them on, all the while activating security cameras to give you a better visual of your surroundings, and fortifying problem areas filled with Zombies to buy you a bit of time. If you happen to die at the hands of the infected, you will become one of them, and that's where the game's neat little twist comes in – if you die, you wake up as another nameless character in the safe-house. If you want your gear back, you'll need to take out your previously infected player character.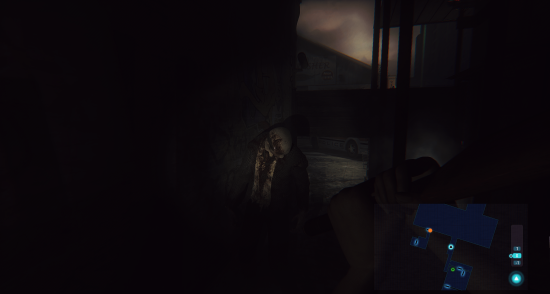 Zombi is rather unique, then. It combines many things I personally think are overused and distasteful in video games today – rogue-likes/permadeath, survival elements, tower defense and Zombies – and manages to turn in an engaging experience unlike any other.
For one, the environments are fantastic! Hand-crafted and well designed, the hub areas are what I think makes the rogue-like elements palatable to players like me – if I die, I know where to go to take down the previous-me and score my gear back. If the game featured randomly-generated levels, then I doubt I'd have the patience for anything else Zombi threw my way.
It all looks rather nifty, too. Many have knocked the graphical fidelity on display here, but I think this up-rezzed Wii U game still looks brilliant on the PC. It's not going to win any awards or anything, but damned if it doesn't sell you on its atmosphere straight away. It's completely functional, and the devil is in the details. The world presented here looks like it has actually been through the hell that is suggested to the player.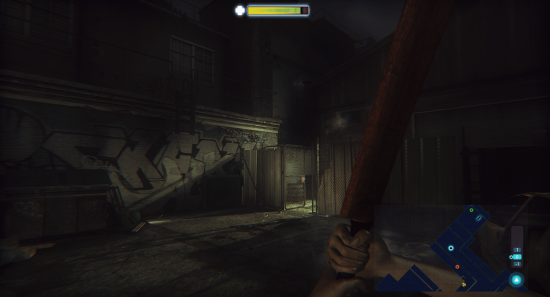 I do have a couple of gripes to fling in its direction, however.
The neat asynchronous multi-player features from the Wii U version have been stripped away from this port. Leaving helpful (read: misleading) messages around the environment for other players ala Dark Souls is gone. I found this pretty entertaining in Zombi U, and it's a shame it didn't make cut here in one form or another.
And out of all the things they chose to retain though, the green-filter is probably the worst and most contentious. I'll just go ahead and say it – I hated it in Zombie U and I still don't like it here. Thankfully then, there are ways around it – at least on PC. All the screen-shots you see here are from my own de-greenified version of the game.
So. Much. BETTER.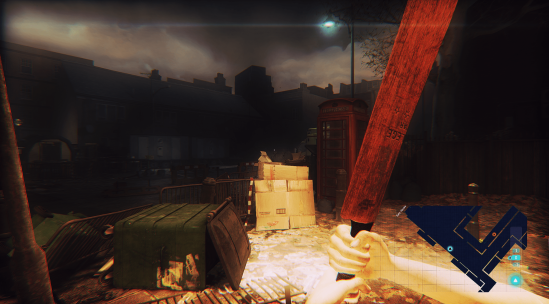 I'd love to keep talking about the game, I really would. But to say any more about the game would be to spoil the fun for those that haven't played it. So if you fancy some cool horror-shenanigans, then I strongly suggest taking a punt on Zombi.
It may just be up your infected-laden alley.
CURSED CASTILLA (MALDITA CASTILLA EX):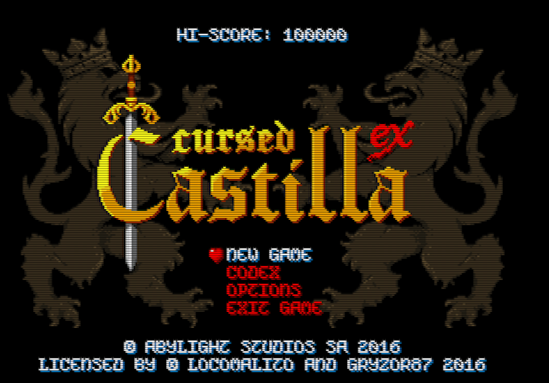 GET IT HERE.
Good thing I got this one with my Humble Bundle Monthly subscription.
As great as Cursed (Maldita) Castilla EX is, I knew full well going in that it was hard-as-nails, and I'd have never actively gone out and purchased it myself.
Taking after arcade greats like Ghouls 'n Ghosts – games I've never been able to play at any reasonable level of proficiency – Cursed Castilla EX is a fitting homage to arcade gaming in the late 80s.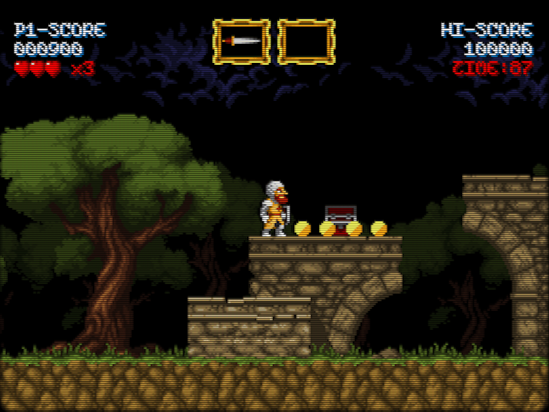 Locamolito is known in indie circles for his slavish attention to period detail. Whatever platform his games choose to pay homage to, you just know he'll smash it out of the park. I've previously had a lot of fun with l'Abbaye des Morts and Curse of Issyos, great games you should definitely track down. But I always shied away from Cursed Castilla EX because I just don't get along with the games it's clearly taken inspiration from. I'm not ashamed to admit they are too hard for me these days, and being an older bloke, I no longer have the patience to inch my way through the levels, dying and re-trying, in hopes of making that extra bit of progress the next time around.
Or maybe I do? Cursed Castilla EX has, shockingly enough, made me want to keep playing. Who'd have thought?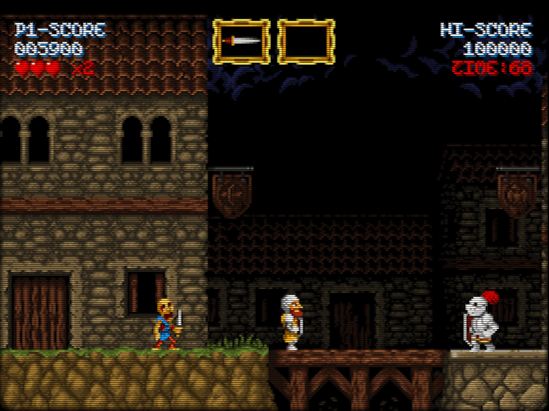 Maybe it's the amazing FM soundtrack? Holy geez – this thing is godly. Each and every tune I've heard so far sounds bang-on-the-money, and imbues me with a sense of confidence that makes me want to get better, something that I never gotten from the music in Ghouls 'n Ghosts. Brilliant stuff.
Then again, maybe it's the graphics? They're charming, and full of character. For as cliché and derivative as the setting may be, there's no denying it's done well, and I have this overwhelming urge to reach into the screen and hug all those cute little bleeding skeleton/zombie things.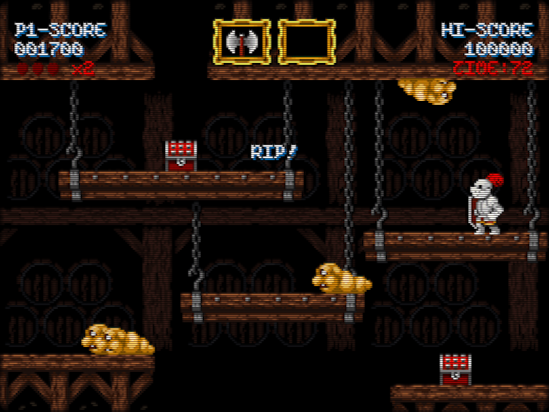 Or, you know, it could be the tight controls. The neat little story. The well-done retro-filters. All I know is that although I can't get very far just yet, I'm willing to keep on keepin' on. Just that little bit further…
…yep, this one is a keeper!
BALLISTICNG: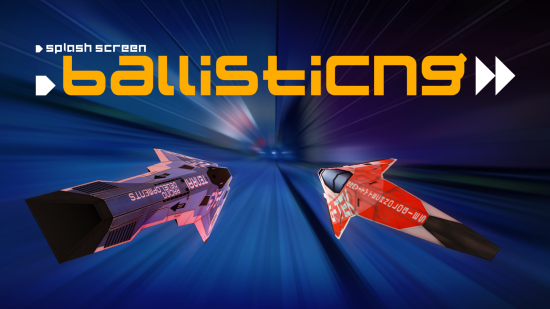 GET IT HERE.
When I first stumbled across BallisticNG, I was floored. As a massive fan of the 32-bit WipEout games, it was a project that I just never thought I'd live to see exist as a thing. WipEout was a success in its time, and the series is still around today. The later entries have their fans, but for me, they didn't have the 'it' factor. The atmosphere was gone, and the controls too floaty. I much preferred the technical racing and control scheme of the original WipEout games. I was shit at WipEout, for sure, but man, I love that original trilogy.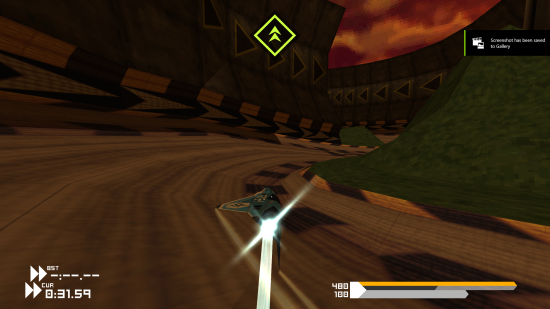 So here was a free, fan-made take on the formula I know and love dearly. In the flesh. And completely competent to boot!
Well, that was a couple of years ago now, and since then, BallisticNG has evolved into what can only be best described as WipEou4. No hyperbole here – it's that good.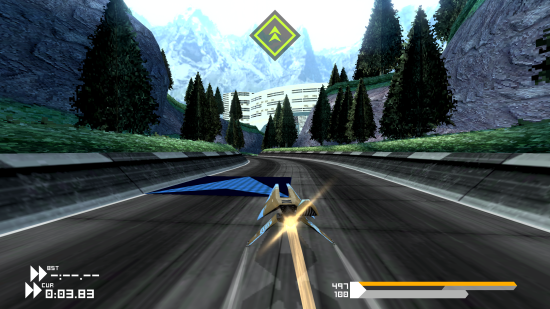 In the earlier builds, the mission statement was clear – be WipEout, and be good at it.
The first attempts at course design were strong, and the seeds of its audio/visual identity firmly established – WipEout always did have a strong aesthetic. The controls were very much a mix of the series best titles, WipEout 2097/XL and Wip3out/SE, and so it seemed like we'd be in for, at the very least, a cool fan-made homage to everyone's favourite technical Futuristic Racer. And usually, this is how these fan projects go. They become neat little curios for the die-hard, and… that's about it – that's where it ends.
Not so with BallisticNG.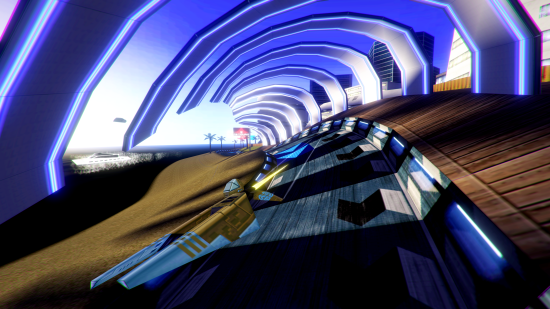 After a year or so of Patreon supported development, the development team Neognosis decided to place an extra bit of faith in the project – they would double-down on the game that they – and their rabid community – loved so much. And so it was to become a paid product. A select few in the community saw this a betrayal… the free game that they loved had gone paid! Well thankfully, that predictable bit of internet outrage from a very vocal minority didn't last long, and the game hit Steam Early Access. The little fan-game that could was now a legitimate spiritual-successor to the WipEout series that fans couldn't possibly have known they'd end up getting.
Work and updates on BallisticNG come fast and thick. Every other week sees a massive improvement to one area of the game or another, with smaller fixes and additions being seen almost daily. Track design has gone from pretty great to right up there with the original WipEout trilogy. Not content to just ape past entries though, BallisticNG also comes with some modern concessions for the modern gamer. You can make it look as 32-bit as you like, but there are options for higher resolutions, texture filtering and all manner of neat graphical effects. It maintains the 32-bit flavour throughout, but you can make it prettier if you want, and I do like my graphical flourishes.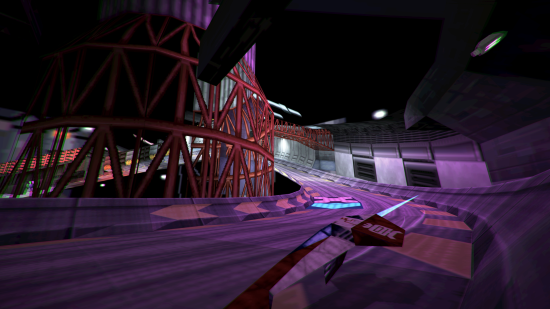 More interesting, though, is the custom content available for all BallisticNG players. From new courses to classic ships, BallisticNG's Steam Workshop is full to the brim with fantastic player-created content. The game includes the tools to build this stuff yourself, so if you feel you want to show-up the developers own efforts, you're free to do so.
Seriously, there's just so much free content to sift through. From loving re-creations of tracks from WipEout 64 to some stellar original courses that are just as polished as Neognosis's own efforts. You'll find familiar ships and teams from Wip3out to race as, and even off-the-wall vehicles such as the Toyota AE86 or Sonic the Hedgehog are there to download, ready to dick around with, should curiosity get the better of you. Know where to look on the interwebs, and you'll find killer ports of some of the most cherished WipEout tracks too.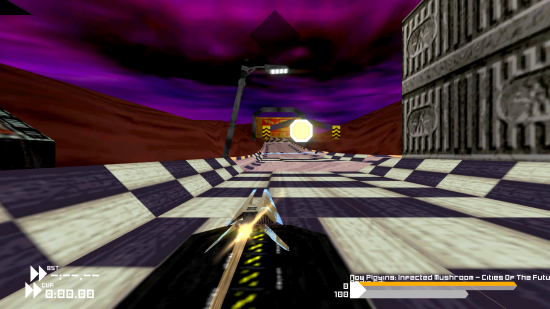 Add in a brilliant original soundtrack – full of all the nods to the late 90s electronica you'd expect of it – a killer single-player component, split-screen multi-player, all-new hyper-speed classes, and custom soundtracks – you may just have the WipEout game of your dreams.
I have put in well over 150 hours into all incarnations of BallisticNG over the last couple of years. The knock-on effect it's had for me is staggering. Not only can I now tackle the fastest of speed classes the game has to offer, the skills I've learnt transfer over to the original WipEout games too – I can now play the games as I never could before.
It's worth bearing in mind that, yes, BallisticNG is still in Early Access. It isn't too far off from it's 1.0 release though, and don't let the Early Access thing deter you in any way.
If there's one game that's done Early Access right, it's this one. In its current state, it absolutely puts other 1.0 releases (by bigger names and companies, no less) to shame. It's perfectly playable as-is, and all that's seemingly left to do is of the most negligible spit-and-polish variety. The controls are done. The track design is done. And for $4.99 USD, right now, you're getting a world of content and a game of infinite replayability – something the likes of which higher-profile racers like Formula Fusion can only dream of.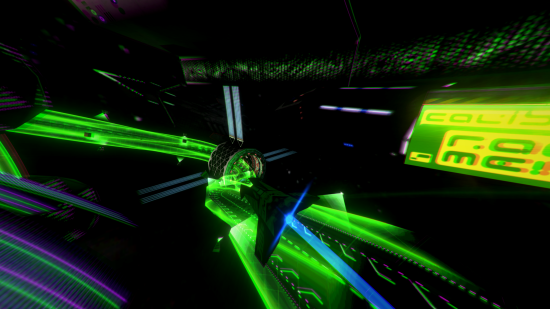 I can't stress this enough – this isn't just a carbon-copy of WipEout – it's WipEout's peer. It plays the same, and shares its overall aesthetic with that series, but it brings so much that's new to the table that it stands on its own. It may even be better.
All I'm saying is that playing this thing at 165fps makes all the sense in the world.
BallisticNG may be my favourite game of all-time. And even though it probably isn't yours (yet), if you're one who harbours fond memories of the glory days in anti-grav racing, then don't snooze on this one.
Let BallisticNG show you just how relevant an older formula can be in 2018.
THE NINTENDO SWITCH:
This one is more general. I've been gaming on my Nintendo Switch just as much as I have my PC lately, and not a week goes by where there isn't some awesome games released on the Switch's E-shop. Here's a selection of games that have my attention right at the minute. They may not all be exclusives, but they've all most at home here on the Switch.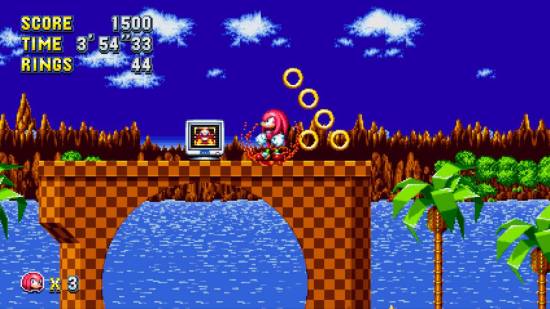 Sonic Mania
Here's the Sonic game that Sonic Team themselves couldn't make in a million years. I love classic Sonic, and even so, this may be the best one there is.
————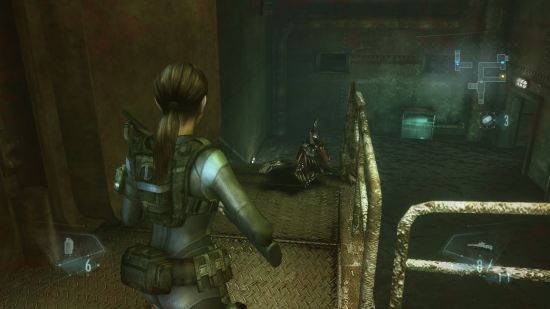 Resident Evil Revelations
I'm not the biggest Resident Evil fan out there. I don't mind the games up to Resident Evil 4, but I can't say I ever found them really scary or engaging. Except maybe Code Veronia on the Dreamcast. I do have a soft spot for the original Revelations though. It's super-fun, the shite story – which is par for the course – can safely be ignored, and it's right at home on the Switch.
————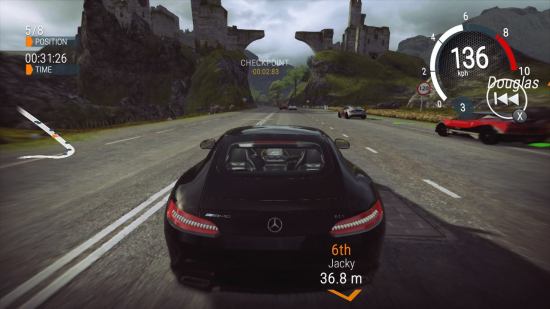 Gear.Club Unlimited
Unfairly maligned by the sheeple as being a mere mobile port that cost full-price on the Switch. And to those I say 'boooooo!!!'. Gear.Club was a great mobile game that's only real weakness was it shitty free-to-play elements and the progression system tied to it. It's gone now. You're free to play the game now as if the mobile original never existed. My hats off to the devs for releasing the game like this. It's just good arcade-y fun, with loads of excellent content – no longer gated behind micro-transactions and energy systems.
————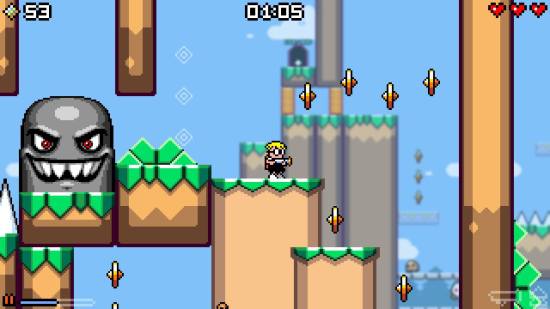 Mutant Mudds Collection
I originally owned this on the 3DS, but since I hold no love for that system, I didn't play it much. The average screen killed games for me, and the actual unit – even the New Nintendo 3DS XL – hurt my big man-hands. I can now enjoy Mutant Mudds as it was intended. Fantastic little game with a great art-style, killer music and perfect controls.
————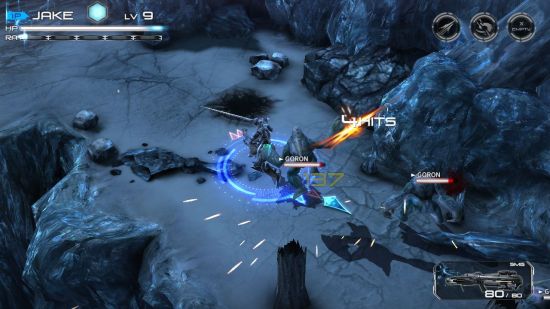 Implosion: Never Lose Hope
Yet another Mobile-to-Switch port that most just dismissed. I had a lot of fun with this one on my phone, but again, the Switch port excises all the nasty micro-transactions and just lets you get on with it. Implosion is a neat little hack-and-slash game with bite-sized levels that act as the perfect palate cleanser between bigger games. Addictive as all hell, and definitely recommended.
————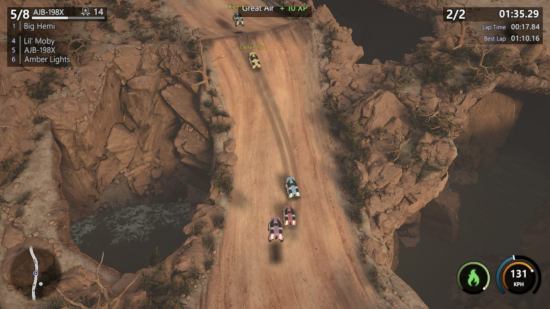 Mantis Burn Racing
No really, just how engaging can a top-down racer in 2018 be? I asked myself the same question, and held off on buying it for the longest time because of this. I needn't have worried – Mantis Burn is excellent fun. Controlling your vehicles is utterly fab, and there's a lot of game here to chew on. If you're on the fence, but think you may like it, then know it's a quality game. Give it a crack!
————
---
So that's about it from me today. But let me know – what games are you playing right now? What platforms can't you get enough of, and what current hidden-gems do you think people need to know about?
As always, sound off in the comments section below. C'mon. Like, please. I need comments. Even one of them will do. To get me started and help me sleep at night and stuff…
I JEST, of course!
…
Do what you want. See if I care. Hrmph.
Posted In:
PC Gaming
,
Video Games
Tags:
arcade
,
Australia
,
BallisticNG
,
Blog
,
Capcom
,
Cursed Castilla EX
,
Europe
,
Games
,
gaming
,
Gear.Club Unlimited
,
list
,
lists
,
Locamolito
,
Mantis Burn Racing
,
Neognosis
,
New Retro
,
Nintendo
,
Nintendo Switch
,
OST
,
Renegade Kid
,
Resident Evil
,
Retro
,
Robonauts
,
SEGA
,
Sonic Mania
,
Steam
,
Switch
,
Ubisoft
,
Wii U
,
WipEout
,
Zombi
,
Zombi U