Two years ago today, 2D arcade racer Slipstream was successfully funded on Kickstarter. It hit the ground running early in the campaign, courting potential backers with a playable demo and boasting a neat Synthwave soundtrack. Slipstream made a hell of a first impression. The combination of 2D Out Run raster scrolling and the smooth Out Run 2 drift mechanics got me straight where it hurts – my weaknesses all rolled into one.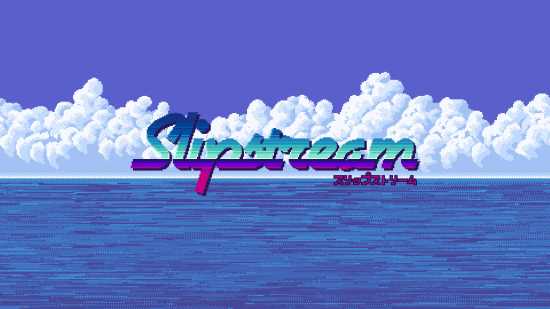 I did what any self-respecting arcade racing fan would do and backed the thing. Kickstarter projects are always a bit of an unknown, and yeah, as a backer, the ride to the finish line has seen its share of ups and downs.
Does it ever not?
Radio-silence on the part of one-man development outfit Noctet Studio had me worried for a while there, as did some builds that took a small nosedive for the worse. But I told myself you've gotta expect these things. Sometimes, things just work right out of the gate. Other times, it works, but can be built upon and made much better.
It's always super tricky covering Kickstarter projects you've backed. I'm definitely excited for Slipstream – I wouldn't have backed it otherwise. Yet I feel that this investment makes me almost hyper-critical of the game. I've undeniably higher expectations of the game than most people would.
Does that make me more biased? And in what way?
I'll leave that up to you!
All I know is that I'm really looking forward to the game, but I'm not above calling it out on areas I think could stand to see some improvement.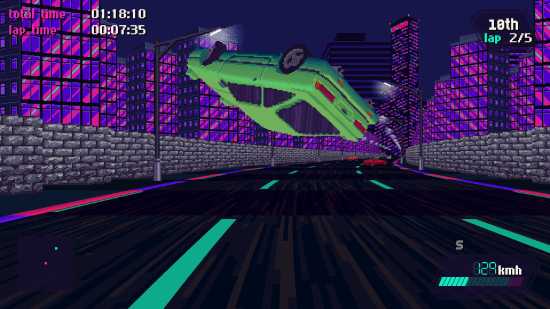 Earlier in January, Noctet Studio released an updated build for backers to check out. I downloaded it as soon as I could, but as I'm easily distracted, forgot about it just as quickly.
Whoops.
Well, I'm here to right that wrong.
If I'm being honest, Slipstream lost me a little for a bit there. I knew it was undergoing some major changes, so I forced myself to lay off it. I didn't want to sour myself on something I knew was clearly a work in progress. This build promised some major improvements, so I thought I'd give it a whirl again.
Boy, am I glad that I did!
It's obvious to anybody with half a gaming brain that Slipstream cribs from OutRun and Top Gear. Also, Sonic The Hedgehog (!), but we'll get to that in a bit.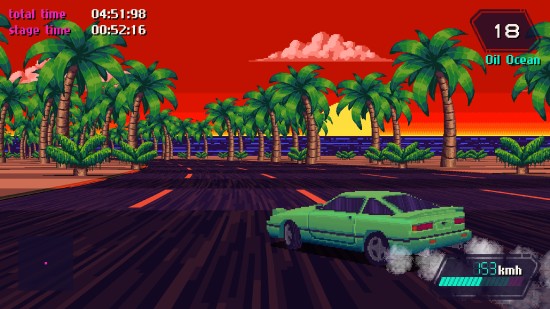 An Arcade mode sees you doing the familiar Cannonball Run thing – it's Out Run with rivals. Fun and basic, then, but lacking any personality. There are big changes coming to this mode – backers will feature as rivals, with their own custom dialogue.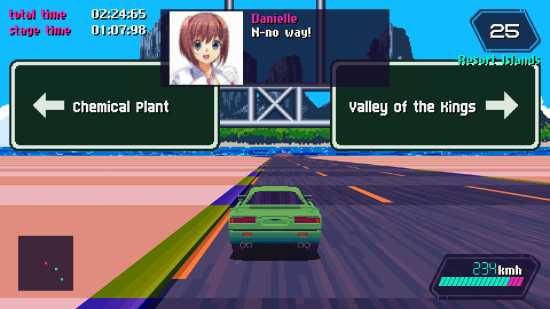 I backed this tier, so you'll be seeing my bearded mug in the game.
RUN WHILE YOU STILL CAN.
Far more interesting to me is the Grand Prix mode. You know the one – pick a car, finish first, collect money and upgrade your car. OK, so it's fairly bog standard, but I think I'll be spending most of my time here, provided some changes are made.
More on that later.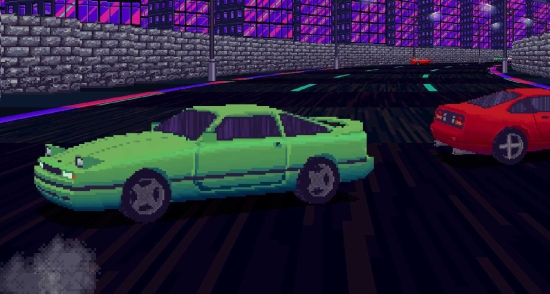 Elsewhere, you've got your Quick Race mode, which is, yep, DING DING DING – a quick race on any track of your choosing. Rounding out the package is an Online Leaderboard system.
It's not clear at the time of writing whether any other modes will be introduced. I'm hoping for some Time Trials action myself – the tracks in the game are great and lend themselves to repeat play quite well.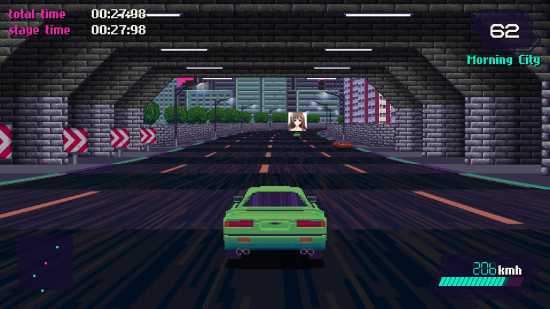 I distinctly remember hearing rumblings of track creation utilities too, but I could be way off. I might have dreamt it – I've got no idea.
Like I said earlier, it's the Grand Prix mode that has me most excited, and it's where I think the game will have most of its legs, at least initially. Unfortunately, it's also the part of the game that I feel needs the most work. The difficulty level is pretty severe right now. You can choose between Easy, Normal and Hard, but it doesn't seem to do anything. Races I can win easily in a Quick Race are ridiculously difficult on the same Easy and Normal settings in Grand Prix mode. Challenge is great and all, and I'm actually hoping that the Easy setting in general gets a little bump up in difficulty, but in Grand Prix, I can't seem to win any money to upgrade my vehicle. In turn, it just leaves me stranded – I'm unable to upgrade my car, which I need to do to compete, yet I need to win to keep up with the competition. You are given a wad of cash at the start, and it's enough for a couple of upgrades to get you going, but throughout the remainder of the Grand Prix, I only managed to nab one more. I'm still getting to grips with the basics of the new Slipstream, but I figured setting the Grand Prix to Easy would help ease me into the game just a bit.
Nope.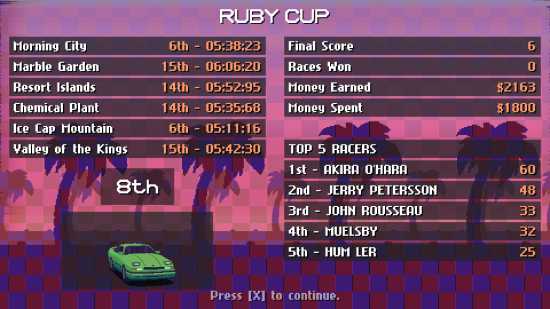 Maybe it's a case of being shit at the game? I don't know.
It's completely possible. But Quick Race and Arcade are by far the easier modes as of right now. Some consistency would be fabulous here, Noctet!
The game is coming along nicely, otherwise.
The controls are nice and drifty – it's essentially Out Run 2 in 2D, and that's fine by me. The cars are fast and responsive, and the whole thing screams arcade. I've got no complaints here – it's come a long way in a relatively short amount of time. It's satisfying, immediate, and very much has the whole one-more-go thing in its favour. Time will tell if there's honest-to-goodness depth here, but from what's on show at the minute, I remain rather hopeful.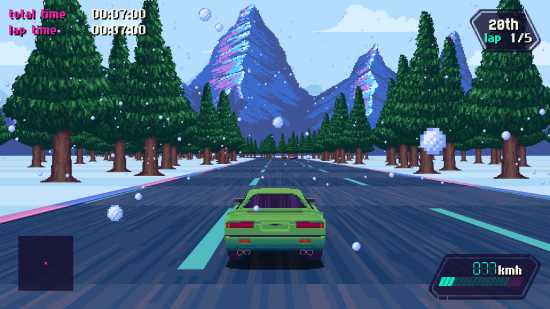 And with controls this good, it's a relief to know that the courses are well designed and fun to drive. They're not super complex, but again, think Out Run 2 and you're most of the way there. There's a tendency in these 2D raster-style racers for courses not to feel all that different from each other. I know that I can at times struggle to memorize courses if all the turns tend to look the same. Slipstream avoids this for the most part – I was remembering series of turns after only a few laps. Whew!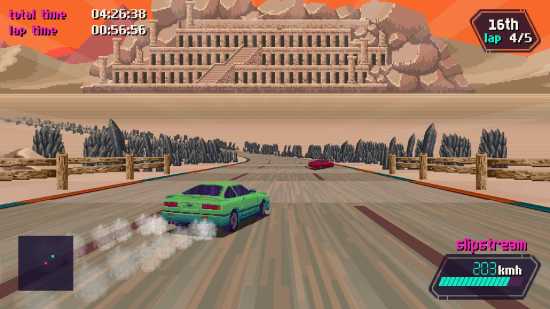 I do think the titular Slipstream mechanic could use a little work, though. If you tail an AI car for a couple of seconds, the game rewards you with a speed boost. The effect is fantastic, and I do love the concept, it's just that sometimes the speed boost can be wildly unpredictable. I can recall at least a dozen times where I've been sent flying into the track-side scenery because I wasn't sure if the mechanic was in play or not. I'd love for this boost to be telegraphed a little more – ideally before it actually hits. A small sound queue would work wonders in regards to communication and player feedback. It's no deal-breaker, mind, it could just stand to be improved a little.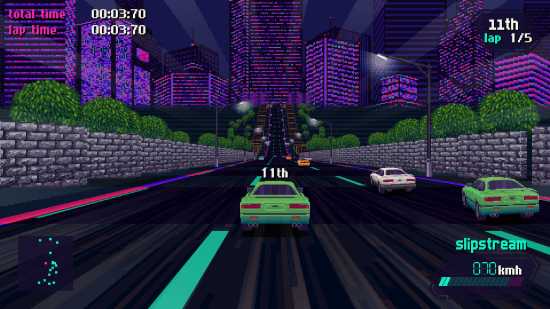 I mentioned earlier that Slipstream takes some if it's inspiration from Sonic The Hedgehog. An unlikely source, you'd say, and you'd be right! But if you know what you're looking for, it'll hit you right in the face.
We've got a Marble Garden course, and also a Chemical Plant stage. Metropolis, Ice Cap and Resort Island also make an appearance.
It's a cute touch, most definitely, and a nice nod to all the SEGA fans in the audience. Even better, these courses retain the general colour palettes of these zones – and some can be very striking indeed, as you've no doubt noticed from the screenshots I've plastered all over the joint. I absolutely love the garish colour selections Noctet have made. It might not be to all tastes, but the SEGA blue skies are here, and they're awesome.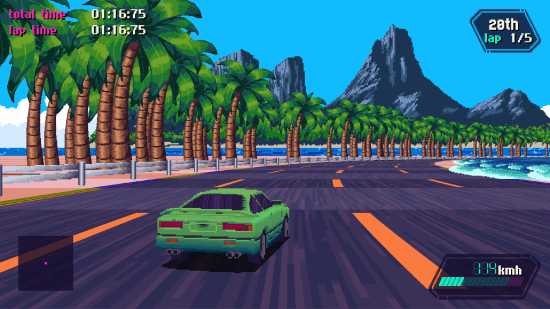 The vehicle sprites are a little basic in comparison, but I think it actually works in favour of the game. AI cars never blend in with the background, and are always easy to see. Still, if Noctet could keep the readability in check, but perhaps find a way to make the vehicles just a tad more flashy, I definitely wouldn't be adverse to such a thing at all.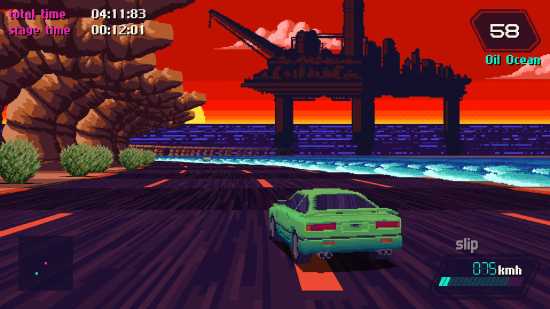 The scrolling in Slipstream is as fast as your rig can manage. My main gaming monitor is a G-SYNC panel with a 165Hz refresh rate, and Slipstream takes full advantage of it. No weird frame-pacing issues here – it's 100% smooth all the time. Full props to the dev here for that – I've lost count of how many smaller 2D indie games tend to suffer weird frame-rate issues that just shouldn't really be there.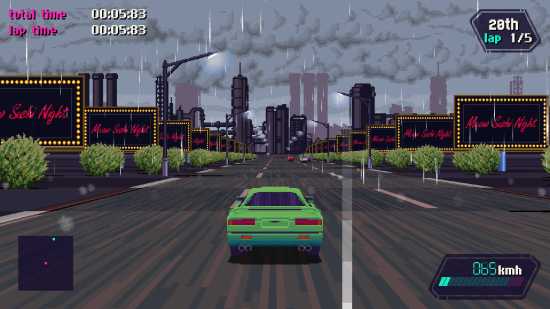 The music in Slipstream is all of the Synthwave variety, and I approve of this direction – I'm a big Synthwave fan. I know I really dig some of the tunes here, and there are a ton of awesome beats, but I do have a bit of a gripe – as a whole, the music isn't all that memorable. Trying to think back on the soundtrack now, I can't really recall a single melody I've heard in the game. It nails the atmosphere, that's for damned sure, and the production is fantastic. When stacked up against series like OutRun, Top Gear and Lotus Turbo Challenge, though – games known for their music and sense of melody – it falls a little short. I don't want to call it generic, because that's a bit mean, but there's definitely nothing here that get's me too excited. I like those 'fuck yeah' moments in my arcade racer driving music, but no single piece in Slipstream has grabbed me yet. There isn't a 'Magical Sound Shower' equivalent here and that's a big shame.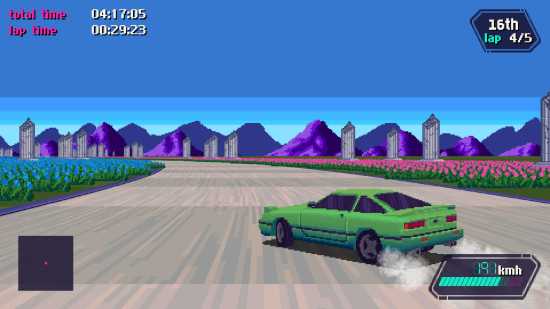 All up, I really like the direction Slipstream is headed. As it is, in the here and now, I don't think it will go down as one of the all-time greats, but I'd also argue that it doesn't really need to. There's a certain magic in the way it moves. The fundamentals are there, and most importantly, it's fun. Release day can't come soon enough – I just hope that some of the issues I've raised here are addressed in some way.
Slipstream is almost there. It just needs that spark. With a little more personality, it'll be unstoppable.
Noctet Studio have a release date of January 25th pegged down, but it is subject to change. Slipstream could come sooner, or later, but either way, keep it on your radar.
You can wishlist SLIPSTREAM on STEAM HERE.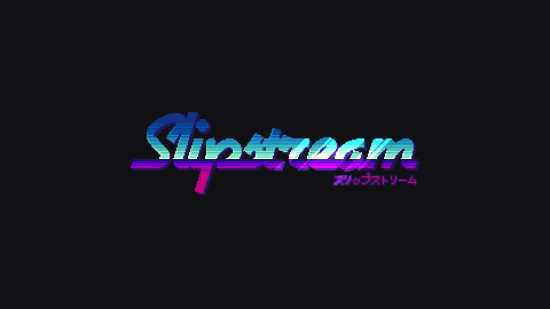 Posted In:
New Retro
,
PC Gaming
Tags:
16-Bit
,
2D
,
arcade
,
Arcade Racing
,
Blog
,
Blogging
,
cars
,
classic
,
demo
,
dorifto
,
drifting
,
driving
,
exclusive
,
Games
,
gaming
,
Indie
,
Kickstarter
,
Lotus
,
lotus turbo challenge
,
Noctet Studio
,
Out Run
,
PC
,
preview
,
racing
,
raster
,
Retro
,
retro gaming
,
retrowave
,
sega blue skies
,
Slipstream
,
Steam
,
synthwave
,
tech
,
top gear
,
vehicles
,
Video Games