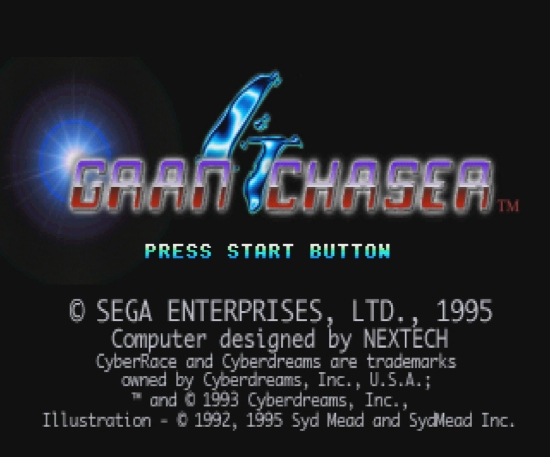 Gran Chaser/Cyber Speedway is not a particularly great game, at least when compared to the company it finds itself alongside on the SEGA Saturn. It pains me to write that, because my love for this game runs so goddamned deep, but it's true. However, if you've the same pre-disposition toward awkward, early 3D racers that I do, then buckle up, Boyo! I can absolutely recommend it to the weird ones, like yourself.
Also, despite the title, your Gran is safe, I promise.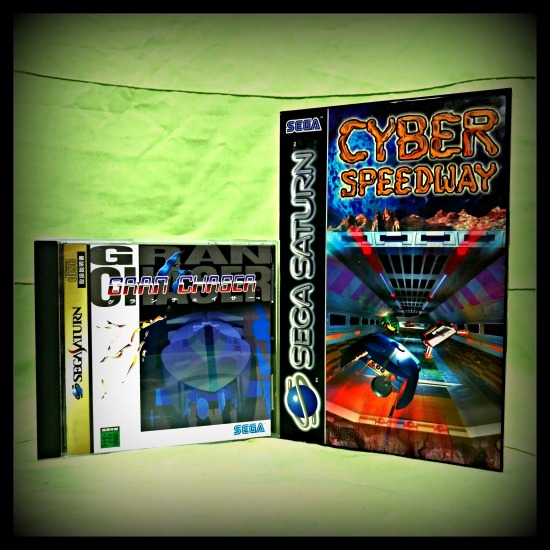 ---
Gran Chaser and Cyber Speedway are one and the same game. It was released in Japan as 'Gran Chaser', but re-branded 'Cyber Speedway' when it made it over to European and US territories. As a kid, I knew it as Cyber Speedway, and I used to rent it every other week! Believe it or not, that PAL copy you see above is the exact same rental copy I grew up with. My parents bought it for me when it went ex-rental and the Blockbuster was off-loading their Saturn stock. But taking into account all the screenshots in this review are from my recent play-through of the Japanese copy I own (on real Saturn hardware) I'll be referring to the game as Gran Chaser.
---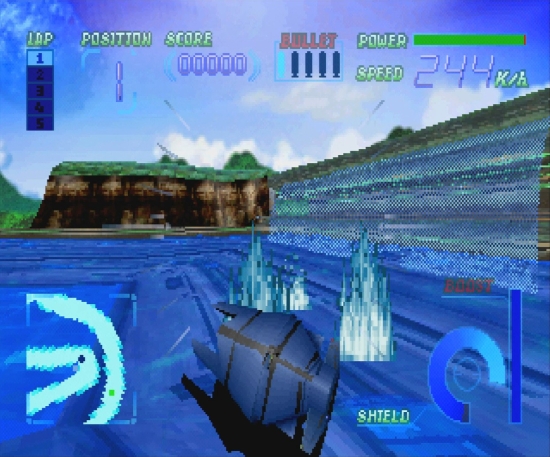 Gran Chaser is an early Saturn title, and contrary to popular belief, came out a few months before WipEout hit the Playstation. I mention this because I've heard it called a WipEout clone by many people, and though there are definitely some similarities in genre, the two games are worlds apart. Also, it came out before WipEout, so it's not a clone. Gran Chaser isn't the technical racer that WipEout is in the slightest – this is straight-up 32-bit arcade goodness, janky physics and all.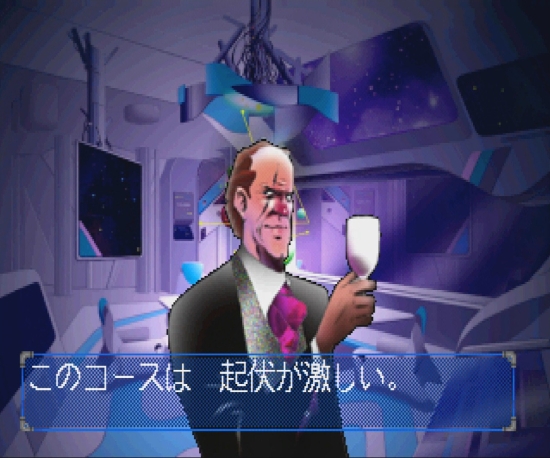 There is a story here – your character (I've never understood the pronunciation of his name in-game, it sounds a lot like 'Quaint Jaw' in the dub, but it is indeed Clay Shaw) is representing Earth in an intergalactic Grand Prix. Wars in the future are waged with racing tournaments, rather than all-out bloodshed. Win all the races with the help of your Mechanic, and you guarantee a prosperous future for yourself, Earth and its denizens. It's a cliche set-up, yes, and whilst not entirely weighty or even necessary, it's neat and provides plenty of amusement as you chat to rivals from different planets before a race. Voice acting is of the Saturday Morning Cartoon variety in both the Japanese and English language variants, but it's most novel, and works to provide an atmosphere and vibe that Gran Chaser can only call its own.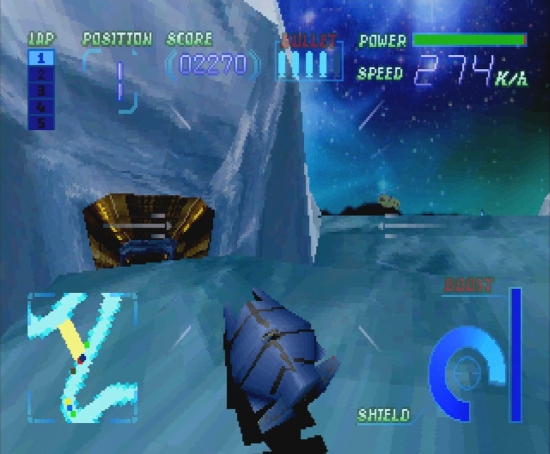 The Story Mode comprises of two championships. The Standard set features five different courses on five different planets. The Advanced set has new courses for each of the five planets, plus an all-new, one-off race on a new course/planet to decide the Cyber Speedway champion. All eleven tracks are unlocked in Time Trial mode after you've won a race on them.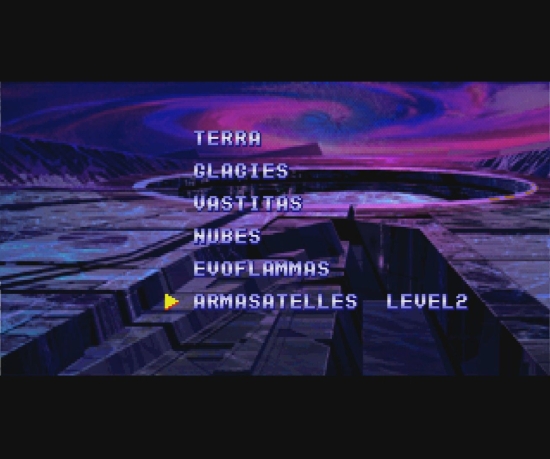 So Cyber Speedway won't take you a long time to complete. To make it through both sets of races takes a couple of hours if you're a newbie, and if you're not, you can clock the main game in under an hour. Neither set is very difficult, and any troubles you do encounter will be due to the zig-zagging, rubber-banding AI. Even then though, the challenge will be fleeting. And I hope you didn't want a set of vehicles to choose from, because in Story Mode, you're stuck with one vehicle, known in the game as sleds. It makes sense in context, as the sleds are tied to the characters in the story, but still, a choice in sleds could have been nice, and given the game some much-needed replay value for those less willing to play it over and over in the same way I have. It's worth mentioning that although your sled selection is limited in Story Mode, all the other sleds are available in other modes of play.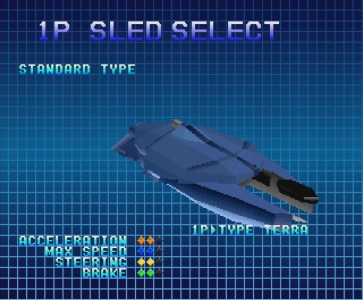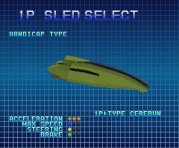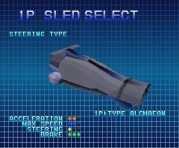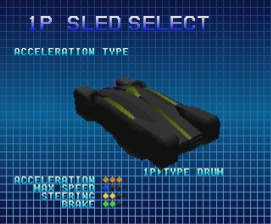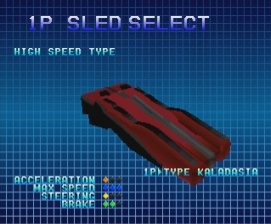 The story is neat, then, and the game-play is fine once you've acclimated to its quirks, but there isn't much depth to speak of – it's all fairly basic stuff. It suits me just fine, though. I'll offer a little advice to the new players – make sure to listen to your Mechanic's advice before each race. Different courses have different challenges, and you'll be able to set your power, steering and boost/shield affinities before each race. Listening to the mechanic is a sure-fire way of gaining first place. If the game is old-hat for you (or you're indeed playing Gran Chaser, in which all the dialogue is in Japanese), then you're likely to be doing what I do – set and forget your sled to favour the Power and Boost settings, and you'll be all good.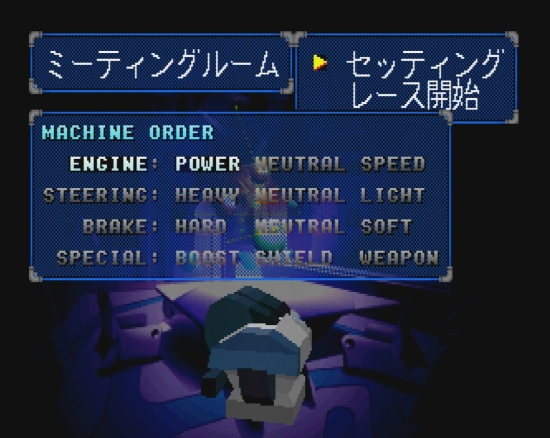 Other modes include Time Trials, Single Race and a split-screen two player mode. Yep, if you fancy a match against a buddy with similar gaming tastes as you, then the two player stuff is pretty fun!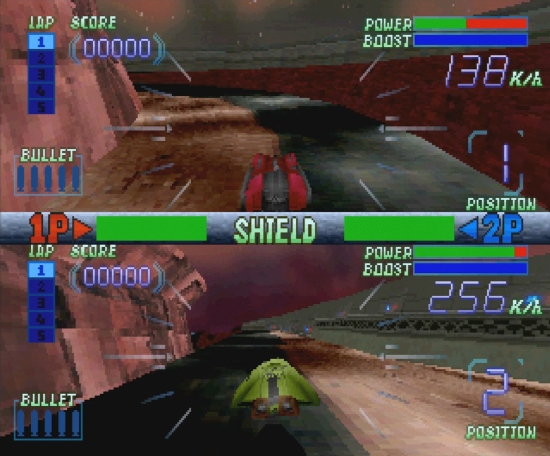 Speaking of the sleds, the handling won't be to everyone's taste. Sleds tend to wobble in and out of corners, and will likely take some getting used to. Here, I'd say persevere through the initial learning curve, as it does get easier, and even rather enjoyable. And while it won't be giving the WipEout's of the world a run for their money, the handling is pretty great. Cyber Speedway is not about finesse – that much will be abundantly clear when you start playing. Oh, and you'll be wanting a 3D Controller or Racing Wheel for this one, at the very least – the regular digital controls are a tad slow.
The game is also compatible with the Saturn Mission Stick, and from what I've read online, is the preferred way to play Gran Chaser. I've not tried it in the real world, since the Mission Stick costs a small fortune to nab locally here in Australia, but I used the SEGA Saturn emulator SSF to test its compatibility, and I have to say, setting up SSF to recognize my controller as a Mission Stick instead of the 3D controller was transformative. The regular 3D Controller sensitivity is very high on real hardware, and very much the same in SSF, since the game just thinks you're using the Racing Wheel, and as such, the sensitivity is tuned for a wheel rather than an analogue stick. Telling SSF that my controller was a Mission Stick resulted in a far more nuanced experience, with analogue stick sensitivity far superior to the alternative. So great, in fact, that I'm super-curious just how well it works on real hardware.
There is a fire in my belly now. I am now dead-set on buying a Mission Stick.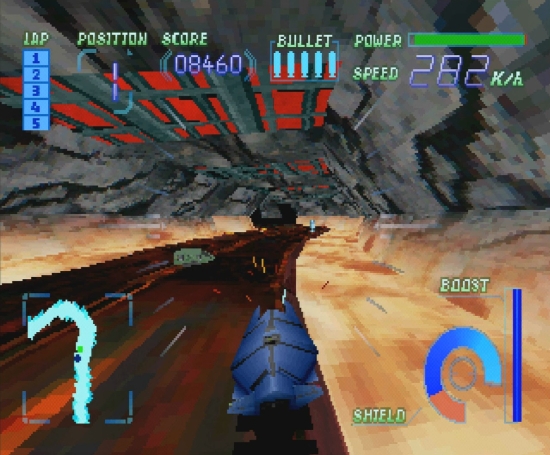 Course design is flat-out fantastic in Gran Chaser. Each track looks and feels unique, with memorable scenery and layouts that stick with you. The latter half of the courses also sport some pretty killer short-cuts that will win you the race, guaranteed. And though the control scheme is an acquired taste, the courses never ask more from the player than the mechanics can provide – that's some pretty ace design, right there.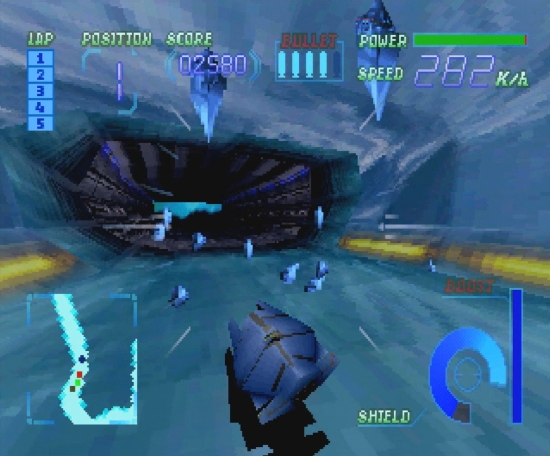 As for the controls in a race, you've got an accelerator, a brake, side-boosts on the L+R buttons/triggers (which work in a similar, but not identical fashion to the air-brakes in WipEout) that help you around the sharper corners in the game. You also have a separate speed boost when you double press the accelerator, though from my many, many hours of play by this point, I can safely say that this speed boost doesn't seem to do much at all. Other than that, there's a button for a missile shot, a couple of buttons to cycle through the viewpoints, and that's about your lot.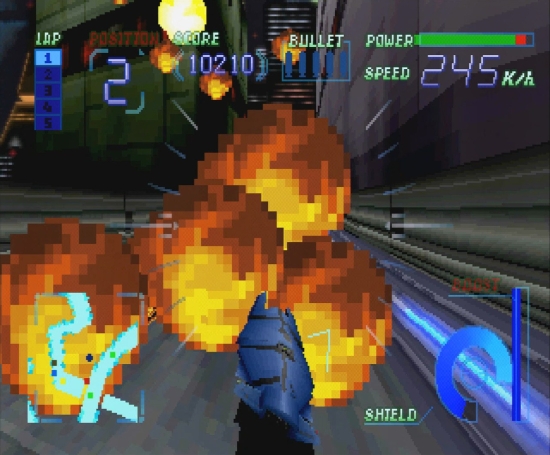 Graphics, whilst a bit of an early 3D hot mess, remain impressive when viewed in context. Each planet and its courses have a distinct vibe and colour palette. I'm quite partial to the greens and blues of the Terra course, and the raceway in the sky that is the Nubes course. There is a lot of slowdown here though. Sometimes you will get a full 30fps, but when it slows down, the game actually slows down. Rather than dropping frames, the Gran Chaser goes into slow-motion, though much like a SHMUP, this can have unexpectedly pleasant side-effects in-game, making some aspects a race easier due to the slow-down. Also, if you are racing with a friend, expect to see even more slowdown. Vehicle designs are nice, and futurist-designer extraordinaire Syd Mead was commissioned to shape the overall visual style of Cyber Speedway. Like almost every other aspect of this game, it's a little goofy, but overall really rather pleasant.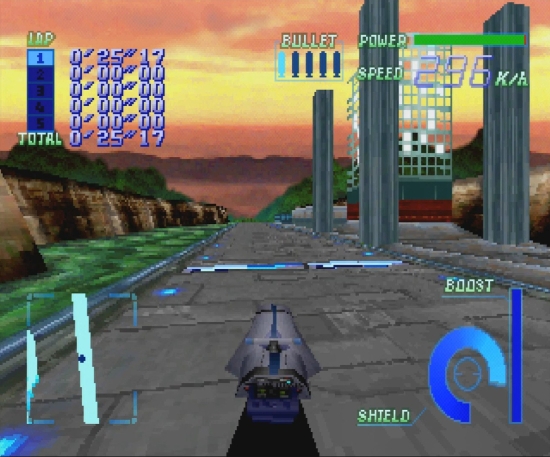 Music, on the other hand, can go one of two ways, depending on which version of the game you own. Gran Chaser, and the PAL version of Cyber Speedway feature an amazingly catchy, synth-splosion of a soundtrack by Koji Hayama. Distinctive and memorable, it is indeed one of the best things about Gran Chaser. If you were in the US however, you got a mismatched body of work from hill-billy rock outfit the Bygone Dogs. How this was supposed to fit, and sound like something we'd listen to in the future, I'll never know. I would say stick to the PAL/JP releases.
For a taste of the one-true soundtrack, check out this article I wrote about it.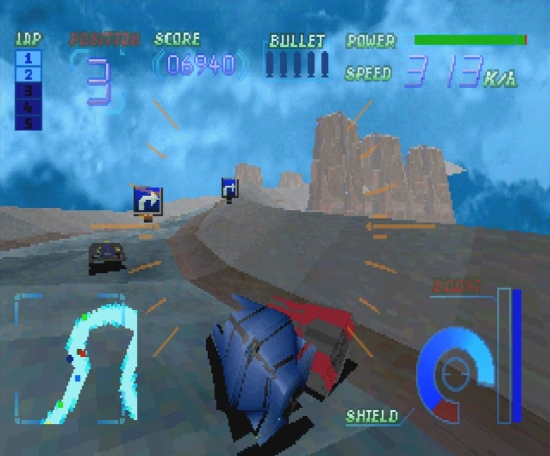 Each aspect of the game, from the controls to the story, the visuals and the music are so out-there, and shouldn't work together, but it does! It's goofy, and that is great! For me, at least – depending on your tastes, your mileage may vary.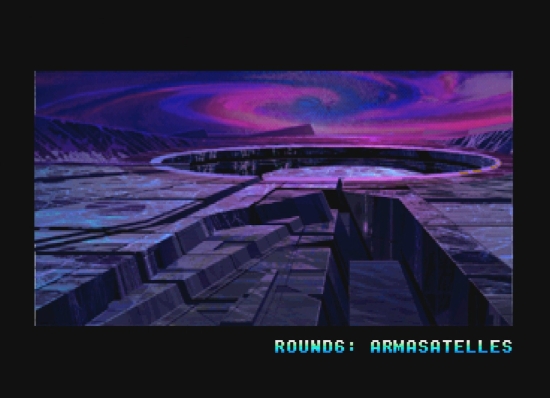 Gran Chaser, then, is definitely a product of its time. They just don't make games like this any more, for better or for worse, and yet that is precisely the reason you should give it a chance. It won't keep you occupied for a very long time, it's still just as fun today as it was back in the day, and I can't tell you how many times I've returned to it over the years. Well, I can – I delete my save file and begin again at least once every couple of months.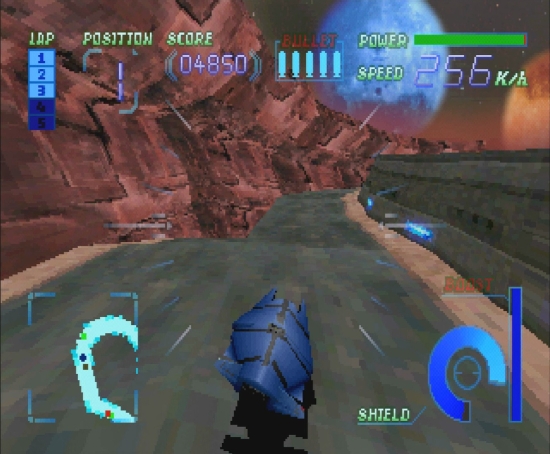 As much as I personally love Gran Chaser, I know full-well that no, it won't be for everybody, and for those it does appeal to it likely won't blow your socks off. So without the usual internet hyperbole, and the OMG I LOVE IT AND YOU SHOULD TO IF YOU DON'T I'LL SWAT YA, I honestly can't fully recommend it to all of you. But gamers who can appreciate the charms of a solid, b-grade arcade racer would do well in giving this forgotten title a go.
I'm not a score kind of guy, but if I had to rate Gran Chaser, in terms of a Saturn experience, it would look a little something like this…
THE NOT-SCORE
Graphics – 8/10
Sound – 10/10
Gameplay – 7/10
Presentation – 6/10
Lasting Appeal – 5/10
OVERALL: 7.5/10
(Knock it down to a 5/10 if you don't dig 32-bit arcade racers, or nostalgia holds no power over you – like it does me.)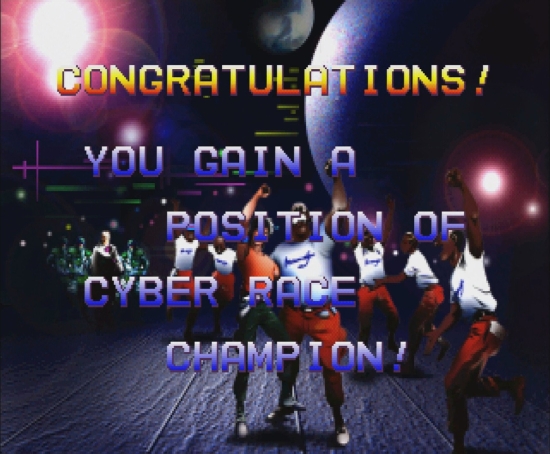 ---
Posted In:
Arcade Racing
,
Futuristic Racers
,
retro gaming
,
review
,
SEGA
,
SEGA Saturn
Tags:
32-bit
,
Bygone Dogs
,
Cyber Speedway
,
driving
,
Early 3D
,
Gran Chaser
,
Hidden Gems
,
koji hayama
,
nextech
,
racing
,
SEGA
,
SEGA Saturn