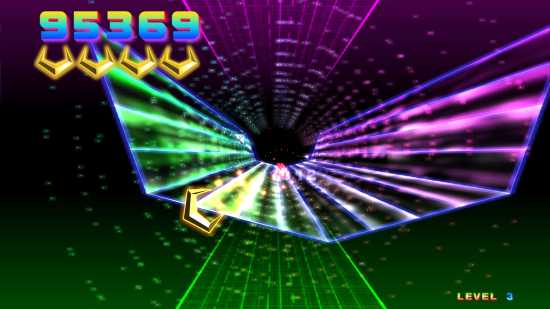 There are TONS of free games out there on the interwebs. And a lot of them are trash, it's true.
But not all of them – some are absolutely brilliant, and definitely worth your time. So here's a sweet curated list of games I've put together – just for you!
They will keep you busy over the weekend, for sure. And as always, all the LINKS you need are INCLUDED!
---
TYPHOON 2001: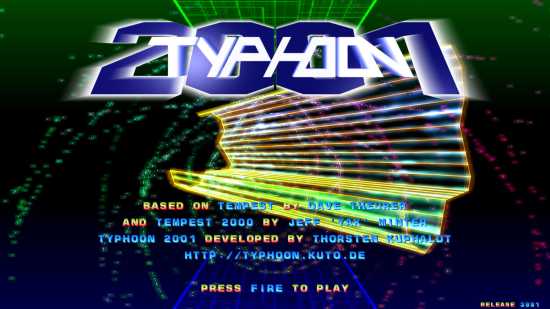 Look familiar?
Yep, this is a fan-port of Jeff Minter's Tempest 2000 that is just as great as the original. And I'll admit it, I've always been a bit shit at Tempest. And Space Giraffe. Or any Jeff Minter game, really. But I've got nothing but respect for the bloke, which isn't too strange, being a big proponent of these synaesthetic-style experiences and all. When gameplay, graphics and sound all marry in just the right way, magic happens.
No matter how hard my ass is being beat.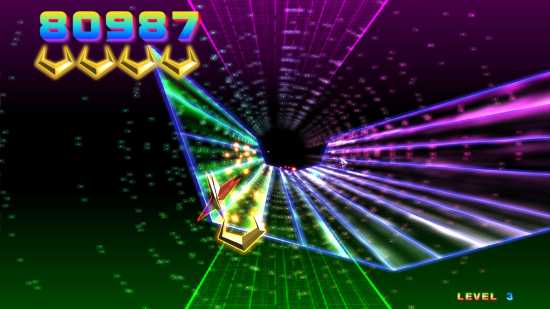 I lost about an hour to this today, and I only stopped because I grabbed enough screenshots and had to move onto the next game.
But, I made it up to the third stage!
You're right, I'm shit. Yep, it's Tempest alright!
All told, this is a fantastic port, and one that I didn't know existed until a few days ago. It plays exactly how you'd expect it to. The keyboard controls aren't customizable, so if you're wanting to play with a gamepad, then I'd suggest using your re-mapping program of choice. I use Joy2Key, but there are others out there you can try, like Xpadder.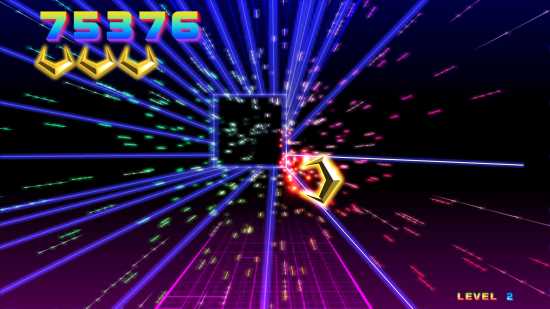 Typhoon 2001 has received quite the graphical upgrade. It can be as flashy as you like, but if you'd prefer to tone things down a bit, you can do that too. Pretty much every aspect of the visuals can be tweaked and customised – a really nice touch, I thought. Typhoon 2001 runs like a dream, and performs like a champ. The Jaguar game had a tendency to buckle under pressure, and whilst the Saturn and Playstation versions were much better in this regard, they were still susceptible to dips when things got too crazy. The completely locked 60 FPS here is most welcome. You'll have nothing to blame your poor performance on but yourself.
It wouldn't be Tempest 2000 without the music though, and all the original tracks from the Jaguar version are here in .mod form. Utterly brilliant.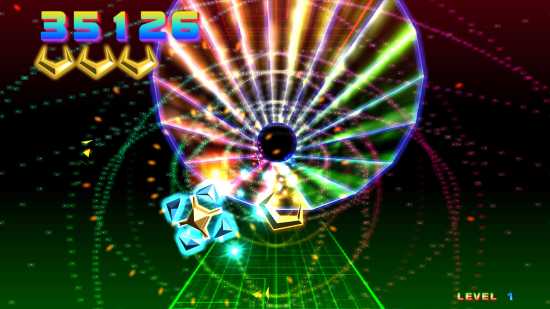 Developed in 2006/2007 by Eurofighter, Typhoon 2001 is an absolute must play. No matter your gaming background, genre preference or whatever, there's something for you here. It'll make you a better person – I promise.
CLICK ME – GET TEMPEST 2000 TYPHOON 2001 FOR WINDOWS HERE!
CLICK ME – GET TEMPEST 2000 TYPHOON 2001 FOR LINUX HERE!
---
16BIT RALLY: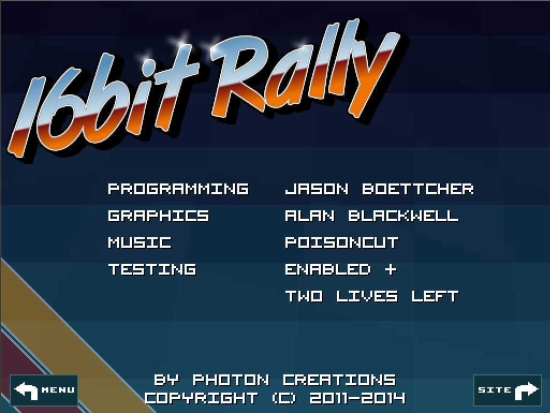 I found this little gem on itch.io a while back, but I've never seen anybody out there even mention it.
16bit Rally is a riff on the classic Top Gear/Lotus series of games. It nails most of what it sets out to do, too. There's plenty of tracks to race on – 40 in all – and there's a nice variety of in the colour palettes and scenery.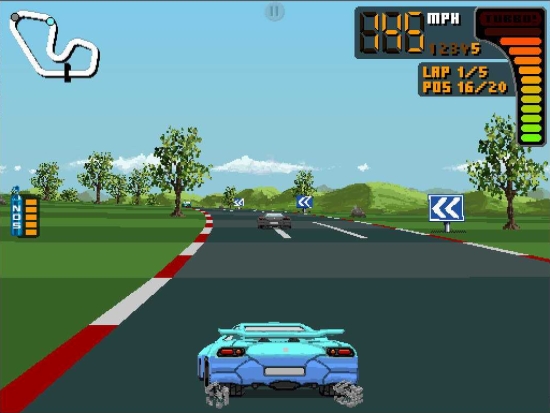 There's a meaty tournament mode to sink your teeth into, with plenty of cash to be won and upgrades to be bought. It's fairly basic, but I really appreciate the purity of the experience – this is one of those games you can just, you know, tune out with. It's uncomplicated, low-maintenance and great for either a quick session or an extended one. 16bit Rally has a killer save feature, meaning you can come back to it whenever you like. Very cool.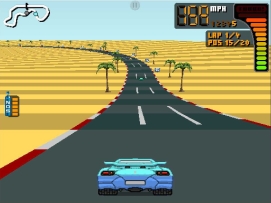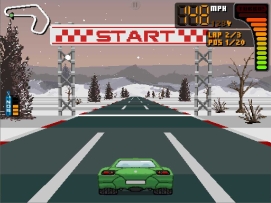 Controls are bang-on, too. There's perhaps not the depth of something like Lotus here, but it's roughly on par with the Top Gear games. It's quick, responsive and a pleasure to play. Again, there's only keyboard controls here, and again, I rely on Joy2Key for play with a gamepad.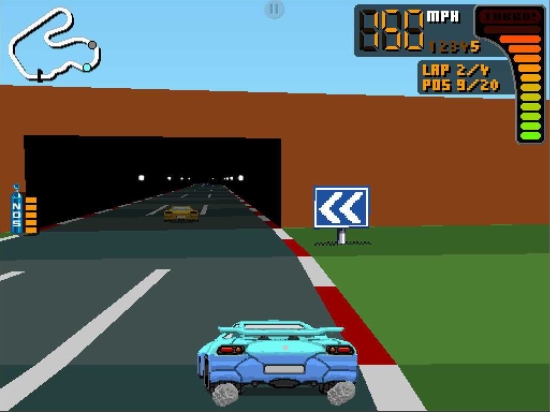 The raster scrolling and scaling sprite work is incredibly authentic and very smooth. If it wasn't, I'd probably have a hard time recommending it – there is nothing worse than a poor attempt at raster scrolling.
There totally is, but you get the point I'm trying to make.
There's only one thing I think 16Bit Rally really doesn't do very well and that's the AI cars. Or the lack of AI in the cars. They all follow the same routine, and zig-zag across all three lanes with perfect regularity. It's pretty lazy, and if the game wasn't so much fun, I'd knock it for it.
Still, even with that small niggle, 16bit Rally is an easy recommendation. There's a lot of content here for the type of game that it is. Even the ridiculously easy and predictable AI can't bring this one down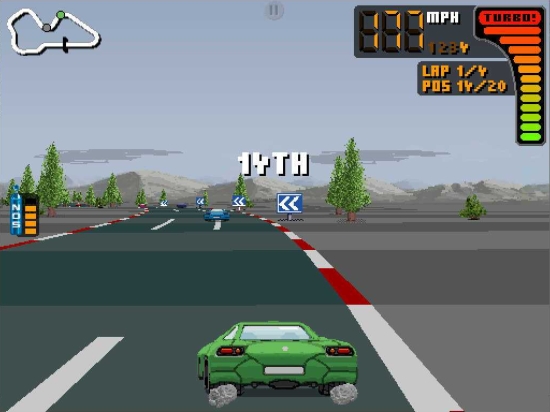 CLICK ME – GET 16BIT RALLY HERE!
---
THUNDERCATS – SUPER THE LOST EYE OF THUNDERA: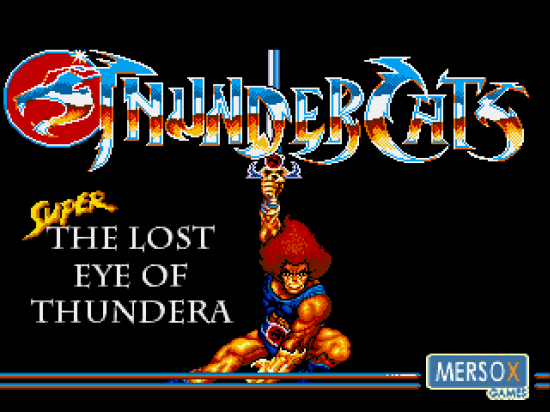 This one is a remake of an old Atari ST/Amiga/C64 game.
From what I remember, it wasn't very good.
Super The Lost Eye of Thundera, though? Brilliant.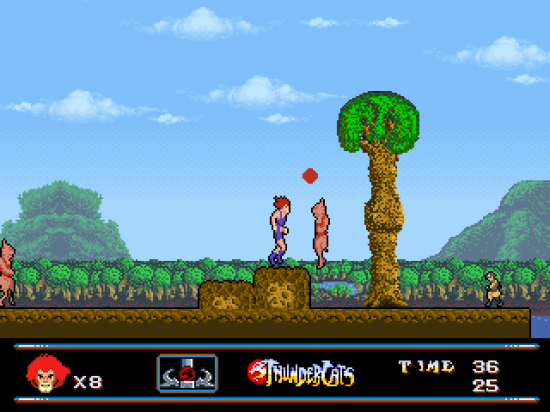 It came as a bit of a shock to me to find out that this remake was built in the Open Beats Of Rage engine – I had no idea that thing could do anything other than side-scrolling beat-em-ups!
It can, apparently!
Thundercats (because screw typing Super The Lost Eye of Thundera everytime) is a very basic action-platformer that gives off an almost Rygar kinda vibe. The difficulty is right up there, and you only get 9 lives from the off, so you'll be dying a bunch and starting over before you even get close to the end. The 2D shooter sections are a nice change of pace when they make an appearance, though the further you get into the game, the harder they get. Many more lives will be lost.
I mean, if you're bad at games. Like me.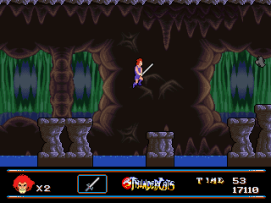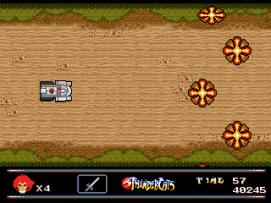 Now there is a slight bit of jank here. It's not the tightest platformer I've played, but I'm a fairly forgiving guy when it comes to small quirks. I can look past the (few) small flaws, the controls are reliable and satisfying. In that way, Thundercats absolutely feels like a long-lost arcade game. It's this particular kind of jank that I had in mind whilst playing the game.
It extends to the visual style too. Just check out the screenshots – tell me that the rough-hewn sprite work and amazing colour palette don't take you back to your childhood??? It's almost got a Shareware PC thing going on too – overall, I'm a total sucker for the aesthetic here.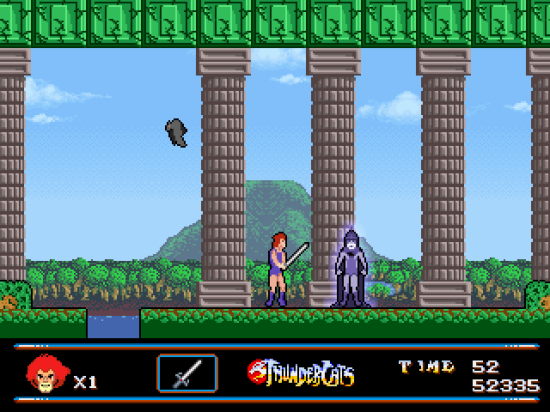 The music seems to be taken directly from the TV show or soundtracks. It has been a very long time since I've seen any of the show, so I can't say definitively where each bit of music has been plucked from, but it's all brilliant. Catchy melodies abound, and the cheesy 80s cartoon-vibe fits the action like a glove.
Thundercats is definitely worth a play. There's a lot of work that has gone into the game, and though the game is not as polished as the games it's clearly rings inspiration from, it is infinitely better than the original versions of this game. The expanded field of view lets you see the enemies much sooner than you did in the original, which is brilliant, because they can be fast.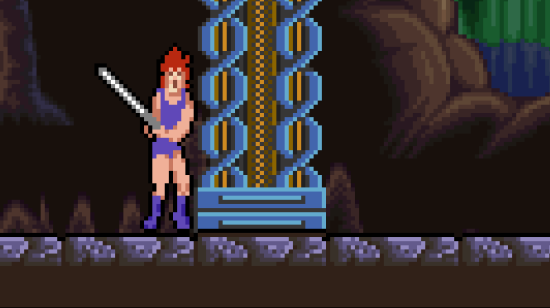 "Hooooooooooooooooooooo oooooooooooooooooooooooo!"
CLICK ME – GET THUNDERCATS – SUPER THE LOST EYE OF THUNDERA HERE!
---
LOCOMALITO – ALL THE GAMES:
If there's one indie developer that leaves me hanging on every proverbial word, it's LocOmalito. The vast majority of his games are the kind of pure throw-back stuff that I live for. He gets what made the classics work, and the games he builds aren't just knock-off's – they're just as good as what's gone before.
Make sure to check out his whole page, which I've conveniently linked at the bottom of this post, but here's a handful of my favourites.
8-BIT KILLER: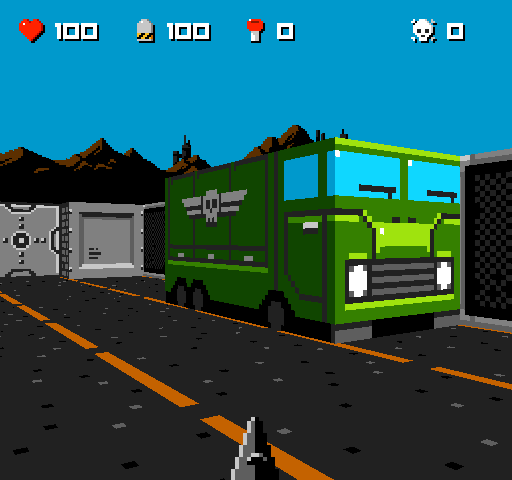 This is a really awesome FPS game. Small, almost micro-levels and bang on controls. Killer music too. Play it.
L'ABBAYE DES MORTS: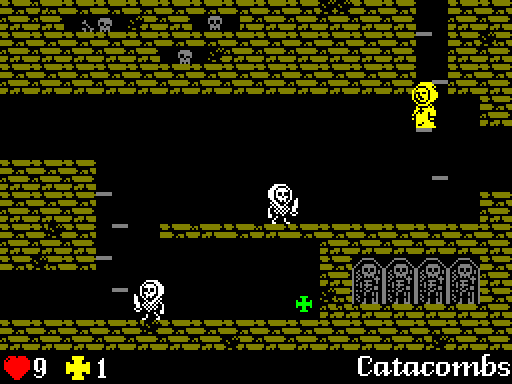 This game casts a wistful eye at the Spectrum era, and plays very similarly to stuff like Manic Miner. L'abbaye des Morts is excellent – rock hard, with atmosphere so dense you could cut it with a knife.
THE CURSE OF ISSYOS: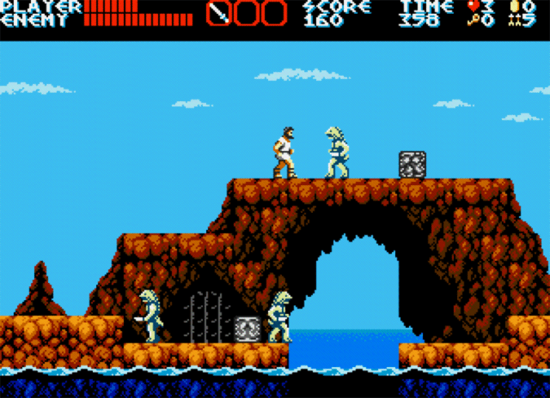 This is a phenomenal take on the classic CastleVania is total quality. The Greek Mythology thing lends the game a unique flavour. And as with all other Locamalito games, it's tough as shit.
MALDITA CASTILLA: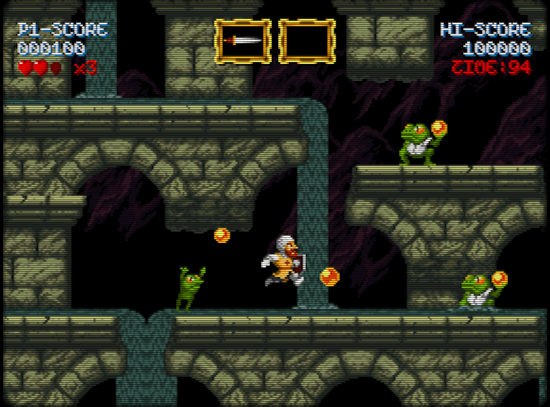 I've written about this one before, but I'll say it again. I didn't think I'd have the patience for Maldita Castilla. It seemed a step too far for me, but I'm actually enjoying the challenge. Killer soundtrack too. Highly recommended.
CLICK ME – Find all these games – and more – HERE!
---
I'm thinking this will be a semi-regular column. There's just way too much good stuff out there that goes unnoticed, so I think that, yeah, I'll be doing more of these.
Catch you in the next post!
…
…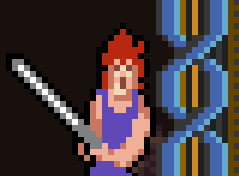 "Hooooooooooo!"
Posted In:
Arcade Racing
,
Arcade Shooters
,
Free Games
,
Indie
,
Locomalito
,
New Retro
,
PC Gaming
,
Retro
,
retro gaming
Tags:
16-Bit
,
16bit
,
16bit rally
,
8-bit Killer
,
arcade
,
Blogging
,
cars
,
Curse of Issyos
,
driving
,
Free
,
Games
,
gaming
,
Indie
,
L'ABBAYE DES MORTS
,
lists
,
Locomalito
,
Maldita Castilla
,
PC
,
racer
,
racing
,
Retro
,
retro gaming
,
shooter
,
Super Lost Eye of Thundera
,
Tempest 2000
,
Thundercats
,
Typhoon 2001
,
Video Games