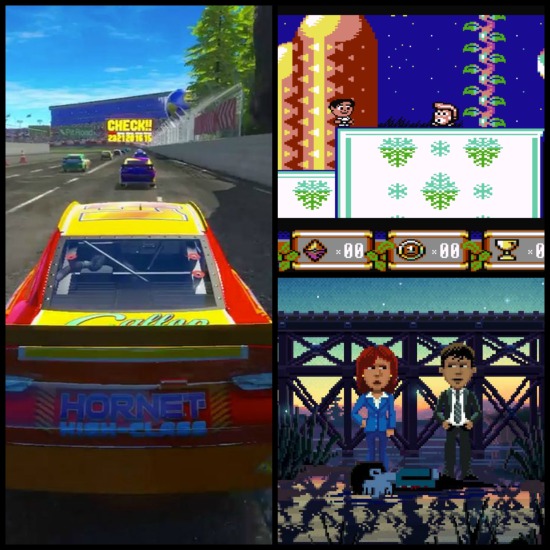 So I've been pretty busy bringing you lot all the content I can, yet I've still managed to make some time for actual gaming.
How awesome is that???
Here's some cool stuff I've been messing around with in the last couple of weeks!
---
DAYTONA CHAMPIONSHIP USA ON PC!!!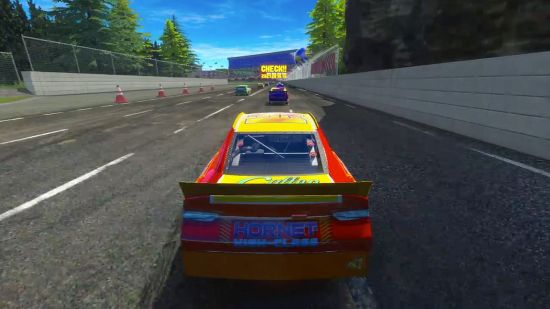 A couple of weeks ago, the internet cottoned on to the fact that SEGA had inadvertently released a complete version of Daytona Championship USA on their own website. The full game was contained within an update for arcade owners, who were able to download it directly from SEGA themselves to apply to their machines.
So too, could we.
MrThunderwing is a YouTuber I follow closely and watch like a hawk. Most of his videos are captures of various SEGA/Misc arcade racing games.
Always completely relevant to my interests.
I watch his channel closely, because he tends to get straight on to new developments within the community.
So I COMPLETELY FLIPPED OUT when he released this video:
Daytona Championship USA was a game that I'd never be able to play. I'd made my peace with the fact. Kinda. It would be left in the arcades forever, at least until emulation caught up with it. By then I'd be pushing 50, and my reflexes would be gone.
NO LONGER!
While it wasn't playable yet, it was now running on PC, and some of the controls did work in the menu.
There was now hope!
So I managed to get my hands on this Daytona update, and followed these instructions to get it running.
And run it did. Glitch-free and all! That was two weeks ago. Since then, the community around the game has stepped it up, and there are now fixes for the controls and various other things.
The game is now fully playable.
Awesome stuff, but for me at least, it's not without issues right at the minute. I'm playing with a gamepad, and the controls are still too sensitive for me to be completely comfortable with. But even with the imperfect mapping, I can feel that this is the Daytona USA I know and love. It's bright, colourful and the physics are spot-on.
If you've got a racing wheel, things are even better. There seems to have been more work put in so far by the community into getting things working with wheels – I don't have one, so I can't comment on just how good the implementation actually is. But I'm relatively confident it won't be long before it's playing flawlessly with a gamepad too – I just want to be able to fang around the courses like this:
If you're keen to try it out for yourself, then I suggest heading here and reading through this entire thread, from the post it directs you to, and onwards.
It's a bit of a slog to read through, but I assure you, good things await you at the finish line. You'll will need to find the Daytona Championship USA file yourself though, since it's no longer available on SEGA's website.
Google is your friend.
Once the entire process has been stream-lined a little more, I'll definitely be doing a tutorial for it.
---
NEW COMMODORE 64 GAME – SAM'S JOURNEY: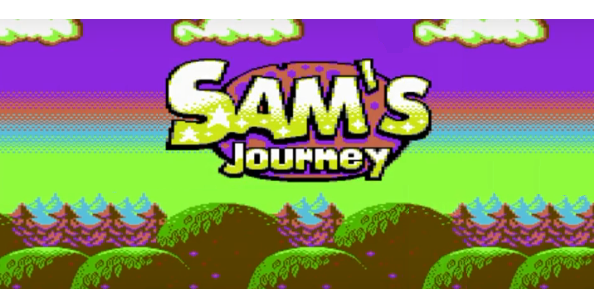 I'd been keeping an eye on this one for a while now. Sam's Journey is a wonderful little 2D platformer that has been in development for about 3 years, and it was finally released a couple of weeks ago. Now, it's fully playable on the Commodore 64 – you can buy the game in both tape and cartridge forms.
Lacking a C64, however, I bought digital.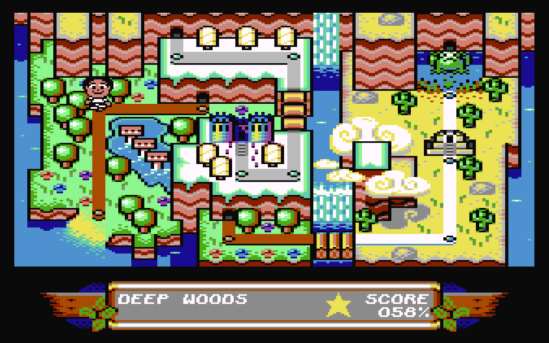 I ended up purchasing the game on itch.io, and was happy to find that it comes pre-configured to work with the included emulator VICE 64. It was a bit fiddly to get the controls set up to my liking, and in the end I had to resort to using Joy2Key for input mappings I was comfortable with.
But it was so worth it.
The game plays like a typical 2D platform game should. Start a level, kill some enemies, collect some stuff and get to the end of the stage intact. It seems to be inspired by the SNES Super Mario World games, and whilst I only like one of those (Yoshi's Island), Sam's Journey is right up my alley. It's got that cool Euro-vibe I really dig.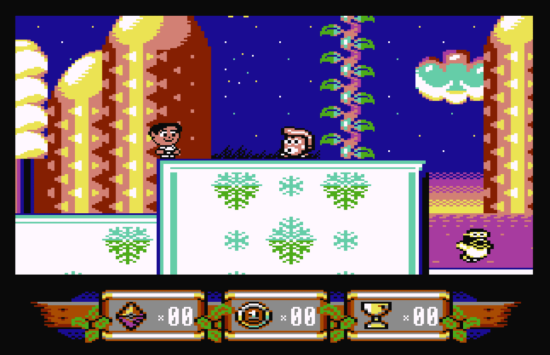 I'm not too far into the game yet, but I'm loving every second of it. All the cool power ups you can find are excellent and they come in the form of, it has to be said, adorable outfits. The Ninja outfit, for example, lets Sam climb up walls, and the Pirate outfit gives you a sword so you can slash through all those enemies with ease. The main controls are tight and responsive, and each of the outfits follow suit.
Ha.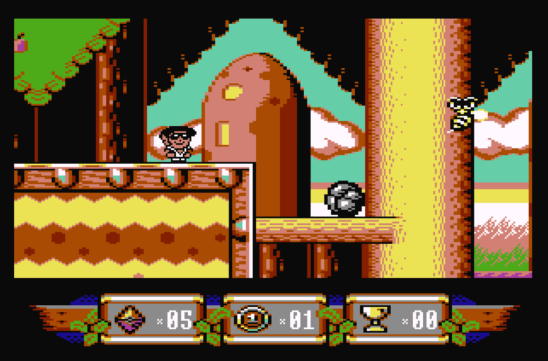 A platform game is only as good as the level design in it, and Sam's Journey is bang-on. These are stages with purpose. Nothing feels random or out of place, and everything just flows. It's not stuff that hasn't been done a million times before, but the execution here is almost flawless. It feels like a long lost classic.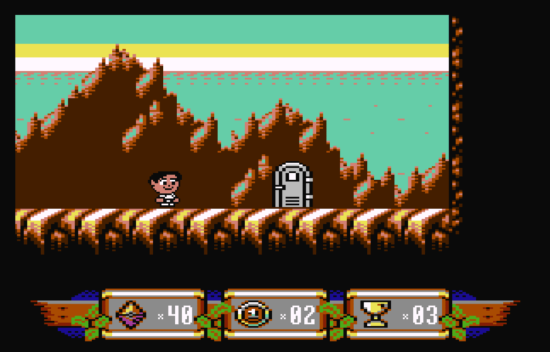 It also helps if the music is good. There's nothing worse than a platformer with really shitty music. It really puts the brakes on things for me – I've gotta be able to do my thing and hum along at the same time. I'm happy to report that the music here is brilliant. Every single tune is catchy AF. Check out these samples:
Forest Theme:
Ice Theme:
Castle Theme:
There's also some fantastic features that make the game a whole lot more palatable to play as a modern gamer. Among the many levels are a bunch of checkpoints – if you die, it's back to the last one that you activated. In addition to that, each time you clear a stage, you're given the option to save your game. Marvellous!
All in all, Sam's Journey is amazing. It's an instant classic. I plan on playing this through to completion, so I'll report back once I'm done with it, but if it looks interesting to you, give it a crack.
You absolutely can't go wrong with it, and it will be the best new platformer you'll play all year, guaranteed.
And 2018 has only just started.
You can purchase the game over at itch.io HERE.
Or if you've got a Commodore 64, and you'd prefer physical, get it HERE.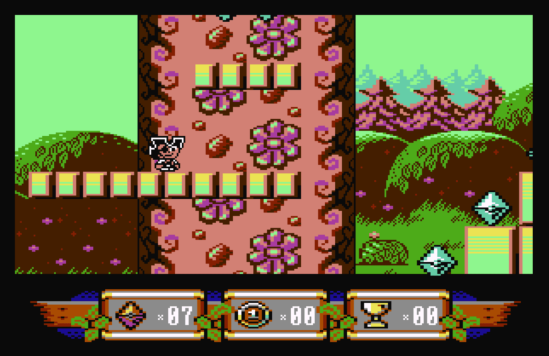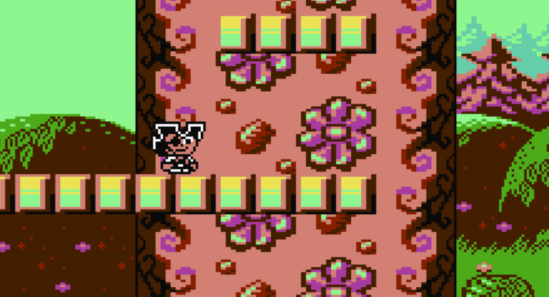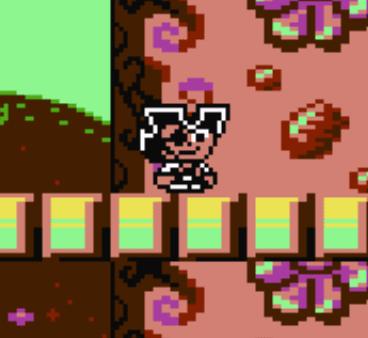 ---
GAMING GAMBLE OF THE WEEK – THIMBLEWEED PARK: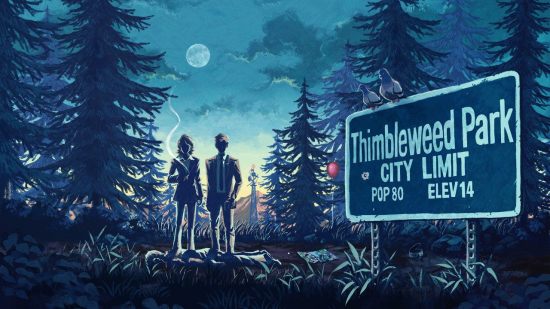 I may have grown up with classic PC games, but I was never too much into classic adventure games. Sure, I'd play them for a while, and marvel at the animations and voice acting, but once the novelty wore off, I'd never have the patience to actually finish one.
That changed a few years ago, when I re-discovered Beneath A Steel Sky. I enjoyed my time with that one, and wanted something in a similar vein. I then found Wadget Eye Games, and fell head over heels for Gemini Rue.
Thimbleweed Park is currently on Sale on the Nintendo Switch, so I thought I'd jump on it and give it a whirl. I'm no fan of Double Fine Productions, mind. I generally don't find their humour that funny, I generally find their character designs off-putting (Psychonauts is particularly gross to look at) and yeah – it's usually just a straight pass.
So this one was a bit of a gamble for me. I knew there was every chance that I'd hate it as there was that I'd find it to my liking. Double Fine games are like that for me. So I checked out the trailer for the millionth time:
A lot of people have had a lot of good things to say about Thimbleweed Park. The thing that sold me was the voice acting in the trailer, and the setting. I love the X Files and Twin Peaks, and Thimbleweed Park looked like a nice blend of the two.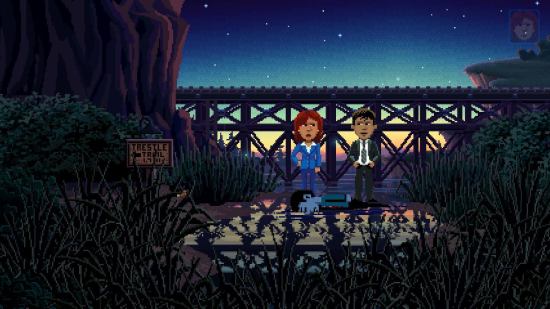 I took the plunge. And I have to say, I'm really enjoying it so far. The sense of humour is hit and miss – I've laughed out loud a few times, but there have been just as many jokes that are a little too on-the-nose. The fully voiced dialogue is awesome, though.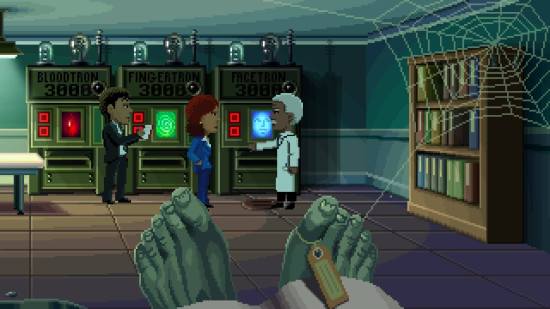 I do think that the controls on the Nintendo Switch version aren't as nice as they could be. It's not too bad, but moving your character around using the touch screen is unnecessarily fiddly. I played through Gemini Rue on a tablet, so I know that it can work well. I'm hoping Double Fine address this at some point in the future.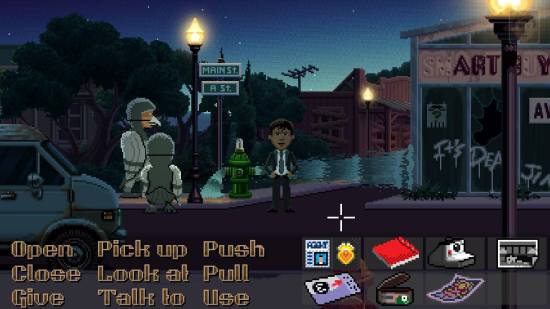 So far, the gamble paid has paid off. If the setting in an Adventure game doesn't appeal to me, I won't stick with it. Thimbleweed Park is A-OK in this regard – it's got my attention.
---
Is there anything that you guys have been playing that you feel I should check out?
I think you've got a pretty good idea of the kind of games I like by now, and I'd love to hear some suggestions. Not only to play them, but if it's neat enough, I might blog about them!
See you in the next post!
Posted In:
Commodore 64
,
SEGA
Tags:
2D
,
8-bit
,
adventure games
,
arcade
,
Australia
,
Blog
,
Blogging
,
Commodore 64
,
Daytona Championship USA
,
Daytona USA
,
driving
,
gamer
,
Games
,
gaming
,
Indie
,
Nintendo
,
PC
,
Platformers
,
Protovision
,
racing
,
Retro
,
Sam's Journey
,
SEGA
,
Switch
,
tech
,
Thimbleweed Park
,
Video Games