I'm doing a bit of a smaller post today – I'll be away for the weekend and I'd like to have a couple of posts ready to upload before I go!
First up, I want to say a big thank you to those over at Feedspot for placing A Certain Kind of Gamer at 61st Place in the Top 75 Retro Game Blogs!
I've only been doing this for about a month now, so it's surprising that I've received recognition for my stuff so early in the piece. Pretty damned killer, I've gotta say!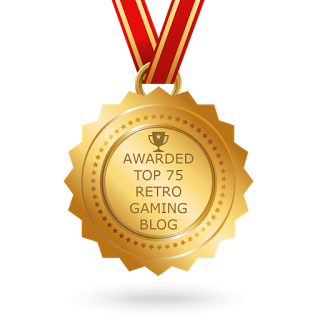 I've placed this badge that they gave me in the sidebar, because why not? It looks cool on display – almost like a Nintendo Gold Seal of Quality, eh? ?
In other news, I have managed to get into some games this week, though I haven't exactly played too much that wasn't outside the scope of my posts. But the PICO-8 article whet my appetite for a couple of related games, so I ended up taking a punt on Celeste for the Nintendo Switch and the VEKTOR2089 Alpha over at itch.io!
Here's a bit of a peek at those two games, and as a bit of a bonus, something random I found on the internet that you might get a kick out of… because I sure as hell do!
---
CELESTE – Nintendo Switch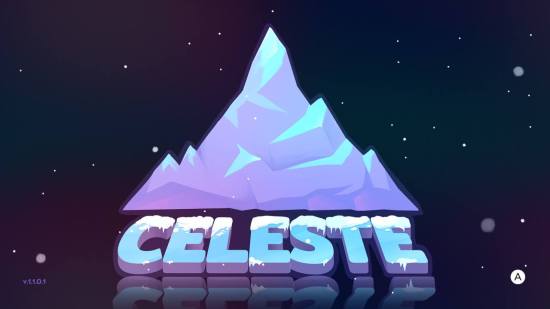 Celeste, I wasn't sure I was going to like. As much as I respect the PICO-8 original, it didn't get its hooks into me the way I was hoping it would. As I've mentioned before, the punishing platformer genre isn't one I'm fully into, but I have enjoyed some of them in recent times, like 88 Heroes on the Switch+PC and MetroCUBEVania on the PICO-8.
The reviews started filtering in, and the universal praise for the game piqued my interest somewhat. But really, it was seeing the opening scene of the game in this YouTube video that got me giddy…
That run across the bridge, with that music playing – ahh. So gorgeous. I wanted in.
And so I dropped the AU$30 on it, fired her up, and instantly my worries of the game being too much for me melted away – I haven't felt even the smallest pangs of buyer's remorse… quite the opposite in fact!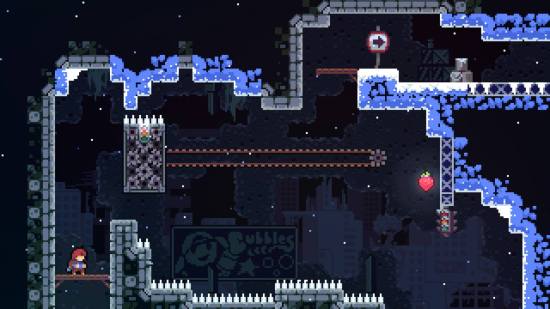 Celeste is much like Super Meat Boy in that it's tough-as-nails, single-screen platforming all the way – it goes without saying that you will die. A lot.
But here's the kicker – it's not frustrating. At all.
You learn from your mistakes, and the overall tone of the game works to calm your senses and allows you to keep a level head. This is key. Every time I die, it's no big thing to just try again. You're not punished for failing, and when you do clear a screen, it feels like you've truly achieved something.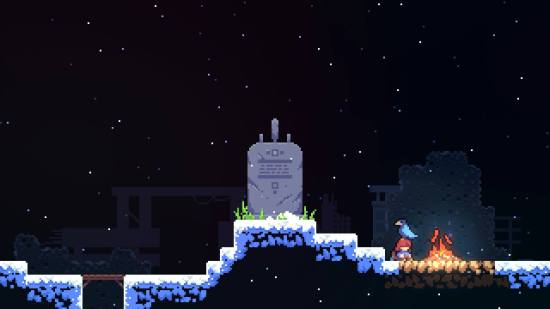 I've been a bit short on time lately, so picking Celeste up for the Switch was the right move. The game runs flawlessly on Nintendo's hybrid system. I've also found that the d-pad buttons on the joy-cons are perfectly suited to Celeste. Each movement you make has to be precise, and the buttons allow for a degree of control that I find the analogue sticks can't provide. I'm playing this one exclusively in hand-held mode, and I've a sneaking suspicion most people out there will be doing the same.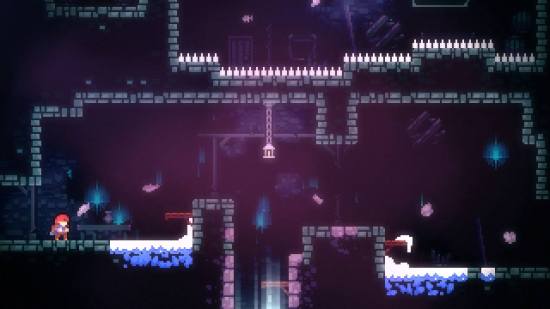 I'm not too far into the game yet. I've beat the first world, and I'm a bit into the second one – so still in the early stages. I can't speak for how difficult the game gets later on, or how tough the harder B-Side version of each stage is, but I'm looking forward to playing more, that's for sure. The chill music, the gorgeous visuals, the pitch-perfect controls – everything just gels and coalesces into something that already feels timeless. People will be looking back fondly on Celeste as the years drag on, mark my words.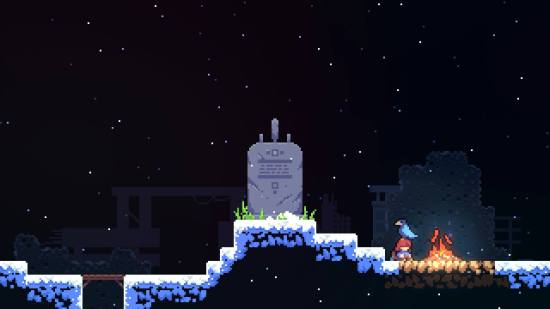 Check out my PICO-8 post if you want a taste of Celeste before you take the plunge. But I'm telling you, if you're at all worried about the whole difficulty thing, don't be. That was me, and I'm having a grand old-time.
And whoops! Just purchased the Celeste and the Celeste B-Sides Original Soundtracks!
It's free to stream, but do as I do and support the music you love.
VEKTOR 2089 – PC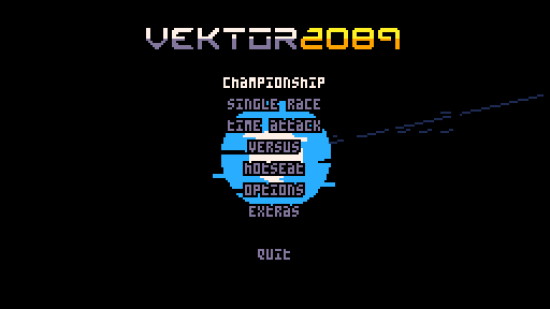 Again, I found myself curious about the full-fat re-work of the phenomenal PICO-8 racer, PicoRacer-2048 after doing the article a few days ago, so I followed the links over to the Alpha which is being hosted over on itch.io, and I hit that buy button as fast as I could.
The thing I really loved about PicoRacer-2048 is the simplicity of the whole thing. The controls are about as basic as you can get, but beyond the simplicity lies a depth that shows itself over time. Yeah, you can take on any track and win the race, but just like its inspiration WipEout, the true meat of the game is in the mastery of its control scheme.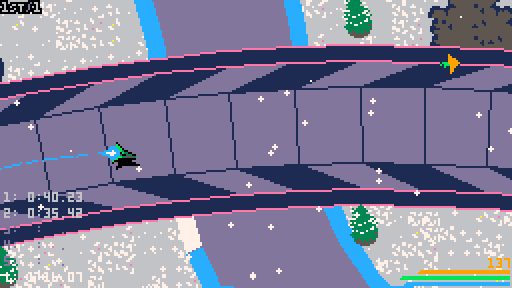 VEKTOR2089 is even better. Impbox Games builds nicely onto the framework established in the PICO-8 game. For one, the steering is now fully analogue – I couldn't be happier! You rotate the stick in whichever direction you want to drive, so you don't have to worry about acceleration – it's taken care of as soon as you're facing where you want to go. This frees up most of the buttons too, so you've only got a brake and a boost to worry about. Again, it sounds simple, but there's real depth in the mechanics here, and it's this kind of depth that I find separates truly great games from merely good ones.
And it's all about those racing lines! VEKTOR2089 is built for time-trialing. At least, that's where I've been spending most of my time in-game. I'm not too good of a pilot yet, but I'm having a blast learning the courses and becoming steadier with my ship control. There's still a way to go for me then, but VEKTOR2089 has that 'it' thing that makes we want to keep playing and git gud.
I really hate that term. I should totally stop using it.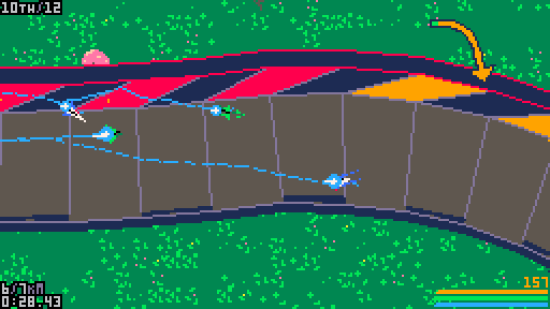 The course design is phenomenal, with easy to memorize tracks and a really neat course guide to help you through the initial learning phase. Turns will display in the top right hand corner, and change along with your route. This is exceedingly clever, and I personally find it an invaluable addition to the game.
As much as I like the course map, I there are a couple of improvements I'd like to see. Some landmarks or unique track-side objects that signpost certain turns a bit better would be much appreciated, and I do think that the course guide could do with a little work – maybe a unique colour to help it stand out from the rest of the stuff on-screen? Either way, these are very minor issues, and if the game didn't change a thing, it would still be fantastic.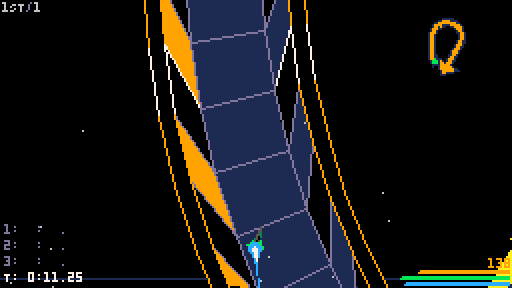 Visually, the game takes the unique styling of PicoRacer-2048 and gives it a nice upgrade. The low-res, lo-fi look is entirely intact, but the introduction of solid blocks of colour is a nice addition, and it really helps differentiate the tracks from one another. The music is pretty great too, although there is only a couple of tracks to listen to at the minute. Still, they're of a high standard, and I'm very eager to hear the rest of the soundtrack once it's done.
I can't seem to put this one down. VEKTOR2089 has everything that makes a great game, and it's only in Alpha! The full release of this one is going to be something special indeed!
You can find VEKTOR2089 HERE!
AND FINALLY, A RANDOM CHIPTUNE COVER…
This is a thing.
I love Eurovision. It's not an ironic love, either. Help?
I also love chiptunes.
And since it's that time of year, here's Loreen's Euphoria, in chiptune format! I've always loved the melodies in this one, and it sounds brilliant all chipped-up! Give it a chance, it's pretty sick – MashedByMachines did a bang-up job on this one!
---
As I said in the opening blurb, I hope to be working on another couple of posts to keep you all entertained while I'm away this weekend. But until then, do check out these games – both Celeste and VEKTOR-2089 are well worth getting in on.
Catch you in the next post!
Posted In:
arcade
,
Arcade Racing
,
chiptunes
,
Futuristic Racers
,
Nintendo Switch
,
PC Gaming
,
PICO-8
,
Platform Games
,
Portable Gaming
,
retro gaming
,
Uncategorized
Tags:
arcade games
,
bandcamp
,
Celeste
,
chiptunes
,
driving
,
Feedspot Top 75 Retro Game Blog
,
Futuristic Racers
,
game soundtracks
,
Impbox Games
,
Lena Raine
,
Matt Makes Games
,
New Retro
,
Nintendo
,
PICO-8
,
racing
,
racing games
,
random
,
Switch
,
tech
,
VEKTOR2089
,
Video Game Music