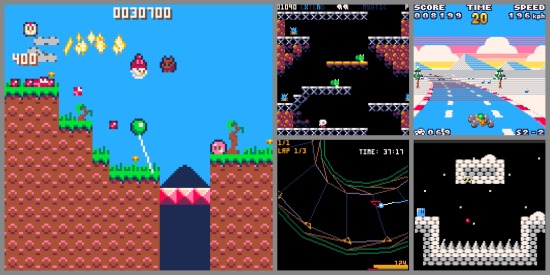 See what I did there? Of course you did.
Do you like 8-bit games? How about 8-bit computing? What if I threw 'indie games' in there as well? Did I mention that the PICO-8 library is FREE?
No?
I have now.
The PICO-8 by Lexaloffle is a Fantasy Console that, as the name suggests, doesn't physically exist. At least, not in the sense of a console under your television. It exists almost as a format, and brings back the whole bedroom coder mentality that was prevalent throughout most of Europe in the 1980's. Using the Lua programming language, players can code their own games, or download games others have made. Think that effect you just saw was rather nifty? Peek inside the code to see just how it was done. If you think you can do it better, then go for it! And if you can't code, then you're still covered, because there is an absolute treasure trove of games, chip-tunes and demoscene stuff to discover.
I won't even pretend I have the faintest clue when it comes to the coding side of things, but I liked the PICO-8 concept from the moment I found it.
Even a fantasy console has its limits, though. In order to keep things simple and fun, Lexaloffle's self-imposed limitations of 16 colours max at any time (give or take a few coding tricks) and a 128 x 128 Pixel resolution not only foster creativity, it's also in keeping with the micro-computing influences the PICO-8 undoubtedly wears on its sleeve.
In my humble opinion, these limitations do exactly what any console with tighter limitations did – it provides the platform with an identity. The colour palette is distinctive, and the super low-resolution forces developers to pack as much personality into as little pixels as possible.
It's an attractive proposition, and since it's introduction just a couple of years ago, many have jumped aboard to create a thriving hub of constant activity around the quirky PICO-8.
It's worth noting that if simple arcade-style games don't appeal to you, then I'm not sure that the PICO-8 will hold all that much appeal for you. Also, most of the PICO-8 library tends to be shorter games, but given that they're stored in a custom .png file, and measure only in kilobytes, it's extremely impressive.
And here's the cool bit:
All of these games can be played within your browser!
Simply click on the animated GIF or image for each game in this post right here, and you'll have a new tab open up with the game ready to go!
You can also purchase a desktop version of PICO-8. It gives you the full console experience, and it's how I play these games myself. The PICO-8 purchase includes an in-console game browser and the ability for you to create a favourites list. It also features out-of-the-box controller support, a feature lacking in the browser versions. You can easily use Joy2Key to get around this, but apart from this one feature, your gaming experience will be nigh-on identical.
Here's 8 PICO-8 games I'd recommend to anyone.
And remember – CLICK THE GIF/IMAGE TO PLAY ?
---
Celeste
Yep, the current critical indie-darling Celeste began life as a PICO-8 launch title. And just like the newer title, you'd slot Celeste straight into the punishing-platformer category.
The single screen action is gorgeous, and the controls are bang-on. I'm not the biggest fan of the game, but that come purely down to my tastes in games. Just because I wasn't too keen on it doesn't mean that you won't be. If you absolutely adore stuff like Super Meat Boy, then get on to Celeste as soon as you can.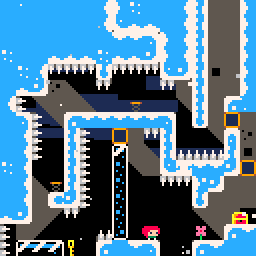 PICORACER-2048
Now this. This is much more my style. Pico Racer 2048 is a top-down, 2D WipEout inspired racer, and it's an absolute must play.
The controls are dead simple all you have to do is accelerate, brake, steer and boost. The course design is fantastic, and the simple vector-style graphics are a real treat. What really makes this one stand out is the gameplay. It's smooth, the controls are perfect (and rather moreish) and the different speed classes – called difficulties here – offer a lot of depth and replay value.
There's more content here than in your average PICO-8 game, but if by chance you just need to have more, then know that the developer has an early-access style expanded release in the form of VEKTOR 2089 – CLICK HERE TO CHECK IT OUT!
Otherwise, you've got nothing to lose by giving PICORACER-2048 a go. It's brilliant.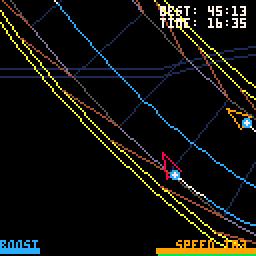 MetroCUBEvania
The brilliant thing about a lot of these PICO-8 games is that they take what's been done before, but in-order to fit within the limitations of the format, they have to essentially boil down whatever it is that they are doing into its purest form.
And so it goes for MetroCUBEvania.
This is a short Metroidvania-style experience with shades of Celeste and Super Meat Boy. And whilst those don't grab me too much, this one does. The level design is excellent, and it's not long before you've found all the additional powers that allow you to access bits of the stage that you couldn't before.
The controls are tight as hell, which is a good thing, since the game gets rather demanding in the later stages! Coupled with the charming visuals, MetroCUBEvania is one to savour.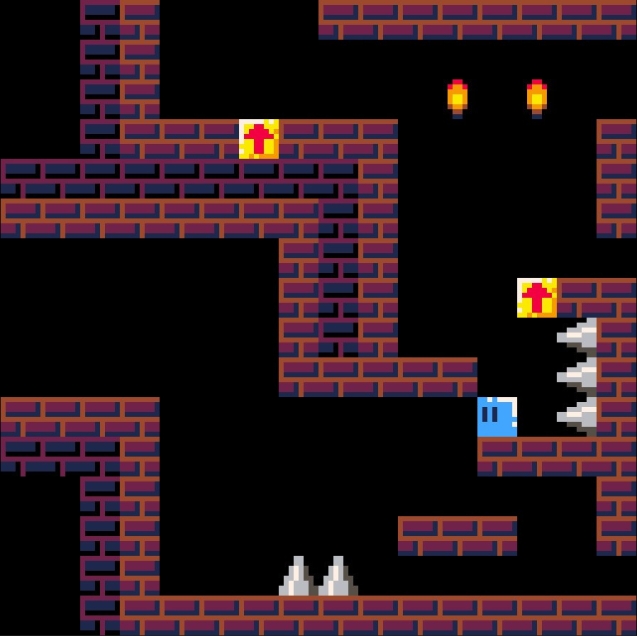 PicoBreed
PicoBreed is the bomb. Obviously an homage to the popular Amiga Alien Breed games, PicoBreed manages to bring formula.
The controls work really well. There's the Shock Troopers thing going on here – you can shoot in any direction you like, but hold the second button, and your direction of fire will lock which ever way you're facing.
Along for the ride are some really nice visuals. I adore the use of bright-green for the slime here. This shade of green is muy bueno.
Have you noticed I talk about colours a lot? No? Moving on.
The audio in the game is some of the best sound work I've heard in a PICO-8 title – it's mostly ambient chip-based stuff that really helps sell the atmosphere.
PicoBreed is yet another must play.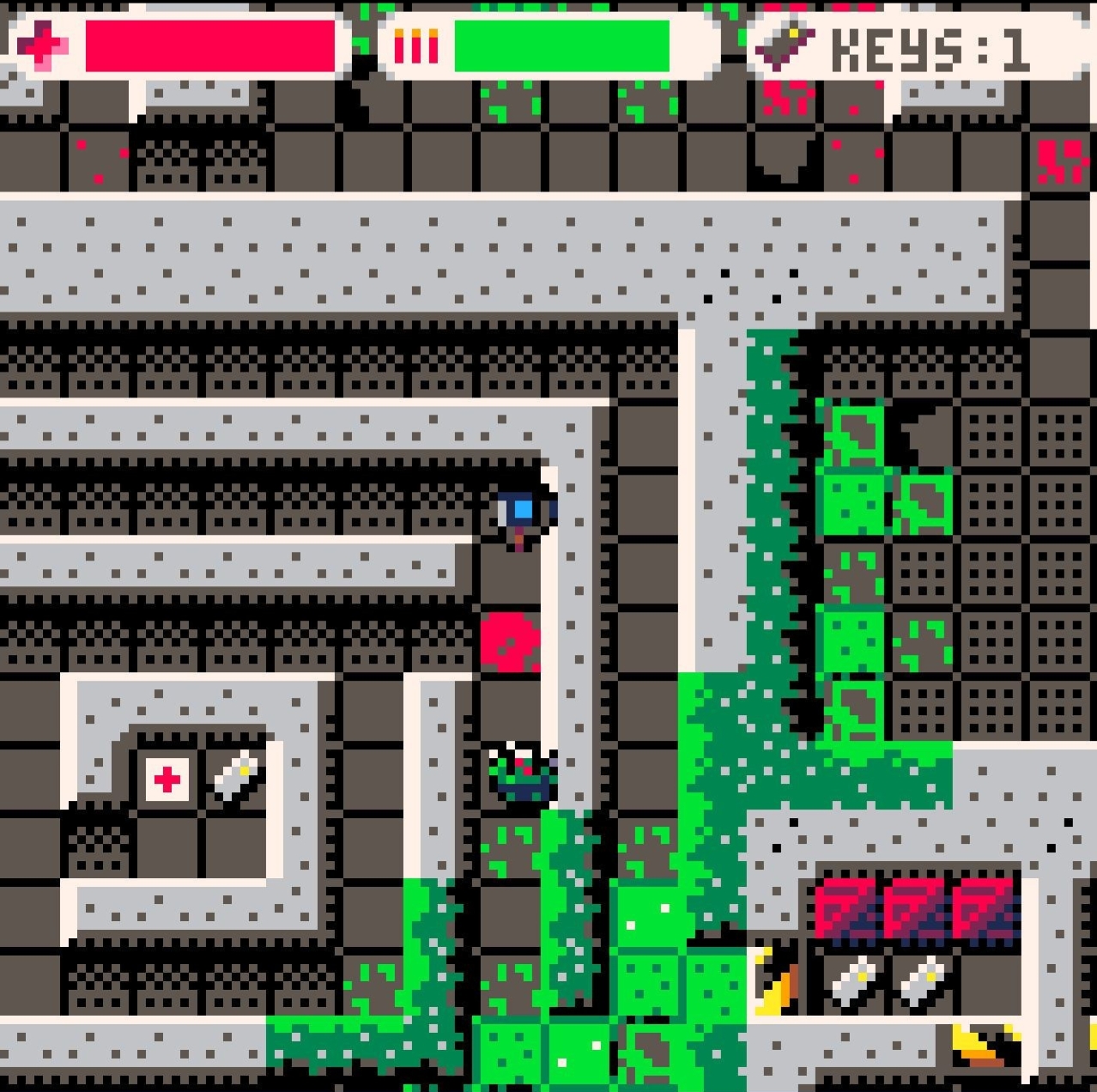 PICO RACER
Not to be confused with PICORACER-2048, Pico Racer is an awesome little raster-style racer with some cool physics and a steep challenge.
Scrolling is as smooth as can be, and the sprite animations and scaling are very impressive, especially when taking the PICO-8 limitations into consideration.
There's no real traditional racing action here, you just have to make it to the next checkpoint before the timer hits zero.
Basic stuff, then, but a total blast.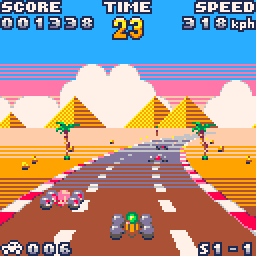 MISTIGRI
If you dig Bubble Bobble, then you're almost guaranteed to get a kick out of Mistigri. The gameplay is almost identical, but that doesn't mean it's not a heap of fun.
Because it is.
The animation in this one is gorgeous, with some adorable sprite work and colourful tiles. Again, we're talking single-screen action here, but there is a lot of visual variety between screens and stages. The controls are excellent too, and are as accurate as this kind of game demands them be.
There's not much else to say about this one, just go for it!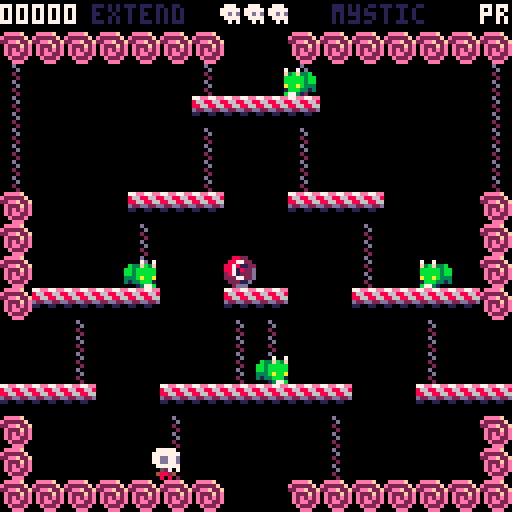 Super Poulet Poulet
Now this one is interesting. Super Poulet Poulet has almost a Kirby kind of vibe, but the gameplay is a little different. You play as a chicken (at least, I think it's a chicken?) and you've got to get to the end of the stage. Like pretty much every platformer in existence.
However, I really appreciate the challenge in Super Poulet Poulet. Your only form of attack is a dive bomb, and as long as you hold the attack button down, you can extend this bomb over multiple enemies. It's a stiff challenge, but a rewarding one too – chaining enemies together whilst not sending yourself flying off into a pit is great fun!
The audio/visual package is one of the best you'll find on the PICO-8. The silky-smooth scrolling, killer animation and catchy sound push Super Poulet Poulet over the edge.
Top stuff!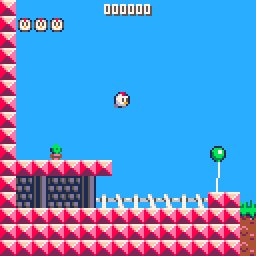 Alex Kidd in Pico World
You'll find about a million de-makes on the PICO-8, and this is the best of the lot. As an almost perfect re-creation of Alex Kidd in Miracle World, Pico World stands as one of the longest gaming experiences you can find on the PICO-8.
You know what? I almost prefer this to the full-fat game, too! I really dig the way the graphics have been shrunken down to fit the lower resolution, and the characters have a bit of a chibi-thing doing. As in most PICO-8 games, the scrolling is top-notch. Even the audio impresses! All the music and sound you know and love is here, and maybe even a little better than before!
All up then, Alex Kidd in Pico World is really solid stuff, and I'm amazed that the developer managed to cram the full game into such a small file-size. Yet another PICO-8 game you just have to try.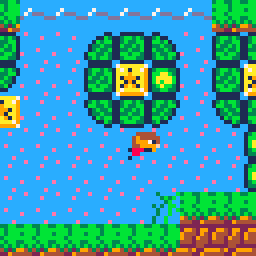 ---
There may be only 8 games here, but there are plenty more, should you choose to keep on with the journey. We're talking RPG's and dungeon-crawlers, SHMUPS, endless runners, graphics demos, music and more de-makes than you can poke a stick at.
PICO-8 is yet another source I find invaluable for discovering games, and I'm hoping that if it all somehow passed you by, then I've whet your appetite for more gaming goodness.
If you want to go in fresh and discover the PICO-8 for yourself, CLICK HERE!
Posted In:
Browser Games
,
Demoscene
,
Fantasy Console
,
Free Games
,
Lexaloffle
,
New Retro
,
PICO-8
,
Uncategorized
Tags:
8-bit
,
Alex Kidd
,
Alex Kidd in Pico World
,
Browser Games
,
Celeste
,
coding
,
fan made games
,
Free Games
,
Indie Games
,
list
,
Listicle
,
MetroCUBEvania
,
micro computing
,
Mistigri
,
mods
,
Pico Racer
,
PicoBreed
,
PICORACER-2048
,
retro gaming
,
Super Poulet Poulet
,
tech
,
user generated content