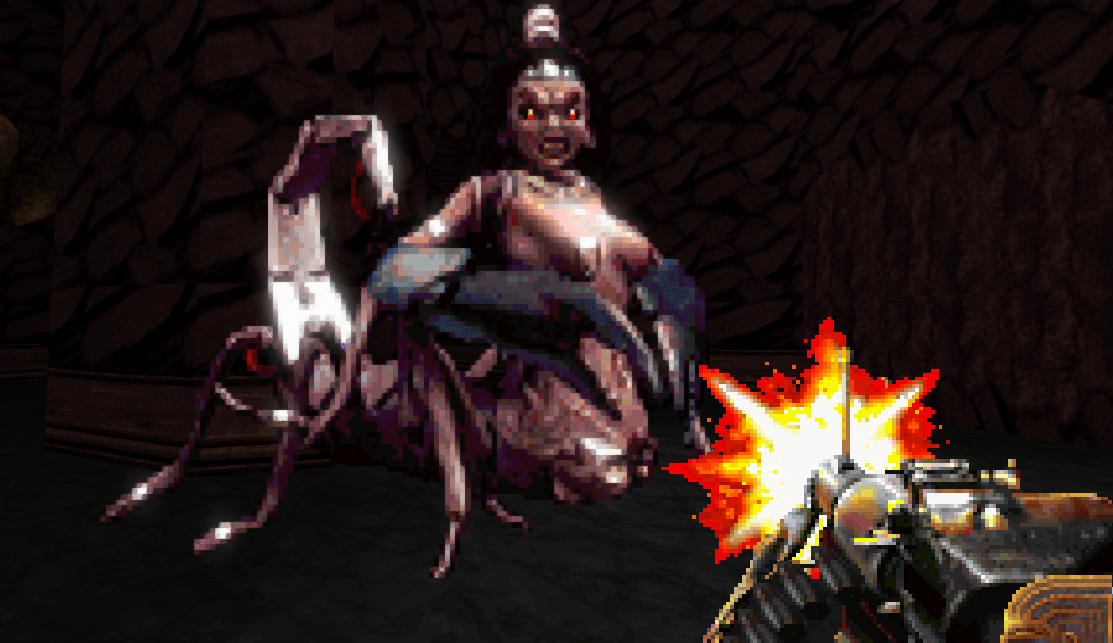 I think it's safe to say that I've mostly jumped off of the AAA wagon.
Studios like Activision, Ubisoft and EA cater to an entirely different generation of gamers these days… and it's definitely not something I feel a part of.
Games As A Service is not a concept I can wrap my head around. The vast open worlds, lifeless racing titles and indentikit shooters and MOBA's lost me, if I'm being truthful, toward the tail end of the Xbox 360 era.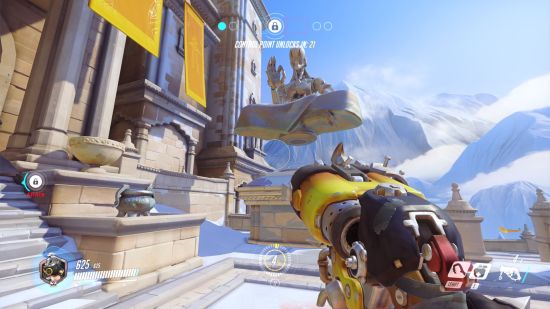 Yeah, no thanks – I'm good.
There are exceptions to the rule, of course. I look forward to most of Nintendo's output. They've barely put a foot wrong with the Switch, and seem to be hitting yet another creativity peak, with titles like The Legend of Zelda – Breath of the Wild, Super Mario Odyssey, Splatoon 2 and ARMS resonating with pretty much everybody.
Other than that though, I've yet to come across any AAA game in recent years that I felt I just had to buy then and there. But from time to time, yeah, I still crave that new game feeling.
Much like any gaming nerd worth their salt, I like to have games that I can look forward to. I enjoy the mystery that builds in one's head, and it's always nice to have something looming on the horizon.
I know in my heart of hearts that the AAA space isn't for me. I'd also argue that there really isn't a better time to be a gamer.
Even with my relatively niche tastes taken into consideration, I'm absolutely never left wanting for games. How can this be?
Don't fret, for I'll be your own, personal Falkor The Luckdragon. Jump aboard and let me show you the way.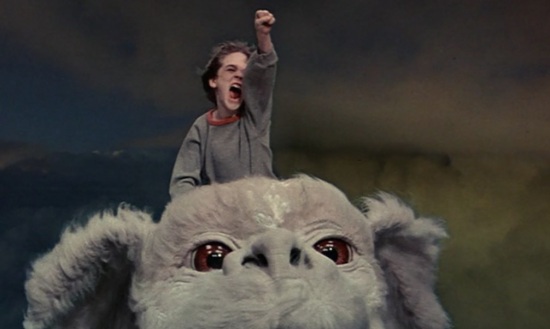 ---
LEGIT, 100% REMASTERS – OFFICIAL AND NOT.
You may scoff that this one, but hear me out. Yes, I KNOW that there are just a million of these out there at the moment, but I'm not here to talk about the ones that everybody knows about.
Take, for example, Nightdive Studios. These guys are fighting the good fight, and deliver honest to goodness remasters, in the truest sense of the word. They take some great old games, give them a spit-and-shine, leave the good shit intact, and make concessions for ease of play. Better controls, higher resolutions and frame-rates – all are welcome additions ALL THE TIME.
The remastered Turok series Nightdive have been pumping out is the go-to example of how to do it right. I only played demo's of these on PC back in the day, so I am not as familiar with them as I wanted to be. These remasters fix most of the shitty bits, and keep the rest of the game just as it was.
These are like-new experiences for me. Brilliant stuff.
This slideshow requires JavaScript.
Night Dive's Samuel Villarreal has also knocked out a few side-projects, my favourite of these being Powerslave EX. Lobotomy Software's Exhumed on the SEGA Saturn was one of the defining titles of my childhood. It was my Ocarina of Time. It also came out on the Playstation, and it is this port that Powerslave EX chooses to remaster. I really wish it had been the Saturn original, but beggars can't be choosers, I guess. Unfortunately, Powerslave EX was pulled, thanks to a Cease-And-Desist order (seriously ex-Lobotomy?) but I jumped on it early and it resides on my hard drive. Look hard enough on the internet, and you shall find what you are seeking.
This slideshow requires JavaScript.
If you've got no idea what Exhumed/Powerslave is, then take a geez at this brilliant documentary. Not only does it cover Lobotomy Software's history, but it also covers all incarnations of the game. Except for Powerslave EX. Regardless, I have watched this about 20 times over…
And I may not be able to link you Powerslave EX, but I sure as shit can link Sam's DOOM 64 EX! Amazing stuff, truly.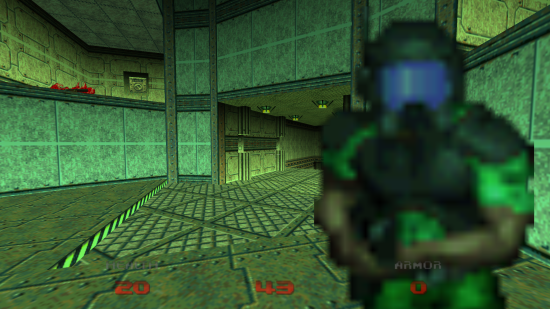 Marine Selfie. Just coz.
Who remembers Forsaken? It was a riff on the Descent formula, but with more Quake-style action. Big on the Nintendo 64, Playstation and particularly on PC. Sam has also been teasing a new edition, dubbed Forsaken EX as the next full-on project for the studio. What's exciting about this one is that besides being phenomenal games, Forsaken EX looks to incorporate content from all versions of the game into one stupendous PC port. Cannot WAIT for this one.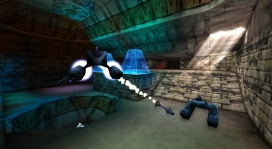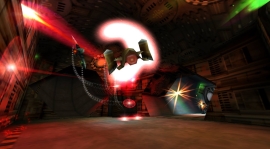 Of course, Nightdive Studios are far from the only people doing this kind of work. THQ Nordic does their bit too. Their recent release of the relatively obscure, and oft-forgotten Sphinx and the Cursed Mummy shows that they – and many others – are willing to dig up the past, no matter how strange.
This slideshow requires JavaScript.
Discovering old games can be a like-new experience. I haven't played much of Sphinx yet, but all signs point to a classic – one that is completely new to me.
And maybe to you too!
---
INDIE GAMES THAT FILL THE VOID.
There's plenty of 'dead genres' that the AAA space won't touch. They're not so much dead though, they just don't make ridiculous amounts of money, and as such don't even get a look in.
Platformers, Arcade Racers, Puzzlers, Space Sims, the list goes on.
Where there is a void though, the Indie scene is more than happy to help plug the gap.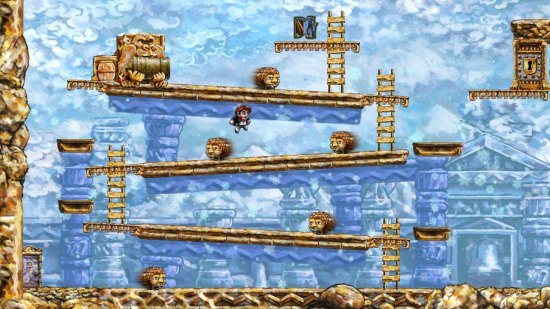 It wasn't the first, but Braid was right there at the beginning of the Indie takeover.
Futuristic Racers died a rather undignified death. Sony lost interest in the WipEout series, and Nintendo did the same with F-Zero. And what heinous crime were the games committing? They dared to pander to their audience. They became more polished with each instalment. Grew and evolved. And for that, they ended up putting the final nails in their own coffins – If you can't make something 100% accessible for 100% of gamers, then you're almost guaranteed to become a niche product.
This just isn't on for the big guys, and any product even showing signs of this seems to get the chop sooner than later. In indie circles though, niche is their bread and butter.
By catering to gamers who crave a certain experience, they all but have a guaranteed corner of the market all to themselves.
I lamented the death of the futuristic racer every day for a good-long while there. I missed my WipEout. I longed for another Episode One Racer. I missed my B-grade titles like Mag Force Racing, Scorcher, Extreme-G, Cyber Speedway and Rollcage.
This slideshow requires JavaScript.
Recent years have seen many games step up to the plate, made by development teams that also miss those days – those games. We went from having none, to having many. Here's a brief list of the futuristic racers you can go out and play right now.
BallisticNG
Redout
Formula Fusion
GRIP
FAST RMX
And that's not including the stuff that's coming. I won't dwell on these games listed here, because I'd like to deep-dive into the futuristic racing genre at a later date.
This slideshow requires JavaScript.
The old-school FPS style is coming back in a big way thanks to people like New Blood Interactive. From their amazing Early Access title DUSK to the brilliant Heretic throw-back title Amid Evil, these guys are flying the flag like nobodies business.
Get in early on DUSK HERE.
Arcade Racers too, although this scene is fraught with disappointment at the moment. The Scud Race-esque 90s Super GP is seemingly being held ransom by Nicalis – have I mentioned my intense dislike for Nicalis? – whilst titles like Drift Stage and Racing Apex are taking forever to arrive. Still, there's a lot to look forward to on the horizon!
This slideshow requires JavaScript.
Platformers have seen the biggest resurgence of all, with titles like Braid, Fez, Shovel Knight and Shantae all bringing something old-new to the table. They're only the higher profile ones. There are just as many platform games being released nowadays as there were in the 90s, and if not, then it certainly seems that way to me.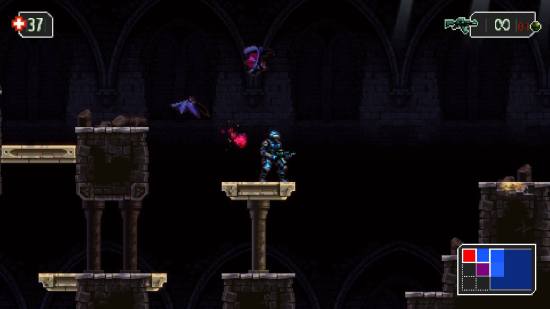 The Mummy Demastered. Get it.
No matter what your gaming tastes or proclivities, there is something out there for you, guaranteed.
NEW GAMES, OLD CONSOLES.
New games for old consoles is a market that just seems to grow bigger by the day. I love the Mega Drive, and I've backed no less than two new Mega Drive games on Kickstarter, and pre-ordered a couple more through other channels.
These aren't just throw-back style games. These are games that are pushing the limits, and breaking the boundaries of what was thought possible on older hardware. These games take the years worth of retrospective, analysis and familiarity with the hardware, and seek to make something both retro and decidedly modern with it all.
The SEGA Master System, for example, got a new game in the form of Silver Valley the other week. This is a multi-genre ode to the 8-bit era, and while it definitely cribs from CastleVania, it also features shooting, flying and other such twists.
And it's an instant classic. It's got tight controls, gorgeous visuals and some of the best Master System PSG music you've ever heard. Amazing stuff!
GET SILVER VALLEY HERE!
This slideshow requires JavaScript.
Paprium is a new Mega Drive scrolling beat-em-up that I pre-ordered on the spot. Because who doesn't love a good Streets of Rage-style brawler? It doesn't look like a straight up clone either. Paprium looks like it's going to add meaningfully to the genre, with new ideas, some RPG elements and killer visual design.
The music is also making great strides – using an all new sound chip, the tunes in Paprium will feature higher quality samples and more sound channels than your average Mega Drive game. Check out the Paprium Sampler below – it's pretty mind-blowing stuff.
And that's just the tip of the iceberg.
If micro-computing and the AMIGA are more your thing, then you're particularly well catered to. I follow the gaming blog Indie Retro News, and it seems that every week there is a new game for these old computers, not to mentions announcements, demos, MOD music and free stuff. If you haven't checked out Indie Retro News, then I suggest you get on it – it's a highly indispensable source of alternative gaming news that no retro gamer can afford to miss out on.
ENTER THE INDIE RETRO NEWS RABBIT HOLE!
---
IT DOESN'T STOP HERE.
There are just so many different alternative gaming news streams to cover all in one post and I'll be sure to link them all right here as I stumble across them. You've gotta share the good stuff right?
Since I haven't been able to cover everything, let me know where you get your new, new-old, and old-new games from. I'm always up for discovering more cool shit, and to have people to bounce links and stuff with, well, that's what it's all about? Innit?
You know what to do, hit me up below!
Posted In:
Arcade Racing
,
Free Games
,
New Retro
,
PC Gaming
,
Retro
,
retro gaming
Tags:
90s Super GP
,
Alternative
,
Alternative Gaming
,
Blogging
,
Doom 64 EX
,
driving
,
Exhumed
,
Formula Fusion
,
Forsaken EX
,
Free
,
Games
,
gaming
,
Genesis
,
Indie Games
,
Indie Retro News
,
Lobotomy Software
,
Master System
,
Mega Drive
,
New Games
,
Nightdive Studios
,
Nintendo
,
Old Consoles
,
Paprium
,
PC
,
Powerslave
,
Powerslave EX
,
racing
,
Redout
,
Remasters
,
Retro
,
SEGA
,
Silver Valley
,
Sphinx and the Cursed Mummy
,
The 90s Arcade Racer
,
The Mummy Demastered
,
Turok
,
Turok The Dinosaur Hunter
,
Video Games