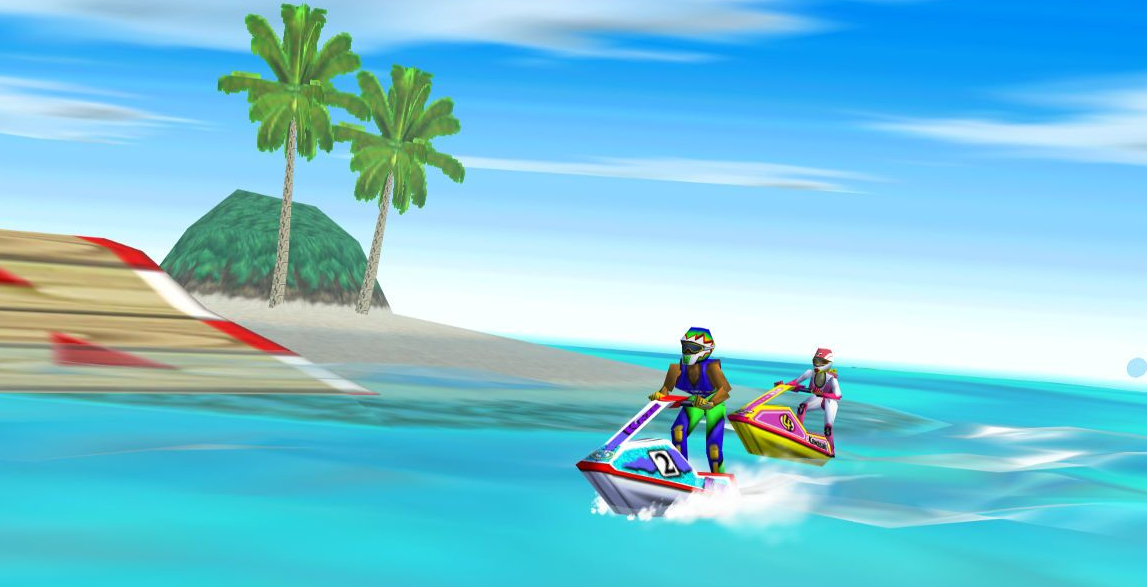 If there's one racing sub-genre that is sorely under-represented these days, it's the water-based arcade racer. When done right, it's all blue-skies, even bluer water and wave-hopping fun. There's just something about the aesthetics of these games that I love. It's all in the colours, the undulating clear waters, the music and the ride. A good water racer will offer stunning visuals, great physics and a one-of-a-kind of racing experience that'll stick with you a long time.
And over the years, a few have done just that. It's seen its fair share of stinkers too, but I dunno… lets start with the good stuff, yeah?
There's already enough negativity in the world, and besides, I'm saving it for the two games at the bottom ?
As always, this isn't an exhaustive list, these are just ones that I've played myself, and even then it's not all of them.
Let's get on with it, shall we? Here's a bunch I dig, in order of best to worst. Strap in, because we're going to hit the highest of highs, and the lowest of lows.
*GULP*
---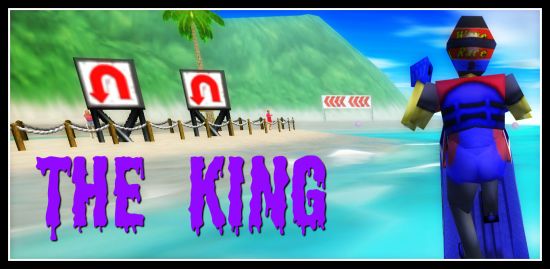 ---
WAVE RACE 64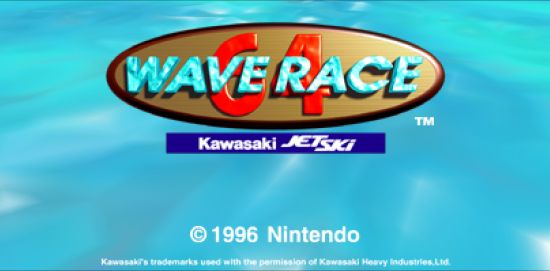 Wave Race 64 is the undisputed KING OF THEM ALL. A Nintendo 64 launch title in western territories, it showed the world what the system could do straight out of the gate. It was also virtually the first to go all in on the wave physics and weave them so completely into its control scheme.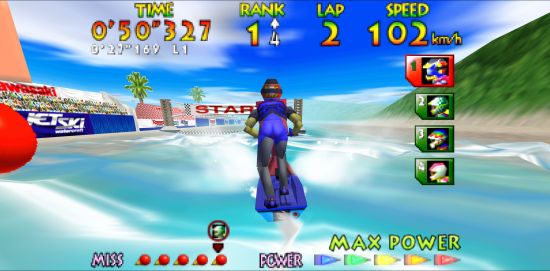 It's not just all flash and spectacle – Wave Race 64 has some of the most satisfying controls in any arcade racer, whether said racer features the wet stuff or not. It's both comfortable and reliable, whilst still offering a level of unpredictability from race to race, thanks to its killer water simulation.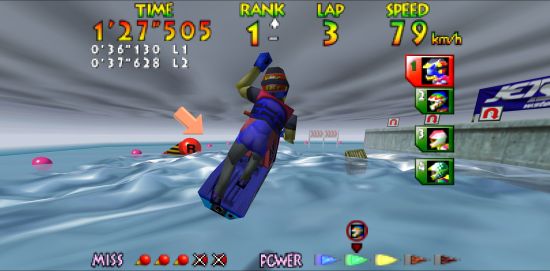 Was it completely random? No. Each course definitely had some scripted stuff going on. A wave here and there, and each section of the any given course has its own parameters – some sections would be smooth, others a great deal choppier, with particularly memorable set-pieces in certain courses going nuts with the wave action.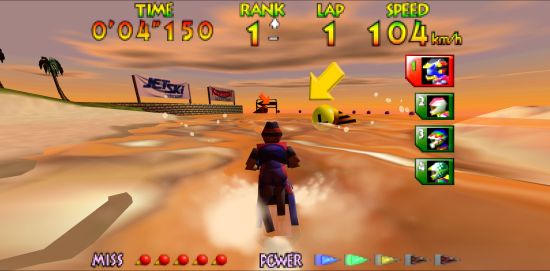 This mix of unpredictability and reliable controls are what almost all subsequent water racers lack, some waaaay more than others. Wave Race did it first, and it still hasn't been bettered. Each of the jet riders have their own feel, but each of them are an absolute joy to take out onto the water, and thanks to some customizable settings, they can be as quick or as heavy as you want them to be. Your racer bobs and bounces around exactly like you'd expect them to – it's a racing experience that actually feels like you're racing on water. It sounds ridiculous to have to mention that, but there will be games in this list that just don't get this.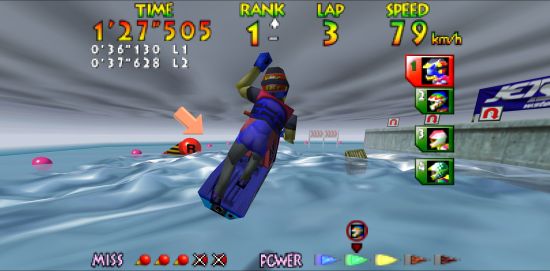 Course design is phenomenal. Instantly memorable, every single track is a winner. Out of all nine of them, I particularly love Port Blue. It's pretty, and it's blue. Says so right there, in the title.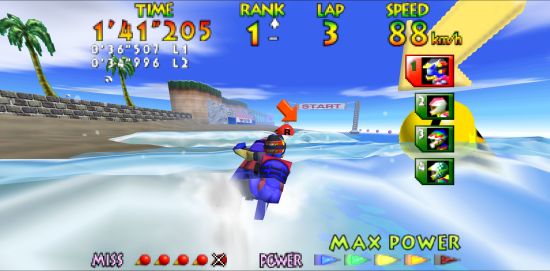 The colour choices are stupendous. Bright and bold, the overall aesthetic rivals the SEGA Blue Skies we all know and love. Those colours, in combination with the simple but stylish track-side geometry and fantastic wave animations make Wave Race 64 a visual treat, even today.
I don't actually have a Nintendo 64 right at the minute, but I do own the game digitally on the Wii and Wii U, and they're nice ways to play, for sure.
But – and this is my personal preference – I go straight to Project 64 for this one. I'm telling ya, with Wave Race patched for wide-screen, resolutions and anti-aliasing cranked as high as you can manage and a real N64 controller in hand, it can't be beat.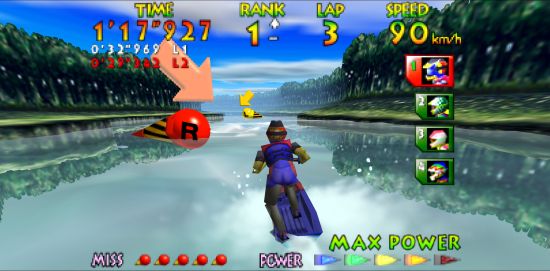 The music is a point of contention with some, but I wouldn't change a single, cheesy note of it. The gorgeous melodies and laid-back compositions really get me in the mood. White-knuckle they are not, but then Wave Race 64 isn't that kind of game. It's like Out Run in that it's all about the ride.
Take in the scenery, marvel at the colours, feel the water under your jet-ski. Racing feels almost secondary to the rest when you're doing it right.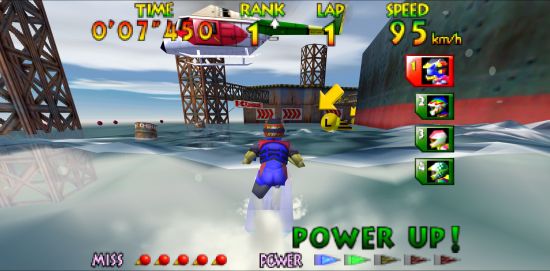 My one niggle with the game is the low frame-rate. It is perfectly playable, absolutely, and the game is designed around it. It runs at a mostly steady 20fps, and whilst this is enough in this instance, I can't help but long for some kind of remaster that up's this a touch.
Still, this is an otherwise exquisitely crafted arcade racer. I'm planning on picking up a HDMI-modded Nintendo 64 some time in the near future, and you can be damned sure that Wave Race 64 is the very first game I'll be dropping down cash for!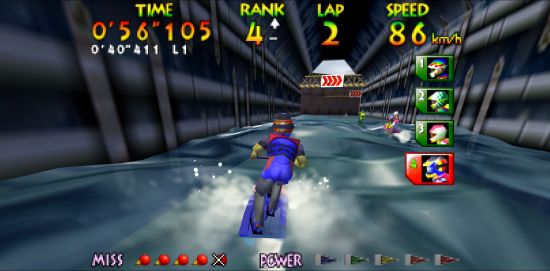 A quick shout out to Wave Rave: Blue Storm. While it's mostly got the controls down pat, everything else in Blue Storm just feels lesser. The waves don't look as wave-y, the music tries too hard to be edgy and the overall atmosphere of Wave Race 64 is gone. It's still a great game, but for me, it missed the whole point of the Wave Race experience. Hence the footnote.
---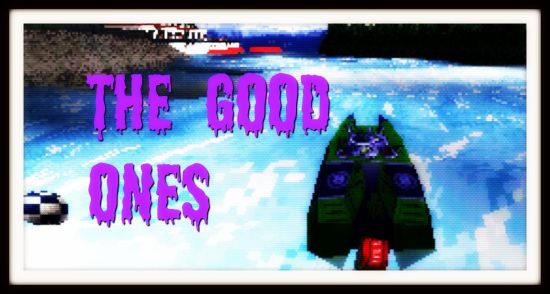 ---
RIPTIDE GP: RENEGADE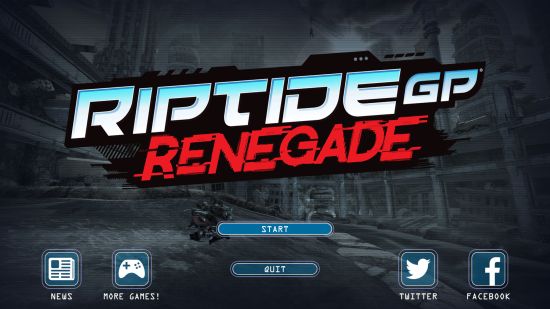 I might cop some shit for putting Riptide GP: Renegade higher on the list than a certain series below, but screw it. I prefer the Riptide series. But I am talking slightly – like by a few hairs or so.
So ease up, Turbo.
This slideshow requires JavaScript.
The Riptide series of games was made with mobile devices in mind, and unfortunately that's enough to have some people write the series off without even taking a cursory glance at the actual games.
But they'd be missing out on probably the best water-racing series of recent years. OK, so it's one of the only water-racing series of recent years, but it doesn't make the Riptide any less awesome. The fact that they're also out on consoles and PC and balanced for fair play without any micro-transactions whatsoever just makes them even better.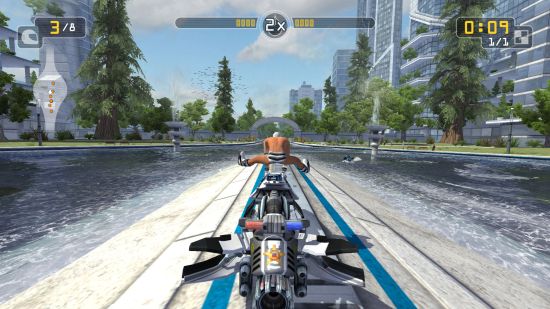 I'm choosing to focus on the latest game in the series here, Riptide GP: Renegade. The first game was awesome, but the second wiped the floor with it. Renegade does the same, again.
Developed by Vector Unit (who are no strangers to water-racing games, as you'll soon see), the Riptide GP series is a glorious mash-up of Hydro Thunder and Wave Race. The racing takes place on futuristic jet-skis, but the courses are much more in the vein of the Thunder games. We're talking awesome wave physics, memorable track design and lots of jumps and ramps to tackle.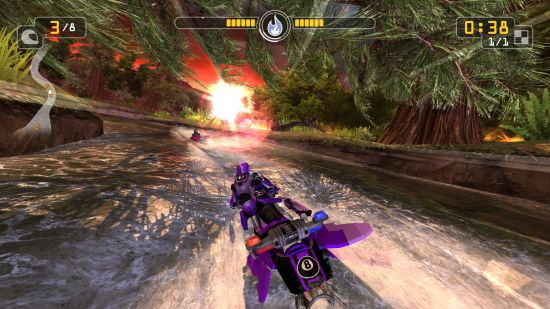 Riptide's biggest addition is the trick system. Entering twin-stick directional combinations just as you launch off a ramp and up into the air will see you doing some pretty gnarly tricks. These tricks, naturally, give you boost. And since the tricks vary in animation length, you'll need to know what you can do and where, otherwise you'll hit the water pretty hard and bungle the whole thing. It's a case of risk verses reward, and spices things up quite nicely. Pulling off these tricks is completely intuitive too, so you're never going to be wrestling with the controls to do them.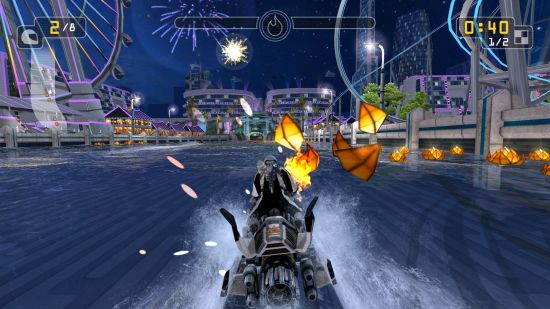 There's not too many courses – off the top of my head, I'd say there is roughly 15 or so? Maybe less – it's getting late. But between all the different modes you can choose from (Story mode, Slalom, Score Attack etc…), you'll be busy for a long, long time – there's a shit-load here to do and unlock.
Graphically, the game is simple, but in a clean, attractive kind of way. The colours used here are gorgeous at times, and coupled with the smooth frame-rate make the game just plain pretty. In that special, arcade kind of way. The music is all electronica, all the time, with some banging house, trance and (good) dubstep. The perfect accompaniment, then.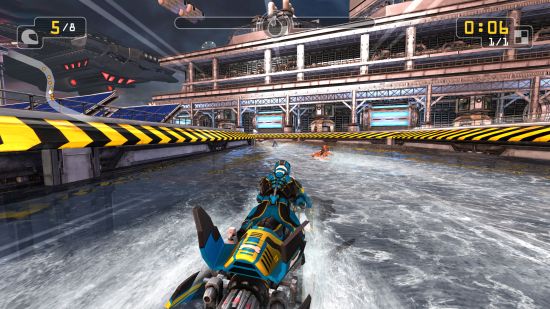 I've put many, many hours into all of the Riptide games, and Renegade is definitely the best of the bunch – in the iterative way though, not because the preceding games lacked polish or anything. In fact, I recommend you play them all – each contains mostly the same kind of gameplay, but each instalment has its own unique tracks, jet-skis and riders. Vector Unit took everything they learned making that one Hydro Thunder game, and threw it into the Riptide series. It really is that good.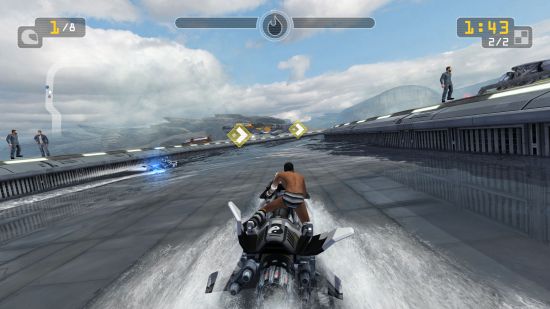 If you're not a AAA gaming snob, then you really can't go wrong with any of the Riptide games. If you can only play one, though, then make sure it's Renegade.
You can grab Riptide GP: Renegade on PC, Switch, Playstation 4, Xbox One, of if you'd prefer, IOS and Android.
HYDRO THUNDER SERIES
This slideshow requires JavaScript.
Hydro Thunder is a Midway arcade game that also tuned up as a SEGA Dreamcast launch title. It's sequel, Hydro Thunder Hurricane was developed by Vector Unit and released through the Xbox Live Arcade initiative, later making its way to the Windows Store.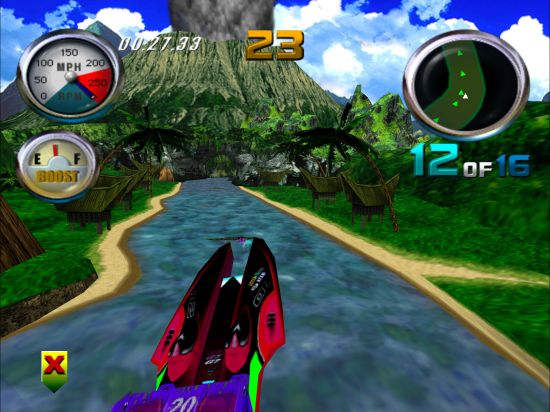 As the drugged-up, hyperactive little brother of Wave Race, Hydro Thunder is all about that speed, bro. There's a different focus here. It's boat racing, for one, and races take place on courses that are more akin to rollercoaster rides. There's plenty of crazy scenery, jumps to launch yourself from, short cuts to take and boost pick-ups to collect.
It's also rock-hard. You'll quickly realise that the only way to win a race is to chain boost pick-ups, so you're never out of boost power. Miss even a couple in a row, and you'll be overtaken quick-smart.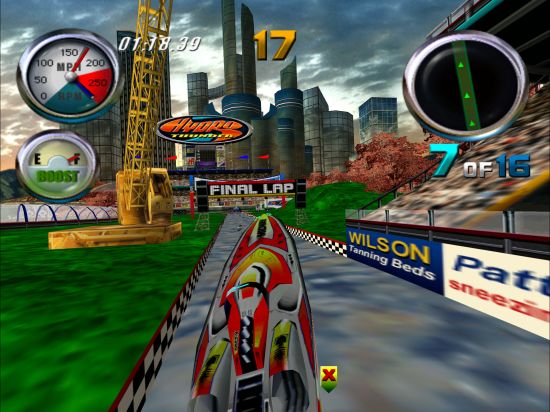 Hydro Thunder does a lot right. The controls are immediately satisfying, with slightly weighty boats and fantastic tracks that make the most of the mechanics. Each boat you can select has its own unique handling, and most importantly are all viable options. Some arcade racers give you a couple of decent vehicles, and a whole heap of shit ones just to pad out the roster. Hydro Thunder doesn't and I like that.
When it comes to the water physics, it's no Wave Race, but still plenty good. It feels like you are racing on water 99% of the time, and as such is the reason it's so high on this list.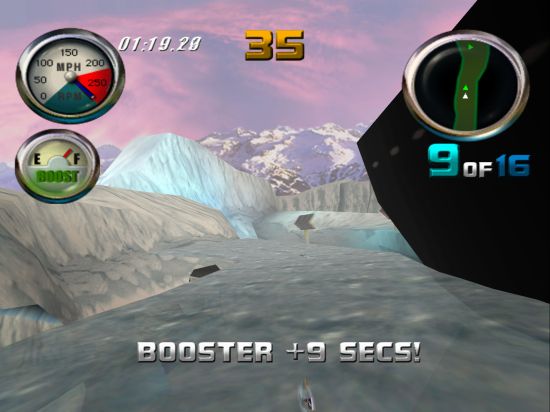 Hydro Thunder wasn't exclusive to just the Dreamcast and the arcades, you can also find it on the brilliant Midway Arcade Treasures 3 compilation. The collection is full to the brim with awesome arcade racing action, and you can pick it up on the PS2, Gamecube, Xbox and PC. And I strongly suggest you do. Hydro Thunder is brash, loud and pure dumb fun – a must if you're into your arcade racers.
Hydro Thunder got an unexpected sequel many years later in the form of Hydro Thunder Hurricane. And a worthy follow-up it was. Starting life as a completely unrelated title, Microsoft stepped in and secured the Hydro Thunder license for Vector Unit and threw some marketing muscle behind it. Sure, it was a little out of the left-field, but more Hydro Thunder is never a bad thing.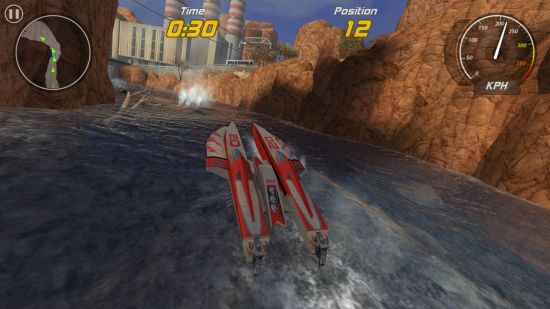 And Hurricane definitely stepped things up. Bringing back some favourite courses and boats, Vector Unit turned everything up to 11 for this one, and thankfully, that includes the water physics – they're sensational, and it truly is a pleasure fanging around these courses. From calm waters to Tsunami's and everything in between, each race is dynamic and unpredictable.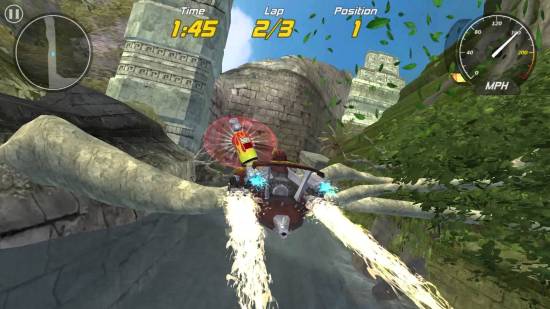 Visually, it's pretty spectacular too. Apart from the spot-on water effects, everything else is nice and colourful. I'd have loved to have seen a bit more saturation in regards to the colours, but what's here looks great.
Having the Hydro Thunder license tacked onto an existing project could have spelled disaster, but thankfully that's not the case at all. Hydro Thunder Hurricane is an absolute delight, and if you're interested, can still be purchased on the Xbox 360, Xbox One and Windows PC stores. The Xbox 360/One version looks a little nicer, with better lighting and nicer looking water, but is stuck at 30fps. The Windows port has the ability to run in higher resolutions and at 60fps, though it does look a lot flatter in comparison to the Xbox. Either way, the game is the same, so choose whichever is the most convenient for you.
SPLASHDOWN: RIDES GONE WILD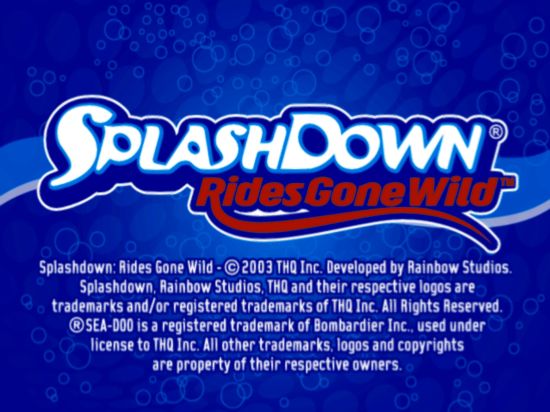 Also known as Splashdown 2, Rides Gone Wild is one of the secret best water-racers the world doesn't acknowledge. I'm putting my hand up – guilty as charged. I'm hoping I can make up for it here, though, because this game is phenomenal.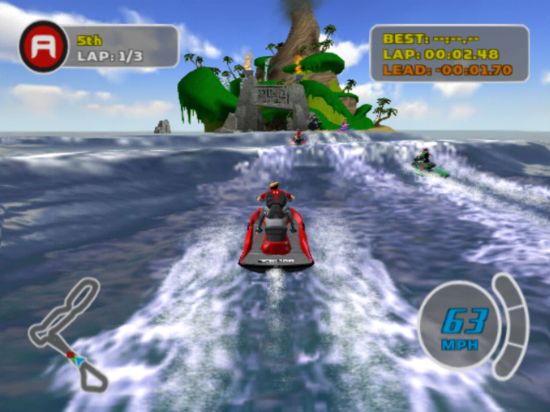 Rides Gone Wild is a nice mix of the Wave Race and Hydro Thunder philosophies. The water physics and courses are more Hydro Thunder than Wave Race, but it does contain some of the latter's quieter moments of beauty… until things in-game go to shit and it doesn't any more.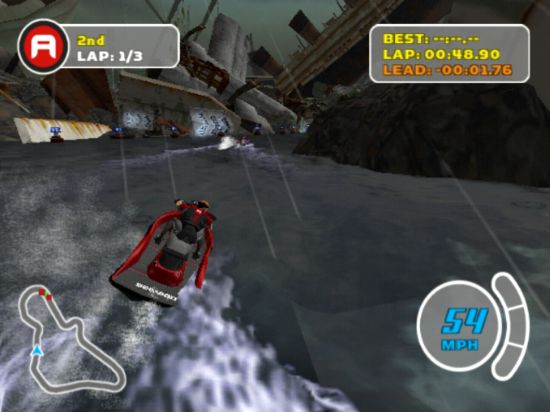 I really need to invest some more time into this one. I played a lot of Splashdown on my PS2, but I wasn't that taken by it. I just played for the sake of playing, so I came in late to Rides Gone Wild. I figured it would just be more of the same.
BIG MISTAKE and I was wrong.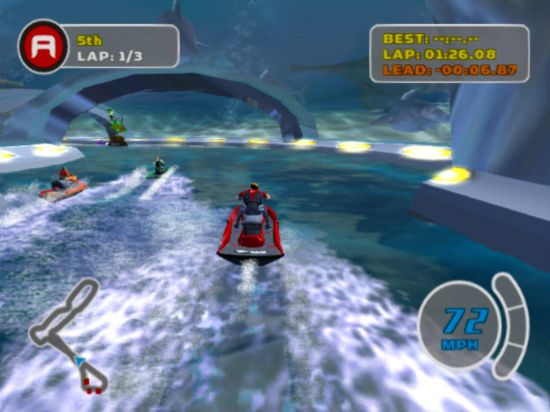 As a sequel, it fixes everything I didn't like about the first, at least in the relatively little time I've put into it by comparison. There's more spectacle here, with crazy courses that feature dinosaurs, explosions and way, way more. Most welcome is the addition of an actual personality this time around! I really dig the vibe here, and it's a big improvement over the fairly bland first game. There's a trick system that's a little shallow, to be honest, but all it is a means to accrue more of that sweet, sweet boost power, so it does it's job.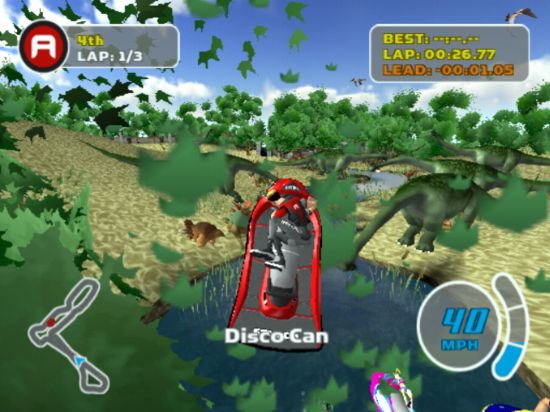 I've only played this one for about three hours, but I can already tell I'm going to love the rest of it. Besides, I think I'd be crucified by the PS2 faithful if I didn't include it.
Here's an idea, if you haven't played the game yet, then in the next week or so, give it a spin and let me know how it's going for you? It can be like a book club, but for games!
No? Fine then.
RAPID RACER / TURBO PROP RACING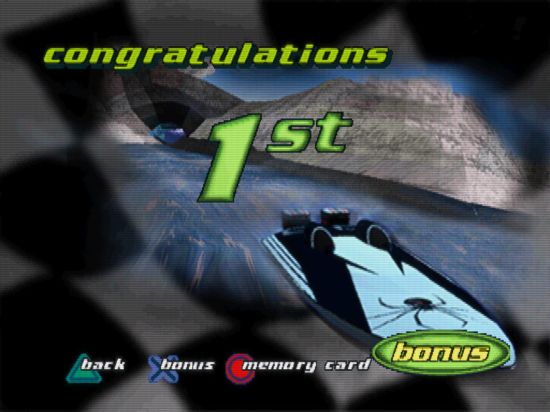 Now here's a little Playstation gem that you might not know about!
I remember reading a review of Rapid Racer (Turbo Prop Racing in non-PAL territories) in the Aussie gaming mag Hyper in the late 90s. They gave it a 91% out of 100, or something ridiculous like that. It was one of the few games that, as a Saturn owner, I felt I was missing out on. It didn't help that a friend of mine owned it, so every chance I got to play it, I was there.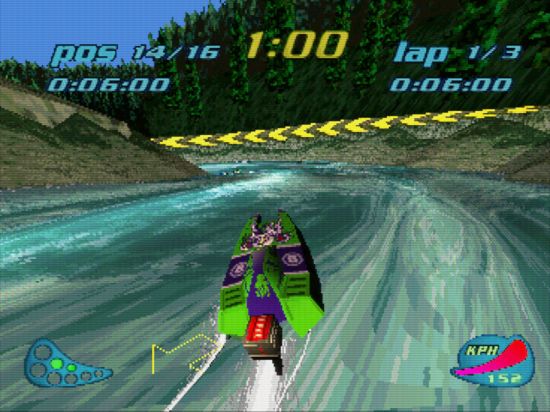 These days, I'm not sure it holds up as well, and I've got a sneaking suspicion that 91% review score was given based on its graphics. Or the reviewer could have had my exact taste in games.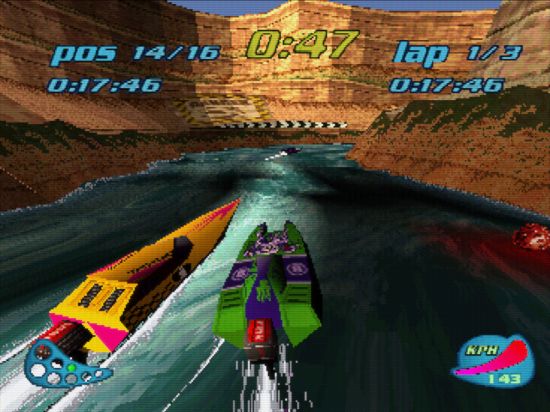 The racing focus is a little different, and helps differentiate it from the other games in this list – you're racing jet-boats down rapids, rather than the more open waters of Wave Race. And this is a totally different kind of racing. The courses are full of twists and turns, and the control scheme is actually more like the WipEout games – there's the aquatic equivalent of air-brakes here, so you'll be needing to use the L2+R2 buttons to take tighter corners.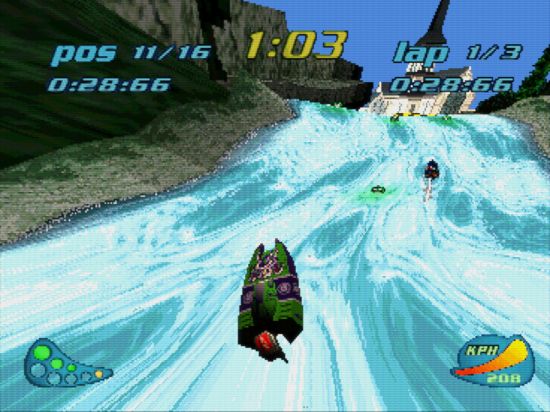 I LOVE THIS. A LOT.
Rapid Racer is WipEout with boats.
The sense of speed is fantastic, and the controls, whilst still being floaty and arcade like, are more technical than your average water-based racer.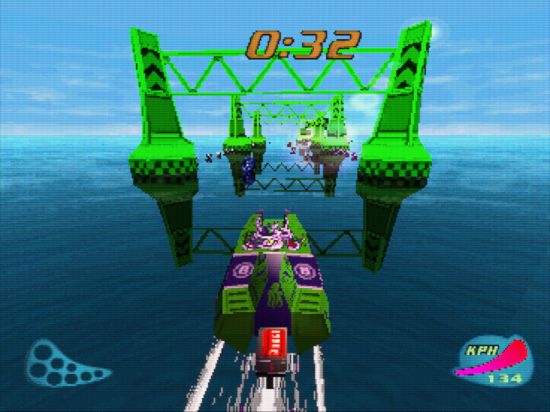 It's definitely not perfect though. As satisfying as the game is, there's some truly funky physics stuff going on. Hit a wall at the wrong angle and you might just be sent flying and flipping around in circles, and by the time you're done the only thing that clues you in on the direction you're facing might be a 'Wrong Way' warning. Yeah, it can get a little bit random.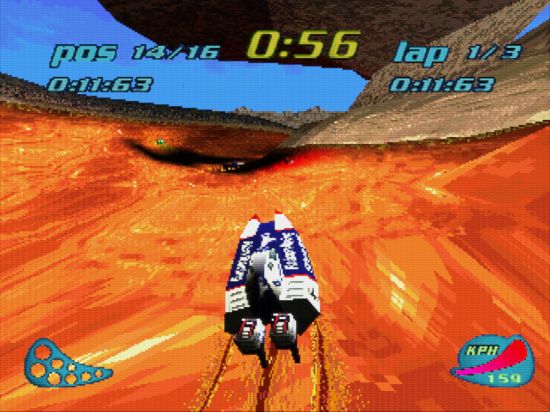 The better you get at the game though, the less of an issue it is. You'll soon suss out the optimal racing lines, and learn not to oversteer. It's not as unpredictable as other games, since it focuses more on torrents and rapids, rather than waves, but this is a good thing in my books – you can learn the tracks and take on each lap in a fairly similar way.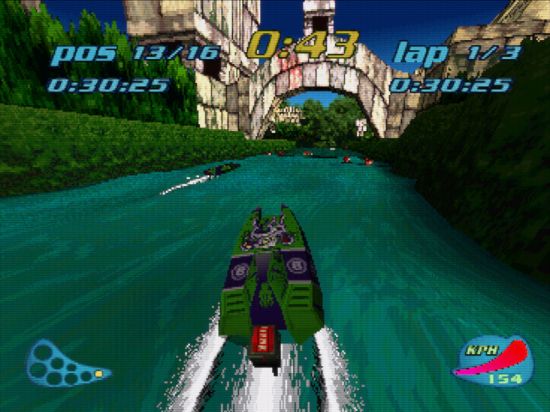 The graphics in Rapid Racer are gorgeous. There's no transparent water here, but the actual water effects are convincing otherwise. The thing that will smack you in the face straight away though will be the incredibly steady frame-rate. Rapid Racer doggedly sticks to its target all the time, no matter what's happening on the screen. The PAL Rapid Racer runs at 50fps, whilst the NTSC Turbo Prop Racing is the full-fat 60fps. Coupled with the brilliant use of colour and cool boat animations, it stands out amongst other PSX racers. 60fps in a racing game was a rarity on consoles, yet here was Rapid Racer looking as pretty as it does, and absolutely flying.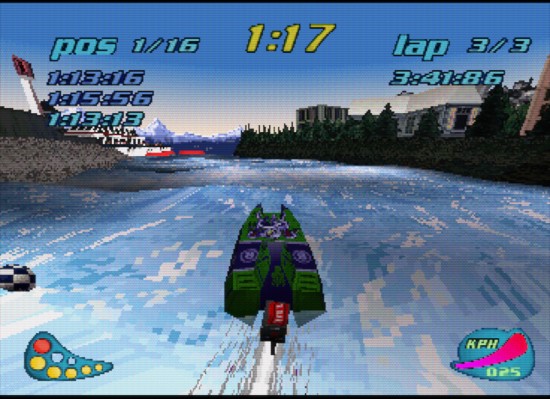 The music is excellent too. If the developers aspirations weren't clear enough, then the banging 90s electronica soundtrack will convince you that they thought WipEout on water was the best thing ever.
Apart from the occasional control quirk, my only other criticism is that the menus look a little shit. They're gaudy and garish, and not in a good way. Lots of cheap 90s 3D rendered buttons and the like. A shame, as it stands in stark contrast to the in-game presentation, but it's a minor niggle.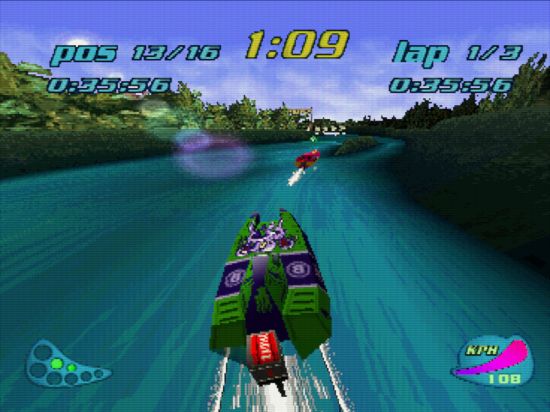 Rapid Racer is one of my favourite racers on the PSX. I'm not saying everybody is going to love it, but again, if your tastes are at all like mine, then definitely make it a priority to check this one out sooner than later.
---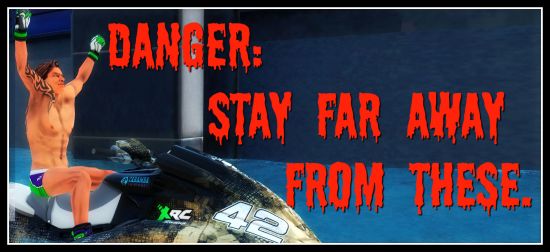 ---
SURF ROCKET RACERS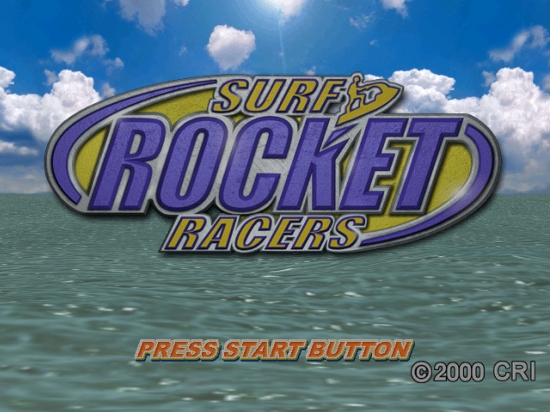 Also known as Blandy McBlander Blandyface.
I was excited for this one back in the day. I loved the bits of Wave Race I played at mates houses, so a Dreamcast equivalent sounded awesome.
I wasn't exactly sold on the screen shots, but I figured that maybe in motion, it'd all make sense. It never did.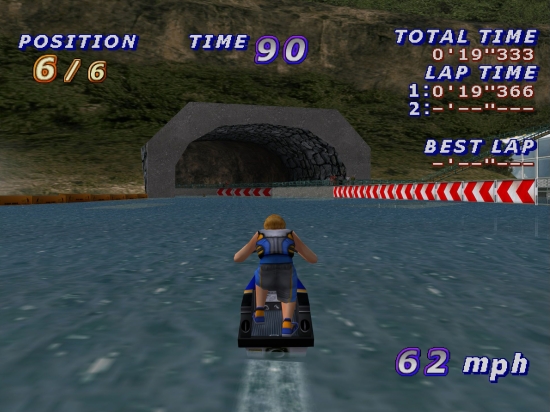 Surf Rocket Racers is a horrible experience, and not because it's spectacularly bad. It's as average as you can get without being out-right terrible – something that I actually think is worse than being dreadful.
You can't laugh at it. You can't revel in the shoddiness. All you can do is shake your head and hope that it's over soon.
The controls in Surf Rocket Racers work, and that's about it. There's no depth – boom boom – to be found here. Owing to the fact that there are no waves, all you can do is go forward in a straight line and hit the (very) occasional jump.
That's about as exciting as it gets.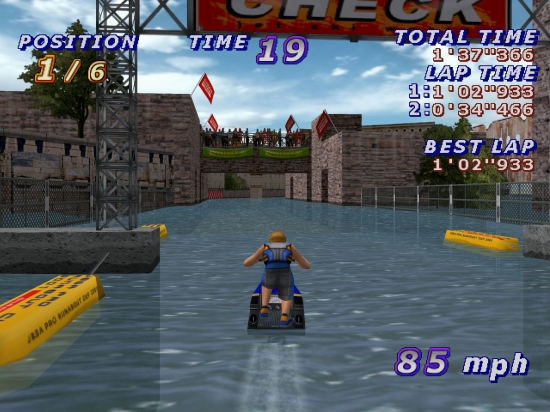 The AI is either bumping into stuff all the time or they're sailing straight past you. It's either easy, or ridiculously difficult in the most artificial way possible. You can run a perfect race, and they'll still beat you. Or you can stuff up a bit on a slightly trickier track, and the AI will struggle even more so, so you'll win because you are less shit.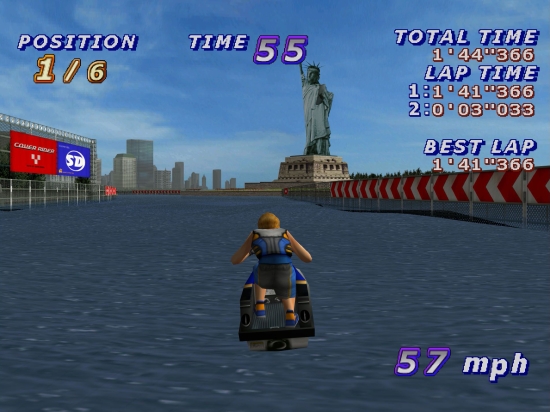 Graphically, it's just bland, bland and more bland. It's almost as if the artists on the game actively sought out the dullest shades of blue, green and everything else. The animation is lacking too, with only the slightest bob of your rider suggesting that you may, in fact, be racing on water.
Making things worse is the lack of any personality in Surf Rocket Racers. The characters are boring, and don't even exhibit any awesome 90s 'tude. With 'xtreme' sports being all the rage at the time of Surf Rocket Racers release, it's unacceptable. It may have even made the game worse. And by worse, I mean better. The closest the game gets to anything resembling a pulse is the over-excited announcer. If nothing else, he's committed to his cause. He must really love his job, which mostly involves screaming at you, telling you just how exciting the game is.
It's not. He lies. See this:
Surf Rocket Racers is Wave Race without the Waves. Or colour. Or course design.
Or anything.
It's the polar opposite of Wave Race. Check it out if you've suddenly found yourself morbidly curious by this point. You're going to have to have developed a tolerance to shitty racing games. Like me. What I personally can't abide though is bland, uninteresting racers. Of which Surf Rocket Racers is a perfect example of.
AQUA MOTO RACING UTOPIA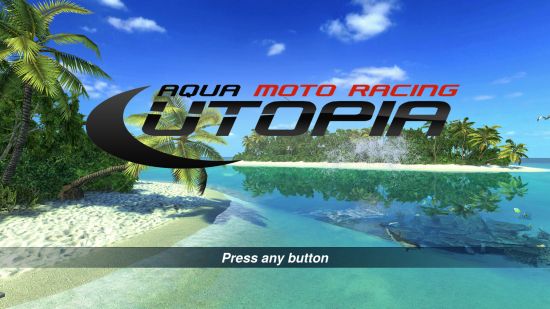 This one had me SO EXCITED from the screenshots. When I jumped aboard, it was still in Early Access, and my first impressions were not good. It looked nice, yeah, but then it started to move. And once the reigns were handed over and the race began, hooooo boy.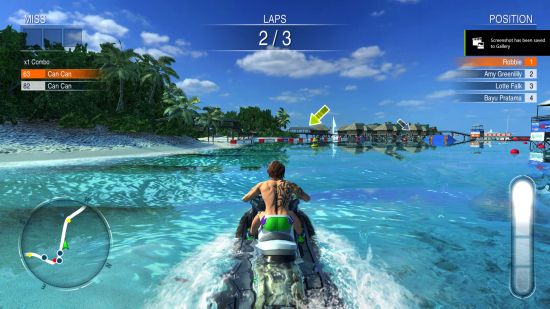 Developed by Zordix, Aqua Moto Racing Utopia so desperately wants to be the game that Nintendo refuse to make. It's clear that there's some kind of passion behind what they're doing. Unfortunately passion only takes you so far.
I really hate being a negative Nancy. I can find the good in almost everything. I liked Initial D on the Saturn, despite it being absolute garbage. But when I say that there is no good in Aqua Moto Racing Utopia, then you know I'm being serious.
Actually I lie. There is some good. The nicest thing I can say about the game is that the colours are superb.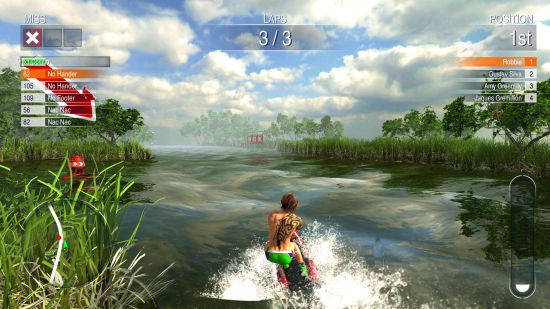 Lets start with the water. It looks nice in screenshots, and at times even in motion. But there is zero connection between the rider and the water. I mean, there is, but it doesn't feel like your racing on water at all. It feels like you're on plastic mud. Your rider just kinda glides along and rarely exhibits even basic leg movement in reaction to the undulations of the water. The biggest sin that Zordix commits, then, is purely in the mechanics. It's rigid and flat, even when what's on-screen is suggesting otherwise.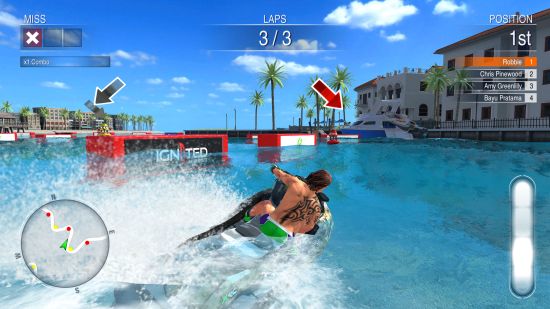 What stings the most is that Utopia could have been great. If Zordix actually applied themselves and tried even just a lil' bit to understand what actually made Wave Race great, things could have been very different.
I didn't know this at the time I bought into the Early Access, but they also developed Aqua Moto Racing for the 3DS. You may know it, it's that game on the e-shop that always seems to be on special for $3.99? Even at that price, and being incredibly tolerant of games with lower budgets, I felt slightly ripped off. If I'd have known they were behind Utopia, I probably wouldn't have dropped the cash down on it. Or maybe I would have, just to see what they could do, free from technical constraints and file-size limitations?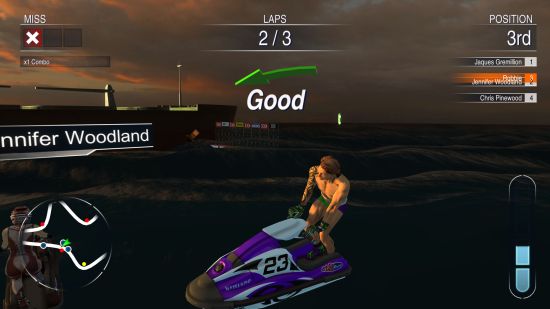 Regardless, my overall impression of Zordix has dropped considerably from the very little I thought of them to begin with. There was a bit of promise there, but now I'm pretty much convinced that they're happy to charge not insignificant amounts of money for games they essentially consider 'good enough' and boot out the door. There were almost zero improvements to the core game in the Early Access period, and now that it's finished and available on everything, well, it's still a shambles.
Aqua Moto Racing Utopia is definitely not 'good enough'.
This is an actual screenshot: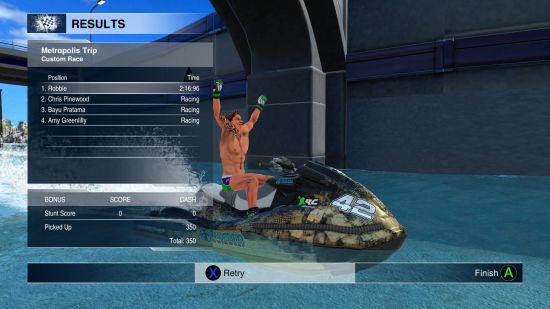 Look closer.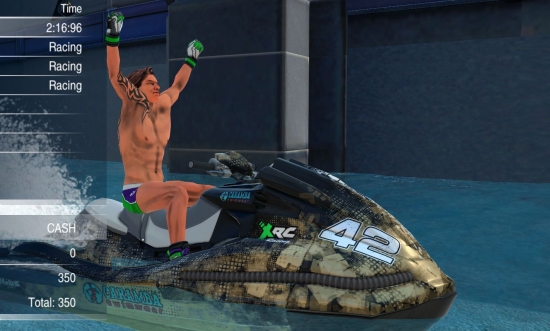 LOOK AT IT, GODDAMNED IT!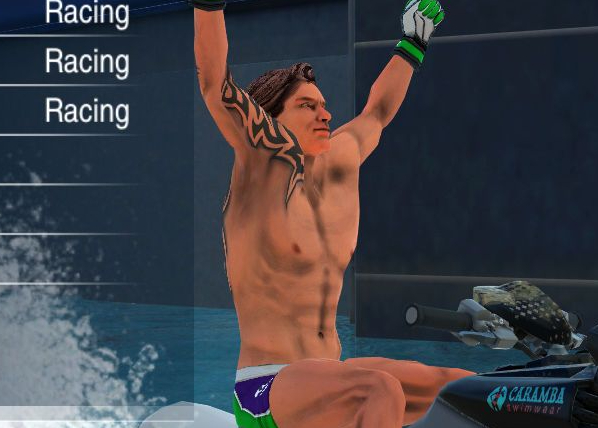 Fuck this game.
Avoid. Avoid. Avoid. AVOID.
---
Fuck yeah, WATER-BASED RACERS!
They're really great unless they're not.
I missed out on a few here. I'd have touched on Wave Race: Blue Storm more, but I just find it hard to get at all excited for that one. All I can see is missed opportunity when I play it, even if I can concede it's a good game. It really is, it just sucks as a sequel to the seminal Wave Race.
There's also Carve for the original Xbox: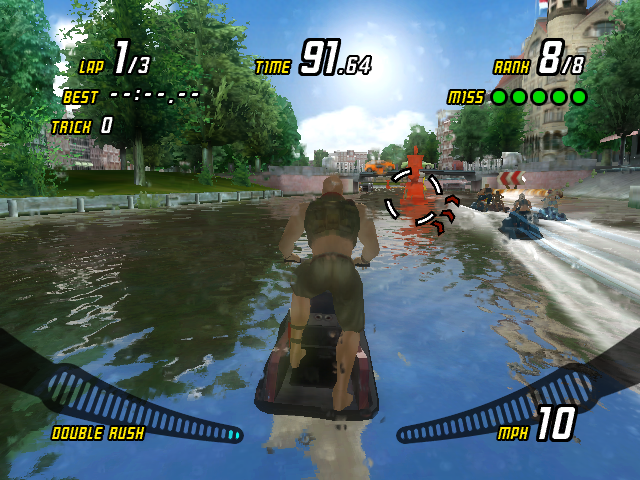 It's as average as it looks. I'm saving it for another post though, so expect to see it crop up eventually.
Don't be shy – jump down to the comments and tell me how wrong I am about Aqua Moto Racing Utopia or Surf Rocket Racers. Just kidding, although feel free to do that if it makes you feel any better.
What water-based racers do you really love that I didn't cover? Do what you do best, and get loud in the comments.
Catch you in the next post!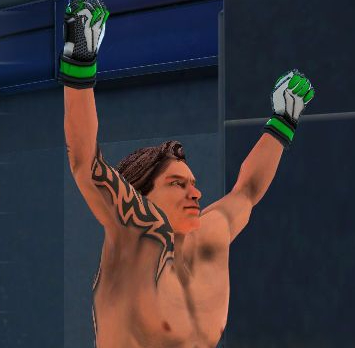 Posted In:
Arcade Racing
,
Nintendo
,
Nintendo 64
,
PC Gaming
,
Playstation 2
,
Retro
,
retro gaming
Tags:
Aqua Moto Racing
,
Aqua Moto Racing Utopia
,
arcade
,
Arcade Racer
,
best to worst
,
Blue Storm
,
Boats
,
Dreamcast
,
driving
,
Gamecube
,
Games
,
games ranked
,
gaming
,
Hydro Thunder
,
Hydro Thunder Hurricane
,
Indie Games
,
jetboat
,
Jetski
,
Listicle
,
lists
,
Microsoft
,
Nintendo
,
Nintendo 64
,
Playstation
,
PS1
,
PS2
,
PSOne
,
PSX
,
racing
,
Rapid Racer
,
Renegade
,
retro gaming
,
Riptide GP
,
Sony
,
Sony Playstation
,
Steam
,
Surf Rocket Racers
,
tech
,
Turbo Prop Racing
,
Vector Unit
,
Video Games
,
water
,
Water Racing
,
Wave Race
,
Wave Race 64
,
Xbox
,
Xbox 360
,
Zordix