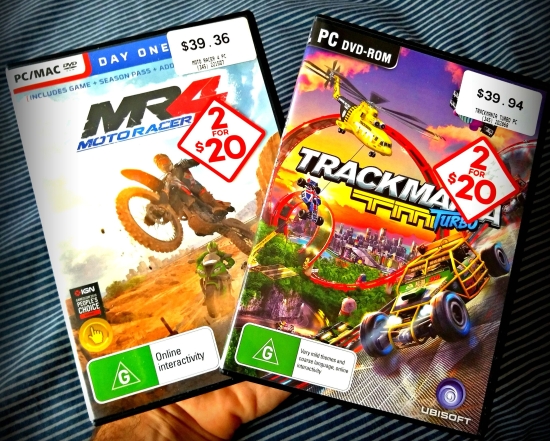 2 for $20 – a price that's hard to beat, and for me, definitely within the realm of an impulse purchase. While waiting around in a plaza recently, I wandered into EB Games (the GameStop of Australia, pretty much) to kill some time. I did my usual thing. Stared at all the overpriced Nintendo Switch games, checked out all the games I'm not missing on the Xbox One and PS4 and then, finally, made my way over to the PC section.
Now, I try to avoid EB Games as a rule these days. I don't like them, I don't like their business practices and I find up-selling abhorrent. I'll never buy my big-ticket gaming items from them, because they don't deserve the bulk of my business. But resolve isn't my strongest attribute, and the staff are usually really nice. Besides, who's going to knock back a decent bargain every now and then? Like a 2 for $20 thing. Not me, not I.
So whilst browsing, Moto Racer 4 and Trackmania Turbo caught my eye immediately. I did have Trackmania Turbo on my Xbox One before I sold it off, but I've given Moto Racer 4 a fairly wide berth. It never did look like the Moto Racer games I grew up with, and nothing I saw of it really convinced me that I needed the game. Still, with the low price both games were commanding, I couldn't resist.
Welcome to A Certain Kind of Gamer – PICK UPS AND PLAY EDITION.
---
MOTO RACER 4 (PC)
Anuman Interactive / Microids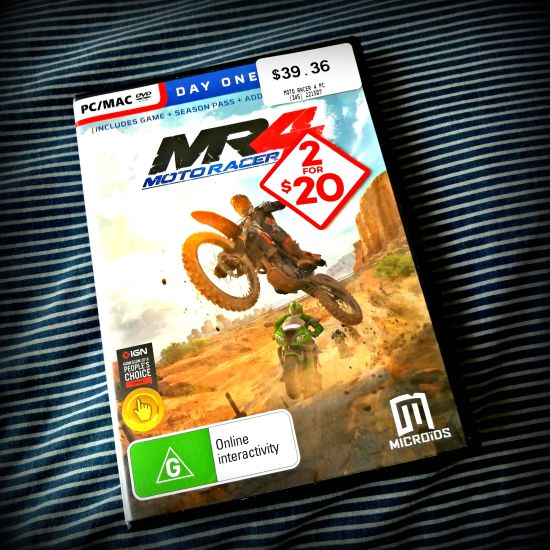 Having avoided this one for a while, I can't deny that I was a little excited to try Moto Racer 4. Maybe I'd been too judgemental, and it really was a kind of hidden gem that I hadn't given a fair shake?
For $10, I figured it was worth at least a shot.
And the good news is, it's not terrible! Moto Racer 4 isn't a patch on the older games, but as a whole, it's enjoyable enough. The bad news is that Moto Racer 4 is bland. A great, arcade-y control scheme does its best to keep you hooked, but everything else is so rote and pedestrian that it's hard to care all that much about anything the game has to offer.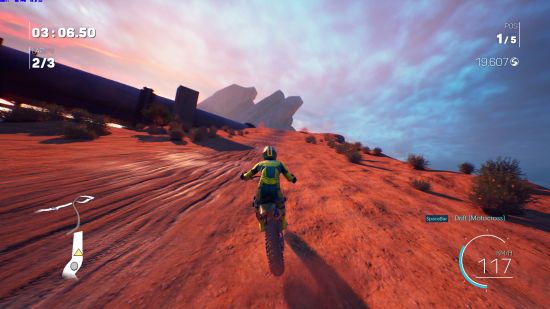 For me, an arcade racer lives and dies by three things.
It's controls. Deep enough to not grow stale, but arcade-y enough to remain fun.
Course design. A great control scheme is nothing when there's nothing of worth to race on.
Colour and art-direction. Lots of colour. Bold primary/secondary colours get me every damned time, but even if you're going for something a little more restrained, make sure the player wants to take in all that track-side scenery.
Moto Racer 4 has 1.5 of these.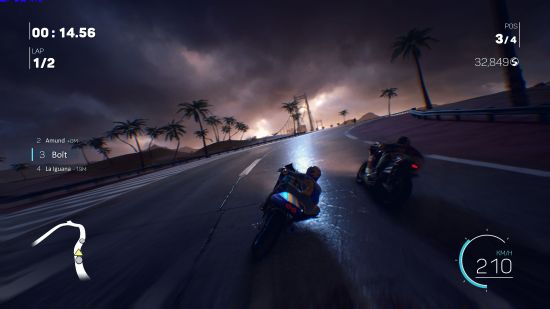 The controls are excellent. Not perfect, but you'd really have to struggle to really criticize them too much. They work, they're kind of addictive, and it is in this area that Moto Racer 4 bears the most resemblance to its predecessors. It's not like-for-like, mind, but it's close enough for me. There's a nice weight to the bikes, and although each one has different stats, they are satisfying to drive.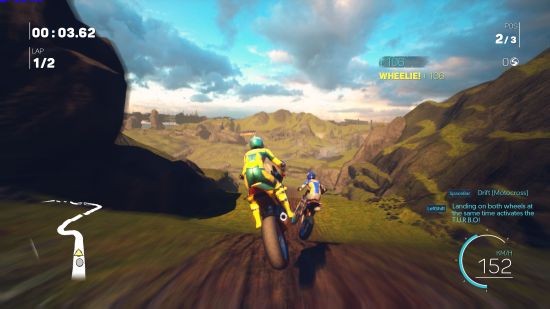 In comparison, the course design is merely OK. Each track is rather memorable, but they don't do a hell of a lot to distinguish themselves from each other. There's a change of setting, sure, and the further into the game you get, the courses do become a little more devious, but as a whole, there's this inescapable blandness to them all. They're fun, but I wish they were next-level.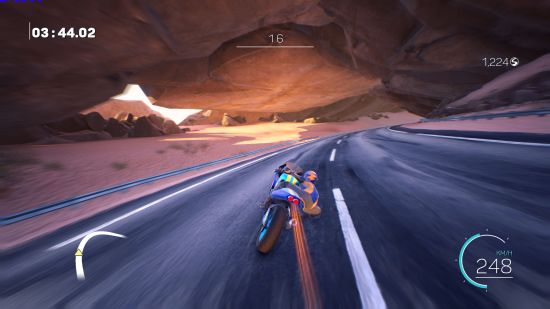 My absolute biggest gripe with Moto Racer 4, however, is in the visual department.
It runs smooth enough, but the PC version here is capped at 60fps, which isn't too bad, but those with higher-refresh monitors are out of luck, at least out of the box. There could be some config edits that could change this, but I haven't looked into it just yet. That's not what I detest the most, though.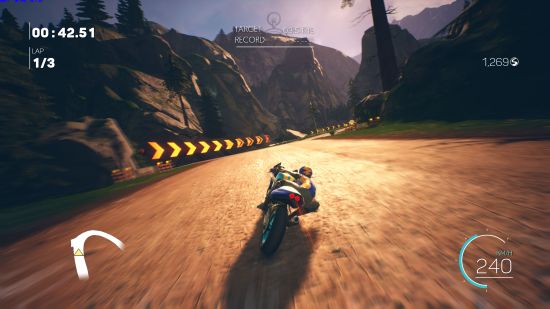 What I really hate is – and I'm getting superficial here – the super off-putting red filter over almost everything. Green looks Red. Blue looks Red. Everything looks Red. An artistic choice it may be, but it's an ugly one. Even taking the vile Instagram-filters into account though, everything in Moto Racer 4 still looks pretty flat. Track-side objects and scenery lack detail, and there is some pretty distracting pop-up and LoD fade-in that really kills what should be some great vistas. In particular, there's some hideous texture shifting happening on some rock faces, and I can't help but notice it every time I pass it. The track looks like it's warping in real-time, and when you're trying to keep an eye out for traffic, flaws like this stick out. Add in that red filter, and any semblance of visual variety is lost. It all looks the same, whether you're riding a coastal track or an inner city one. An absolute pity, and a shame that the developers missed the mark so hard here. Arcade racing games are known for the spectacle, and there is absolutely none in Moto Racer 4. I'm no graphics whore, but for me, it robs the game of some much-needed atmosphere – a total, subjective buzz-kill.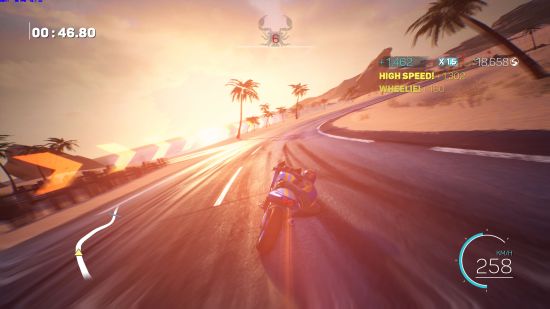 But should you manage to get past all the superficial stuff (and I certainly did), there's definitely fun to be had. The Career Mode is par-for-the-course, but that doesn't mean it's not enjoyable. Working your way up through different types of races and championships, collecting riders and bikes along the way, and upgrading their stats is fun, and a formula that almost never fails to keep a player engaged. Otherwise, there is a lot of content here, and a good amount of variety in the events, so it will keep you busy for a while if you let it.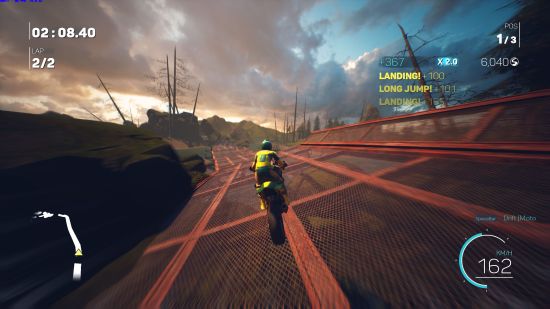 It's just a shame that Moto Racer 4 feels so lazy overall. It's not pretty enough to stand-out from the pack, the course design is meh but servicable, but it's the the controls and a general level of competency that swoop in to save the day and salvage what could have been a complete write-off. Moto Racer 4 is thoroughly middle-of-the-road gaming, yet not entirely unpleasant.
Was it worth the $10 I paid for it? Yeah, I think so, and I'll definitely be going back to it. Before I do, I think I'm going to have to suss out some kind of ReShade fixes, because this – and I'm not being precious – hurts my eyeballs: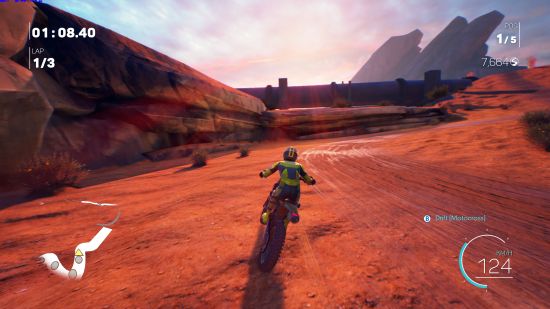 On the IGN scale:
5.15679/10 – TOO MUCH RED.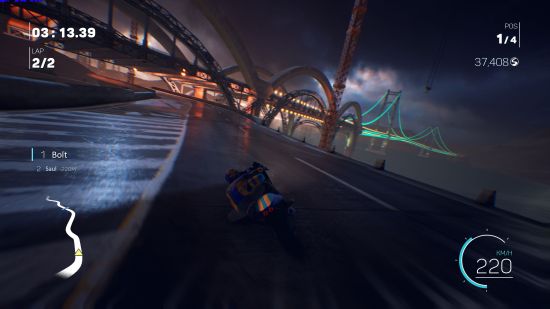 ---
TRACKMANIA TURBO (PC)
Nadeo / Ubisoft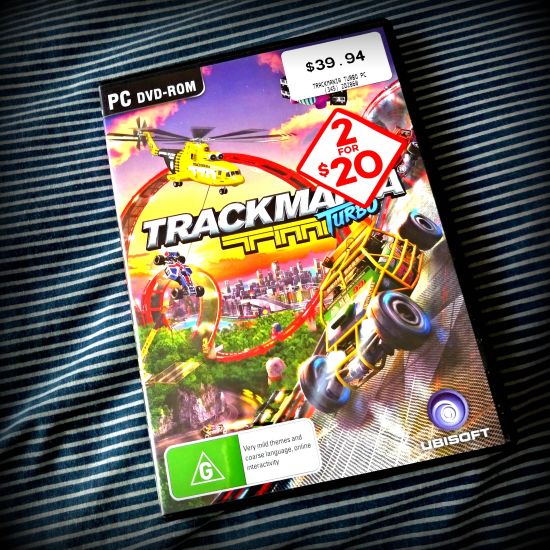 I'll admit – I've never really been a big fan of the Trackmania series. The multi-player focus (legit and asynchronous) is lost on me, and as much as I appreciate the design of the gauntlet-style courses, I'm not into either racing them or building them myself. The controls in this series always did strike me as too good to be stuck in a game where avoiding obstacles is the central mechanic.
Trackmania Turbo doesn't entirely change my stance on the series, but I'd be lying if I said that it isn't an extremely polished and enjoyable experience.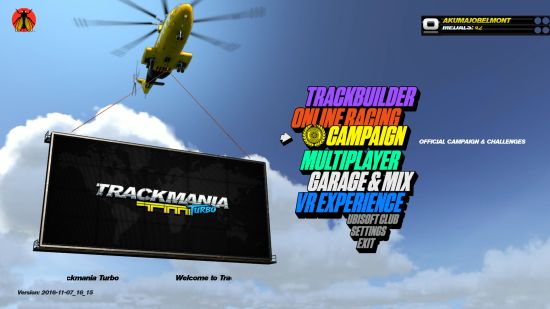 Races in the game are mostly a Time Trial kind of affair. Get to the end of the course as fast as you can and grab the best rank possible. Once past the first set of races, the difficulty ramps up a lot. These short-ish courses sure do pack in a lot of jumps, loops, hairpins and whatever else into them, and I can see the appeal of constantly restarting a try just to shave that extra half a second off your times. It just isn't really for me most of the time. I tend to prefer a more traditional lap-based approach in my arcade racing games, and although Trackmania Turbo (and previous entries in the series) does indeed oblige my preferences on occasion, it isn't the focus, and as such I really struggle to stay motivated to play for any length of time.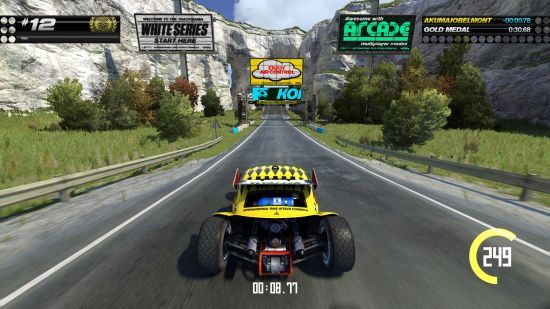 I do realise that I'm in the minority though, and you shouldn't mistake my apathy toward the series as a knock against it. It simply isn't for me, but I'm sure there are many of you out there who will lap this up, and that is great. Trackmania Turbo is a fantastic game with polish and creativity out the wazoo. It does what it does extremely well, and that's all that matters.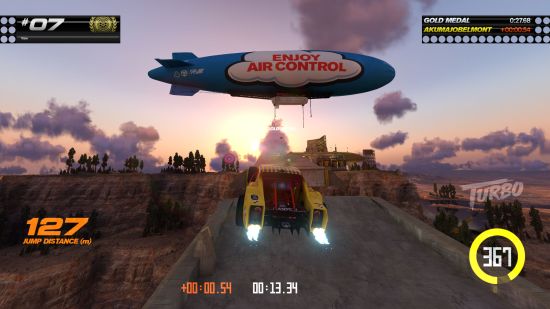 Controls are absolutely, bang-on perfect. The vehicles in Trackmania Turbo give you as much control as you need whilst maintaining a bit of unpredictability to them that keeps you on the edge of your seat. Edge of your seat. I'm never, ever using that pearl again. Sorry.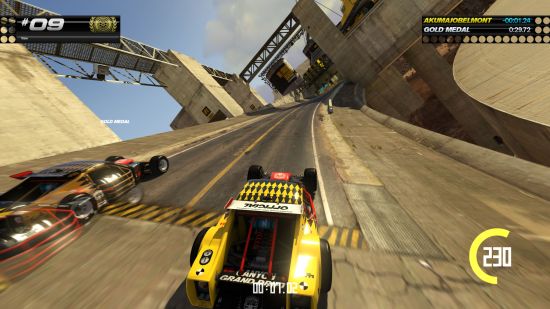 The presentation in Trackmania Turbo can't be faulted either. The game absolutely flies along, and it's as smooth as you'd like. It's also worth noting that both PS4 and Xbox One versions also run pretty flawlessly too – it's 60fps action all the way. The courses are nicely detailed too, and everything looks slick and super colourful. Awesome stuff!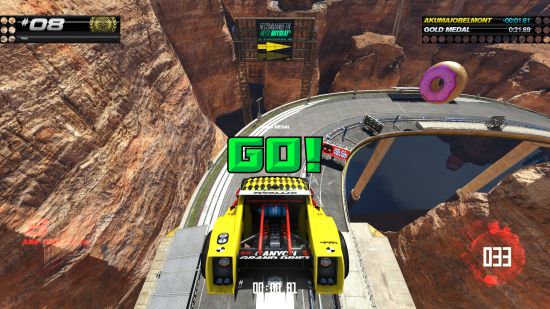 The campaign will keep most occupied for a long time, especially if you're chasing the gold. The multi-player is pretty neat too, and I'm sure keeping atop the on-line leaderboards will be a hard thing for those with a more competitive nature than I to resist.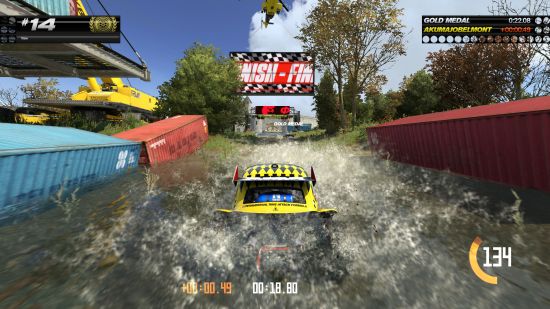 I just wish that I was able to appreciate it more. There's a great game here, but I don't think I'll ever really be all that taken by it. I'm still glad I picked it up, but for my own money, there are games out there that I'd rather be playing over this one. Still, don't let me push you away from the game – if you think it'll appeal to you, then there's every chance in the world that you'll absolutely love it.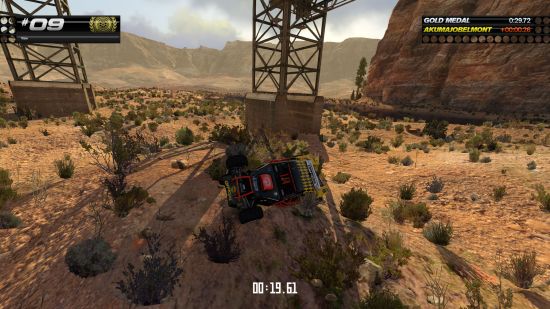 ---
So, did I get my $20 worth of entertainment? Yeah, I think I did. Also – it's material for this blog. Always a good investment.
Now you've probably noticed by now that both games are "physical" editions of each game. I was kinda hoping that the actual games we're on the 'DVD ROM' , but alas, it's only the Steam Installer on the discs, with the Steam Codes in each cover. Bugger.
Anyways, what do you think of both of these games? Do you like them? Hate them? Let me know!
Posted In:
3D Racing
,
Arcade Racing
,
Bike Racing
,
Cheap Games
,
Opinion Piece
,
PC Gaming
,
Pick Ups
,
racing games
,
Steam
,
Unreal Engine
Tags:
Anumen Interactive
,
Arcade Racing
,
bargains
,
cars
,
driving
,
EB Games
,
Gamestop
,
gaming bargains
,
Gaming Pick Ups
,
Microids
,
Moto Racer
,
Moto Racer 4
,
Nadeo
,
Opinion
,
PC Gaming
,
Pick Ups
,
racing
,
Steam Games
,
Time Trials
,
Trackmania
,
Trackmania Turbo
,
Ubisoft
,
Unreal Engine 4